Dead Acres Haunted Hoochie – Full Review
Dead Acres Haunted Hoochie is a Haunted Attraction located in Pataskala, OH.
13861 E. Broad Street, Pataskala, OH 43062View All Details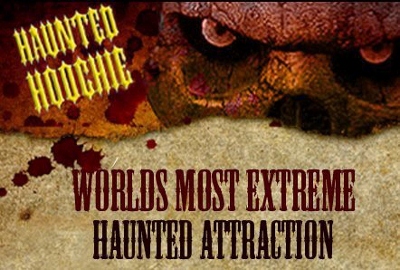 Features:

Paid Parking, Restrooms/Porta Potties On-Site, Food/Concessions, Gift Shop/Souvenirs, "Hi-Tech" Attraction, "Extreme" Attraction, You may be touched, Original Characters, Uncovered Outdoor Waiting Line, Indoor/Outdoor Attraction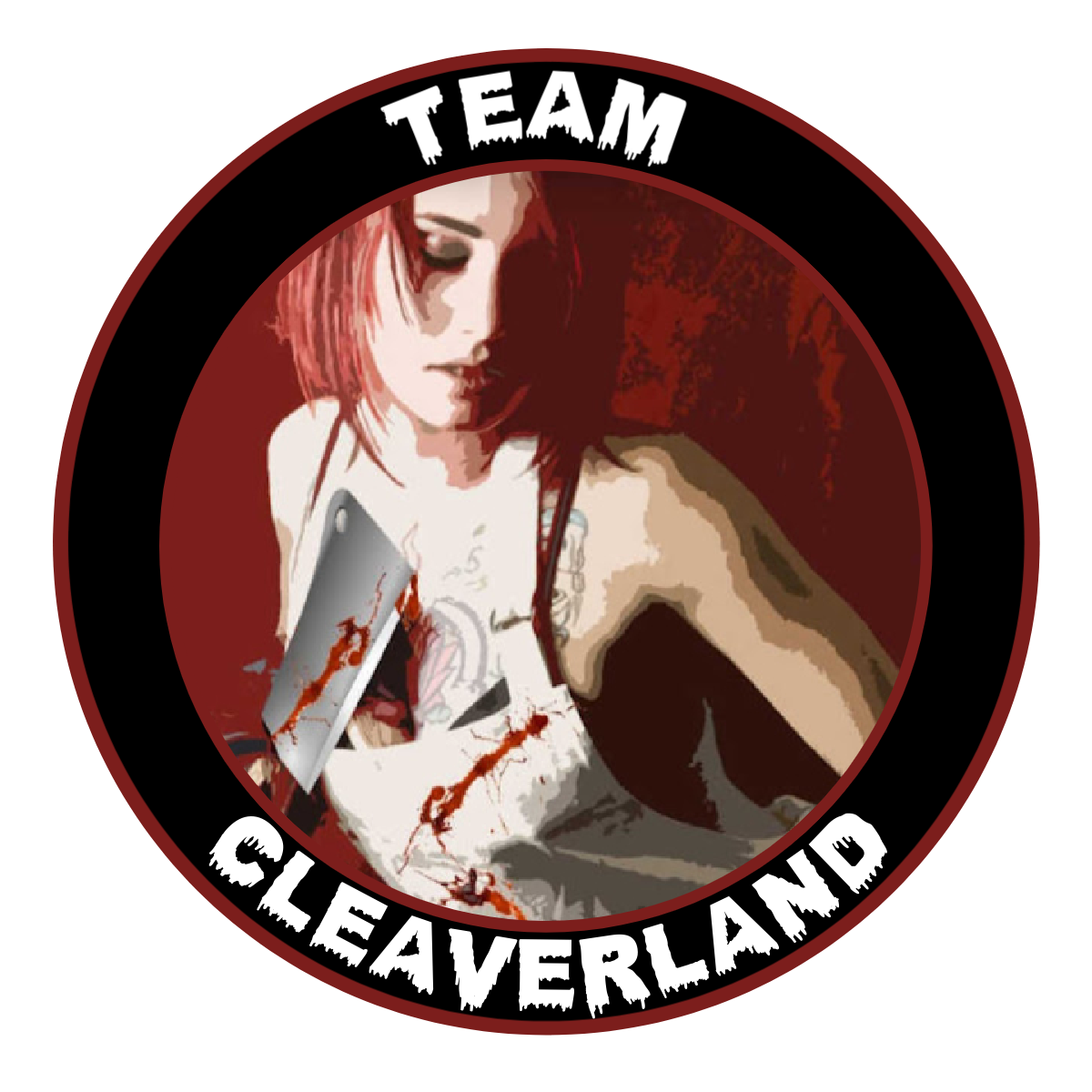 This attraction was reviewed on October 29, 2020 by Team Cleaverland.
How Do We Get These Scores?

Final Score:

9.18
How Did We Get This Score?

Summary:
Haunted Hoochie has a reputation. It's the bad boy in the neighborhood moms don't want their sons hanging around and dads pray their daughters don't date. Every year the Hoochie crawls out of its primordial swamp to terrorize, scandalize, and shock.
Often labeled 'extreme,' its all-out assault on good taste, common sense, and basic decency is not for everyone. If you don't like it, be assured the Hoochie doesn't care and will be content to mock you and flick its boogers at you. By its own admission, the Hoochie is 'not recommended for anyone!'
Sure, part of it is image management. The attraction probably wouldn't be able to remain open if it was actually as out-there and outlaw as advertised. Still, a lot of the subject matter is well beyond the pale of most haunts.
Consider: the first scene features a shotgun suicide, and from there it's a nonstop, breathtaking attack that throws a little bit of everything at you and the wall you're flattened against. Flaming pentagrams, a lady that goes full Lorena Bobbitt on a captive dude, another unfortunate soul getting sawed in half, and a belligerent cast that takes visitors way out of their comfort zone.
We think the Haunted Hoochie is a helluva lot of fun and an amazing experience. Our visit was a refreshing blast of foul air that acted as a caustic corrective to some of this miserable year's more unfortunate complications. Next season, push your boundaries and take a raucous and rowdy ride on the Hoochie express.
One last note. Writing a review of the Hoochie is challenging. By its nature, the place is all but immune to conventional criticism and resistant to description. In most ways, the place speaks for itself.
So let's just say the bottom line is you should go see it for yourself. In the meantime, we'll see if we can do any justice, words-wise, to the attraction and the unique experience therein.
One thing we can say for sure, the attraction is split into two sections. First, you go through the core of it, the World-Famous Haunted Hoochie. That's followed by Bad Trip in 3D, a freaky carnival sideshow.
---
Cast: 9.34
How Did We Get This Score?

Damn, these folks are always an ornery bunch. No less so on this visit.
Every other time we've been here, the Hoochie actors have been very handsy and physical. The cast would push you around, knock into you, mess with your hair or grab your hat, and drag chainsaws all over you (well, they still did the saw-dragging this time).
They'd body you up better than an NHL defenseman. A lot of that was put on the wayside by COVID. Many predicted the more hands-off approach this season would prove a liability, but we think they were still very physical and somehow managed to crowd us and feel threatened without touching.
They also found other ways to impose and intimidate. The crew projected a believable hard edge and many of them just seemed damned angry you were in their space. The actors were as mean, crass, rude, and crude as ever.
One demure lass came up with the charming conversation starter, 'You want a machete shoved up your ass?'…which she snarled while brandishing the weapon in a suggestive upward arc, and she maintained a locked and loaded death stare as we backed away. Zoinks, Scoob!
The crazed demeanor of most of the cast made the few quieter characters (yeah, there were a couple of those) snap that much more. There was a whole murderers' row of freaks and frightmares to meet, including masked wackos, killer psychos, a bunch of chainsaw crazies, clowns, unholy rollers, army grunts, airplane staff, a sadistic dominatrix type, and a literal chickenf**ker. A whole mess of actors just kept coming from every angle, including from above. They barely let us catch a breath before more got in our face.
Performances have never been any less than fully committed on any of our visits, and that was the case here again, even on this lousy rainy Thursday evening. Props to the unlucky souls who plied their trade in the outside parts open to the skies, and still brought it with maximum presence and authority.
Whichever night, whatever the weather, Hoochie Nation is always lining up outside the gates for a heaping helping of gonzo craziness. From what we've seen, they never fail to get just that from the cast.
---
Costuming: 9.03
How Did We Get This Score?

This was a little bit of a tough category to gauge. It's one of those haunts where we often strained to catch a good glimpse of the makeup in a dark area or with strobes going off.
From what we could see, though… especially outside, in the queue, and in more illuminated areas… the makeup jobs and masks were quite well done. Masks were creepy, makeup effective, and the costumes were as finished and accessorized as necessary to complete the look.
Overall, the general look is for everyone to be grungy, dirty, soiled, and/or bloody. The aesthetic is sort of a retro 70s grindhouse feel, a la House of 1,000 Corpses.
---
Customer Service: 9.01
How Did We Get This Score?

The Haunted Hoochie is in Pataskala, Ohio, just east of Columbus.
GPS will get you there, but be careful on the approach as the turn comes up quickly. The small entry sign not far off the ground almost looks silly compared to the grandiosity on display everywhere else. It's accompanied by an equally short spotlight. Both of them could use an upgrade.
Be advised, on rainy nights, the driveways, parking areas, queue, hub, and exposed parts of the attraction turn into a mushy, soggy mess. Wear your sheet-kickers and a pair of jeans you don't mind getting muddy.
Parking ($3 cash or $3.50 credit card) is on grass. After paying, you will be guided by a cadre of helpful attendants.
There's a pretty heavy security and police presence, especially around the ticket area where you first come in, which seems to reassure or warn people as the case may be. As rowdy and loud as the crowd can get, we've never really seen a problem arise here.
The Hoochie had put up a lot of signs about masks and distancing, some in their signature snarky and non-PC style, and the audience seems to have gotten the message. Let's hope we don't need to be talking about all this virus stuff next season…
---
Atmosphere: 9.66
How Did We Get This Score?

Surprising absolutely no one, the atmosphere was loud, over the top, and in your face. It was also pretty awesome. We passed some branded vehicles on the way in, a few other large props, and a stage decked out with huge gargoyle-ish creatures perched on its roof.
Next up was the ticketing area, a barn-like structure with eerie lighting, puppets against the wall, a coffin in the corner, and candle-bedecked chandeliers plus a gigantic bat puppet on the ceiling. Once past the ticket office, we came to an 'abusement park' back outside featuring a spinning Ferris wheel and a mini-roller coaster.
The queue and the facade were quite impressive and really got us into the mood. It looked like a crazy quilt of shacks, fencing, silos, and towers, with ghoulish devils and demons (which have been known to snort flames) overlooking the crowd.
Meanwhile, the Hoochie's default auditory setting of 'louder than a bomb' made itself felt with an eclectic mix of deafening music, from Ministry to Lizzo, punctuated by periodic car horn blasts. Basically, they played anything with a throbbing beat to enable the caged, fleetingly clothed go-go dancer (also positioned strategically above the line) to frenziedly shake it.
Everywhere on the property we saw walls filled with the Hoochie's trademark snotty, wiseacre, anti-PC, sometimes hilarious signs. This was the case over at the hub, triangulated between the two attractions and the entrance. Their food stand had an extensive menu… the cheesesteak, walking taco, cheesy bacon fries were all ridiculously tasty… with picnic benches to consume the great greasy chow. A scary movie played on one of the walls. A merch booth offered all sorts of souvenirs (as did the ticket area).
In general, the ambiance reminded us of a lewd and frantic house party. Great fun!
---
Special Effects:

9.28
How Did We Get This Score?

As in every other aspect of the operation, Haunted Hoochie's approach to effects was 'too much is never enough.'
The place practically was on the verge of collapsing under the weight of all the props and puppets, and an immense collection of animatronics and actormatronics, all stuffed into every available bit of space.
Giant creatures threatened us from every corner, including spiders, skeletal wild boars, bears, dragons, chest-thumping apes, and a T-Rex skeleton. All with the appropriate thunderously loud roars, growls, snorts, primate screaming, and whatever sound giant spiders make, to match.
Each scene was more outrageous and jaw-dropping than the next. A good portion of it was an absolute riot of dingy dungeons, bloody torture chambers, and castle-ish ramparts and parapets.
Then they threw in a literal warzone with bombs exploding in the water, a trashed jeep, and a crashed chopper. Next, an incredibly cool-looking reaper figure floating above a cemetery.
Somewhere in there, we boarded 'Hoochie Airlines Flight 666' for the aftereffects of a crash landing. How about a 'Misery Machine' take on the Scooby Gang's iconic vehicle, the Mystery Machine? Wild! And don't ask us what the actual order of any of this was. It was all pretty non-linear and any logic followed was that of a discombobulated nightmare.
Multiple strobes and areas of darkness, coupled with the pounding soundtrack and ear-splitting audio effects, including lots of power tools, effectively disoriented us.
Chaotic, loony, loopy, often hysterical, the Hoochie's effects created a lunatic environment. It operated as an unholy cross between a late-night creature feature host's show, a real-life killer's lair, and classic Warner Brothers cartoons. Absolutely first-rate and totally fitting the spirit of the place.
Effects took over the heavy lifting in Bad Trip. If anything, this clown house had even more props per square inch than the first attraction. Puppets, animatronics, and all sorts of wacky props were coming out of the walls, hanging from the ceiling, shooting out of cubbies, invading our space, and creating a maniacal setting.
---
Theme:

8.53
How Did We Get This Score?

There was no stated theme as such in the Hoochie, but all of it was of such a piece and in the fever dream 'Hoochie style' that it actually came together very uniformly for a bunch of insanely disparate pieces if that makes any sense.
The Bad Trip 3D clown house and freak show held to its psychedelic circus theme throughout every step of the attraction.
---
Scare Factor:

9.05
How Did We Get This Score?

The Hoochie set our nerves ajangle and sent our hearts pumping into extreme palpitations. The actors and effects worked together to make us feel continuously off-kilter and under attack.
We never felt safe, always under siege by a menacing actor or outsized animatronic. The place is often packed with people, with some pretty good crowds pushed through resulting in conga lines… but somehow even that never seems to matter, since there's always so much happening in every inch of the attraction.
With such a volume of patrons, actors, and effects (including the actual audio volume) all cranked up to 11, virtually everything functioned as a distraction! The bellicose cast and overloaded effects made the Hoochie feel dangerous in ways haunts often don't.
---
Entertainment & Value:

9.23
How Did We Get This Score?

Our wild ride took 26 minutes, with about 5 of that in Bad Trip. On Thursdays, you can get $5 off the GA and VIP pricing. Thursdays are also much less crowded.
With general admission of $25 (VIP is $45), the MPD (Minutes Per Dollar ratio) is 1.04, which is around the minimum we'd like to see… but how much excitement can you stand, anyway??
We'll say this, it seemed way longer. For the Hoochie part alone, it felt like we were in there for a half-hour or more, based on the intense experience, the piling-on cast, and the breakneck pace of settings, scenes, and effects.
We had a grand old time laughing, yelling, and shaking our heads in disbelief and amazement throughout the whole thing. After it was all over, we felt both exhilarated and somewhat violated, wondering what in the hell had just happened.
So, the attraction experience justified the cost. With everything else going on, from the ticket barn to the music and dancing, the queue to the food, and just the all-around insanity of everything, the ticket price is more than worth it. We'd say it's a unique, incredible, transgressive, and transcendent experience. One we encourage any haunt fan to chase.
If the profane is the flip side of the sacred, let Haunted Hoochie deliver to you a little slice of haunt heaven by dragging you through hell.
---
How Did We Get These Scores

Promo Images:
Click to Enlarge
---
Guest ReviewsGuest Average: 8.44 out of 10
Michelle – 10/10 – October 29, 2020This was so awesome. I am friends with some actors and my 9 year old son begged all summer to go and …show more I finally decided to take him, he did get scared after seeing the first scene in the main house but it was nice the actors helped us out and that there were still other things we were able to do! He absolutely loved the 3d clown house maze! And he love the interaction with the actors. I was so happy that even though he got scared there was still something for him to do and we had such a blast!!
Cody Bodnar – 10/10 – September 19, 2020The Best haunted house I have been to
Adam – 9.5/10 – October 5, 2019It was a great time,the Haunted Hoochie will have you looking over your shoulder the whole time.
---
Past Awards
---
2022 Awards
Most Outrageous Haunt (Given by: Team Teachers of Terror)
---
2020 Awards
Wildest Haunt & Cast (Given by: Team Cleaverland)
---