Dead Mans Farm – Full Review
Dead Mans Farm is a Haunted Attraction located in Philadelphia, TN.
13100 W Lee Hwy, Philadelphia, TN 37846View All Details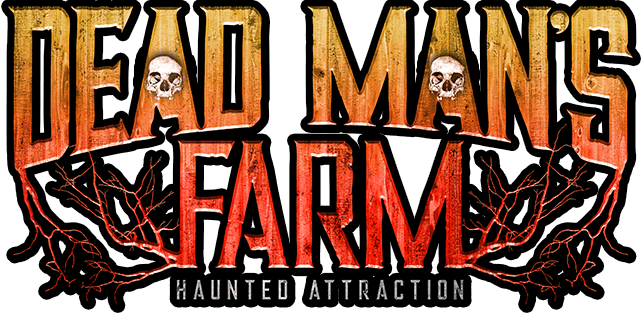 Features:

Paid Parking, Restrooms/Porta Potties On-Site, Handicap Accessible, Food/Concessions, Gift Shop/Souvenirs, Optional Games/Midway, You will NOT be touched, Uncovered Outdoor Waiting Line, Covered Outdoor Waiting Line, Indoor/Outdoor Attraction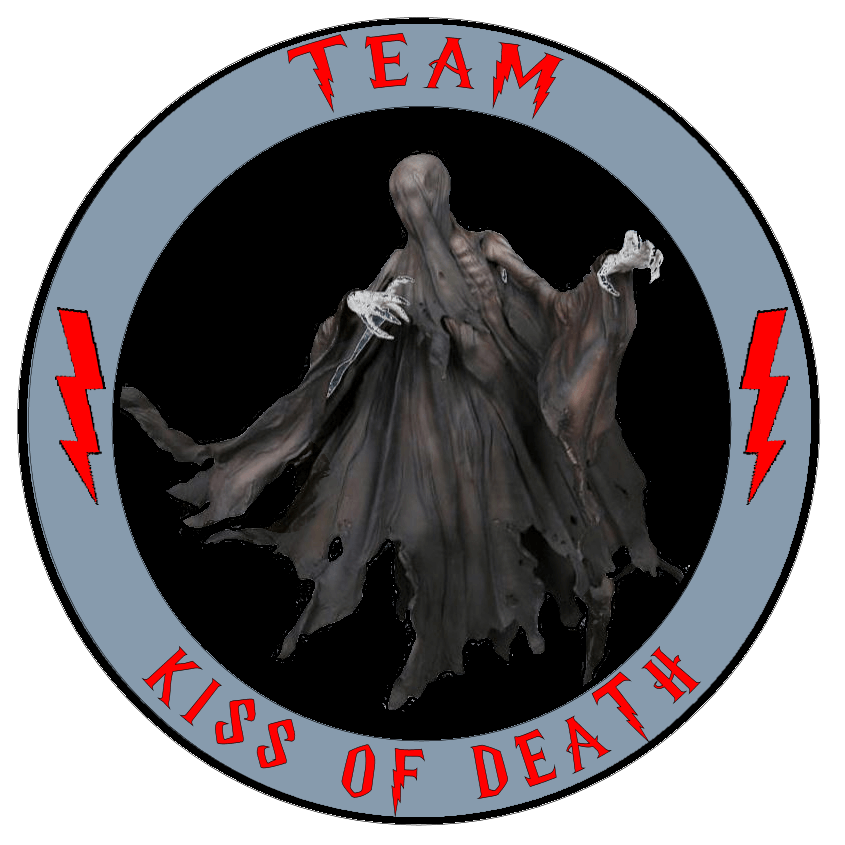 This attraction was reviewed on October 15, 2021 by Team Kiss of Death.
How Do We Get These Scores?

Final Score:

8.51
How Did We Get This Score?

Summary:
Can you endure the 13th Season of Bludgeon Haunted House and find your way out of the Clowns of the Corn Maze? Come on out to Dead Man's Farm and find out! They have a huge variety of things to do. Aside from the two main attractions, they have five optional Midway games to test your fears!
The Bludgeons are a family of deranged hillbillies that are always looking for their next victim to add to their collection of bodies. They are responsible for hundreds of missing people.
Decades ago, the family was very secluded; doing everything for themselves until their crops quit growing and things became tough for them. They began performing black magic to make the crops grow again. Unfortunately, that only made things worse for everyone. Anyone who sets foot on the land becomes cursed or gets lost in the corn maze never to be found again!
---
Cast: 8.51
How Did We Get This Score?

The cast in Clowns of the Corn Maze were scattered throughout the corn ready to jump out and scare us at a moment's notice. There were many areas of the corn without any actors but that seemed to add a sense of unease because we never knew when the clowns would jump out.
They also played very well as clowns! It felt as though we were surrounded by real-life evil clowns. There were various times when those evil clowns would block our path or make us go in the wrong direction which would force us to run into them again!
The clowns of the maze were very creative in their use of dialogue. It felt like they customized their script to fit our group. Despite the maze only containing clowns, most of them did the same thing when scaring us but a few would change up the scares to keep us on our toes.
The cast of the Bludgeon House were plentiful, hiding in every nook and cranny in the gruesome Bludgeon home. Most of them did very well providing a convincing experience that we were truly in the haunted home of the Bludgeon family.
Whether the cast would physically stand or place an obstructing object in our path, they were very interactive with our group and the surroundings.
Every cast member seemed to fit well in the Bludgeon home. There was a wide variety of different characters that seemed to belong in each room very well.
---
Costuming: 9.24
How Did We Get This Score?

The costumes in both the Clowns of the Corn Maze and the Bludgeon House were very well done! They were worn and tattered or bloody and gory when they were supposed to be. All of them appeared to be creative and chosen to fit each scene appropriately. Every character that was wearing makeup was incredibly detailed and /or gory! Keep your eye out for the girl in a white dress carrying a head on a staff! She wants your head to join her collection!
Any mask that was used in the Bludgeon House was used very successfully! Whether it was the crazed man with a cage on his head or the evil bunny waiting to scratch out our eyes, they were effective in giving off an unnatural vibe.
Overall, the costumes were appropriate to their respective scenes in the Bludgeon House. There were butchers in a kitchen filled with gore and crazy Bludgeon family members filling the hallways waiting for you to cross their path!
Masks that were used in Clowns of the Corn Maze were classic of what an evil clown is supposed to look like, but effective. Since a clown train derailed near the Bludgeon cornfield, it is appropriate that they turned evil and scattered throughout the corn. You never know when you will run into one of them so be careful!
---
Customer Service: 9.7
How Did We Get This Score?

Dead Man's Farm is very easy to locate and see from the main road since it is so well-lit. The parking lot is all gravel and easy to find a parking spot. They have multiple parking attendants directing traffic. After parking, there is an obvious sign pointing you in the direction of where everything is, and everything is clearly labeled. The entire haunt is ADA accessible, so everyone is welcome!
The entire Midway and queue lines are well-lit and easy to navigate. They have 8 police officers on-site and every staff member has a radio with an earpiece. There are also medics and the fire department on-site every night. They are truly prepared for any type of emergency! It is important to note that inside the Bludgeon House there are intense strobe lights and dense fog. Be cautious of that!
Every staff member was incredibly helpful and friendly. Those that were staff members were wearing 'Dead Man's Farm' attire and the cast members, of course, were in full costume.
All information about Dead Man's Farm can be found on their awesome website. It is easy to navigate, gives you the full run-down of what they have to offer, and all the prices. If you are interested, they also have the full backstory of the Bludgeon family and where the clowns came from.
---
Atmosphere: 9
How Did We Get This Score?

Upon pulling up to Dead Man's Farm, it was obvious that we were at a haunted house. As mentioned above, this haunt is well-lit, but it is also teeming with excitement and spooky creatures roaming around! The Midway had fire breathers, jugglers, bonfires, and numerous actors interacting with guests, rock music playing over the loudspeakers, sword performers, multiple places to take spooky photos, and food concessions! There is so much to do and see here!
Outside the haunted Corn Maze, there was a clown entryway, so it was obvious you were going to encounter clowns during your visit. From the outside, the Bludgeon House looked aged and worn-down. They made it seem like we were about to enter a real-life haunted house.
---
Special Effects:

8.41
How Did We Get This Score?

The sound effects in the Clowns of the Corn Maze were mostly effective in providing a sense of uneasiness. There were areas of dead silence when there weren't any actors, and it felt a little lackluster. We believe that the corn maze would have been even creepier if there was carnival music playing throughout part of it.
The props looked as though a lot of time and effort was put into making them. There were multiple carnival-themed items like bloody clown barrels and small houses with different gruesome themes. Each scene was different from the last, having their own unique decorations.
The Clowns of the Corn Maze did very well at resetting themselves after a group of people came through! There were a few times we ran into other groups of people but that was expected. Overall, the maze was very entertaining. We had a great time!
The sound effects in the Bludgeon House were incredible! The props were amazing! I won't give anything away but be on the lookout for the huge creature hiding inside the house! Each scene was well thought out and different from the last room. Everything flowed together very well!
Even though there were a few exposed things that reminded us of the outside world, we still felt like we were in a real-life haunted house. Toward the end of the haunt, there was a major bottleneck where we ran into the two groups ahead of us. That is also where the intense strobe lights and dense fog are located so it makes sense that people would slow down.
Overall, the Bludgeon House was very entertaining as well. Everything seemed to flow together nicely!
---
Theme:

8.5
How Did We Get This Score?

The theme of the Clowns of the Corn Maze was obvious before we entered. There was a large clown face as the entrance to tell us that there would be clowns inside.
Throughout the cornfield, we encountered many clowns which reiterated the theme. Some of the props were not directly clown-themed, but they helped guide us through the maze.
The theme of the Bludgeon House was only made evident by the signage outside the haunt. It was obvious that the house was haunted but there were no actors or props specifically reiterating the Bludgeon family theme. However, most items that were placed inside the house had a sense of belonging.
The location of Dead Man's Farm is on a real farm next to the train tracks, so they do very well in authenticating the theme.
---
Scare Factor:

8.1
How Did We Get This Score?

The Clowns of the Corn Maze successfully made us jump multiple times because most of the actors provided us with jump-scares at unpredictable times. Each scare was timed perfectly and at different times to provide scares for the whole group. They would even follow us as we went through without us even realizing until they successfully scared us again.
There was not much variety of scares provided. As mentioned, most of them were jump-scares but we had some instances where the cast would follow us creepily or engage in customized dialogue. The ending of the maze was like the rest of it, except we were grateful we found the end and were no longer lost!
The Bludgeon House was even more successful than the maze at providing scares. They were frequent and came at different times. The actors would jump out when we least expected it. They would come out of places that didn't look like a hiding spot or could even be found from above!
There was a wide variety of scares provided. They ranged from screaming in our faces, stalking us, or even jumping out of unseen hiding places. The finale is stronger than most of the haunt. You may leave the house screaming or crying!
---
Entertainment & Value:

7.18
How Did We Get This Score?

Overall, we were happy about our decision to visit this attraction. However, compared to other haunted attractions, their price was a little high. We easily spent 3 hours here so there is a lot to do!
Dead Man's Farm also has optional Midway games available for $5 each. They have two mini escape rooms, a coffin simulator, and virtual reality all at 5 minutes each. We tried each of the escape rooms and solved both the 'Murder Cabin' and the 'Asylum.' We tried out the coffin simulator, however, the sound effects were malfunctioning, so we didn't get the full experience. The virtual reality options were: clowns, heights, poltergeist, or demon child. We really enjoyed them!
We were in the Corn Maze for 20 minutes at a rate of $15 per person which brings the minutes per dollar to 1.33. We were in the Bludgeon House for 13 minutes at a rate of $20 per person which brings the minutes per dollar to 0.65. If you purchase a combo ticket for both attractions, the minutes per dollar is 1.1.
The full acreage of the property is 25 acres. They are only using 3 acres for the corn maze, so we are very excited to visit again next year to see all the new changes!
---
How Did We Get These Scores

Promo Images:
Click to Enlarge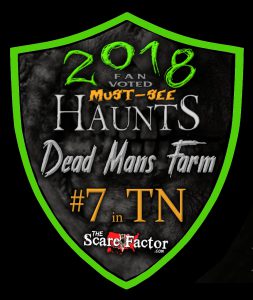 ---
Join ourspookyadventures!
We visit Halloween haunted attractions year-round! Follow us for haunted house walkthrough videos, behind the scenes footage, and more!