Demons Gate Haunted Hayride – Full Review
Demons Gate Haunted Hayride is a Haunted Attraction located in Dallas, PA.
70 Ridgeway Drive, Dallas, PA 18612View All Details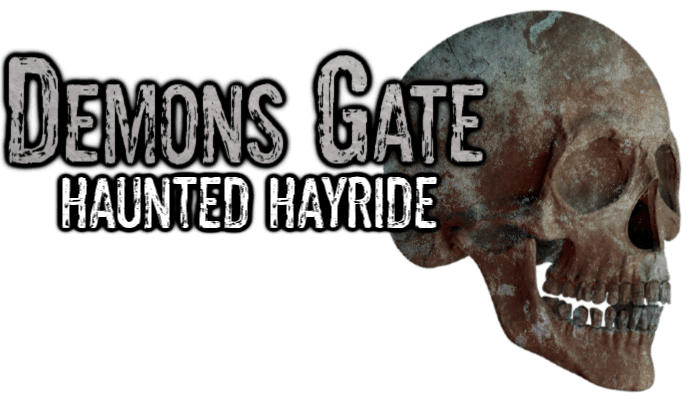 Features:

Family Friendly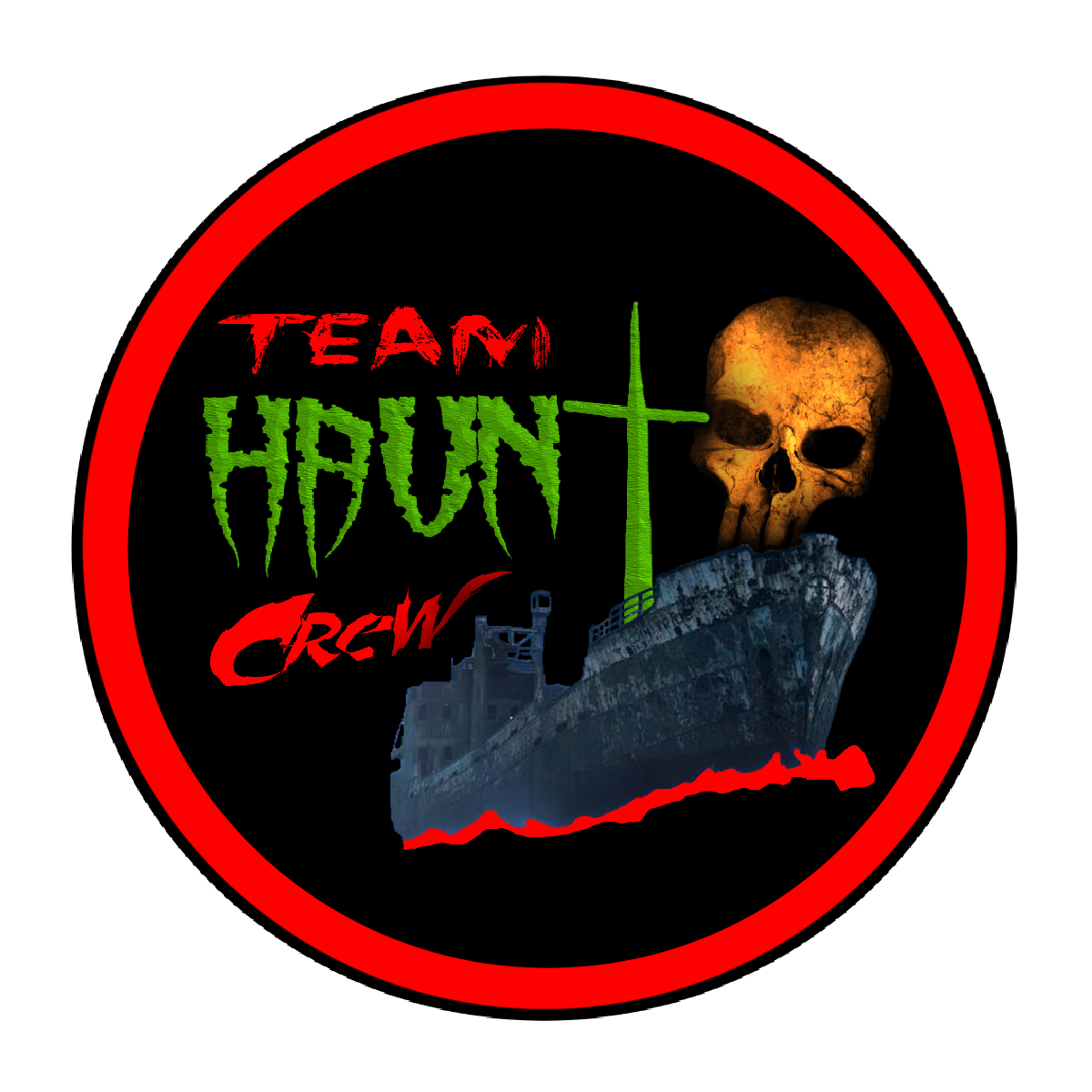 This attraction was reviewed on October 4, 2019 by Team Haunt Crew.
How Do We Get These Scores?

Final Score:

8.34
How Did We Get This Score?

Summary:
Have you ever been on a haunted hayride? It's likely that you have at some point in your life, even if only as a child. Often times a haunted hayride can get passed over by someone looking for a bit of fright-filled Halloween fun. Some people think haunted hayrides are for kids, others just don't tend to think that a haunted hayride could be as frightening as a haunted house attraction, and still others may just not like the idea of sitting on a bail of hay. Why? Who knows? Why wouldn't you want to sit back, relax, and enjoy a nice, creepy, dark ride through the countryside on a wagon? Perfectly safe right? WRONG!! Don't think that just because you're riding on a wagon that you'll be all safe and sound! At Demon's Gate Haunted Hayride you can get an intense, in-your-face scare that will leave you petrified and screaming for more!
Demon's Gate Haunted Hayride opened 4 years ago as an idea by the Irem Shrine, to bring some old-school Halloween fun to their area. The attraction is not only a beneficial treat for the community, it also helps support the Shriners and their mission. The local Shriners and their families all come together to design and build all of the sets and props with guidance from their Haunt Consultant, Matt, who met with us during our visit. While there is currently only the hayride at DGHH, that does not mean that there are not big things in the works for future seasons. At the conclusion of this season the hayride will receive a substantial grant to help expand and improve the entire haunted hayride. New scenes will be added and many current scenes will receive upgrades or simple modifications. They even hope to add a walk through portion to the haunt. We were informed of an impressive potential new scene for next year, however, we don't plan to share that bit of information we are privy as we wouldn't want to ruin the surprise but we can't wait for a return visit!
---
Cast: 8.83
How Did We Get This Score?

All the actors at Demon's Gate Haunted Hayride volunteer their time. Most of the actors come from local high schools and college theater departments. While these students are not paid for participating as actors at the attraction, they are receiving school credits and gaining valuable experience. On the night that we visited DGHH, there were many local schools that had Homecoming events scheduled. So, unfortunately, there were several actors not able to be there that night. Initially this would seem like something that would really hurt the overall experience, however, the remaining actors did a phenomenal job of making up for the reduction of cast members! It was very evident that the cast were dedicated and enthusiastic about their performance making for a great show! We jokingly decided that either the cast members were going all out because of compensating for the missing actors, or possibly they were trying to keep warm seeing as it was a particularly cold night.
While proceeding through the hayride the actors were exceptionally interactive with every person on the wagon. The characters had a variety of props that they used to intimidate the passengers both on and off the wagon. When the wagon would stop at each scene the actors would expertly draw attention in one direction while other actors snuck up to the other side of the wagon where they would jump on the sides and take everyone by surprise. Each time the actors came onto the wagon they would go around to everyone on board getting in their faces, intimidating people with props ranging from baseball bats to cleavers, and saying an assortment of incredulous things. These actors did well with responding to patrons with on-the-spot comebacks. Each scene was something different so there were many different characters throughout the attraction. As we were leaving each scene a couple of actors would stay on the wagon continuing to pester everyone on-board. Other times we thought all the actors had gone back to reset when they would suddenly reemerge for one last scare. Because of this there was rarely a break in the action between each scene.
There were several cast members that stood out during the evening. There were some very eerie children chanting in a cemetery that mesmerized onlookers with their appearance and movements. These included the witch tending to her bubbling cauldron demanding more ingredients for her brew. Also, the clown dressed in a disheveled white suit with matching top hat was particularly interactive and even unexpectedly hopped back on board the wagon after leaving a later scene. The mountain man was probably the most creative with his sinister dialogue including wanting to remove someone's face because his Mamaw needs a new face and also going after a member of our group getting very close and creepily saying, 'Papa needs a new wife, I think you just might do!' Sadly, the final scene was devoid of cast members which was disappointing but understandable given the circumstances. We were, however, pleasantly surprised by the amount of scares and action provided by the cast that was present after being informed that the attraction was short staffed that night.
---
Costuming: 8.98
How Did We Get This Score?

There was quite a large variety of characters throughout the attraction. Some of these characters were original creations while others were based on popular horror movies such as the infamous 'Halloween'. With each of these characters, of course, comes the detailed costuming to bring them the horrific look they need.
We encountered many fantastically detailed characters such as a snazzy clown, realistic zombies, an old school witch (which you rarely see anymore), and some children that actually glowed in the darkness of the cemetery. The decked out clown wearing a white suit with matching top hat was a unique twist to the usual clown that we appreciated. These clowns were definitely dressed to impress for a night out to slaughter. Their masks provided an additional level of creep factor to the characters. Another really unique character that we enjoyed seeing was, in fact, an old school witch as mentioned above. It's very uncommon to see a traditional witch in modern day haunts so this was a great throwback to times of old. Did she cackle? Well, of course she cackled! Her outfit consisted of the obligatory traditional set of all black robes (which looked to be put together not just some purchased witch costume) with conical hat, warts, and of course the terrible brew bubbling within her massive cauldron.
Some of the best makeup we saw was that of the zombies. Their faces actually looked like decaying, rotten, sunken in flesh, and not just your usual blood splatter on a pale face. The children that glowed in the graveyard had such a haunted look all about their eyes that it was impressively distracting. These kids were amazingly detailed wearing bloody dresses, their glowing faces, and dark sunken eyes. The makeup worn by the mountain man was quite detailed as well. Much of his face appeared shredded and oozing blood.
The amount of detail that went into the costuming really shows the level of dedication these actors have to perform at their best and provide an excellent experience. Without such detailed costumes, characters would never fit into their surroundings which would completely ruin the illusion. We can't wait to see what next year brings, especially because we were informed that next year they will be upgrading to airbrushed makeup which will be applied to the actors, costumes, and props by professional cosmetologists.
---
Customer Service: 9.02
How Did We Get This Score?

This unique haunted hayride is rurally situated, which of course you would need for a haunted hayride in the woods! We obtained the address from the Demon's Gate Haunted Hayride's Facebook page, which has all the information someone might need to know in addition to the location, such as ticket prices, days open, and hours of operation. Traveling along scenic country roads, the GPS directed us to the Irem Country Club where DGHH is located. While we did see a sign at an intersection just prior to arrival, we did feel that it would have helped us to have more signage along the roads close to the entrance for those unfamiliar with the area (although maybe it was just our driver' or, no, the GPS, yes, that's it, it was a GPS issue, not the driver').
When we pulled into the parking area, there were several parking attendants using lights to guide us exactly where to park. This was quite helpful seeing as there are a few different parking areas. We were able to see the tractors and wagons immediately, however, we were initially unsure where to go to buy our tickets. It only took a moment to realize where to go, but we did feel that a large sign indicating the path to the ticket booth would have been helpful. The ticket booth was lit with flying ghosts and offered a large bowl of complimentary Halloween candy to pick from while purchasing your ticket. All of the staff was extremely friendly and provided A+ customer service. One of the staff, serving from the food truck, was very proud of his daughter whom was performing in a scene for the hayride. This haunt is truly not just a haunted hayride, but a welcoming family. From the moment you step out of your car, you became part of the family.
This attraction wins the prize for safety and security. From the parking attendants to the cop car that turned its blinding blue and red lights on each time a wagon started out, you could tell that safety for all in attendance was top priority. The hayride itself actually did not have any hay. Instead, it had comfortable benches lining either side of the wagon. We were informed that this was to avoid safety issues that hay can create, such as customers (or actors) slipping in the loose hay while getting on or off the wagon. There was one slight mishap where a puppeteer did get a little overzealous with their puppet ghoul and inadvertently bumped two of us in the head, but no major injury was caused, and that puppet caused one of the funniest moments of the evening.
---
Atmosphere: 6.9
How Did We Get This Score?

Upon first arriving at Demon's Gate Haunted Hayride, the only thing that told us were at a haunted attraction was a sign at the end of the driveway leading up to the Irem Country Club advertising the haunted hayride. Once into the parking lot, the most clear indication that we had arrived at a haunted attraction were the two wagons hooked to tractors waiting to take patrons on a fright-filled ride. Sadly, there was not much of a 'haunt vibe' to raise our anticipation levels. When we approached the table to purchase tickets, they did have a festive Halloween tablecloth and bowl of Halloween candy for customers to enjoy. There was also a motion activated strobe light that played creepy sounds whenever it went off.
All in all, there was not much of an atmosphere. It should be kept in mind that this is only Demon's Gate Haunted Hayride's fourth season in action and they are concentrating mostly on the main attraction to provide the best experience possible for customers while on the hayride. A more festive atmosphere will likely begin to form over the coming years.
---
Special Effects:

8.98
How Did We Get This Score?

Demon's Gate Haunted Hayride is a mostly low-tech, old school haunt. With that being said, you will not find many animatronics here. This is not at all an issue that will affect the quality of the entertainment provided. In many ways this provided for a more interactive experience with the cast members and the sets (and of course avoids all those pesky maintenance issues or down time that occurs when animatronics break).
All of the scenes were hand-built and blended into their natural surroundings giving the impression that they had always been there. There were many creative scenes along the way including a vividly colored toxic waste area with tons of 55 gallon drums, oozing with poisonous fluorescent chemicals. You will stop by the witches campsite in the woods where not only can you see the fumes wafting from her cauldron, but hear it bubbling away. Don't forget to swing by the nut house and visit your locked away loony relative, they are dying to show you around, and attack anyone who tags along! These are just a few of the scenes that you will encounter on this creepy hayride. While some of the themes for each scene may be time honored classics for haunted attractions, you'll have to see the details that have gone into the sets here that are distinctly different from what you may see on other haunted hayrides. If you stop by the butchers to pick up some 'fresh' packaged meat you'll see meat flying off the cutting block with every whack of the cleaver!
From a bubbling cauldron to circus music, the sounds helped set the scene for what was to come. The sounds were used to enhance the scenes, adding just the right touch, without overpowering the actors' voices. The most interesting and unexpected prop was a large puppet-like ghoul that taunted the wagon. It caused one of our group members to scream and flail her hands around when it took her by total surprise! This was because she turned around to get us to look at the ghoul, which she thought was only to be decor, but when she turned back it was no longer ten feet away but right in her face! Another unexpected prop was an actual gun which fired blanks' we think they were blanks anyway' The unexpectedly loud report of the gun made EVERYONE jump without exception!
---
Theme:

N/A
How Did We Get This Score?

There is no score for this category as there was no overall theme that tied the entire haunted hayride together. There were individual themes for each scene. Matt, the Haunt Consultant in charge, explained to us that for the hayride it provided a chance to be more creative, it provides a greater variety of scares, and causes it not be tied down to one set theme throughout.
---
Scare Factor:

8.26
How Did We Get This Score?

There were many different types of scares throughout the hayride. Loud noises, sudden unforeseen attacks, as well as intimidation, and terrifying props and all were well utilized techniques that maximized the scares throughout the hayride. Some actors pounded on metal barrels and others slammed on the wooden sidewalls of the wagon to startle the riders. Another great surprise scare was the use of air horns, those damn clowns really enjoy their air horns!
Actors would jump up and make sudden attacks on the wagon, intensifying the scares as the wagon made its way through each scene. Often times there were several actors hanging off the sides, back, and even on the wagon amongst the passengers, terrorizing everyone. This scare tactic only intensified the ride and created excellent opportunities for interactions between the guests and actors. Many of the actors that jumped in the wagon with us were not afraid to get directly in our faces. This was a great way to scare with intimidation, elevating the feelings of unease and fear. They would ask bizarre questions and tell us about horrible things that were going to happen to us. Not a single person on-board the hayride was ignored.
The scenes and props used were unnerving. The butcher shop with meat flying everywhere combined with the display case of stomach churning cuts available were the perfect distraction for the guy with a chainsaw. Of course, when we first pulled up we expected the chainsaw, but then there was that delay, watching the butcher chop meat, the girl in chains, all there so you never see that coming, until it suddenly revs up right next to you! Speaking of distractions, the best distraction was most certainly those creepy little kids that did such an awesome job of staring blankly into our souls singing eerily in the graveyard, mesmerizing everyone to the point that no one expected anything else.
Sadly, the ending of the attraction is where the lack of cast members (due to Homecoming events in the area), caused a noticeable issue. Truth be told though, we were not disappointed with the way the ride ended. Yes it wasn't great to miss out on the last scene, but we look at it from a different perspective. On one hand, they could have spread out the cast members more thinly to ensure some activity at each scene. On the other hand, they could consolidate the actors they had for more action in all but one of the scenes. They decided on the latter, which was, in our opinion, the right way to go. By sacrificing the last scene they were able to ensure the rest of the scenes were well equipped with cast to scare the daylights out of everyone! Besides, we did end up with an unexpected finale fright by the mountain man that wanted a new wife for Papa. We won't spoil it for you' you just need to get out there and experience the terrors for yourself!
---
Entertainment & Value:

7.15
How Did We Get This Score?

The entertainment provided while on the hayride was much better than we had expected because of knowing that they were missing several actors due to outstanding circumstances. Because of the excellent performance of the cast on hand, we were hardly aware of the fact that the attraction was short handed that night.
We were also pleased that the length of the attraction was not greatly affected. We were informed that it usually takes 35 minutes to complete the hayride. When we timed how long it took to go from parking lot to attraction entrance, and from attraction exit back to the parking lot, it accounted for a total of 5 minutes of the ride, which is not included in the overall scoring. This means that it usually takes 30 minutes to get from the beginning of the haunt to the end. As a result of the missing cast members, our journey took only 27 and a half minutes, which means we only lost 7.5 minutes from the usual ride time of 35 minutes. This means that for our visit, Demon's Gate Haunted Hayride provided us with 1.83 MPD (minutes per dollar) of entertainment (and frights) at the $15.00 general admission price. This is above the average of 1 that's seen most often! Our group, personally, did not feel that this was a huge detriment and we were satisfied that we got our money's worth.
Because this attraction is located at a golf course, the space they use is out in a wooded area behind the course. They have quite effectively used this space by weaving the trail through the woods. There were also no large areas of space between the scenes. The transition zones between scenes were just long enough to allow actors from the previous scene to follow along and continue striking fear into those on the wagons. There were mere moments from concluding with actors from one scene prior to beginning the next onslaught.
While many haunts have actors scaring patrons who are arriving in the parking lot, or while waiting in queue areas, there was no extra entertainment like this included. Often times you will encounter things such as bonfires, music, or other kinds of extra activities. Sometimes there are limitations to how much can be done because of locations or other barriers. Because they are sharing a portion of the Irem Country Clubs parking lot, there was not much of an opportunity for the haunt to offer extras like those aforementioned. There was, however, a large bowl of candy waiting for ticket buyers to enjoy, bringing back fond memories of trick-or-treating! Overall, this is a great up and coming attraction with an affordable price, that promises to entertain their audiences, expand, and continuously improve year after year!
---
How Did We Get These Scores

---
Guest ReviewsGuest Average: 7.67 out of 10
Carol – 10/10 – October 10, 2020We went over last night and went on twice! Those psychos really did a number on my husband. 😀 Will …show more be back soon!
Meg – 10/10 – October 4, 2020The clown were scary!
Stefani – 3/10 – September 26, 2020It was honestly very disappointing this year. I've been going every year since they opened, and this …show more year was BY FAR the worst. Very disappointed. Hope it gets better for next year. 🙁