Disturbia Haunted Attraction – Full Review
Disturbia Haunted Attraction is a Haunted Attraction located in Downers Grove, IL.
1213 Butterfield Road, Ste D, Downers Grove, IL 60515View All Details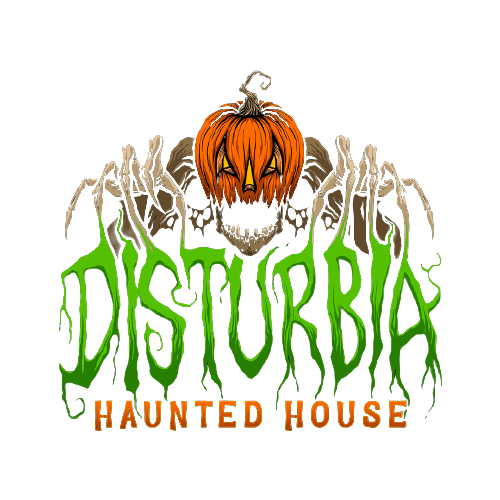 Features:

Free Parking, Restrooms/Porta Potties On-Site, Food/Concessions, Gift Shop/Souvenirs, Special Events, "Hi-Tech" Attraction, You will NOT be touched, Original Characters, Covered Outdoor Waiting Line, All-Indoor Attraction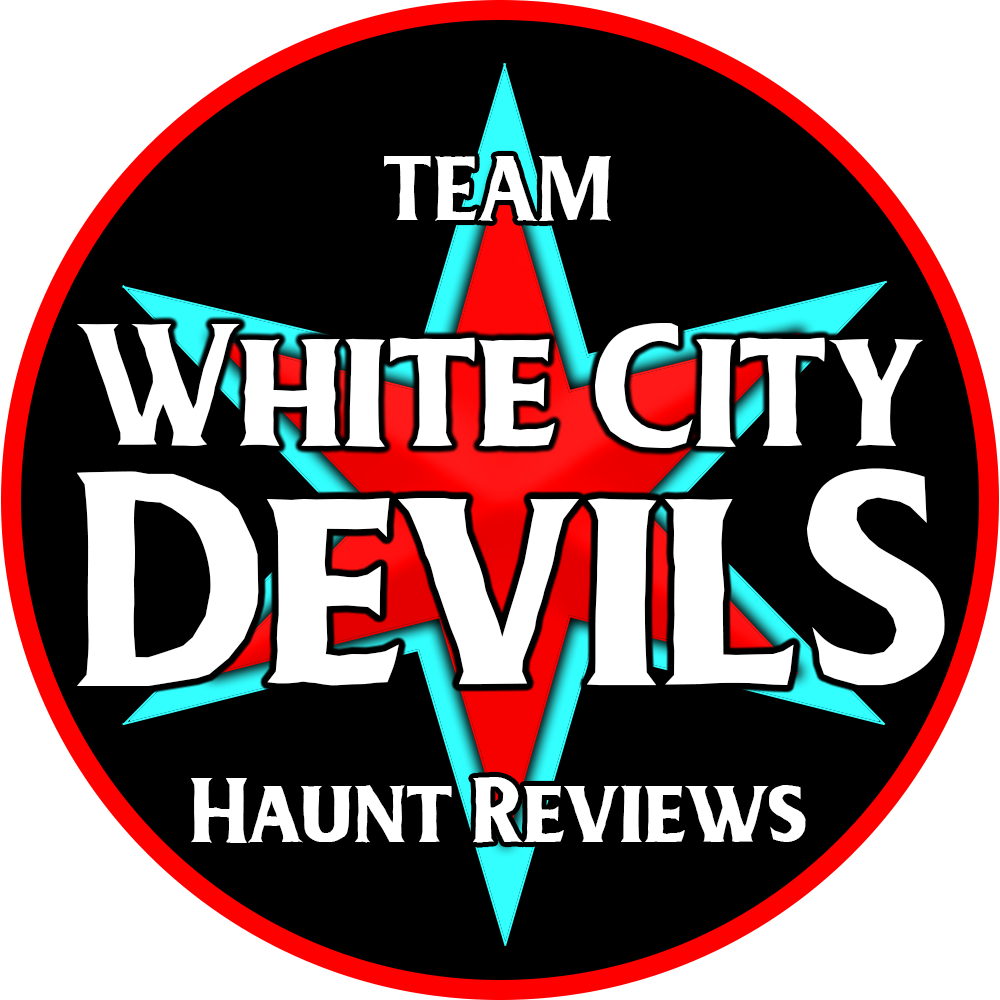 This attraction was reviewed on October 1, 2021 by Team White City Devils.
How Do We Get These Scores?

Final Score:

8.83
How Did We Get This Score?

Summary:
A very fun aspect of being able to visit haunts for The Scare Factor is digging into the history behind attractions. Disturbia has a pretty interesting past considering it was a premier haunt in the Chicago scene years ago at their old location in Rosemont. From there, the previous owners took a hiatus for some years before opening at its current location in Downers Grove. Shortly after reopening, the family of Auroras legendary Basement of the Dead (review for BotD coming shortly) took ownership and created what we are reviewing today! Spoiler, it is such a good time!
---
Cast: 8.08
How Did We Get This Score?

The queue actors at Disturbia have a tremendous way of keeping a great flow of entertainment for everyone, we could tell they have a good time whether guests are paying attention to them or not. It's almost as though they want to entertain themselves over anything and anyone in line is just along for the ride. A great example has to be the Raggedy Annie doll, she was sitting in the bushes in the parking lot island just keeping to herself. She was dragged out of the bushes by one of her legs from a chainsaw-wielding madman. When she got up to run away the chainsaw was actually thrown across the pavement at her in a terrifyingly hilarious fashion. Keep in mind this all took place on the far end of the parking lot and no where near the guest line. It was literally all for their entertainment which made it all the better if it's something you happened to catch.
Inside the haunt, it was noticeable that some actors weren't as seasoned as the queue counterparts in terms of speaking and interacting. Many of the actors within the haunt found scaring tactics of the growling/ grunting variety to be favored. There were a few who did happen to interact with us and their environment, but that was a tad limited at times even. We did get some great dialogue from the cabin scene but when we tried to interact back the response was fair yet short. I'm sure as time progresses and the cast feels more comfortable in their roles these minor details will change up for a more effective experience. This of course doesn't account for everyone but is noticeable when you compare inside to outside. It would be much more effective to have some great interactions with environments also. A good example would be the cauldron scene in the forest before the giant (more on this in the SFX category). Imagine how frightening it would be to hear some sort of whispered tongues of spells and sorts coming from an actor to really give the experience a whole new layer and make the show as a whole that much more believable.
They did, however, manage to scare us on a number of occasions which is a fantastic situation to be in. What they did have a great effect in and understood was delivering jump scares! There was no lack of cast taking advantage of their environment in that respect. I can say I am really excited to revisit this attraction at the end of our season just to see the newer actors blossom into fantastic haunters!
---
Costuming: 8.87
How Did We Get This Score?

What I really enjoy at Disturbia that is adopted from Basement of the Dead is that there is no lack of unique costumes and designs. One of the more disturbing costumes is the Raggedy Ann Momo Doll. For those who don't remember or are not familiar with the 'Creepypasta Momo' situation a few years ago, a quick Google search will lead you down a disturbing path. They managed to take that character and give it a Raggedy Ann hybrid. It's very unsettling, to begin with, and to top that even more, the actor spat a red button into my hand as a greeting for the evening' Oi.
When inside the haunt, we did run into plenty of cool costumes and some great masks and makeup. In the Mausoleum we did have a super wild demon character. The costume design was really unique and even paired with wings. The whole costume definitely stood out amongst the rest, though it did have a modern feel that stood out amongst the 100-year-old relic she was presented in, it was very cool nonetheless. They did have costumes to fit scenes specifically which of course is a major plus. In the kitchen/ butcher area, there was a really great pig mask that paired well with the overalls and gave the actor a whole 'back of the woods' vibe. There were a fairly good number of masks used and all of them were high-quality material. Makeup was applied with care and blended in well with actors. It can get difficult to get super close to them to try and see the smallest details, but you can tell they are there including wounds and cuts and such. It's always such a plus when you can tell that the makeup artists are taking their time regardless of the high volume they need to go through.
---
Customer Service: 9.73
How Did We Get This Score?

The Staff at Disturbia really tend to any and all needs. Someone is always available for any questions or directions and is always willing and wanting to have conversations about the haunt as well as other haunts. They are always super nice and friendly. I personally witnessed one of the staff members stop actors from scaring because of a frightened smaller child needing the restroom. This Speaks volumes on how well they wish to make it frightening for all but willing to adjust making it relatively 'family' friendly.
Parking is always available as the haunt is located at the deep end of a parking lot with neighboring businesses which has never been an issue amongst our plenty of on and off-season visits.
---
Atmosphere: 9.1
How Did We Get This Score?

Disturbia's atmosphere takes another page out of the book of their sister haunt, Basement of the Dead. The guest queue is very entertaining with a great-looking DJ booth that is a huge stand-out and very beautifully crafted to look like a giant stone-carved skull. The 'wait' time really doesn't feel like any wait at all as it is a constant party on the haunt's grounds.
There are plenty of photo opportunities with actors and a number of great-looking props. The music is a great mix of pop music mixed with rock songs in such an unusually great mash that is always impressive. When we combine all of the great characters running amok along with some swanky tunes to move to, it is a clear example of the life motto 'if it ain't broke, don't fix it.' The atmosphere is a clear stand out for any visits to Disturbia's sister haunt and it translates just the same here for a jolly good show!
---
Special Effects:

9.04
How Did We Get This Score?

When it comes to effects and animatronics, Distubira provides a great combination of over-the-top giants along with smaller and medium-sized factors that really are effective. When we are first welcomed into the realm of Disturbia, we are greeted by the GateKeeper, a giant animatronic that takes up a good portion of the room itself. It is a really great way to be given the common haunt rules (no touching, no cameras, etc., etc.). The particular thing about Disturbia here is that as it is common for a haunted house to have some sort of titan standout to have a spotlight moment and dwarf the guests attending, Disturbia has two more located inside the haunt itself! It's wild because each is unique for their own scenes and they are rather amazing.
The first great one is just outside of the forest scene right after the catacombs (previously mentioned under the cast category). There is a smooth transition from the catacomb to a cauldron and sacrificial alter that I am safely assuming is to please some sort of great beast. The reason I safely assume this is because we are shortly introduced to this mammoth who eventually stands up to further prove just how small we really are.
The other big animatronic is in what has to be one of the coolest detailed rooms we have seen in any haunt, the Jack-o-lantern room. The walls on this room are all different pumpkin carvings and from what I can tell (and did we take our time going through) no two are alike. Inside is a great animatronic that belongs here. It is made up of Jack-o-lanterns and feels like it was made for this scene. Regarding details here, there is one stand-out pumpkin that actually has a human skull inside of it, such a great little detail to notice and we challenge you to find it amongst the 100's of other pumpkins!
What I really enjoy is how well the combination of well-thought-out scenes and costume design make for a more convincing experience. There is a great scene where we found ourselves inside a sewer and everything about it made it feel convincing. From the steel grating floor, we walked on to the thick fog and sounds coming out of there, it all made everything convincing.
Some of the greater detailed scenes to us would be the mausoleum. The scene has some great props, but it doesn't take away from how well detailed the crypts look with the smaller details such as actual names and dates on graves! From there we are shortly transitioned into a catacomb with the classic skull walls, however, amongst these walls are sort of unmarked graves that are open, and we are able to see skeletons and skulls and such. The skulls themselves look detailed enough to make us question if they are actually real or not. It is always nice when haunts add antiques to the attraction to give it an even more realistic vibe, and a great example of that is the antique autopsy table used in the surgeon's room. it is a nice touch to think about how many possible bodies actually laid there over the years. Overall, the effects used in Disturbia are phenomenal, hell, they literally reach the ceiling at times!
---
Theme:

N/A
How Did We Get This Score?

Although the GateKeeper mentions we are now entering the realm of Disturbia, there is no direct storyline here. We did check the website as well and came up empty regarding a direct story of Disturbia. Though I will say there is a good flow to the haunt where some scenes transition well, there is no direct collation between scenes that we can tell. This of course takes nothing away from the visit and is an area we chose not to score on due to this.
---
Scare Factor:

8.36
How Did We Get This Score?

Considering the revamp that this location has been transitioned to over the past few years, it has become much better than our first visit before BotD had a helping hand in it. Disturbia did leave us feeling satisfied and had us scared a number of times between scenes and actors alike. There is a great prop that is used when we transition in a scene from the front of a house onto the inside of the house that I am sure has scared plenty of people night in and night out. I won't say much to ruin it, just watch your head. There are plenty of well-placed props throughout that also belong in their respective scenes that add more to the overall experience and work well for misdirection. The actors did a great job of providing plenty of jump scares, some of which did get us!
The final scene took us the longest to walk through and I feel achieves the desired result. We found ourselves inside a maze with jail bars. This alone is rather bland but when there is a constant strobe light and a thick fog to navigate through, the combination really discombobulates the mind at times as to what props are props and what actors are actors. Everything is moving in a sense, and it is very tricky and therefore left us with a vulnerable impression.
Overall, this haunt does a fine job of providing some good scares! I have seen whole families walkthrough so it is possible they adjust at the moment to better provide an experience for that particular instance; however, I cannot attest to that. I do believe Disturbia will continue to add on as the years go on and I can see it becoming even darker in some aspects, it'll be a sight to see!
---
Entertainment & Value:

9.04
How Did We Get This Score?

We had clocked our walk-through time at Disturbia just under the 19-minute mark. This is an amazing time for one attraction and gave us a Minute per Dollar value of $0.68.
If your tickets are purchased online, General admission is $27.99 and VIP is $39.99. Considering how well the overall experience is regarding the outside entertainment along with the attraction itself, Disturbia should not be overlooked whatsoever. It is clear to us that this attraction has been brought up right and will continue to strive amongst the other great attractions around Chicago!
---
How Did We Get These Scores

---
Guest ReviewsGuest Average: 9.25 out of 10
Arthur – 10/10 – October 16, 2021It was a very scary sight and worth every dollar great atmosphere gotta come again
Keith Bucholz – 8.5/10 – October 21, 2021My friend and I have an annual haunt every year. We have been to most in the chicagoland area. I …show more would put this at the top. Great effects, good actors and good scare factor. This company also runs the basement in Aurora, and it too is a great attraction. Only comment it could be bigger and they should add more as time allows. I think it's only their second year for this haunt, but I will be back!