Escape The Aliens at Ryptic Room Escape San Mateo 3rd Ave – Full Review
Escape The Aliens at Ryptic Room Escape San Mateo 3rd Ave is a Escape Room located in , .
205 East 3rd Avenue, San Mateo, CA 94401View All Details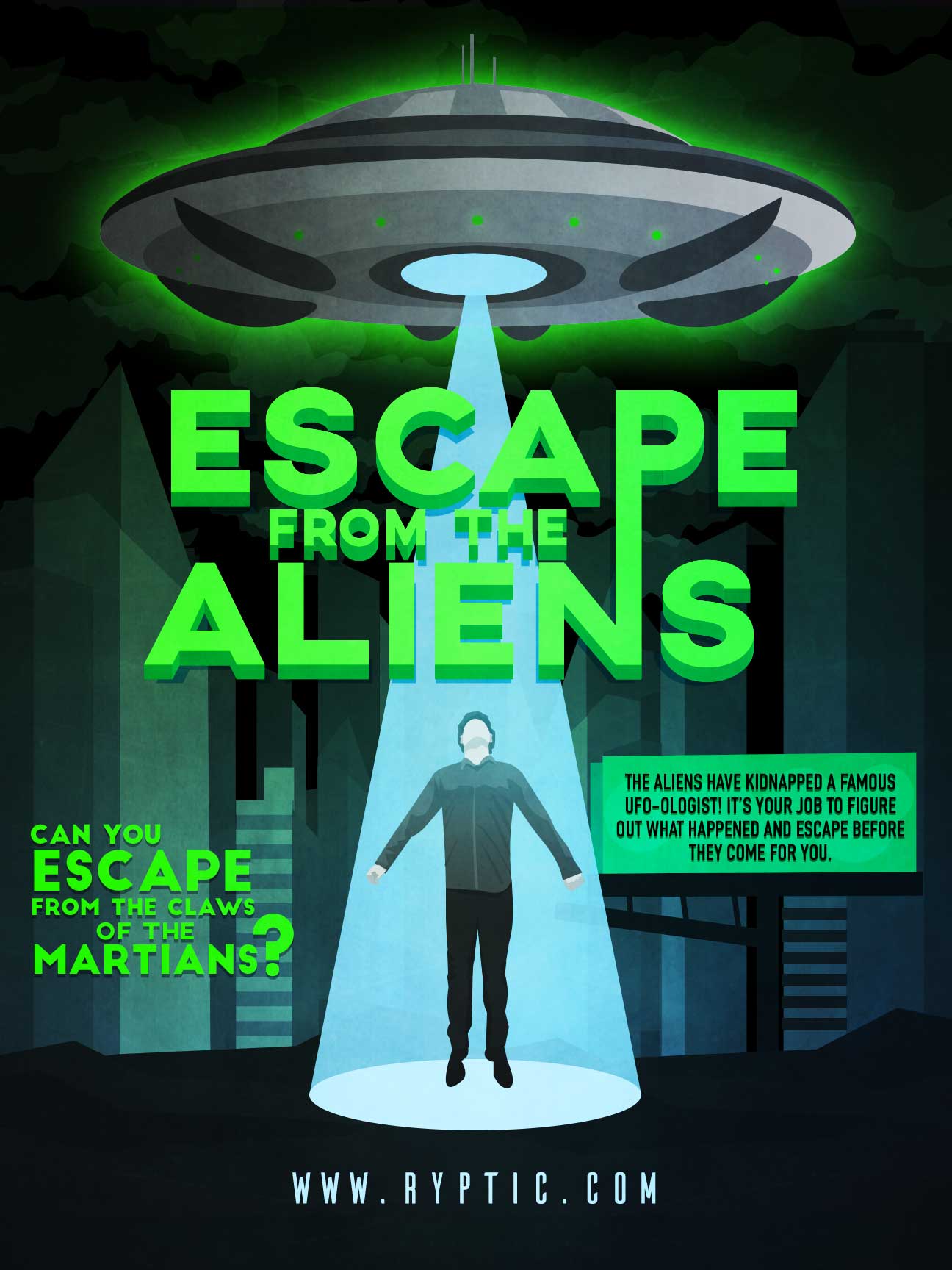 Features:

Free Parking, Paid Parking, Restrooms/Porta Potties On-Site, Handicap Accessible, Special Events, "Old-School" (Low Tech), You will NOT be touched, All-Indoor Attraction, Family Friendly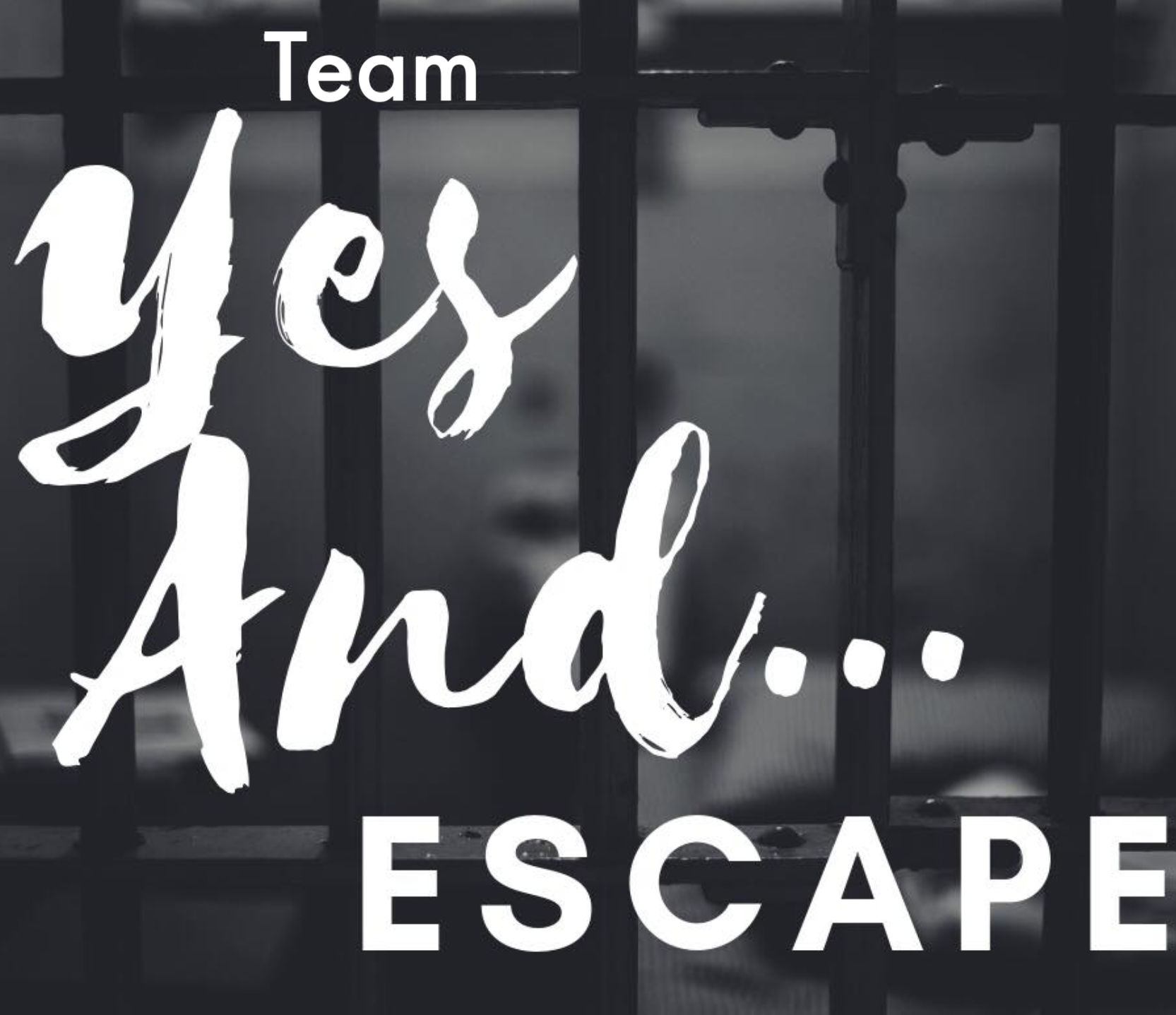 This attraction was reviewed on November 15, 2019 by Team Yes and Escape.
Final Score:

7.38
Summary:
Some members of Team Yes and Escape were summoned to northern California for… classified… business. While in town, we discovered a secondary secret mission we decided to take: escaping from aliens. Being visitors in town, we already felt like undercover agents, so when we saw the opportunity to help lend our investigative skills to try and learn the mysteries surrounding a UFO expert's disappearance, we leaped at the opportunity. Even though we were at risk of being captured by the Men in Black (no, not the ones from the movies, actual scary ones) we were up for the challenge.
'Escape the Aliens' at Ryptic Room Escape San Mateo 3rd Ave consists of primarily first-generation rooms (simple locks and puzzles) and is rated 'easy' according to their website.
---
Atmosphere & Customer Service: 8.8
Ryptic Room Escape is located within the Medical Arts Building on 3rd Avenue. It's nondescript on the outside, though there is a little sign in the window to let you know you're in the right spot. But, the fact that it's just an older plain building does add to the credence of going undercover to a classified location. It was also helpful that our game host was waiting for us in the building's lobby to help check us in and reaffirm we were where we were supposed to be. She guided us up the stairs, offered us the opportunity to use the restroom, then assembled us in the briefing room. This room was a mixture of hand-painted murals showing aliens and UFOs, as well as photos of prior teams with their escape times, the top three featured on a whiteboard. The room also doubled as a storage area with some curtained-off areas which contrasted the atmosphere being set by the dancing extraterrestrial lighting.
Our game host was extremely courteous, professional, and helpful, but briefed us completely verbally. The rules were extremely clear, but the initial story was a bit confusing. We were told that the host personally hired us to investigate the disappearance of Dr. Hatt, and to find his research to determine if the aliens he made contact with were peaceful or hostile. However, the briefing was a bit inconsistent in tone, and we weren't sure how the host figured into the story. These are minor details if you just like to solve puzzles, but if you're the kind of player who likes stories with their game, then the briefing was a bit underwhelming.
---
Immersion: 6.83
Carrying on from the briefing, we were led into Dr. Hatt's office and shown around. The immersion factor of this particular game worked hard to keep us within the alien world, but failed sometimes to do so with a combination of the way hints were delivered and the use of lighting and sound.
The building itself was clearly old and it was difficult to make any structural changes. We felt that the chamber lacked a lot in the realm of futuristic adornments, which might have punched up the alien theme. The lighting was standard and, although some of my teammates said they heard music, I don't remember hearing any, nor them adding to the suspense.
Once we made it to the final clue stream, there were noticeable increases in the 'alien' factor but it took a while to get there. In addition, the hint delivery system involved the game host actually entering the room to lend her assistance, so her sudden appearance would sometimes bring us back to reality.
Again, this is more coming from a place of someone who really enjoys the scenario element of escape rooms, so if that's not why you play these types of games, then this won't detract from your entertainment. There were a lot of fun nuances set up around the office that really did feel like it belonged to a scientist who got caught up in his work, but they were laid out in a way where you really had to dig in to discover them. You'll also discover a pretty clever 'twist' to the narrative as you advance through, which was highly enjoyable. There just seemed to be a lack of consistency in the immersion category that was noticeable to our crew.
---
Gameplay: 7.4
Escape the Aliens' utilized an array of unique concepts in designing their puzzles. Although the vast majority of their locks are first-generation, they were arranged in ways that I had never seen (and this was my 19th room).
The puzzles closely aligned with the theme of the game and, given the 'paranoia' of the scientist whose office we had infiltrated, we found ourselves very paranoid about whether or not we were addressing clues correctly. There were eight of us in the room and, many times, we would find something new and had to come together to try and make heads or tails of how to proceed. This was before realizing there were still other clue streams that needed attention, and we'd split up again. As the moments ticked away, we did feel a sense of urgency build and build. So, our hat is off to Dr. Hatt in this regard.
The game is fairly linear, but there are enough bits and pieces of other streams sprinkled in that you can work on something needed in the near future while other teammates focus on the most imminent obstacle. There is always something happening to keep you engaged. The puzzles are also pretty tricky. We escaped with just under ten minutes to go, but I feel that would not have been the case without the use of our hints. So, if you're looking for a game that will really challenge you, then this is the spot for you.
But, coming back to the hints; we felt they verged on the realm of too helpful. Rather than a gentle push in a helpful direction, we were often given the secrets to the entire clue stream. This again comes down to how you like to play escape rooms. We just felt like, in some instances, we would have still liked to try our luck with layered clues. There was one puzzle that we really did need that much help with. It was a well-crafted and cunning puzzle that our team was simply not approaching from the right angle, so we needed a lot of assistance. Conversely, on another series of clues, we were tantalizingly close to being on the right track and a one-word hint would have been enough to get us going. Though, in this instance, our game host essentially completed a portion of the clue stream for us, which felt a little anti-triumphant. As mentioned above with immersion, it was all about consistency.
There is no clock in the room, but your game host will enter the room at standard fifteen-minute intervals to alert you to the passage of time. Your host is also always accessible, so they are able to provide you with your remaining time outside of their normal announcements.
---
Entertainment & Value: 6.5
So, you will likely have a lot of fun with this room, especially if you want a challenge! This might be one of the most difficult games I ever played, and I'm thankful to see outside-the-box puzzles that break the norms. In the briefing room, a whiteboard showcased an escape rate of 23%, which felt pretty accurate. However, on Ryptic's website, 'Escape the Aliens' is advertised to have a difficulty level of 'easy.' We strongly feel that this is not the case and, if you were specifically trying to find an easier room for a first-time escape room experience, or you're still pretty new to the hobby, then you may find yourselves frustrated when tackling this game. But, if you want to be thoroughly challenged, then book this room because you will really need to fire up your brain!
For a 60-minute escape game, you will pay $30 per person for a shared experience. The room holds between two and ten, so there's a chance you'll be playing with other groups. You can book out then entire room for $300 if you'd rather play privately. Ryptic Room Escape also offers a neat team-building option where, for an additional fee, they will observe how your team plays and send you back a report on areas of strength and possible improvement. We did not partake of this feature, but felt it was worth mentioning as we had never come across it before. They also give you the option to rent a private room if you wanted to have a catered lunch, dinner, or appetizers. If you'd really like, you can make this a close encounter of the third (feature) time.
---
How Did We Get These Scores

Join ourspookyadventures!
We visit Halloween haunted attractions year-round! Follow us for haunted house walkthrough videos, behind the scenes footage, and more!