Evil Intentions Haunted House – Full Review
Evil Intentions Haunted House is a Haunted Attraction located in Elgin, IL.
900 Grace Street, Elgin, IL 60120View All Details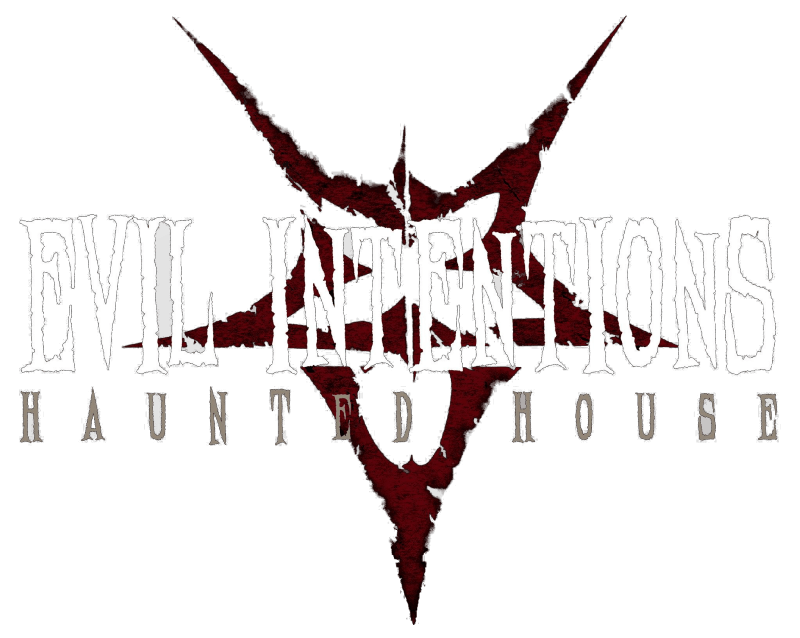 Features:

Free Parking, Restrooms/Porta Potties On-Site, Gift Shop/Souvenirs, Special Events, You will NOT be touched, Original Characters, Indoor/Outdoor Waiting Line, All-Indoor Attraction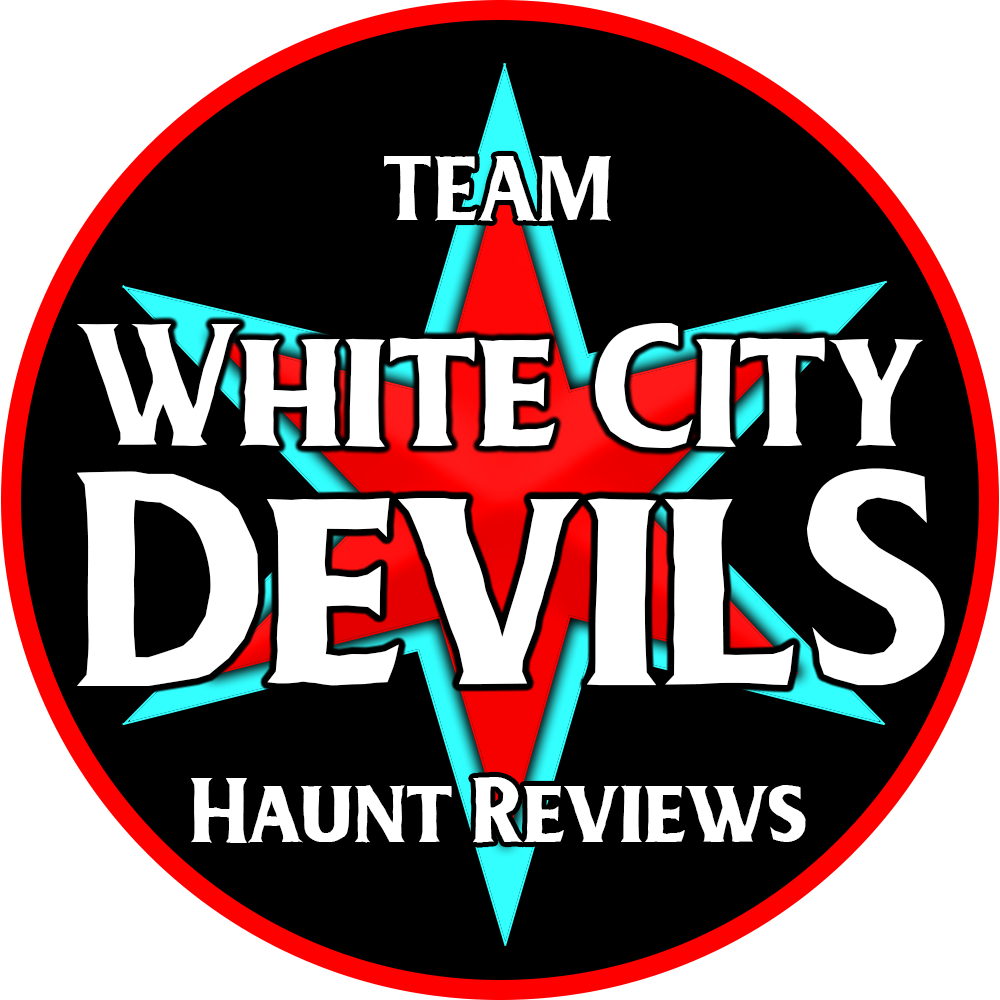 This attraction was reviewed on October 10, 2021 by Team White City Devils.
How Do We Get These Scores?

Final Score:

9.34
How Did We Get This Score?

Summary:
We found our way back to Elgin to visit Evil Intentions (EI) for the 2021 season. This haunt has been rated one of our top haunts in Illinois for the past two seasons and is highly regarded as one of the tensest and frightening haunted houses in our area, something they have the goods to back up.
They have made plenty of changes throughout the attraction, but the one constant has been being downright frightening! I can't think of anywhere else we have been where someone coming out after their visit had told the general public that they have just sh@t their pants and needed to leave right away' this happened on the night of our visit.
---
Cast: 9.15
How Did We Get This Score?

The actors at EI play some of the most deranged characters around, and that's no joke. We ran into Horsey who (rightfully named) wears a horse skull to cover their own. The character doesn't talk or at least didn't on our visit yet communicates through whimpering tones of sorts and head nods. We have received some pretty cool small tokens from actors all over, but it was the first time we received an actual child's tooth. I don't want to know how they came across this item, but I can say for a fact Horsey had a small jar full of them. Horsey also marked my palm with a symbol, afterward, they popped out a small notebook and scrolled through a ton of etchings to eventually find what was now on my palm with the words 'bonded together' next to them' something like that is enough to freak anyone out and yet it was just another day in the life of EI and its cast.
Once inside the queue, actors go above (literally) and beyond. Actors seemingly are traveling from above us on high fences to make easy travel between groups. We had one actor take a picture with us who towered over us and used the top of my head to rest their hand on' I'm 6 foot 1 and this guy is directly above me no problem.
Inside the haunt, there are constant hard-hitting moments from actors that make it understandable how someone soiled their pants that night (I'll probably mention this moment another five times somehow). Everyone takes their role seriously and helps add to the immersive experience. One of the more stand-out characters during our visit is a new one who goes by the name of 'Big Rick'. He has that back of the woods southern drawl that is convincing enough to wonder if he is a lost cousin of the Sawyer family from Texas Chainsaw Massacre. It was a well-thought-out character and performance.
Being actor-driven, there is no lack of physical moments throughout as well. There is a room just before the swamp that has an exorcism performed and the possessed actor was one of the tenser of the performances. After lunging themselves clear across the room while even chained to the wall, it is clear that they give it their all each time. I feel this is the same actor we were thoroughly impressed with from past seasons in a different room and role.
Overall, EI has a completely dedicated cast that seems to know no bounds, there will always have a great performance during each visit.
---
Costuming: 9.24
How Did We Get This Score?

EI is a darker-themed haunt so what we end up seeing in costume and makeup tends to reflect that as well. The Red Witch is a great example of a full, over-the-top costume. It's a great combination of a half mask from the cheeks up and makeup that makes it almost look like the top half of the skull. This is paired with what appears to be some sort of long stick-like-looking teeth. There is no kind of animal I can even think to compare the type of teeth, but they oddly enough also compare similarly to the nails used for this character. The Red Witch is dressed in an all-white gown and crown that is tattered and bloodied up good. It is a well-thought-out costume and looks fantastic.
Inside the haunt, we happened to cross paths with who we have deemed the cult leader in previous reviews. He is still as menacing as before. Masked with a great-looking ram skull, he is positioned on the altar of the church teaching the word of the cult to all of its damned parishioners. We did see plenty of great makeup and prosthetic applications as well throughout. A good example would be teeth again, some other actors had a row of sharp bloodied teeth and a deep blackened bloody spot on the chin showing some sort of signs into tearing something (or someone) to death with gory remains still in plain sight on the face.
There is plenty of thought throughout the costuming and makeup that help adds value to the haunt as a whole. We have come to expect dark and ominous through every aspect with EI and the makeup department delivers once again' enough to make someone soil their pants.
---
Customer Service: 9.52
How Did We Get This Score?

EI has been located in the old Elgin Casket Company for quite a few seasons, so it is pretty easy to spot. If you pull up and are still unsure there is a good chance a queue actor will try to get inside your car. They did add some great lighting to the parking lot this year to help which was lacking from previous years.
The staff is nothing but friendly and able to provide any answers about the attraction and guide guests to exactly where they need to go. Their website and social media are always active and also help answer any questions anyone may have. The safety at EI has always been a good stand-out as there have been times in past visits where we needed to cut conversations short due to safety concerns. Thankfully there were no conversations cut short other than the quick moment Security had to direct someone to the porta-john' because they soiled themselves upon exit.
---
Atmosphere:
How Did We Get This Score?

---
Special Effects:

9.38
How Did We Get This Score?

What remains a unique experience from the team at EI is their SFX department. EI tends to take a different approach than other haunts by creating hand-built scenes from scratch. The greatest example of this is the building of the church within the building that once was the Elgin Casket Company. The church is completely made of lumber with a high ceiling, it is something of beauty honestly. They also found some church that went out of business and took the old, retired pews and made them useful again! The same goes for the old organ that still works. They tend to work the natural creepiness of the building in with the build and create some super tense moments and scenes.
One of the more tense moments in the haunt is shortly after the church, and this will be the catacomb. It is difficult to tell what is real and what is a prop down here as they are all covered in white cloaks and the slowly flashing strobe light does not help us to figure it out. What is great is there is no rhyme or reason in terms of what direction to go. There is no clear path here so more than likely, people walk right by an actual person without realizing it until it's too late.
Another great effect that is unique to EI is the music playing. They have a legitimate soundtrack to the haunt and each scene is paired with a different track. It is super cool to have taken the time in creating a song depending on the tone wanting to be projected to the scene. I really can't think of anywhere else that has taken this so seriously and it works wonders on creating tension and some sort of relief when needed. When we combined all the details, sounds, effects, and driven actors it is enough to attain a suspension of disbelief as it is all-immersive in its own right. It seems to be the perfect storm for someone behind us to have soiled themselves.
---
Theme:

N/A
How Did We Get This Score?

---
Scare Factor:

9.4
How Did We Get This Score?

SOMEONE SOILED THEMSELVES. I met my quota for mentioning that. I almost want that to be the end of this category, but I will continue'
EI is a heavy actor-driven attraction that does not quit. Everything about this attraction is super tense and difficult to handle at times. What is great about this is you are getting more than what was expected. Everyone in the group was approached and scared during multiple moments throughout the whole experience.
There was the previous mention of the catacombs. This is a great example of showing that something so simple could be super effective and hard to swallow. It is all about the execution and it is hit right on the head here. Another example of being actor-driven would easily be 'Ward E' and all of the crazy patients that loom these halls. They leave little to no room for recovery and continue to wear down anyone caught walking their hallway.
We haven't made any mention of the school as of yet and that's because we were saving it here! Within the school halls, we find some very diabolical characters that seemingly continue to show EI actors have no boundaries. When walking through the library portion, actors are all over high and low from shelf to shelf to scare, and they succeed I might add.
Another fear and possible superstition of many that EI plays with is coffins and caskets. There is a coffin maze that leaves anyone in fear of having to fully commit to that confrontation and it doesn't help any when you have actors waiting to pounce under various corners. The maze itself feels as though the walls are shoulder length and leave an awkward walk through but I think that is supposed to be the point here! EI continues to remain one of our highest-rated visited shows regarding the Scare Factor category and it is no surprise as to why.
---
Entertainment & Value:

9.27
How Did We Get This Score?

Our walk-through time at EI was 25 minutes. With general admission costing $35, this gives a Minute Per Dollar value of $0.71. This is the same price and MPV as last season but in addition to many new changes throughout the attraction. When we take that as fact (along with the constant quality we have come to expect for EI) it remains a great value and a must-see attraction for the 2021 season.
The team here continues to impress season after season, and we are excited to see what else is to come of it! Don't forget, someone, sh@t themselves here this season.
---
How Did We Get These Scores

Promo Images:
Click to Enlarge
---
Have you visited this attraction?
---
Past Awards
---
2022 Awards
Scariest Haunt in IL (Given by: The Scare Factor)
---
2019 Awards
Highest Rated Haunt in Illinois (Given by: Team White City Devils)
Scariest Haunt in Illinois (Given by: Team White City Devils)
---
Join ourspookyadventures!
We visit Halloween haunted attractions year-round! Follow us for haunted house walkthrough videos, behind the scenes footage, and more!