Factory of Terror OH – Full Review
Factory of Terror OH is a Haunted Attraction located in Canton, OH.
4125 Mahoning Road NE, Canton, OH 44705View All Details

Features:

Paid Parking, Restrooms/Porta Potties On-Site, Food/Concessions, Gift Shop/Souvenirs, Optional Games/Midway, Special Events, "Hi-Tech" Attraction, You may be touched, Original Characters, Indoor Waiting Line, Uncovered Outdoor Waiting Line, All-Indoor Attraction

Team Jefferson Starship reviewed this attraction on October 7, 2016.
Final Score:

9.56
Summary:
The Factory of Terror is an ever-evolving and growing, three-time Guinness World Record-holding haunt that boasts 150,000 square feet of terror for visitors to its haunted complex. With five houses, multiple photo ops, professional quality makeup and a horde of devoted monsters, this is a must-see for any haunted house lover! Covering a wealth of themes, this haunt will take you through the darkest and most terrifying twists and turns, testing both your endurance and your bravery as they manufacture all of your worst nightmares into reality. Take a rest in the Midway, make use of their concessions and collect merchandise to prove that you survived this unique experience.
---
Cast:

8.99
The Factory of Terror boasts a cast of unique and terrifying actors that will taunt and grab you as you run for the end and safety. From the terrifying and surprising butcher in the mortuary to the bug-eyed and spastic antics of the beekeeper, actors here are engaged and prepared to take on all comers from open to close. There are a few rooms that seemed emptier than others and some of the actors may benefit from expanding their performance beyond simple screaming or roaring, but the majority of the monsters here both delight and terrify. The improv is on point and, despite our team's best efforts, we were unable to stump anyone or break them from character. Look out especially for the quick wits in the red dining room and the graveyard.
---
Costuming:

9.45
The costuming and makeup in Factory of Terror are a particular point of pride for the workers here. Actors arrive three to four hours before the night begins to get into costume and makeup and almost all of the monsters are lovingly hand crafted with airbrush, latex appliances, and good old-fashioned practical effects. Minus one somewhat-perplexing fairy tale figure in the jungle, each of the characters were detailed, unique and appropriately costumed for their area. A certain policeman with a heavy facial burden stuck out to us as being particularly unique and terrifying. Masks are very sparse here and always used effectively. Our group was also enamored with a two-faced patient that came through our line to ramp us up for the coming horror.
---
Customer Service:

9.9
The customer service at the Factory of Terror is exemplary! Our group arrived somewhat early and proceeded to make multiple transactions, handling both the purchase of season passes and the discounts that come from them. The lady that was handling us at the window was patient, kind, and incredibly helpful. We also received great service at the concessions and merchandise area and were impressed with how clear both instructions and signage were. The Factory is very well branded, marked, easy to find, and the parking lot attendants are excellent at conducting traffic and answering questions. Monsters pay close attention to the queue lines and the gatekeepers of each house keep an eye on patrons and their safety. You can look out for the slider, but you'll never see him coming until it's too late. Our team was amazed at the smooth and in-character way that 'Mama' (at the entrance of Backwoods Hollow) broke up a fight between two teenage boys before redirecting their energy onto the haunt. This is definitely a place to bring comfortable shoes with good grip and closed toes. Some of the floors are uneven, wet or sloped and there are many places where exploratory fingers could be injured. It's best to pay close attention to your surroundings and follow all safety instructions. Handicapped hallways and exits are available for patrons in need.
---
Atmosphere:

10
This haunt is a Halloween lover's Wonderland. From the moment you step into the facility to enter the queue, you're surrounded by haunting music, the sound of screams and the maniacal laughter of the twisted denizens. The queues are well-staffed and contain their own scares for waiting customers. The midway contains multiple detailed photo op spots and the new walkway to the final two houses is breathtaking. There's no point in this haunt where you don't have something to stare at… or hide from.
---
Special Effects:

9.88
Factory of Terror is a haunted house from start to finish. Every room has been hand-crafted with a special eye for detail and maximum effect. This doesn't stop at a variety of props, but extends to every one of the senses. This haunt is an aesthetic delight, ranging from the on-point sound effects, the theme-appropriate smells and the carefully-constructed walls and environments. The Graveyard smells like a graveyard, the industrial features spark and pop and the walls seamlessly change from pitch-dark wood to realistic stone to aged and decaying wallpaper. A single visit will never allow for every detail to be taken in and our team suggests that, if you're a lover of good sets and scenery, it would be best to save up and go through multiple times just to see how many new things you can spot on each walkthrough. Some set pieces have been mistreated by overly-enthusiastic guests and a few lights are placed in obnoxious angles, but as repeat visitors, we can vouch that the staff here fix these problems as soon as they're caught.
---
Theme:

9.12
There are five houses' each with a separate theme. It would be a tragedy to expose the details of each, so we'll try to paint broad strokes. 1300 Lost Souls focuses on a series of intricate sets with each holding a depraved and maddened monster. Industrial Nightmares is a realistic and densely-packed section of factory-themed terrors. Backwoods Hollow is a dark and twisting adventure into the family complex of cannibalistic hillbillies. Massacre on Mahoning and House of Nightmares are a bit more jarring and cover a wider variety of fears. While there are some jumps in thematic clarity in the last two houses and the transitions can be quick, the execution is flawless.
---
Fright Effect:

9.5
The Factory of Terror is a variety of monstrosities that are spread out over a gigantic space. It offers every kind of scare from loud jumps to the creeping terrors. The actors have amazing timing and the animatronics are varied and well-placed to properly shock and amaze visitors. The huge variety ensures that, if you're not scared by loud noises and screaming, you'll find yourself stumbling into a dark passageway to face your inner demons or meandering along a walkway filled with tension and an eerie atmospheric build. Groups of four or smaller are recommended, as larger groups could miss scares in rooms with fewer actors or effects that are triggered by the first entry. Be prepared to listen to many screams and possibly add a few of your own.
---
Value:

9.67
It takes over an hour to walk the entirety of the Factory since the distance totals over a mile. A general ticket is $27 and a fast pass is $37. The math on this works out to roughly 2.22 minutes of entertainment per dollar. Parking is on-site and $5 separate from your ticket price. The Factory can get very busy, so a fast pass is recommended if you don't enjoy standing in line. Should you decide to be a frequent visitor, the Factory offers Season Passes for $100. These passes allow the visitor to come as many times as they want throughout the year with free parking, fast pass access, and 50% off the price of a fast pass for up to four of your friends. There is a $2 convenience fee for buying tickets online or using a debit/credit card at the site. An ATM is provided. Factory of Terror also has lights out, glow stick nights on special occasions for $23 per person.
---
Promo Images:
Click to Enlarge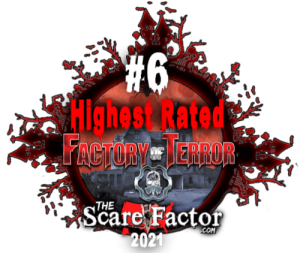 ---
Guest ReviewsGuest Average: 8.17 out of 10
GuitarDude – 10/10 – October 12, 2018This haunt took us well over an hour to complete. The scenery is fantastic and the acting was on …show more point. They have a lot of triggered scares and animation, which I love, but that's not to say they lack in number of actors. We all loved it and will definitely be back.
Christopher Wood – 9/10 – October 13, 2018Pretty awesome!!!! The scare actors and actresses knows their scenes very well!!!! I will come back …show more next season on a weekend when I am not acting at Fear Fair!!! Thanks for the scares!!!!!
DC Books – 5.5/10 – October 7, 2018Several generic haunts strung together. Nice props, but mostly just a long screamer without a …show more theme. A fun night out and some good cardio.
---
Past Awards
---
2022 Awards
Best Example of Bringing the Outside Inside (Given by: Team Jefferson Starship)
Toe Jamm - Jen Rhoades (Given by: Team Jefferson Starship)
---
2020 Awards
#3. Highest Rated Haunt in 2020 (Given by: Team Jefferson Starship)
---
2019 Awards
Creepiest Scene - The Graveyard (Given by: Team Jefferson Starship)
Most Hi-Tech Haunt (Given by: Team Jefferson Starship)
Best Hiding Spots (Given by: Team Jefferson Starship)
Most Decorated House Queue (Given by: Team Jefferson Starship)
Most Challenging Maze (Given by: Team Jefferson Starship)
Best Scenic Design (Given by: Team Jefferson Starship)
Most Unique Characters (Given by: Team Jefferson Starship)
---