Factory of Terror OH – Full Review
Factory of Terror OH is a Haunted Attraction located in Canton, OH.
4125 Mahoning Road NE, Canton, OH 44705View All Details

Features:

Paid Parking, Restrooms/Porta Potties On-Site, Food/Concessions, Gift Shop/Souvenirs, Optional Games/Midway, Special Events, "Hi-Tech" Attraction, You may be touched, Original Characters, Indoor Waiting Line, Uncovered Outdoor Waiting Line, All-Indoor Attraction

Team Jefferson Starship reviewed this attraction on October 7, 2017.
Final Score:

9.19
Summary:
Three-time Guinness World Record Holder Factory of Terror is still producing new nightmares after all these years. With five haunted houses and a number of chilling escape rooms it offers year-round scares for anyone brave enough to step through its doors. The Factory changes with every season building new scenes and frights layer by layer. With unique and hand-built special effects, several complicated and terrifying mazes, dedicated monsters, and a deep passion for causing screams, Factory of Terror is wonderland for anyone who likes to be scared or anyone who simply loves monsters and Halloween. With events on major holidays, black out nights, and season passes, there are more than a few chances to enter the Factory and try to memorize every detail of its terrors.
---
Cast:

8.91
The monsters at Factory are high energy and plentiful. Our team bandied words with the frantic cook in the kitchen about the right body parts to devour, had a chilling encounter with the overseer of the morgue, and dodged monsters around every corner in the mazes we wandered through. We also loved the back and forth with a monster in the caves who epitomized the great dialogue the creatures here are fond of. Actors stay in character as they pop out of hidden spaces, swing down from above, and generally use props and environment to terrify anyone who comes within their reach. The Factory boasts over 80 monsters that are more than capable of sending you fleeing in terror.
---
Costuming:

9.02
The costuming at the Factory is always high end and impressive. With a broad range of characters, you'll see a mixture of makeup and masks that will not fail to impress, delight, or frighten. Details are paid attention to from head to toe on each monster and not one appeared in out of place clothing. One monster slid by us with needle thin teeth and sent us shuddering to the other side of the room. New and exciting combinations of costuming choices make the monsters here unique and terrifying.
---
Customer Service:

9.43
The Factory of Terror is full of helpful and capable staff who are easily spotted and always in communication with each other to watch out for their visitors. Monsters work the lines inside and out to make sure that crowds are kept entertained and scared. Parking can be complicated so follow all signs and directions to the letter. Signage for ticket booths, merchandise, and concessions are clear and obvious inside and out. Make sure that you wear comfortable, closed-toe shoes to navigate through the haunts and watch your step in some areas with uneven flooring. Bypass routes are offered to make the Factory handicapped accessible.
FoT has a large midway between their attractions where guests can take a breather before continuing to the remaining haunts. In this area you can find plenty of great photo opportunities as well as some awesome merchandise!
---
Atmosphere:

9.03
The atmosphere here is truly unique and horrifying. From the intimidating brick face of the authentic factory setting to the carefully hand-crafted interior facades, the Factory is easily identified as a haunted house from any point of approach. Heavy industrial techno sets it apart from other haunts for an atmospheric setting and gets the blood pumping as screams weave their way into the music.
---
Special Effects:

9.31
Special effects are used heavily and with great precision at FoT. Many are hand-crafted by the head engineer and his team making it a one-of-a-kind experience. As you traverse the winding path, set pieces move and jump about you, scents underscore the scenes to transport you to other places, and lights and sounds are employed to drive you deeper and deeper into the madness. There's a little bit of sound bleed due to the setting, but at times the mixture of screams and crashes work together in concert to intensify the horror. Scenes are heavily detailed from floor to ceiling and there is no shortage of tricks used to make each room a treasure trove of terror.
---
Theme:

9.22
Each house in the Factory has a different theme that it follows to play on different nightmares. Scenes and monsters are woven together to tell stories to anyone brave enough to observe them. The themes are unique here to the Factory, not playing on any outside source but creating a world to themselves. Cohesive story-telling is a skill the Factory has perfected in their years in operation. Even the location underlines the first two houses as you go through a defunct factory filled with reclaimed pieces that shock and terrify.
---
Fright Effect:

8.93
Soundtracks are important, and in the Factory the soundtrack is one of screams. More than a few groups came rocketing past us searching for an exit. Monsters position themselves to take advantage of their setting and go for the entire group instead of just hitting the first person. Distractions are abundant and draw your eye away from where the scares are coming from so that creatures have the advantage of surprise. Every room contains something new to jump out at you and our youngest member was shocked more than once. Fright is abundant here and comes from every corner, as even the bushes seem to come alive to attack you. Scares did seem to be front loaded most often but many of the cast members worked to provide scares to the whole group.
---
Value:

9.68
With a walk through time of just under an hour for a $30 general admission pass, Factory of Terror has a ton of fear to pay you back for your ticket price! Tickets are cheaper on Thursdays and Sundays, and you should pay attention to the parking lot to see if a fast pass is needed should waiting not be your thing. Season and combo passes are available to both the Factory of Terror and Akron Schoolhouse and Laboratory. Season passes get you unlimited access to all events with fast pass and parking as well as a discount on merchandise. Parking is $5 if you don't have a pass and very close to the haunt. The Factory is constantly growing and offers new scenes every season. They are also open every Friday the 13th and for various holidays throughout the year so it's definitely worth it to return often.
---
Promo Images:
Click to Enlarge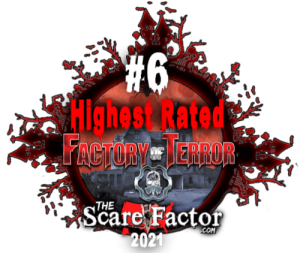 ---
Guest ReviewsGuest Average: 8.17 out of 10
GuitarDude – 10/10 – October 12, 2018This haunt took us well over an hour to complete. The scenery is fantastic and the acting was on …show more point. They have a lot of triggered scares and animation, which I love, but that's not to say they lack in number of actors. We all loved it and will definitely be back.
Christopher Wood – 9/10 – October 13, 2018Pretty awesome!!!! The scare actors and actresses knows their scenes very well!!!! I will come back …show more next season on a weekend when I am not acting at Fear Fair!!! Thanks for the scares!!!!!
DC Books – 5.5/10 – October 7, 2018Several generic haunts strung together. Nice props, but mostly just a long screamer without a …show more theme. A fun night out and some good cardio.
---
Past Awards
---
2022 Awards
Best Example of Bringing the Outside Inside (Given by: Team Jefferson Starship)
Toe Jamm - Jen Rhoades (Given by: Team Jefferson Starship)
---
2020 Awards
#3. Highest Rated Haunt in 2020 (Given by: Team Jefferson Starship)
---
2019 Awards
Creepiest Scene - The Graveyard (Given by: Team Jefferson Starship)
Most Hi-Tech Haunt (Given by: Team Jefferson Starship)
Best Hiding Spots (Given by: Team Jefferson Starship)
Most Decorated House Queue (Given by: Team Jefferson Starship)
Most Challenging Maze (Given by: Team Jefferson Starship)
Best Scenic Design (Given by: Team Jefferson Starship)
Most Unique Characters (Given by: Team Jefferson Starship)
---