Fear Fair – Full Review
Fear Fair is a Haunted Attraction located in Seymour, IN.
800 A Avenue East, Seymour, IN 47274View All Details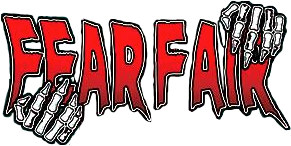 Features:

Free Parking, Restrooms/Porta Potties On-Site, Food/Concessions, Gift Shop/Souvenirs, Optional Games/Midway, Special Events, "Hi-Tech" Attraction, You may be touched, You will NOT be touched, Original Characters, Indoor/Outdoor Waiting Line, Indoor/Outdoor Attraction

Team Zombillies reviewed this attraction on October 16, 2016.
Final Score:

9.43
Summary:
To say the least, Fear Fair's 2016 'Ascension' renovation is the duly-dubbed result of a massive undertaking that took place here over the past year. Located at the retired Freeman Field military base in Seymour, Indiana, we found ourselves doing double-takes on the old, 50,000 sq. ft. barracks building and thinking, 'Hell, we barely recognize the place!' You start to scratch the surface of seeing all of the changes as soon as you make your way to the ticket trailer, including an entirely-new, bunker-esque facade and walk-through tunnels that legitimately look like they've been bored into the earth' and hey, that's just the waiting line. In terms of the actual show, a lot… and we mean A LOT of the scenes have been rebuilt, so returning victims and Fear Fair newbies alike can have plenty to scream about in this state-of-the-art show. Combine that with a cast that grabs you, pulls you in, chews you up and spits you out in the name of all that is wicked and evil and you've got yourself an assault on the senses that should NOT be missed.
Prepare for 'Ascension,' folks, Fear Fair's not messin' around!
Fear Fair describes themselves as a 'macabre mashup of Fallout, Mad Max and Frankenstein's Army,' which we feel is pretty darn accurate! We can also attest to their claims of being 'the only Indiana haunted attraction with an elaborate New Orleans voodoo experience,' complete with 'the seedy end of Bourbon Street, a menacing gator infested swamp and an absolutely massive above ground cemetery.'
While we're at it, let's get this out of the way too: If you don't like to be touched or otherwise physically involved in the show, this is NOT the place for you. The monsters can… and WILL… touch, climb, push, pull, snag, swing and slobber on you until you actually get smart enough to run away from them, so leave your purse at home. You're paying to get scared and taken out of your comfort zone' expect Fear Fair to deliver.
---
Cast:

9.35
As most of us know, If an actor isn't into their role, customers end up with the typical 'boo' scares where someone pops out from around a corner, spouts off with (hopefully) some form of character-related saying and goes back into hiding before the next group comes through. This is most definitely NOT the case with Fear Fair's cast…
The first section of the haunt is dotted with, essentially, fierce zombie soldiers. Military personnel guided us into Elevator #1 and into the following sub-level labyrinth, where a couple of Frankensteined, cyborg, half-human, half-machine mutants were writhingly waving their gore-covered metal appendages at us as they struggled to get around in their newfound bodies (how rude). One zombie that escaped from a cage managed to eek out the words 'go faster… before you meet some of my less-friendly associates' as we wound our way through the complex.
Shortly after we found ourselves encapsulated by curses and darkness, we realized just how serious and realistic this cast was. The death-awakening voodooists were an extremely interactive bunch, both verbally and physically. Their performances were so strong that they actually freaked us out a little bit and we truly felt as if we were in New Orleans! They chanted spells, pick pocketed us, tried to make one of us into a voodoo doll with a giant needle through the neck and face, trapped us in a pitch black room with some sort of shadow spirit and to top it all off, a possessed woman took the door of the church we stumbled upon into her own hands, startling us as she demonically yelled vulgar language to us that came across as if she was truly possessed. We must say, that was one of the most believable actress performances we have witnessed all season. Next year we will be sure to bring a whole car load of priests with us to exercise this poor woman because the priest who was battling her alone was having a really tough time.
Just when we thought we had escaped the toughest crowd at Fear Fair, many energetic zombies proved us wrong. Remember when we said the voodooists are death-awakening? We weren't kidding. Although they may look dead, we assure you these zombies were very much alive as we made our way through the cemetery, city and prison. These zombies were on top of the above ground coffins, jumping on them, they physically came after us and one zombie captured a straggling group member and fed him to another zombie in a tag-teamed group separation. Whoever said zombies were dumb is dead wrong!
The creatures we encountered during the last portion of the haunt were familiar faces from Silent Hill and Saw including Pyramid Head, the nurses, the Boogeyman and Jigsaw. Watch out for the towering Pyramid Head's death grip and those pesky nurses and their syringes!
---
Costuming:

9.74
The costuming department got its FAIR share of upgrades this season as well. Part of having a realistic show is having costumes that match their respective scenes and Fear Fair's definitely fit the bill. Not that they haven't had great costumes in the past, but these guys really hit the nail on the head this year! Although believable-looking with appropriate attire and makeup for their characters, the zombies were debatably the least elaborate of the bunch with grungy, tattered street clothes and that 'freshly dead' look for makeup. The rest of the characters appeared to have a heightened level of validated sinisterness that matched (and sometimes surpassed) their superb performances and scenes. We could definitely tell that a lot of attention had been paid to the costuming and makeup efforts and, while numerous masks were used throughout the haunt, each of them were high-quality, theatrical pieces that enhanced the characters wearing them. Most of them appeared to be custom made units that dwarf your typical Halloween store replicas in complexity and quality. Although it was hard for us to choose which costumes stood out the most, the lifelike angel statue, the Frankensteined mutants, the Boogeyman and his bludgeon-ready mallet, Pyramid Head with his iconic headpiece and giant blade and the Voodoo shop owner with his aristocratic appearance and matching demeanor were among the most memorable.
---
Customer Service:

9.54
A bright beam of light dancing in the sky made it rather hard for us to miss Fear Fair! Just head towards it once you pull into Freeman Field and you should be good to go. Free parking can be found on either side of the building and tickets can be purchased inside the military truck, yes, you read that right, the ticket booth is inside a large military vehicle. Two waiting lines were clearly marked making it easy to figure out which line you are supposed to be in and a concession stand window has now been permanently added around the left side of the new facade, just look for the 'open' sign. Last season FF introduced their second story entertainment stage that overlooks the queue area where a mixture of R&B music, DJ lighting and random blasts of fog kept customers excited while waiting their turns. A father and her daughter were working together to effectively interact with the queue line. We won't tell you exactly what they were doing but if you are of male gender, we suggest you stay away from the deadly-looking lady in the dress! The steps that we traversed inside the attraction were all lit this season and we didn't encounter anything else dangerous inside, that is, excluding the monsters that may try to kill you. A free photo op is offered to everyone before entering by a friendly photo taker that can also assist you with any questions you may have. Also newly added this year is a separate room where a mechanical bull and coffin ride can be found and experienced for additional fees. But if you make a bee-line for the ticket booth to get in line for the haunt, you could easily miss this area… unless you go looking for it before or after going through the haunt (it is cleverly disguised as another entrance into the facade next to the queue).
---
Atmosphere:

9.65
We honestly couldn't believe the amount of work that went into the facade of this building in just one off season. It looks like some sort of full-on, haunt-type, party warzone at Freeman Field these days! The facade has undergone quite the makeover and was completely unrecognizable to our review group. If you've been here before and you don't notice the changes outside, you need to reconsider your vision because it looks totally different! R&B music filled the air, was it scary or Halloween related? No. Were the people in line singing and dancing to it? Yes. So we must give them credit for supplying plenty of sounds during our wait. A TV perched near the steps going up to the ticket booth was playing one of Fear Fair's trailers and gives a small peek as to what you may encounter inside. Despite the party-like atmosphere, the queue entertainers were a constant reminder of the horrors that lay in wait.
---
Special Effects:

9.31
Temporary walls, strobe lights and spider webs are items that we often see in many of the haunts that we visit… but not Fear Fair. Instead, they have elected to immerse their customers into an intricate world of highly detailed scenes using authentic materials. From the above ground cemetery, winding caverns, cityscapes and movie sets, everything was so well-detailed that we were hardpressed to find anything out of place or made us feel like we were anywhere other than where the scenes were portraying. The whole front half of the haunt has been reconstructed into a cavernous, underground, top secret military bunker complete with air quality monitors and a couple of impressive elevators that may or may not plummet from their 13th floor destination. The speaker systems in these elevators kick ass! Once we narrowly escaped our gravity-defying demise, we ran into monsters, a machine gun, unreliable lighting, air surprises and a butt-puckering tesla coil that'll even leave your underwear gasping for air! Soon after we found ourselves climbing the stairs of an old house before we ended up in a voodoo shop and city with many authentic, static items such as potion bottles, chests, an ouija board, many man-made masks, a market cart and more. Once you get to the swamp, things begin to get a little more lively; we don't want to ruin anything, but as you wander the wobbly walkways, be on the lookout for any man-eating creatures… (there just might be a few). The above-ground cemetery is a special effect in itself, as multiple corpse containers (made of real concrete, we might add), flying zombies and a resurrected demon will keep you scrambling on your way through. An impressive prison scene with an incarcerated zombie made for some unexpected startles as well. Then, we found ourselves becoming speckled with ash as we approached the Silent Hill area, where the grungy, abandoned scenes are sure to ring familiar bells with horror enthusiasts! Finally, a two-stroked, two-way mirror surprise rounded off the end of the attraction. There were a few quiet areas at different points, but several intensifying and ominous sound effects were heard throughout most of the haunt.
---
Theme:

N/A
Because there are several differently-themed areas all under the same roof, we are not providing a score in this category. While the characters in each followed their respective themes very well… and even reiterated the theme and surroundings multiple times… they don't all necessarily go together or follow one big storyline. The distinct areas that we encountered were: the Ascension, the trip through the voodoo bayous of Louisiana, the zombie infestation area (city) and the movie scene portion at the end.
---
Fright Effect:

9.13
As mentioned above, the monstrous entities at Fear Fair CAN touch you; even their rules (that were posted in the area before you enter the war zone) state this, so don't expect to walk through and get a 'no-touch' experience. We feel that the physical interaction here most definitely added to the show, but it wasn't the most frightening aspect of it. What got to us the most was how close the monsters were slinging around their (very large) weapons at us! It can be rather uncomfortable when you're walking down a hallway and, suddenly, a giant knife comes jolting towards you neck! Several good hiding spots caught our group off-guard, as well as a lunging body that we weren't expecting to come as close to us as it did. Other types of frights that we fell victim to include intimidating assassins, intense dialogue, well-timed effects, several distractions, a pitch black room, electrical zaps, loud bangs, and giant creatures (that 'may' split your group up more than once), so good luck with that!
---
Value:

9.27
Fear Fair's ticket prices remain at $20.00 per person for general admission once again this year. Their lines have been known to grow to enormous lengths as it gets closer to Halloween… so, if you want a faster-moving line, VIP tickets can be purchased for $25.00. From the time we were immersed into the caverns, it took our group approximately 23 minutes to flee from the exit to safety, bringing Fear Fair's 'minutes of entertainment per dollar spent' value to 1.15. Now, the average from all of the haunts that we were able to visit last season was 1.5 and, even though their MPD is below that, their intensity and realistic show really make up for it! Ever feel the need to strap yourself on the back of a 2,000 lb. pissed-off bull? Well, Fear Fair doesn't have that' but they DO have a mechanical bull that you can take for a spin instead. Or, if you want to get even creepier, you can try out their Last Ride coffin simulator for a small fee as well.
When we pulled into Fear Fair this season, we were in disbelief that one haunt could go through so many changes in one year! Needless to say, the changes overflowed into a lot of the inside of the attraction too; they truly gave us a very realistic, intense and passionate show during our visit, so we must recommend that you should definitely pay them a visit this year. So they say, 'the biggest, baddest and scariest Indiana haunted house is back for 2016;' are you brave enough to face them and find out if these claims are true?
---
Promo Images:
Click to Enlarge
---
Guest ReviewsGuest Average: 7.56 out of 10
Tyler – 10/10 – October 31, 2022I recently visited Fear Fair for their half way to Halloween event then once again on Halloween …show more night and the amount of change this attraction has gone through is down right incredible. Before that my last time there would have been 2014 when all of the movie sets were still in place. I am amazed at all of the detail that they have put into their sets, 1010 will recommend.
Heather – 10/10 – October 13, 2018What a spectacular show. If you talk to the volunteers you'll find there is a connected theme that …show more ties the rooms together. The actors are incredible and really give it their all. I was there when it was cold and rainy and they still brought the performance. 12/10 skulls. Go see it!
Meghan – 10/10 – October 13, 2018This is the best haunted house I've ever been to. They can scare the absolute shit out of you even …show more without the "extra fear" option they offer. I personally did the extra fear that includes a glow stick which means the actors are allowed to touch you. I was scared for my life being held back from my group but it was the best experience haunted house wise. They know their limits and boy lemme tell you these chainsaw guys really know how to get under your skin!
---
Past Awards
---
2022 Awards
Best Intro (Given by: Team Zombillies)
The Shaman - Eric Valkry (Given by: Team Zombillies)
---
2019 Awards
Best Character Makeup - The Living Statue (Given by: Team Zombillies)
Memorable Moment - The Opening Show (Given by: Team Zombillies)
Scariest Actress - The Voodoo Priestess, AKA: Heather Trapp (Given by: Team Zombillies)
Scariest Haunt (Given by: Team Zombillies)
Highest Rated Haunt in Indiana (Given by: Team Zombillies)
---
2018 Awards
Funniest Scare - Peaches (Given by: Team Zombillies)
Actor Shout Out - Goatboy - Shane Meek (Given by: Team Zombillies)
Actor Shout Out - Tiny - Zach Thompson (Given by: Team Zombillies)
Actor Shout Out - Voodoo Priestess - Alexus Parker (Given by: Team Zombillies)
---