Fear Fair – Full Review
Fear Fair is a Haunted Attraction located in Seymour, IN.
800 A Avenue East, Seymour, IN 47274View All Details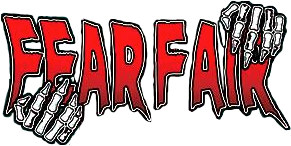 Features:

Free Parking, Restrooms/Porta Potties On-Site, Food/Concessions, Gift Shop/Souvenirs, Optional Games/Midway, Special Events, "Hi-Tech" Attraction, You may be touched, You will NOT be touched, Original Characters, Indoor/Outdoor Waiting Line, Indoor/Outdoor Attraction

Team Zombillies reviewed this attraction on October 21, 2017.
Final Score:

9.12
Summary:
Fear Fair is a full-contact haunt that has returned for their 17th season in 2017. Offering a bunker-load of new additions, these guys have everything from secret military passageways and monstrous experiments to the swamps and above-ground graves of the Louisiana bayou. All new for this year is a plagued medieval village. No' literally' it's a medieval village and they've all got the plague!
Located about halfway between Indianapolis and Louisville, Fear Fair is a 'touch' haunt that has established itself as one of Indiana's premier haunted attractions! Our review group visits them every season and, this year, we happened to stop by on one of their busiest nights. Paired with a couple of other smaller groups, we made our way through all of the elaborate scenes they had to offer and beheld all of the massive changes they made'
Let's review, shall we?
---
Cast:

8.89
We aren't sure how many crew members were on duty during our visit, but some of the areas we found had multiple actors in them, while others seemed to be short-staffed and/or the few actors in them didn't interact with us very much. Of the characters we did come across, most of them knew their roles quite well and didn't stop performing until we were out of their scenes. Being a 'touch' haunt, we knew to keep our guards up and be prepared for anything' and for good reason!
The soldiers in the opening scene were definitely the most hands-on with us. Grabbing random group members and pulling them backwards had us looking over our shoulders for quite some time after that, wondering who would be coming after us next! The following voodoo shop is where we found one of the most believable characters of the night. Armed with a large needle and thread, this guy was very interactive and had us convinced that one of us was about to be stitched into a voodoo doll. In the Bourbon Street scene, we crossed paths with a beggar and caught a glimpse of a lady with some awesome voodoo makeup coming out of a hidden actor passageway. But, unfortunately, she didn't manage to catch up to us, so we aren't sure what her role was supposed to be there.
Some of the actors made references to things that waited ahead of us, which made the overall theming of those areas much more apparent. An example of this was the lady in the cage who insisted we find her husband 'Charles.' We were later told by the female in the swamp that she'd fed him to the gator! Not entirely convinced, we decided to ask one of the grave keepers if he was Charles, to which he responded, 'I ate that motherfucker!' Okay! We can forget about Charles, now'
Another example was in the 'new' village area, where one of the peasants told us that 'the witch' had been spreading the disease around to everyone. Now knowing that this evil lady we hadn't met yet should be avoided at all costs, the next peasant we saw was singing about how SHE was 'the one that made them all sick.' Since she didn't look very witch-like, though, we wrote that one off as confusion brought on by the disease and proceeded onward. We then found plague doctors, a demonic goat and then, of course, an angry witch that was being burned at the stake. Speaking of plague doctors, the ones we saw were quite intimidating! The same can be said for Pyramid Head and The Boogeyman in the 'Silent Hill' area.
One of the most believable stand-outs of the tour was by far the possessed lady in the church scene. Both her and the priest were energetically fighting against one another in an all-out battle of good and evil as we made our way through the crumbling cathedral. As we exited this scene, she violently slammed the priest against the wall and came after us! Kudos to both of them for their selfless dedication (that had to hurt!). Another memorable moment was with the girl at the entrance to 'Silent Hill' who cried, 'Don't leave me here!' When we told her she could walk with us, she did. That is, until the Boogeyman got her! Yet another excellent display of interaction and actors working with one another to create a believable experience.
---
Costuming:

9.59
The costumes at Fear Fair were very well put together on the night of our visit. Their designs and detail ranged from hyper-realistic humanoid soldiers to simple black morph suits, but each of them matched their respective scenes. Clothing looked to be made of authentic materials – no cheap stuff here – and makeup was well above average. Those in the voodoo/Bourbon Street areas, the plagued villagers, the grave keeper and the 'Silent Hill' villains were some of the most memorable looks of the tour, each with their own tribal paintings, open wounds and larger-than-life weapons, respectively. The goat in the plague area was another stand-out, sporting an embedded pentagram and very realistic goat head! The plague doctors' beak-shaped masks made them easily identifiable and their dark cloaks made it easy for them to hide in their dimly-lit surroundings.
---
Customer Service:

9.43
Our Google Maps GPS knew exactly how to take us to 'Fear Fair,' but if you happen to have issues, just search for 'Freeman Field' and follow the haunt's spotlight once you get through the entrance to the formerly-active airport. If you haven't been here before, rest assured that there's plenty of free parking all around the building. Though, if the first lot you try is full, it may take a few minutes to re-route around the nearby buildings and find a spot somewhere else. A large military truck is parked near the queue line, which is where you can purchase your tickets. Each of the queue lines are clearly marked for General Admission or Fast Pass. The newly added Fear Fair sign at the DJ stage let us know we had arrived at our destination.
In the last few years, Fear Fair has made a lot of changes to their outside area (in addition to the changes inside the haunt). This season, they've added a 'Buried Alive' coffin simulator next to the queue line, so if you've ever wanted to experience what it's like to be buried alive, now is your chance to do so! Also new this year is an indoor section of the queue line. Here, we found a large projection screen playing a video preview of Fear Fair, a free photo op and a professional photo booth with a green screen where your group's picture can be printed as a souvenir.
It was very packed on the night of our visit so there was a huge crowd outside the building. We did notice one, exceptionally-tall roaming actor that was interacting with guests (how could we miss him?), but he was the only one we noticed. An impressive DJ booth overlooks the area outside the entrance and we heard quite a variety of popular music while we were out there. We did have to question the jockey's sanity for playing songs like 'Call me Maybe' at a haunted house, but most of the crowd seemed to be enjoying it and singing nearly every song he played. To each their own, we suppose!
Once we entered the building we did have to watch our footing. Several steps were encountered, uneven flooring and an extension cord and airline were strung across the floor in the beginning of the attraction. Granted, there shouldn't be any running or off-balance moments here, so just be mindful of where you are stepping. Should any questions or concerns arise, helpful staff can be found in the ticket booth, at the entrance to the building and in the indoor picture-taking area.
---
Atmosphere:

9.67
Fear Fair's building looks like some sort of apocalyptic military base on the outside, but it sure doesn't sound like it. The DJ was playing upbeat, top hits which were engaging the crowd and creating quite a party atmosphere outside the haunt. The large, concrete-looking 'Fear Fair' sign, military truck, fog and lighting around the well-decorated facade kept the feeling of a haunted house a heart. Once we stepped inside the building, though, the creepiness started to set in a bit more as we faced rustic wooden siding, colored lights that casted an eerie glow on the queue line, 'Fear Fair' murals on the walls and one of the haunt's promo videos displayed on a large screen.
As the queue line continued, the spookier things became. We eventually ended up in cave-like corridors with flickering lights, an alarming air quality monitor, a lively worm coming out of the ceiling and some unexplainable noises. Eventually, it was our turn to board one of two elevators that would take us to meet our imminent demise on level 13!
---
Special Effects:

9.18
This is one of the categories where we could go on for days explaining all the things we saw at Fear Fair. But, we can't do that because we don't want to ruin all the surprises AND there's no way we caught everything during our one trip through this season. There is just so much around you at times that it's nearly impossible to see it all in the short amount of time that you are in those scenes.
Needless to say, Fear Fair uses a large variety of effects. From full-sized, custom structures that they've built from scratch to smaller things like voodoo potions in jars, the attention to scene detail is scrutinized with a fine-toothed comb. They also have some larger effects that have been purchased by professional special effects companies and each of them are used so that they seem as realistic as possible.
We want to go ahead and reiterate that it was an extremely busy night when we visited Fear Fair. Some of their larger effects didn't seem to be working when we were near them, so we aren't sure if they were malfunctioning or if group spacing was severely affecting their timing. But, we do know that we've seen most of these particular effects before, so we were already aware of what they're supposed to do. If you happened to go through on the same night that we did, it's possible that you may have missed some really cool things and we highly recommend going back if the opportunity presents itself. Now, onward to what we did experience!
After your wait in the cavernous queue, your journey will begin in a realistic elevator experience that 'may' come crashing down after reaching the 13th floor. If you're lucky enough to survive the fall, be prepared for a lot of chaos as you make your way through the massive monsters, gunshots and concrete tunnels. Flickering, vintage lights, some fast-paced props, air cannons and an impressive tesla coil are (typically) what lies between you and your escape to' Louisiana.
After a brief trek through two levels of a grungy old house, you'll then have to make your way through a highly-detailed, full-scale replica of Bourbon Street, a couple of swampy scenes with swaying bridges and moving floors, an above-ground graveyard and (normally) a REALLY big critter that's big enough to swallow you whole!
Returning customers will notice the biggest change to Fear Fair's interior: downtown Atlanta has been transformed into a medieval village that's been overcome with the Bubonic Plague! Here, you'll have to find your way through several huge cottages, scattering rats and bugs, a demonic stable scene and a witch that's burning at the stake! Finally, even though they're phasing out their movie scenes, guests can still expect to see an impressive 'Silent Hill' area and remnants of their 'Saw-' themed, group-separation scene.
Quite a few sound effects are used throughout the attraction, but those accompanying some of the props seemed to be the most noticeable and believable. We also heard a nerve-racking siren, croaking frogs and other noises that had us wanting to walk the opposite way!
---
Theme:

N/A
Despite Fear Fair having a lot of changes this season, there are still several differently-themed areas that don't seem to follow one cohesive, overarching story. Therefore, this category has received a score of 'N/A.' Some of these larger, themed sections include an area called 'The Ascension,' a voodoo/Louisiana bayou recreation that includes Marie Laveau's house and an above-ground cemetery, a plagued village (their latest addition) and parts of the movies 'Silent Hill' and 'Saw.' All of the characters we came across did seem to be in context with their respective scenes when we came through, but we believe the 'voodoo' and 'plagued' areas did the best at bringing their themes to life and making their stories believable.
---
Fright Effect:

8.32
Let it be known that the creatures at Fear Fair can touch you. That means that they can touch your face, your hair, shoulders, legs and they may just decide to pick you up like they did us! This year, guests were given the option to carry this awesome apparatice through the haunt that blocks the actors from doing so' a FREE glow stick! If you don't want to opt into the 'touch' aspect of this haunt, we suggest you pick one of these bad boys up at the entrance so you can still fully enjoy the show. We can also tell you that, although we went in without one of these magnificent shields of protection, the monsters within didn't hurt us (and never have), so if you feel like you need some extra 'get away from me' power, we'd be happy to give your our glow stick if you happen to catch us in line with one.
Our group originally consisted of 6, but we started off in the back of the group and we weren't quite as scared as those who were in front of us. That said, they pretty much left us in the dust as we made our way through the 'Ascension' area. This did catch some of the monsters off-guard (one even told us it did) so we may have missed a few things there. Regardless, we were still targeted quite a bit by things coming at us from overhead, loud noises, disorienting lights, well-hidden costumes, several distractions, sinister laughs and a chainsaw chase out the exit. If you choose to not carry a glow stick, watch out because you just never know when something may grab your leg or carry you away when you're least expecting it! For those who are carrying a glow stick, you may not necessarily be completely left alone' it just won't be an actor that touches you. We'll give you one clue' it might be near your feet making a hissing sound.
---
Value:

8.77
General admission tickets to enter Fear Fair remain priced at $20.00 per person. If you go on a very busy night and the lines are long, fast pass tickets can be purchased for $30.00 and are said to cut your wait in line in half. From the time we entered the elevator 'till we came fleeing from the chainsaw out of the exit, it took our group about 19 minutes to complete our tour of Fear Fair. As mentioned above, we did go on a busy night and the actors were keeping us moving as much as possible to keep groups from bunching up together, so if you go on a less-busy night, your time inside could be even longer. That is' as long as you don't get too scared and run! Considering the cost for general admission and our time inside the haunt, Fear Fair has a MPD (minutes of entertainment per dollar spent) rating of 0.95. Although this is below the average of 1.5 that we've seen most often in the past, we believe the ticket price alone is about average for the area and Fear Fair does provide a well-above-average show.
In the past, we have seen Fear Fair with some enormous lines waiting to get inside. This has been the case on Saturday nights, especially toward the middle/end of October. If you happen to visit them on one of these nights, you should expect to deal with a large crowd. They are, however, also open on Sundays, so if you don't want to stand in line for several hours, we recommend either showing up very early or on a Sunday to get ahead of the game. You can also take advantage of their fast pass option, if needed.
During our visit, we were absolutely amazed by all the changes that Fear Fair was able to produce since last year. We were greeted by a lot of new characters and some cool new effects as well. If you are near the Louisville/Seymour/Indianapolis area and looking for a haunt that will give you some scares with plenty of immersive sets and scenery, then be sure to visit Fear Fair this Halloween haunt season!
---
Promo Images:
Click to Enlarge
---
Guest ReviewsGuest Average: 7.56 out of 10
Tyler – 10/10 – October 31, 2022I recently visited Fear Fair for their half way to Halloween event then once again on Halloween …show more night and the amount of change this attraction has gone through is down right incredible. Before that my last time there would have been 2014 when all of the movie sets were still in place. I am amazed at all of the detail that they have put into their sets, 1010 will recommend.
Heather – 10/10 – October 13, 2018What a spectacular show. If you talk to the volunteers you'll find there is a connected theme that …show more ties the rooms together. The actors are incredible and really give it their all. I was there when it was cold and rainy and they still brought the performance. 12/10 skulls. Go see it!
Meghan – 10/10 – October 13, 2018This is the best haunted house I've ever been to. They can scare the absolute shit out of you even …show more without the "extra fear" option they offer. I personally did the extra fear that includes a glow stick which means the actors are allowed to touch you. I was scared for my life being held back from my group but it was the best experience haunted house wise. They know their limits and boy lemme tell you these chainsaw guys really know how to get under your skin!
---
Past Awards
---
2022 Awards
Best Intro (Given by: Team Zombillies)
The Shaman - Eric Valkry (Given by: Team Zombillies)
---
2019 Awards
Best Character Makeup - The Living Statue (Given by: Team Zombillies)
Memorable Moment - The Opening Show (Given by: Team Zombillies)
Scariest Actress - The Voodoo Priestess, AKA: Heather Trapp (Given by: Team Zombillies)
Scariest Haunt (Given by: Team Zombillies)
Highest Rated Haunt in Indiana (Given by: Team Zombillies)
---
2018 Awards
Funniest Scare - Peaches (Given by: Team Zombillies)
Actor Shout Out - Goatboy - Shane Meek (Given by: Team Zombillies)
Actor Shout Out - Tiny - Zach Thompson (Given by: Team Zombillies)
Actor Shout Out - Voodoo Priestess - Alexus Parker (Given by: Team Zombillies)
---