Field of Terror – Full Review
Field of Terror is a Haunted Attraction located in East Windsor, NJ.
831 Windsor Perrineville Road, East Windsor, NJ 08520View All Details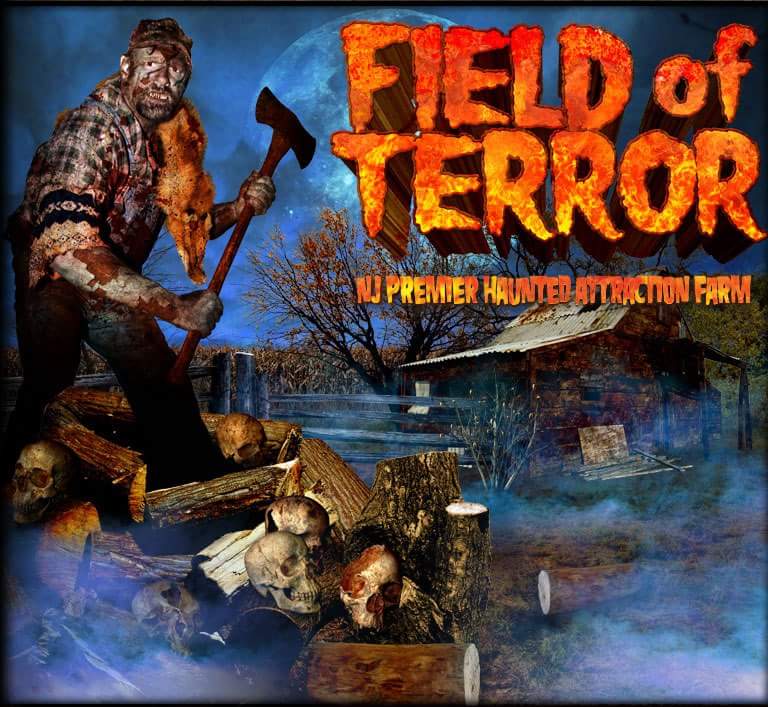 Features:

Free Parking, Restrooms/Porta Potties On-Site, Food/Concessions, You may be touched, Uncovered Outdoor Waiting Line, Indoor/Outdoor Attraction

This attraction was reviewed on September 22, 2018 by Team Old Crow Hollow.
How Do We Get These Scores?

Final Score:

8.67
How Did We Get This Score?

Summary:
The original and signature attraction at Field of Terror, the Killer Kornfield, has many twists and turns and a seemingly endless supply of actors who pop out of everywhere with perfect timing. There are also more vehicles than you can count, everything except a plane and a submarine can be found in this cornfield. It took over half an hour to make our way through the corn that stretches from the back of the property and even goes into the woods surrounding it. The corn acts as a transition between scenes but also provides the perfect creepy atmosphere on a cloudy moonlit night.
Added to this was the feeling of isolation as they spaced the groups out at the start so that we went through almost the entire field before a group behind us finally caught up. This allowed all the clowns and deranged folks in the corn to have total focus on us as we made our way through each scene. I've never been so shell-shocked before from the constant barrage of scares that I didn't see coming. I was exhausted by the time we finally made it out. We couldn't see what was next on the path because of the high corn, and every time we emerged onto a new scene it was a surprise waiting for us. Like what would be next, a Boat? A Camper? A Bus? It seemed to never end. Just beautifully done and designed.
House of Insanity is their contact-style Haunt where the actors will get right up on you at times, and even touch you, but nothing terrible. They will mostly just be blocking your way for an uncomfortably long time. I was pinned against the wall in one room, and I dropped to the floor from an unexpected attack from behind in another. I felt the actors were well trained in how to be safe, and how far to take it though which was good, and it added an element that puts this house above the other here.
The Unknown Barn was pretty good as well and seemed to be missing the most actors from their usual staff with this being opening night. I can't really complain about that as they still had over a hundred actors that night. I did feel like there wasn't as much happening in this house or enough memorable moments to push it higher on the list. There was also an unfortunate point where we had to crawl through a short tunnel, which was a little rough on my rickety back, but I give them props for creativity, just wish the tunnel was padded.
The Hayride seemed to be their newest addition and for right now it's the weakest of the four. But in fairness, it is hard to compete with the two houses and that massive cornfield. It was about a 10-minute ride that had a spinning vortex tunnel that the whole tractor and wagon drove through, so that was pretty cool and unexpected.
Overall, I was blown away by the Kornfield and was thoroughly impressed with the energy, timing, and violence the actors brought to each part of the Field of Terror. I highly recommend Field of Terror for the scares, and great, farm atmosphere. Already looking forward to going back next year.
---
Cast: 8.25
How Did We Get This Score?

The actors were in mid-season form with their timing, forcefulness, and commitment to their role. It helped that the cornfield and mazes were well designed so that the actors you are not supposed to see are able to use the terrain, structures, etc' to hide well and at a close proximity. They also showed great patience and timing by not getting over anxious and popping out too early but rather waited until the first person almost passed before they would strike. There was an amazing amount of force behind their movements and shouts, enough to almost knock you back by the suddenness. This happened across all the attractions and rapidly as well so that after one scare you would stumble into the next, and the next.
The number of actors felt endless, as if they were growing them out there, or multiplying exponentially. They were well spaced out, and since this was opening night they were actually short about 50 actors, so the experience would have been even more traumatizing.
The cast was very much into being more involved with you physically, and not just popping out for a quick startle and then retreat. I think what helps this is that the groups are spaced so that the actors have more time to do more, especially in the House of Insanity and on the Hayride where the actors will stay with you for a long time.
When it comes to dialogue, aside from the Hayride and The House of Insanity, there was mostly snarling or shouts rather than a lot of talking to you or storytelling, but the makeup and costuming and sets conveyed exactly what the characters were so you didn't need a lot of scripted things to express that. One downside that was reoccurring was the yelling of fresh meat as we entered a house. It would be fine for a slaughterhouse theme but was too repetitive and amateurish-sounding.
---
Costuming: 7.68
How Did We Get This Score?

The costumes here were more realistic and human-based; there weren't any supernatural or larger than life characters here. The setting was a real world gone horribly wrong, so they were going for natural more than trying to make something new, it wasn't dystopian or removed from our reality so it didn't call for creativity other than each character felt unique and real. It was hard to see some details as you are trying to move away quickly and it's fairly dark especially in the cornfield.
Makeup was the same as the costuming, taking reality and twisting it, but still staying in our world, just a horrible version of it. Nothing super showing or over the top, mostly blended in which was good. It completed the characters and nothing appeared to be just thrown on or cheap. Masks were seldom, but appropriate for the scene, and we didn't see any that were too basic or cheap looking. Those used also fit the environment.
---
Customer Service: 8.78
How Did We Get This Score?

Using GPS we had no trouble finding it even though they are obviously out in the dark, country, farm area. But we just followed the cars into their front yard and walked up to the main barn. Like most places that use a field for parking, I would be careful parking if there are muddy or wet conditions.
Overall, the service here was very friendly and welcoming and you could tell it was a family run operation, but at the same time running smoothly and professionally. Not as hyper or tense as other places we've seen, as though everything was under control. Almost as though they were saying come on in and enjoy yourself and oh yeah, we are gonna scare you a lot as well!
It is very safe from a hazard perspective, everything is clear and professional. The actors clearly know where they can safely block or prod the guests along.
Information and pricing was easy to find on their pages and at the haunt. Each separate attraction was clearly marked by large, brightly-lit signs.
---
Atmosphere: 9
How Did We Get This Score?

The atmosphere was great, especially the dark creepiness of the cornfield that was also aided by being far enough away from the rest of the attractions that you couldn't hear them. Add to that the fact that you are going through on your own with its feeling of isolation and vulnerability as there is no one else there to distract or occupy the monsters lurking about.
There's a hearse by the front door under the name and glowing signs listing the names of each Haunt on the facades. Especially once you exit the main barn that houses the ticket booths you can oversee the whole place, like the creepiest backyard with that one spot of warm glow in the middle.
---
Special Effects:

7.43
How Did We Get This Score?

So this is definitely the weak point of Field of Terror. It's really a mom and pop family Haunt that somehow looks like a big money haunt. So while they don't really go in for the high priced and fancy animatronics or things like that, they do have some really strong elements like extremely effective white-out fog areas like the entire basement of the barn when you start the cornfield. It was ridiculous, fun, disconcerting, and effective. Claustrophobia air-bag tunnels were great, just needed to be hidden more. Their vortex tunnels made me dizzy, and the incredible amount and variety of abandoned vehicles in the Kornfield was just great climbing through each of those, not knowing what was inside.
Scene detail was very good in the areas where it was developed, in the cornfield, and the houses. The swirling vortex on the Hayride is cool and different, and it's mostly little touches that make up for the lack of big things. There are other places that have the big and flashier effects, but are not as effective or as scary as The Field of Terror can be. The Hayride has room for improvements overall but it looks like those are coming. I did feel like the House of Insanity could have been more detailed as though you were going through an actual asylum with each room being a different room in the facility, but was mostly just generally themed and filled with insane patients.
I don't remember a lot of sounds or music here. It may have been too muted or blended into the other noise, but this would be an area that could boost the overall theme and immersion of a haunt.
---
Theme:

9
How Did We Get This Score?

The exact story was not described as far as I remember, and perhaps that could be a part of the pre-entrance spiel for each attraction, but it doesn't really matter as you get the idea that something terribly wrong has taken place on this farm. The inhabitants are all part of that twisted world of genetic freaks, zombies, and maniacs.
They say that "Years ago Farmer Frank lived and farmed over 100 acres here in East Windsor NJ, but simply farming wasn't good enough. He wanted to develop a bigger better form of human life so he experimented, attempting to cross the genetics of the local town people with some of his crazy vegetation. The results of these failed catastrophes now inhabit this sacred land. Beware of his wicked grandson, Ax Man, who still tends the crops today. Come experience the four unique terror-filled attractions where visitors will encounter zombies of all shapes and sizes as you try to survive the FIELD OF TERROR."
So you've got zombie-like mutations and other farm creatures, some that have gone completely mad inhabiting this farm from the fields to the houses. This theme is extremely cohesive and connects all the creatures into the same world, the same storyline.
---
Scare Factor:

8.18
How Did We Get This Score?

The Kornfield and House of Insanity particularly were the most I've ever gotten scared at a haunted attraction! I was torn between tapping out and wanting out of the Kornfield, and still wanting to see what was next. The scare-actors are so well placed, and use the environment and structures to their advantage so well that it was a relentless assault. I also can't stress enough the difference it makes when you are by yourself; it changes everything and makes the whole experience so much better. You feel isolated, the actors can time things right, and focus all their attention on just your group.
Almost always I know where things are coming from, and what is going to happen next, and that wasn't the case here. I don't know if it was just that I got shell-shocked after a while, but I was totally off my game and it seemed like everything and everyone was getting me. I was scared by the unpredictability of the scares and not seeing where the next one was coming from. I was literally exhausted by the end from all startles, and not even joking I think I saw gray hairs on my head the next day. Not even kidding. Sometimes they would strike between us, and sometimes they would cut off the back person, sometimes it was me in the lead. But the scares were well balanced.
Looking back, it seemed like all of them ended the same way, with a chainsaw, but it did make for a strong finale each time. The hayride went on for a long time as the chainsaw guys tortured the wagon riders. The Kornfield came out of nowhere just when you think it's over, and the exit for both houses is in the same area so that one chainsaw maniac can hit both houses, which I think is a very smart and efficient design.
---
Entertainment & Value:

8.79
How Did We Get This Score?

On the inside, the hayride is about 10 to 15 minutes long and it's less intense and seemed more appropriate for kids but it was still entertaining. The Kornfield takes 30 to 35 minutes from beginning to end and the two houses are over 10 minutes each so you get lots of scare time here! The total for our group was 80 minutes!
A single pass to one attraction is $15, double passes can be purchased for $25, triple pass is $35, and quad passes are $40. VIP is $30 for single, $50 for double, $60 for triple, and $65 for quad. The best part about the ticket price is that it allows you to do as much as you want and at a reasonable price. If you just got the regular Quad ticket that's only 10 per attraction with the Kornfield making up for the lower value of the Hayride. On a busy night the VIP would be a good choice for the Kornfield as it can take awhile with the gap they put between the groups. But overall there's good value for the ticket prices.
Outside there is a main gathering area with a lot of food choices and just a cool gathering area in general. They use the whole back area of the farm, and the woods beyond. Every attraction has plenty of space and they use it well.
---
How Did We Get These Scores

Promo Images:
Click to Enlarge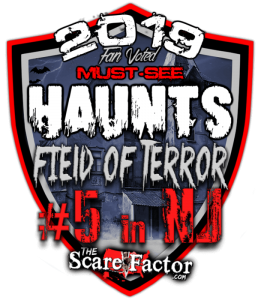 ---
Have you visited this attraction?