Review of Fright Farm Haunted Attraction
Review of Fright Farm Haunted Attraction
Review of Fright Farm Haunted Attraction
Fright Farm
Fright Farm is a Haunted Attraction located in Smithfield, PA.
2043 Springhill Furnace Road, Smithfield, PA 15478View All Details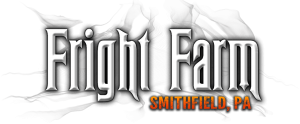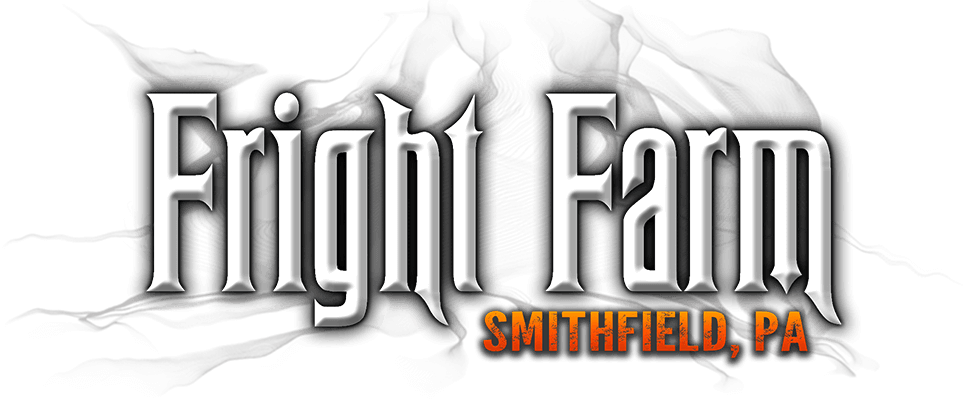 Features:
Free Parking, Restrooms/Porta Potties On-Site, Food/Concessions, Gift Shop/Souvenirs, Optional Games/Midway, "Hi-Tech" Attraction, You will NOT be touched, Original Characters, Uncovered Outdoor Waiting Line, Indoor/Outdoor Attraction
How Do We Get These Scores?

Final Score:

7.94
How Did We Get This Score?

Summary:
Rich's Fright Farm is celebrating its 29th year of scares in Smithfield, Pa. By day, Rich Farms is a bustling nursery. When the nursery closes and the moon rises, The Fright Farm emerges from the darkness.
Rich's Fright Farm is a multi-attraction haunt. The Fest-Evil Midway showcases different entertainment, bands, movies, and games. It also offers all types of foods to be enjoyed before and after the main attractions.
The haunted attractions provide around an hour of chills and thrills. This includes a one-mile haunted hayride, a walk through the Hallow Grounds, a tour of the Fright-Mare Mansion, and returning this year is Paranoia 3.0.
Rich's has been one of our favorite haunts for more than 15 years. Each season, Rich's adds elements to some if not all of its attractions. What does this year have in store for us?
---
Cast:

8
How Did We Get This Score?

Going through, we encountered around 150 actors. So far, this is the largest cast we have encountered this year and the largest attraction we have been to with nearly 60 minutes of actual haunt time. Still, Since the haunt is so large, additional actors would definitely add to the scares, especially in the Fest-Evil area which only had 4. As always, I feel that most haunts can benefit from additional cast.
Most actors we came upon provided a good act. They portrayed a variety of roles, ranging from animal creatures, undead bodies, disturbed slayers, clowns, and other unique characters, though some were very similar to one another. With as many actors as we saw, we can see how difficult it would be to come up with only unique characters.
The haunted hayride provided jump scare actors and scene actors (they perform a mini play of sorts). Characters jump on and off the ride providing frights. Some of the actors in the hayride went beyond yelling at us to leave.
The cast of the Hallowed Grounds and the Fright-Mare Mansion provided a mix of activity : jump scares, screams, growls; pretty much the usual. Some characters just provided creepy stares and head tilts without saying a word to us.
We encountered some actors with more dialogue, interactivity, and depth to their characters than the norm. One girl was looking for a playmate and we had some banter, and a butcher asked us to stay for dinner before revving up his chainsaw. A large gentleman told us to leave his shack. One character was asking if we liked to bite our nails??? Another individual wanted our skin. A psychic lady was offering some interesting deals. For a drop of blood, she would provide an edible centipede that would provide immunity from illness and disease. For our soul, we could get lucky. A crazy, backwoods, white supremacist guy with a swastika on his forehead was attacking a girl tied to a bed. Another young girl wanted to sing with us. We also ran into a girl wanting us to play with her Teddy bear that was alive.
All of these individuals were pretty convincing and stayed in character.
---
Costuming:

7
How Did We Get This Score?

Costuming was appropriate, but not particularly original. The clothing was a mix of what seemed to be basic store-bought costumes and normal clothes. Actor apparel was appropriate for their respective areas. A few stand-out costumes were the stilt man, the large bat, and the pumpkin characters at the beginning of the hayride.
Almost every character seemed to have some form of makeup or mask, including other effects like ripped skin or bloody cuts. Actually, everyone except security and concession employees wore some makeup and costumes. From the individuals running the games, to the line directors, everyone had some form of body decorations.
The costumes were complete for the most part. Most were detailed and fairly creative, though not amazing, but a few did stand out. The Lucifer devil-demon in the outdoor gallows had the best makeup of the night, followed by a lady in voodoo makeup collecting 3-D glasses. A few times we could see the ties of the costumes.
Masks included creepy animal heads (it IS a farm; the possum mask looked so realistic!), creepy burlap-type masks, a pig man, a plague doctor's mask, and many more. The majority of actors wore contacts which provided a creepy effect. I like to look people in the eye, but that effect makes it very uncomfortable.
---
Customer Service:

8.4
How Did We Get This Score?

Rich's Fright Farm is easy to find. A quick google search or typing Rich's Fright Farm in a GPS will pull it up. The lay-out of their website is a little difficult to navigate on mobile.
Being located on a farm, the parking lot and walkways are gravel and uneven.
The hayride had changes made, not just for functionality but for safety as well. Though I miss the days that I could sit and let my feet dangle off a hayride to get closer to the action, safety regulations have put an end to that. The tractors are all now enclosed, and have steps and gates so no one can accidentally fall off.
As the majority of the haunt is outside and uncovered, it can become wet, muddy, and slippery. If you don't run, you will encounter no issues, as we had no problems walking through the area… except for very muddy shoes. I planned accordingly and wore old shoes.
Games are available for a separate fee. Tickets are required to play them, and can be purchased in the snack shack. Tickets are a dollar each. Note : if you use you a card there is a one dollar service charge on each transaction.
I overheard people that were not happy about having to walk down to get tickets, but it is about a one minute walk. Maybe next year they could add a ticket booth closer to the games or perhaps you could pay with cash (not that I ever carry cash; really, who does that?) Or perhaps people shouldn't be whiny.
The four games test your skill. For 3 tickets, you can throw eight axes at wooden targets. This was my favorite. Despite not really being haunt-themed, it was enjoyable. If you get four to stick consecutively, you earn a Fright Farm sticker. If you are lucky, or not so lucky, a clown character will challenge you to a throw off. He does not lose. Then there was a baseball pitch. For 3 tickets, you could throw five balls at glass bottles. If you broke a certain number of bottles or a certain bottle, you could win a hat. There was also a paintball zombie shooting range that was not open the evening we visited. Finally, they had a brain launch. For one ticket, you could launch 5 brains at an open zombie head. If you made it, you could win a hat.
We were not skilled enough to win any hats and went on our way with our tails between our legs.
Before leaving, we checked out the new gift shop which has some cool merchandise, then headed over for a slice of pizza. Five dollars will get you a slice of pizza, a giant slice of pizza – a slice of pizza bigger than most personal pan pizzas, and it's delicious. My only complaint was the fact I was unable to eat my whole piece. I asked if they had boxes and they did not. I had to throw away this amazing work of pizza perfection.
All the staff we interacted with were very nice and fun to talk with.
Between cast, crew, and employees there were 250 individuals working that evening.
---
Atmosphere:

7.9
How Did We Get This Score?

The excitement doesn't begin until after purchasing your tickets and heading down to the Fest-Evil Midway. As you walk down the long, dark walkway, music fills the air. The smell of fire burning, delightful food fragrances and music overwhelm your senses.
On the horizon, sitting behind the cornfield, is the Fright Mare Mansion. About a ½ mile or so in the distance, the huge Mansion glows a bright red. It is a very unique sight, a view of the impending frights foreshadowing the evening.
The midway has been completely revamped. New this year is a no-line wait. You receive a number upon entry and you do not get into line until your number is called. That way you can play games, get food, sit and watch the band of the evening, check out the new gift shop, and/or play a game of corn hole.
They also have new skill games, two of which have a sort of haunt vibe. Games are located immediately upon entry, but tickets are sold at the snack shack. As mentioned earlier, the attendants at the games were really friendly and had zombie makeup on.
The band that evening did a good job. We heard a mix of older and current music.
There was no movie playing this evening on the big screen.
There were a few roamers and a gentlemen doing a fire act entertaining guests while they waited for their number to be called.
A little more scariness and a few more entertainers could be added to help with the haunt-vibe. The music and ambiance did pump us up, but it was more of a party/concert feel than a haunt feel.
---
Special Effects:

8.55
How Did We Get This Score?

Sound is used heavily throughout all of the haunts. Speakers are set up through the hayride, Hollow Grounds, Mansion and Paranoia. They are used to produce creepy music, intense music, background effects, and other realistic sounds. Not every area has a soundtrack but the don't all need one. The added sounds definitely add to the effect of the experience.
The added sounds and music in the hayride help carry the scenes and feel movie-level quality, though some areas do benefit from a lack of sound, allowing anticipation build-up for a loud scare.
The Hollow ground provided background sound effects to enhance the feeling of being outside. Individual scenes and locations had sound appropriate for their areas like intense music for the maniacal slashers huts. One area of a creepy run-down shack played old-time music from the early 1900's to add a hair-raising mood.
One thing I noticed that annoyed me but the team didn't catch was a crackly noise in some of the speakers due to either bad speakers or wiring that needs fixing. Since I am an audiophile I picked up on it in a few spots. The average person probably will not.
Fright Farm had a fair amount of familiar effects, but they were able to put a different twist on them. An unexpected effect during a chainsaw murder moment on the hayride was surprising.
Some scenes were more detailed than others, though none were low quality. Facades and actual buildings line this trail of terror. We drove through a Cemetery with large and small tombstones, featuring bluish, ghostly lighting and fog. We also experienced a church overtaken by the dead, a schoolhouse, a junkyard, and other not-so-scenic areas.
In one cool area, they lock the trailer inside a barn while some not-so-friendly animals terrorize customers with a chainsaw. They are joined by a large rat animatronic that comes out of the wall to surprise guests.
Another unique feature is a black light "rotating tunnel" that the tractor drives through. Though many haunts have a rotating tunnel, this is the only drive-through version we have seen.
After exiting the hayride we were led by a ringleader, a gentleman in a top hat, cape, and handlebar mustache, to the next area. In this line, there were monitors showing a video of the rules and pictures of what was to come.
Hallow Grounds and The Fright-Mare Mansion deliver a mix of scenes with excellent effects and details. The journey into the Hallow Grounds starts with a quick walk through the mansion. Standing in front of the huge mansion, it is quite a spectacle. Large stone lions stand beside the steps, leading two the extra-large wooden doors leading into the manor. The orange glow from the lanterns adds more detail to the carved door knockers.
The detail is impeccable, from peeling wallpaper to broken walls with skulls inside. The design is on par with some of the "bigger" "known" haunts and continues throughout Hallow Grounds and The Mansion.
The content packed into this haunt is incredible. Sheds and shacks, mines and more provide realistic worlds of terror. There is something for everyone' a fusion of nightmares all located in one area.
Paranoia 3.0 is a "secret" haunt. Not much is on the website about this portion of the experience. Without spoiling the surprise, it is an attack on the senses, causing limited ability and uneasy feelings. Interesting textures, sounds, and touches are found within. We did not find out until after the experience that there are currently two different tours of Paranoia and a third one opening soon, each with its own theme : a butcher shop, a sewer, and a machine shop. They eac provide different scares and moods according to the theme.
---
Theme:

N/A
How Did We Get This Score?

---
Scare Factor:

7.09
How Did We Get This Score?

Rich's has a mix of scares, including jump scares, screams, and loud noises. Some involve cast members : interactive actors converse back and forth with patrons as they wander through, while other actors provide attack-type scares by chasing victims with chainsaws. Some don't use words at all, just uncomfortable silence and horrifying stares that penetrate your soul. Additional scares are provided through animatronics, décor, darkness, and surprise. Characters and scary scenes provide edgy feelings for unwelcome guests.
They did a good job of misdirection and had some clever hiding spots; the kid in the suitcase was brilliant.
They did a good job at targeting multiple people in a group. Since the hayrides hold about thirty-plus people, the groups are quite large. Scares are unpredictable with a good use of misdirection.
We were disappointed that there were no real "final scares" which seems to be a trend this year in the haunt community.
We came across a few issues. The last five minutes of the hayride were fairly uneventful with only one large, jump scare. It felt like there should be something more before we got to the mansion. I'll admit when you are heading out of the woods and getting closer to the monstrous mansion towering above you it does build anticipation…but I think a better scare would help the finale of the hayride. Hollow Grounds pretty much leads into the Haunted Mansion. Also, the mansion ends by exiting the 3-D portion with no big finale.
You could consider Paranoia 3.0 its own haunt or a finale to the other three haunts, but then again, it did not seem as scary as our previous experience. It definitely had some cool, interesting concepts. It felt like it was more of a fun experience. Without giving too much away, it didn't feel as if the cast was trying to scare us. Also, we caught up to another group and it became a locomotion of people which limited the possibilities of what could have been done in this unique experience.
---
Entertainment & Value:

9.08
How Did We Get This Score?

At just under 60 minutes of total walkthrough time (not including any waiting or transitioning time between haunts), it is our longest haunt experience of the season. Not only was this our longest attraction, but with general admission, and ticket prices on weekends at $30, this is the cheapest Haunted attraction in the area at 50 cents a minute (or 2 minutes of entertainment per dollar spent). If you decide to skip the line for an additional $30, that's $60 total. Then you'd be paying $1 per minute, which is around the average or slightly under.
Honestly, Fright Farm is a great a price for 4 haunts and live entertainment; definitely worth the hour and forty-five minutes we drove to attend. (Less if you pay attention to your GPS and don't miss the exit.)
This is one of our favorite haunts that we try to hit every year. It has some flaws, but so did every haunt we experienced this year. However, it offers the longest haunt, the cheapest price-ratio, amazing set pieces, good actors, a hayride, an outdoor haunt, an indoor walk, and a secret haunt.
Speaking with the owners and staff, their goal is to keep prices low and the quality high. After 29 years, it is easy to tell they are doing a good job of keeping people coming back.
---
How Did We Get These Scores

Guest ReviewsGuest Average: 6.25 out of 10
R. Johnson – 8.5/10 – October 28, 2016Your night starts with a wait that is filled with actors walking around scaring people while …show more listening to live music. Then the haunted hayride winds it's way to the mansion. Inside things pop out and jump out at you. After making it through you have a haunted maze that has you twisting and turning trying to find the way out while being followed by or running into actors that have amazing make-up and costumes.
Caleb – 4/10 – October 15, 2017I had never been to Fright Farms but it had always been presented by friends and family as the …show more premiere Haunted Attraction. Upon visiting it I will say this was just not the case. While waiting in line I never once saw an actor trying to scare us. Once on the hay ride it was jam packed full of people and I was pretty much sitting on someones lap. The hay ride was not very scary at all. The scenes were gorgeous but the actors just did not scare you. Once dropped off we continued inside the house. Again gorgeous scenes but just not scary. Very few actors and many not seeming to try very hard. This brings me to the last part of the attraction which is the maze that is supposed to be very hard to navigate. This was not the case. It took my group and I around a total of three to five minutes to make it through the entire maze with only seekng two whole actors. Sadly to top it all of my friends told me at the end that the entire attraction, except for the maze, was the same as years past.