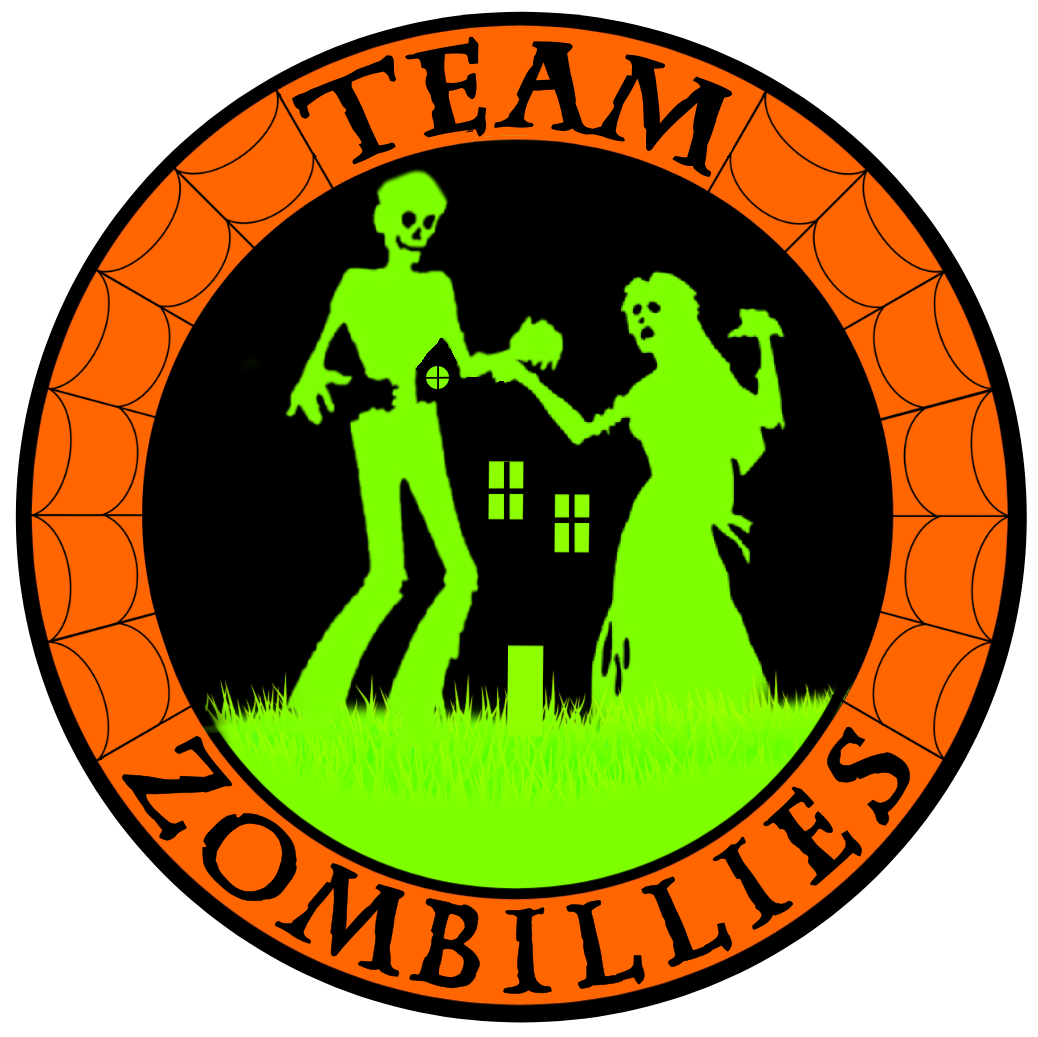 This attraction was reviewed on October 26, 2019 by Team Zombillies.
How Do We Get These Scores?

Final Score:

7.39
How Did We Get This Score?

Summary:
Frightmares is a family-friendly indoor haunted house in Linton, Indiana, located about an hour south of Terre Haute and the same distance west of Bloomington, IN. It's been a few years since our last visit here, and we've gotta be honest' we barely recognized the place!
Being an actor-driven and guided haunt, there aren't a bunch of super-expensive animatronics and such, but these guys have still conjured up their own unique variety of surprises and frights! The tour guide serves as a good storytelling addition and keeps groups spaced evenly throughout the quarter-mile-long haunt.
Join us as we tour Frightmares for their 9th season in 2019!
---
Cast: 7.19
How Did We Get This Score?

Frightmares typically has around 20 to 25 monsters on staff on any given night. These characters seemed to be fairly evenly spaced throughout the haunt. While we did have a tour guide for albeit the last couple of scenes, there were also several times where it was just her and our group for several moments. However, most of this time was spent with her informing us of our impending doom, as well as the variety of interactive scenes and games that we passed through.
The clowns, especially 'Magic Man,' and the butcher shop duo proved to be some of the most memorable parts of the tour! The former were quite energetic, while the latter successfully mocked a few members of our group with some demeaning dialogue. Come to find out, we didn't have two IQ points to rub together' we think. Despite most of the others' interactions with us being pretty brief, we heard the butcher from a few scenes away letting us know he could smell our fear, another warned us that we were going to burn, and an irate doctor demanded that we give up our brains! Though, if you ask the butcher, he probably wouldn't have found them very useful if we did.
With Frightmares being a family-friendly haunt, a good chunk of the performances here were kept on the lighter side of the intensity scale. There was still some shouting and plenty of well-timed jumps to keep our blood flowing, but we also feel this would be a great starter haunt for folks that want to take part in some Halloween fun without getting an emotionally scarring experience.
---
Costuming: 7.11
How Did We Get This Score?

The attire assigned to the frighteners at Frightmares was a key element of helping us identify our assailants. We noticed quite a variety of get-ups, ranging from very colorful costumes on the clowns and more-demented dressings on other denizens to simple black cloaks and latex masks. Each seemed appropriate for the scenes we found them in and were adequately detailed for those areas. Perhaps the most outlandish outfit that we saw was the full gorilla suit that attacked us in one of the outdoor sections!
A good mix of what appeared to be latex masks and custom makeup applications were spotted throughout the tour as well. Our tour guide had some of the most realistic makeup on the journey, and we also noticed some wound-like details on some of the other fiends.
---
Customer Service: 9.3
How Did We Get This Score?

Once again, our trusty GPS led us right to Frightmares, which is located on the main drag through Linton across from Jo Etta's Pizza Villa. Coming from the east, we knew when we arrived after seeing the large 'Frightmares' sign by the road, which was preceded by a sidewalk sign with flashers that indicated a free parking lot for haunt customers on the right (north) side of the road. If you're coming from the west, you'll likely notice the haunt's white hearse with the designated parking lot located just past the haunt on the left.
The ticket booth / concession stand was clearly marked with a large banner, as were each of the haunt's queue lines – one for general admission and the other for fast-pass holders. While the general admission line is mostly indoors, the VIP line is usually covered with a white carport-sized tent. The wind was pretty bad on the night of our visit, but, despite the chance of a spritzing rain shower, the staff decided to quickly remove the tent covering before it became a floating parachute near the haunt guests. Kudos for making a quick decision for customer safety!
As mentioned, you will have a tour guide during your journey through Frightmares. Not only does this person make the tour more eventful and interactive, but they also ensure you have a safe walk through the haunt. All ramps and stairs, despite being clearly marked, were brought to our attention well in advance of us navigating them, and we're certain that they'll be able to assist anyone if an issue arises. Though, we did encounter a few scare attempts while we traversed some of the not-so-flat areas of the haunt and, while this didn't cause any issues for our group specifically, it may cause some stumbles if you're especially jumpy or VERY easily startled.
---
Atmosphere: 7.3
How Did We Get This Score?

As soon as we spotted the haunt's white hearse parked right out front, we knew this was the place! In addition to the car, a white skeleton inflatable was dancing about near the road (it said 'haunted house' on it), purple lanterns lining the ticket / concession booth, other colored lighting, and multiple haunted house signs indicated that we were about to embark on a fun- and fright-filled fling!
As we neared the waiting area, we noticed a screen playing something spooky near the outdoor section of the waiting line, and a rather intimidating brute stepped outside and began interacting with the crowd' while holding a baseball bat. This guy wouldn't crack a smile no matter what anyone said to him! Just the sight of him left us wondering what was going on inside.
---
Special Effects:

6.65
How Did We Get This Score?

Frightmares is more of an old-school haunt with some unique special effects that they've either created in-house, or that they used in clever ways. This was the case with their skeletal horse; something wasn't quite right with that one. Some of their scenes were also interactive; we played games and / or had to do things to progress to the next scenes.
They had their own version of a hotel elevator as well, which was quite different than others we've seen, as well as a vortex tunnel and a green, murky laser swamp. Some of the more-detailed scenes consisted of the entrance to the hotel, the 3D clown areas, the ghost town (complete with rustic facades), the cemetery, and the library.
Their air cannons are placed so well that they're sure to produce startles with each blow, and the butcher's table is also likely to provide some 'shocking' scares! We'll tell ya one thing: we sure didn't want to get very close to it'
Although most of the haunt was pretty quiet, other than the sounds made by the denizens within, we did hear some circus music downstairs, and an eerie soundtrack in the church that helped add an extra layer of realism to these areas.
---
Theme:

N/A
How Did We Get This Score?

Overall, Frightmares no longer follows an overarching theme. However, it is their goal to produce 'your worst nightmares.' Before entering, their introduction video warned us of this by saying we were about to be 'transported in time and space to face your fears.' As we made our way through, we came across a plethora of differently-themed areas, and common fears and characters.
Our tour began in an 1800's, (almost-) abandoned ghost town, and then cycled through everything from a swamp and a library to a dinner table, a butcher shop, a 3D carnival area, and many more classic haunt iterations!
---
Scare Factor:

6.95
How Did We Get This Score?

Don't trust anything inside Frightmares; we never knew where something was going to come from. In short, they had some excellent hiding spots!
Our group consisted of 4 (5 with our guide) and, although a lot of the scares tended to target those bringing up the rear, some were scattered amongst all of us. The timing was also good, as some were controlled by our tour guide, and she was able to see our positions within the scenes mostly at all times.
Some of the fright techniques that we encountered included total darkness, tight spaces, having to complete tasks that resulted in scares and, at one point, we had a stalker that creeped out the last member in our line.
When you visit, be sure you take someone with you that has a good aim! They get to keep one of you if you don't'
At the exit, we were hit with a double-tap scare, but we won't dare tell you what they consisted of…
---
Entertainment & Value:

7.76
How Did We Get This Score?

Since our last visit to Frightmares in 2016, their ticket prices have remained the same! General admission tickets are $10.00 and VIP access is $20.00 for folks that don't like waiting in line on busy nights. Children ages 10 and under can get in for only $8.00.
Since our last visit, the haunt has nearly doubled in length! We clocked our tour right at 18 minutes, which could vary per group. At the amount of time it took us, that brings their MPD (minutes received per dollar spent) to a whopping 1.8, which is well above the average of 1.0 that we see most often. It's also very rare that we see ticket prices this low to begin with, but especially for an attraction at this length!
As we waited in line, a screen displaying some scary characters helped pass our wait, as well as one brute that stepped outside and was interacting with those in line (he had a baseball bat too, so many people were hesitant to get near him).
Frightmares' goal is to remain as family-friendly as possible to accommodate everyone at their haunted attraction. They even offer no-scare tours upon request, and there's an option to switch to the no-scare tour inside if something becomes too intense for members in your group. All you need to do is ask your tour guide.
Frightmares has some good startle scares, several unique effects, and we had a blast during our visit! If you're looking for more of an old-school, family-friendly scare, then definitely add them to your list!
'Your worst nightmares' will be waiting for you'
---
How Did We Get These Scores