Frightworld Americas Screampark – Full Review
Frightworld Americas Screampark is a Haunted Attraction located in Buffalo, NY.
1001 Hetel Ave, Buffalo, NY 14216View All Details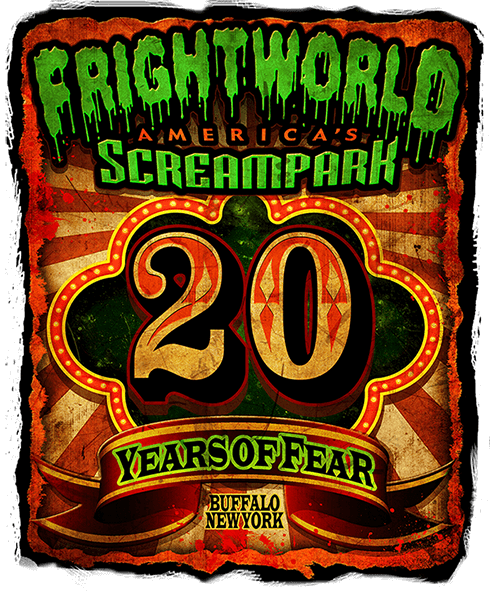 Features:

Free Parking, Restrooms/Porta Potties On-Site, Food/Concessions, Gift Shop/Souvenirs, "Hi-Tech" Attraction, You will NOT be touched, Original Characters, Indoor/Outdoor Waiting Line, All-Indoor Attraction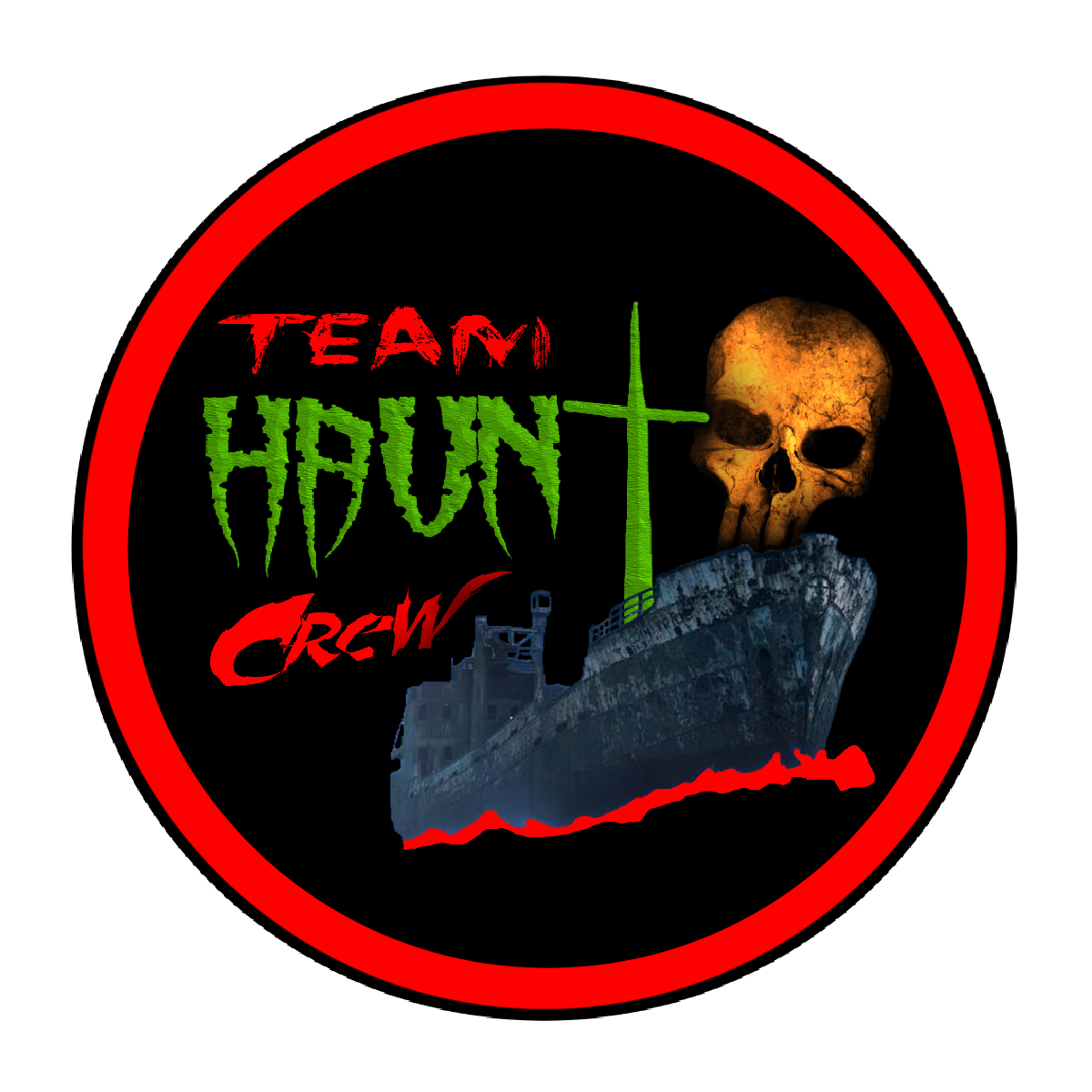 This attraction was reviewed on September 28, 2019 by Team Haunt Crew.
How Do We Get These Scores?

Final Score:

8.9
How Did We Get This Score?

Summary:
Welcome to Frightworld America's Scream Park! They offer five terrifically horrifying attractions all under one roof! The attractions are all very distinct, detailed, and excellently done. There are a variety of scares, big and small, that will make even the biggest, baddest, and toughest, quiver. So, you think you're brave enough? We aren't so sure, we think Tiny will petrify you!
How the hell did you find yourself here in some dingy, dark, damp basement filled with barrels that smell toxic? What are those sounds that seem to be coming from behind the walls? It's the sounds of the Nightstalkers… If you stick around too long in this haunt you may become dinner for these mutant creatures with gnarly teeth created by radioactive waste, or maybe you'll become one of those creatures yourself!
From a social media frenzy to a creative and distinctive haunted attraction, Storm Area 51 is just what the name promises! If you have ever wanted to delve into Area 51 and find out the truth behind the conspiracy theories, this is your chance. In this haunt you have found your way onto a top secret US Air Force base and are searching for evidence of aliens. It looks like you'll have all the evidence you need, too bad during your secret excursion what's been kept hidden at Area 51 all these years, has just escaped.
While the theme behind Eerie State Asylum may be one you are familiar with, it is doubtful you've ever experienced it like this before. You have entered the decaying remains of an abandoned asylum where patients were once tortured. As you explore the rooms and corridors panning the beam of your flashlight around the light begins to dim and flicker. What a time to have forgotten to check the batteries! On top of that you now suddenly realize that you are not alone! There are still insane patients loose in the building and you better find yourself a quick exit if you don't want to end up becoming a permanent resident…
Up next is Grindhouse, what can we say? You come across an old beaten down cabin in the woods overgrown with vegetation, several severed body parts hanging from the porch roof, and you still decided to 'just take a quick peek'? There won't be any returning from that quick peek because the crazy inhabitants already know you're there! One thing is for sure, they want to slaughter you, but who knows whether they will invite you to be dinner…
You made it! A day late maybe, but still, you have finally arrived at Eeriepalooza Fear Festival! Let the headbanging and mosh pits begin! You can hear the music going strong, but where is everyone? Wandering around you stumble across a clown, yes, of all things a clown, dancing in front of the main stage. There's another clown by the concession stands. Why clown's? Your day was already messed up from arriving late, but that's no longer your biggest concern, now you need to get the hell out of here before you find out how the creepy clowns stole the show!
The entertainment (and terror) you'll experience will have you trembling with happiness (or fear) on your way home to have sweet dreams (probably nightmares) remembering all the lovely (spine-chilling, creepy, gory, need I go on?) details of your evening spent at Frightworld America's Scream Park!
Nightstalkers Reloaded (9.1)
Storm Area 51 (8.74)
Eerie State Asylum (9.16)
Grindhouse (8.82)
Eeriepalooza Fear Festival (8.68)
---
Cast: 8.33
How Did We Get This Score?

After interviewing Steve, the director of operations, we learned that all of the actors at FWASP must go through an audition process and have special training. They go to "Boo School" and learn how to scare people in a variety of different ways. The actors show up an hour and a half before the haunt opens to prep themselves, sit for application of makeup, and get their costumes on. It is clearly evident that the cast are masters of their craft. Just seeing the way they move, allows themselves to become fully enveloped in their characters, and showing persistence in trying to scare everyone is a truly amazing testament to their dedication.
Nightstalkers Reloaded (8.85):
The Nightstalkers are very interactive and not afraid to get within inches of your face. The noises made by these actors were so unique and unlike any other haunt we have ever been too. It was a mix of snarling, clicking, guttural grunts, and purring sounds. This haunt had a good number of actors spread throughout the haunt and were able to have single actors popping out into multiple areas by utilizing hidden passages.
Storm Area 51 (8):
The aliens did a great job at getting in our faces to examine us. They were curious and interesting little creatures. Every move they made was well thought out, making them seem like an intrigued animal deciding whether or not to attack. The cast did an excellent job at portraying alien beings. There were plenty of aliens within the attraction but not all were actually actors; it would have been nice to include more actors as aliens and possibly more military personnel.
Eerie State Asylum (9.05):
This haunt did a great job at executing the mental hospital vibe. There were a variety of cast members consisting of doctors, nurses, and patients. The actors were very believable and displayed their insanity well. They did a good job going after the whole group, but it did seem that the leader carrying the flashlight got most of the scares. Many times, there was insane rambling, other times the actors were very interactive, and had to react on the spot to respond to us.
Grindhouse (7.9):
One of the actors truly outshines others in this haunt. He jumped down and then slowly ripped off his face revealing the gruesome musculature beneath. The excitement this actor provided was truly amazing. Speaking of amazing actors, another intense cast member wore a pig mask and suddenly jumped out of nowhere scaring the daylights out of all passers by! Oh and of course, you can't forget the butcher getting in everyone's faces. We did feel that some of the cast members could have had more dialogue, but the faceless man, pig man, and the butcher made up for it.
Eeriepalooza Fear Festival (7.85):
While this haunt was in need of more cast members, we did find that some of the more interactive cast members were located here. There was a mosh pit dancer who even managed to get members of our group dancing with him. While interacting with the actors they asked us things like, "Who's gonna play?" and, " What songs are you going to play?" We had a good time laughing and dancing with them.
---
Costuming: 9.05
How Did We Get This Score?

Nightstalkers Reloaded (9.15):
In Nightstalkers Reloaded, the creatures were truly a one-of-a-kind creation. These creatures had two very distinctive features. The masks, created in-house, featured sunken in droopy eyes and large gnarled teeth with nasty decrepit-looking wrinkled skin. Detailed makeup added to the overall effect along with the dark ragged clothing that blended into the surroundings. You will definitely need to experience these Nightstalkers for yourself!
Storm Area 51 (9.15):
Aliens' Roswell Grays' Extraterrestrials' whatever you want to call them, you'll make first contact here! The alien actors wore light gray skin tight suits which had dark gray staring eyes. There was also an actor wearing what looked like a hazmat suit of sorts while other characters wore bloodied and dirt-covered lab coats.
Eerie State Asylum (9):
The patients who took over the asylum were done very well. The makeup artists did a great job of adding features to enhance the facial features of the actors. Their eyes had dark circles under them that actually made the actors look as though they had not slept in weeks rather than looking like they had makeup on. There were no caked on globs of uncontrolled makeup here! The rest of the costumes were typical mental hospital items such as straitjackets, lab coats, and scrubs that had all been treated to look filthy, tattered, and disheveled.
Grindhouse (9.43):
Gore, gore, gore! The costumes were what you would expect to see in a back woods slaughter house full of crazed murderers. Absolutely everything was splattered with blood! There were some actors wearing masks that looked like decapitated pig heads. Others just had makeup and blood covering their faces but there was one character whose mask was layered so he could peel his face off showing all the gory details.
Eeriepalooza Fear Festival (8.5):
Imagine a music festival gone awry with a bit of Insane Clown Posse style! The actors wore really colorful creative clown suites with a dash of blood splattered here and there. A few wore disturbing clown masks while others had their faces done in appropriate clown makeup.
---
Customer Service: 9.43
How Did We Get This Score?

It's impossible to miss this haunt from the outside of the attraction, there was an enormous Stay Puft Marshmallow Man that was clearly visible from far away. There was plenty of free parking and there was no mud like haunted attractions located in rural areas because of the paved lot.
There was an outdoor queue leading inside to the ticket booth which was efficient and moved quickly. As most of us know, many haunted attractions utilize porta potties which are often times scarier than the attractions themselves! That is not a concern at FWASP because there is a clean, albeit creepily lit with black lights, public restroom which was quite a relief after the long journey!
Security was no problem as there were plenty of guards easily spotted keeping an eye on things. Overall, the staff was very friendly and exceptionally helpful. All of the staff were wearing easily identifiable staff shirts and ID badges.
The website offers a clean appearance and is user friendly with clear, easy-to-find options. Any information you may need is on the website such as the location, including an explanation that it is in an old Wal-Mart building. There is information about special events listed, dates and hours of operation, and of course the option to purchase tickets. The attraction also has social media pages that are easily found to provide information to anyone who may prefer that option.
---
Atmosphere: 9.6
How Did We Get This Score?

When you first arrive in the parking lot at Frightworld America's Scream Park, you may wonder what you are doing at an Asian Food Market that looks surprisingly like an old Wal-Mart building. But no need to fret! The other end of the building has a large banner advertising the entrance to FWASP. The external decor does not seem like much but the second you enter the building you are transported from the city into a dark eerie countryside where unknown horrors await. The first thing you will see is a wooden fence covered with corn stalks which wraps around to the ticket booth that looks like a rustic log cabin. Standing amongst the corn stalks surrounding the log cabin are some creepy jack-o-lantern headed creatures that look as if they will spring to life and come toward you.
Once you have gained entrance beyond the ticket booth there is a midway with plenty of space to take in all the impressive sights around you. There are several photo opportunities including a cabin facade with a front porch where you can pose with Jason Voorhees, sit with one of the wrapped up victims seen in Nightstalkers, as well as many of the eerily lit pumpkin creatures, and some rather morbid scarecrows. There is also a concession stand with food and drink available for purchase. Next to the concession stand is a large seating area with tables for your convenience, including some tables placed under the overhang of a barn facade that is uniquely decorated and lit with black lights.
The entire area outside the five attractions is kept darkened using only black lights and some specially placed colored spotlights to give the appearance of night with billowing clouds of fog wafting around. Large screens displayed horror trivia and news stories about FWASP while ambient sounds played from additional speakers. The outer appearance of all the haunts clearly foreshadowed the terrible horrors inside and enticed the viewer to enter at their own risk. Even the rest rooms are kept in an eerie light as they are only lit using black lights. Four scary characters hunt and stalk unknowing patrons while they wander around the photo areas, concession stand, or while waiting in line to enter a haunt. There was an exceptional statured and intimidating clown, ironically named Tiny, whom did an excellent job at terrifying distracted haunt goers while they decided which attraction to go to first. In addition to Tiny, there was another clown and also an intense-looking hooded creature wearing a horned skull mask that was most impressive! Another tall character wielding an axe was most insistent upon trying to scare the least scarable member of our group.
Our group stepped outside at one point to discuss an attraction we had just exited and we suddenly realized that we had been completely absorbed by the amazing sights and sounds. We felt as though it were late at night but when we stepped out the door there were still a few stray beams of sunlight blazing off the horizon. FWASP created such a great atmosphere that the illusion engulfed our minds taking us by complete surprise!
---
Special Effects:

9.12
How Did We Get This Score?

Nightstalkers Reloaded (9.28):
The sounds within Nightstalkers Reloaded were very unnerving and made us feel as if we were deep underground with the ever present sound of dripping water. There were also sections of silence that increased suspense and had us on our tiptoes.
Nightstalkers seemed to have a fascination with mannequins. The mannequin animatronics are truly amazing, they are all made in house, and were much quieter than most that we see at haunts. We did feel that the timing could be adjusted on some of the animatronics to make them strike out at different sections of the group.
The sets were extremely detailed. As we traversed the decaying ruins of this basement facility we really felt like we were surrounded by actual crumbling concrete walls and pillars. Tons of barrels filled with some unknown substance glowed creating an ominous light source. Some special effects amped up the intensity by simply sitting still. We tried to keep a distance as we were walking by bodies tied up, wrapped in sheets, and sitting upright on benches as we fully expected one to move at us.
Everything we saw was decrepit looking and dirty. Some of the best sound effects came from the actors themselves making strange clicking and purring noises, it seemed as if they had their own language.
Storm Area 51 (8.93):
With the fact that you are about to enter into a no trespassing zone, you can expect no less than sirens and flashing strobes. There were some alien animatronics that jumped out from unexpected places. Many props were used to add a realistic (or as realistic as you can imagine) Roswell feel such as a crashed UFO site with alien bodies strewn about, and the many instruments in the alien autopsy room where we got an intense look inside alien anatomy and physiology.
Eerie State Asylum (9.43):
This haunt uses the sense of smell, hearing, and vision to drive customers as batty as the remaining psychopathic patients inside. Your sinuses will be assaulted by scents of rot and musty decay. There was an ambient soundtrack that is just audible and enhances the eerie quality of the scenes. The props and scenes had several different items that you would expect to see in an asylum such as hospital tools, furniture, straitjackets, medical stretchers, and gurneys.
Before we walked into the asylum, we were greeted by a staff member whom locked a handcuff with an attached flashlight onto the wrist of the person leading our group through the asylum. This is no ordinary flashlight however, this flashlight is one-of-a-kind. This light will flicker, dim, and turn itself off and back on as you make your way through the crusty old halls of the asylum! This is one of the most unique, and really just plain awesome features that we have ever encountered at any haunted attraction. This one special effect provided an entirely different experience from any other haunt we have had the pleasure of going to. This intriguing flashlight also gave the actors an opportunity to jump out at exactly the right time and scare the crap of us!
Grindhouse (8.88):
In this grotesque house of horror, you will find yourself in a human body chop shop! The scent of chainsaw exhaust lingered around the nostrils while we made our way through this attraction. There are all manors of blades and tools, hatchets and chains with hooks, and room after room was decorated with realistic and severed bloody body parts. They did a great job of using hidden doors for the actors to pop out of. There was one special effect that really made our eyes bug out which was when the actor we mentioned above removed his face!
Eeriepalooza Fear Festival (9.08):
This creepy-looking music festival was a hit for the music geek in our group. As we walked through the festival, we felt revved up because of the heavy metal headbanging music being played. That is, until we noticed all the dead concert goers. You will see multiple props such as a blood-covered midway that includes a first aid stand with severed heads on display, game stands, a dirty mosh pit area, an eerie stage including a dead DJ slumped over the sound board, and even a quiet camping area complete with a large campfire where something strange is roasting on the spit…
The haunt did a great job at setting up unique and original scenes while properly distressing the props and scenery to fit to the themes. This is the first time we can remember ever encountering a demented music festival of the damned!
---
Theme:

8.89
How Did We Get This Score?

Frightworld America's Screampark had five drastically different and exceptionally creative themes. All five haunts were easily identified based on their outside appearance and the themes within were well executed. The location of this haunted attraction did not fit with the themes of any of the attractions because it was located inside an old Wal-Mart building. With the number of attractions and variety of themes presented, there was not a way to tie it all together. This really did not detract from the attraction. The atmosphere created within the building was so surreal that you felt as if you were in a location befitting any of the themes.
Night Stalkers(8.85):
Who's lurking around in the basement with barrels of radioactive waste in a post apocalyptic world? Wonder no longer, it's the Nightstalkers! Before we entered the haunt we were unsure what exactly a Nightstalker was, but now we most certainly do. FWASP did a superb job creating these creatures and the details needed to enhance the Nightstalker's lair in a radioactive basement. At first, we didn't quite understand why the Nightstalkers loved mannequins so much, but after you see these creatures face to face, you will realize why they have such a fascination with mannequins' they just want to be normal again' even though they can't ever change back from their terrifying mutated form.
Storm Area 51(8.9):
Have you ever wanted to explore the infamous top secret Air Force base in Nevada known as Area 51 and learn what secrets are hidden inside? Look no further! Here you can gain entrance to this government facility to seek out aliens without the risk of being held in federal prison for the rest of your days!
The theme was carried out very well, we encountered several conspiracy theories at Area 51 such as autopsies, a crash site, and many freaky-looking aliens. Look out or the aliens might take you back to their home world!
Eerie State Asylum (8.9):
Some themes are just classics for haunted attractions. One of the most classic is that of the out of control insane asylum. You better start running because the patients of Eerie State Asylum have gone even crazier and now they are after… YOU!
Grindhouse(8.9):
If you happen to see a really creepy rustic cabin in the bayou, don't be the cat that curiosity killed, because if you enter the Grindhouse, you will never be the same (more probable, you'll never be seen again). The theme of this haunt is right in the title, a grindhouse. If you don't know what that is, maybe one of the butchers will be willing to explain it to you while removing your skin!
Eeriepalooza Fear Festival(8.9):
This is a creative theme for a haunted attraction which we have never seen before. This is a huge music festival that has gone totally wrong! Concert goers will get the show of a lifetime while running for their lives! This music festival is your worst nightmare, welcome to Eeriepalooza!
---
Scare Factor:

8.14
How Did We Get This Score?

Nightstalkers Reloaded (8.5)
Within the dark confines of this decaying apocalyptic world, you will yourself faced with fantastically frightening creatures that have gnarled teeth coming after you while uttering otherworldly clicking sounds! Nightstalkers Reloaded did an excellent job of removing us from this world and dropping us into another time and place altogether. The detailing of the scenes created an appallingly realistic apocalyptic feel that would cause unease in anyone that entered. The Nightstalkers attacked from all directions, coming out from completely unexpected places providing scares for everyone in our group. Mainly, it seemed, that the types of scares were unanticipated pop outs, in your face scares, stares, and plenty of stalking. There were also some animatronics that took us by surprise as they were disguised so well, and barely made a sound! The timing for these animatronics could have been adjusted though, as it seemed that the time delay was long enough on each one that the lead always missed them. The ending seemed almost to be lacking something as we traversed the final corridors. However, there was, unfortunately, an interruption to our final experience. This was caused by a rude woman whom decided to break the rules and use the flashlight on her phone to find her way, thus leading her to catch up to us, and disrupting any final scares we may have experienced. It should be noted, of course, that this was not anyone's fault but hers, as during the rest of our trek we never encountered another patron.
Storm Area 51 (7.63):
Inside the epic walls of the secret US Air Force base known as Area 51 you will encounter realistic aliens (or at least as realistic looking as our imaginations can create). From sudden unexpected animatronic scares, sudden loud banging, and gruesomely detailed alien corpses, to aliens seemingly coming from nowhere, getting in our faces, and stalking us, there is some variety to how you will be terrified. The alien autopsy was an impressive room and would gross out anyone that may be squeamish, but we did feel that it could have been more intense had there been someone in the room mid-autopsy as we entered. This actor could do several things, start questioning you, hold grotesque alien organs in your face, or possibly even make you step in to assist! All in all, this attraction provided effective scares that were well spanned out to get the entire group.
Eerie State Asylum (8.48):
When you enter an abandoned mental asylum, you typically expect to find old rotting furniture, outdated medical equipment, and hallways of empty rooms, right? That's not the case behind the walls of Eerie State Asylum!
Rather than just wandering through the maze of the haunt anticipating the next scare, you will be exploring the abandoned ruins of an old insane asylum, searching room after room with the world's worst flashlight. As soon as we started checking out all the creative details, allowing ourselves to get distracted, letting our guard down' well, it is never a good idea to let your guard down! This led to some of the best surprise scares we have encountered.
Because of the flickering flashlight it was practically impossible to know when something was about to jump out. Around every turn it seemed that there was some new fright to be found, at least for the person with the flashlight handcuffed to their wrist. The best part of the attraction that increased the intensity for the person in the lead was also, sadly, something that took away from the experience for the rest of the group. Due to the nature of a haunted attraction it was difficult for the rest of the group to see and experience what the leader did, however it was a plus that the actors did a good job to not just go after the person in the lead so the rest of the group did get some good frights as well. One of the best was an animatronic racoon that distracted the entire group so well that we never saw what was coming next!
Grindhouse (8.1):
If you want adrenaline to flow then Grindhouse would be a good place to go! There were several actors that jumped out unexpected, a dead guy in a chair missing most of his head suddenly jolted to life, people wearing pig heads chased us, and of course, as in any slaughter house, we found the obligatory chainsaw wielding lunatic that sends people running for their lives! Naturally, there was also a titanic amount of gore galore!
Eeriepalooza (8):
The demented music festival was entertaining as well as full of frights. The scares were directed at each member of our group, and even if someone just laughed instead of being scared, the clowns just got in their face, laughed louder, and did their best to make them as uneasy as possible. There was also a plentiful amount of gore throughout the festival to make even the strongest stomachs start to feel queasy. It was a little bit disappointing that there were not some more actors within this attraction although those that were present did a great job of repeatedly popping up throughout the haunt. The camping area was truly horrific, especially with what was roasting on a spit over the fire, it just needed an injection of a murderous clown or two.
---
Entertainment & Value:

9.05
How Did We Get This Score?

Frightworld America's Scream Park is certainly one of the more interesting haunted attractions that our group has visited over the years. We felt that it really provided a good "bang for your buck"… or should I say, "scare for your buck"!
General admission is $30.00 with the option to purchase VIP Frightpass tickets at a cost of $42.00 each. They also offer an option for those who may not have the time to go through all the attractions (or maybe they are just too scared to?) with the availability of the 2 House Combo Ticket for $18.00 with an optional upgrade to VIP Frightpass 2 House Combo Ticket at a cost of $24.00.
The overall length of time we spent in the attractions adds up to 63 minutes of entertainment! We were quite impressed with the length of time we were within the haunts. Nightstalkers Reloaded had, by far, the most impressive walkthrough time. Below are the attractions and the length of time it took our group to complete each one.
Nightstalkers Reloaded – 20 minutes
Storm Area 51 – 13 minutes
Eerie State Asylum – 10 minutes
Grindhouse – 10 minutes
Eeriepalooza – 10 minutes
Discount coupons for Frightworld are available at local sponsors for $3.00 off admission. There is also a $5.00 military discount available. If you happen to be from Canada, there is a free upgrade to the VIP Frightpass with purchase of the regular general admission five house ticket.
There are a few other things that should be noted about FWASP. The owners/operators of FWASP are not only interested in providing great scares to all whom seek them but also providing fun Halloween entertainment for the whole family! Because of this, they started having a Little Frights with Lights. During this event the attraction is open during the day from 11am-3:30pm with the lights on and no monsters. The special event costs $12.00 for kids (parents are free) and includes face painting, balloon animals, and trick or treating.
New this year is Frightworld Pumpkin Park! This is also a family friendly area that is open various days and nights throughout the season. Within the FWPP you will find an assortment of pumpkins to choose from, photo op areas, and a concession stand where you can get some delicious fall treats! Cost is $5.00, kids under age 1 are free. FWASP is an easy place to start a Halloween family tradition. Come get scared or come have fun and pick out a pumpkin.
Another special event that occurs only one weekend for the season is Lights Out. This is a two night only event with a price of $25.00 for general admission or for $35.00 you can instead purchase the VIP Frightpass. Patrons will enter all five of FWASP's attractions in total darkness with nothing but a glowstick to find their way.
All in all, we were very pleased with the value of the haunt. The end result is that FWASP has a 2.1 MPD (minutes per dollar) value which is a great deal especially when you take into consideration the additional free entertainment provided by the four actors slinking around scaring the pumpkin spice out of unsuspecting visitors roaming around the common areas and queues! This is also double the average seen most often!
If you are searching for a place where you can get the piss scared out of you without your bank account needing defibrillator paddles afterwards, look no further than Frightworld America's Scream Park!
---
How Did We Get These Scores

---
Guest ReviewsGuest Average: 10 out of 10
Jon Miller – 10/10 – October 13, 2018I'm 38 years old and a fan of haunted houses my whole life, been to probably over 75 different …show more events. This event in buffalo is simply the best, it has everything , highly recommend going. Simple the best, produced event I have ever been too.