COVID Notice:
Many states are actively changing their policies and mandates concerning the recent rise in the Delta variant of COVID-19. Some haunts are closing, others are implementing last year's policies, and others are able to continue as normal. We (The Scare Factor) have no way of monitoring the policies in every State, County, City, Town, etc. across the country in real time. It is your responsibility as a customer to always confirm the active policies in place with the attraction/s you plan to visit.
Dumas Brothel
"Ghost Hunts at this historical site are not for the faint of heart!"
Dumas Brothel is a Paranormal [1898] in Butte, MT.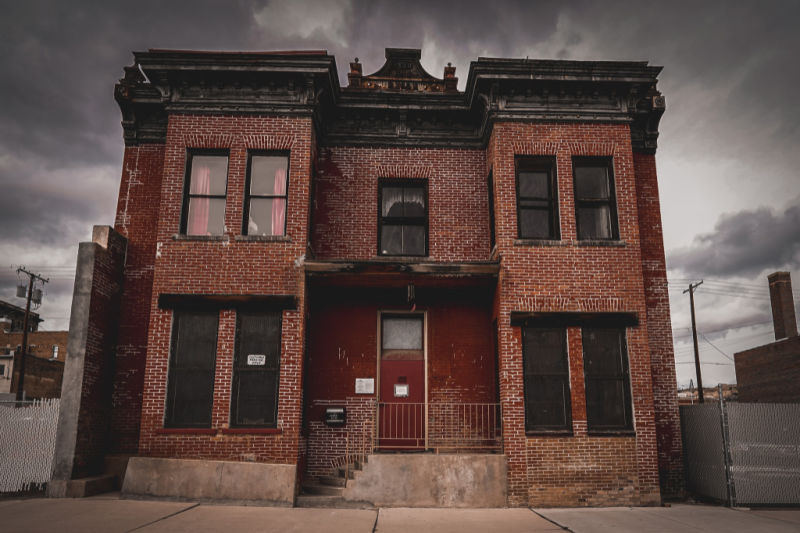 [if 1895]" width="90%" class="aligncenter][/if 1895]
Location
45 E Mercury StreetButte, MT 59701
---
About This Place:
Summary:
This historic two-story Victorian home located in Butte, Montana was built in 1890 and was opened as a brothel upon its completion by Joseph and Arthur Nadeau of French Canada. Within a short distance of the copper mines, the Dumas Brothel quickly became a popular place for men to find their pleasure. It was a working brothel for over nine decades, ceasing operations in 1982 when the owner, Ruby Garrett, was arrested for tax evasion.
The bordello changed hands a number of times over the years. It was purchased in 1922 by Dick and Lillian Walden who ran it until 1950 when Elinore Knott took over. After Elinore died on the property in 1955, Bonita Farren, the woman who discovered Elinore's body in the upstairs Madam's room, oversaw operations until 1971. Bonita's husband John reportedly died after falling at the Dumas. Ruby Garrett, who also went by the name Lee Arrigoni, was the next owner of the brothel. She had previously been convicted of manslaughter in 1959 when she killed her husband after suffering his abuse, a crime for which she only served nine months. Ruby went on to run the house until her finances came under scrutiny after the house had been robbed and the thieves went on trial. The bordello finally closed its doors in 1982.
When Ruby decided to sell off the furnishings of the brothel in 1990, she ended up selling the building to antique dealer Rudy Giecek with the understanding that he would open up the space as a museum – which he did for 20 years. Travis Eskelen and Michael Piche purchased the building – which was in dire need of many repairs and on which back taxes were owed – in 2012. They had planned to restore the building and open it as a bed and breakfast until tragedy struck, and Michael died in early 2018.
The Dumas is now owned by David and Charlee Pierce, who are working to restore the beauty and grandeur of this historic bordello so the history of the brothel and the role it played in the city of Butte can be preserved. The question is, will the spirits who apparently still linger here be happy to receive visitors? And how will they make themselves known?
---
Links:

Contact:
Have you visited this attraction?
---
See anything that needs updated? Let Us Know!