Grim Trails – Full Review
Grim Trails is a Haunted Attraction located in Louisville, KY.
2600 Freys Hill Rd, Louisville, KY 40241View All Details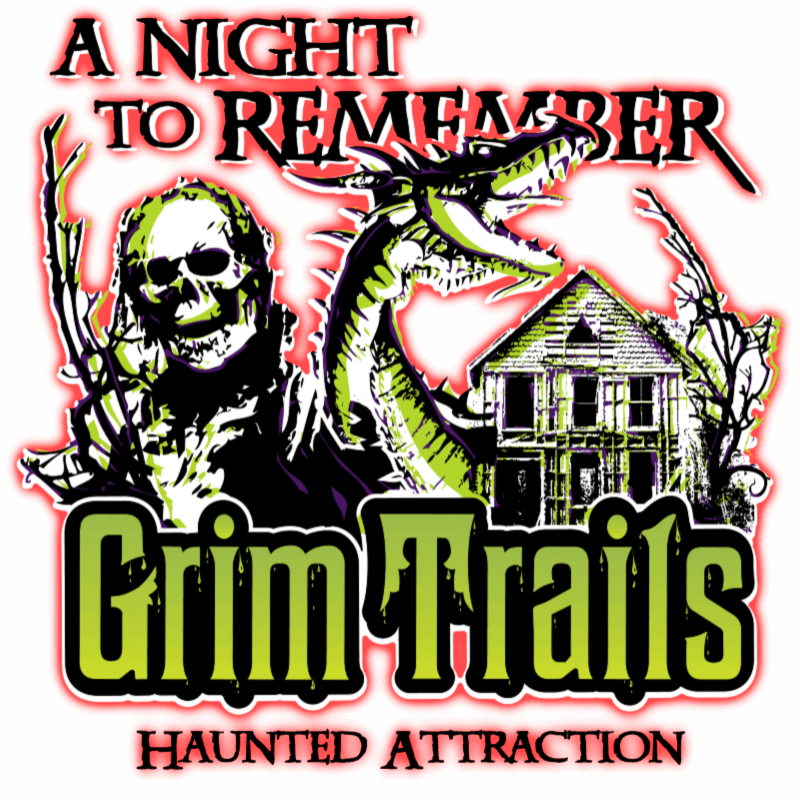 Features:

Free Parking, Restrooms/Porta Potties On-Site, Food/Concessions, Gift Shop/Souvenirs, You will NOT be touched, Uncovered Outdoor Waiting Line, Indoor/Outdoor Attraction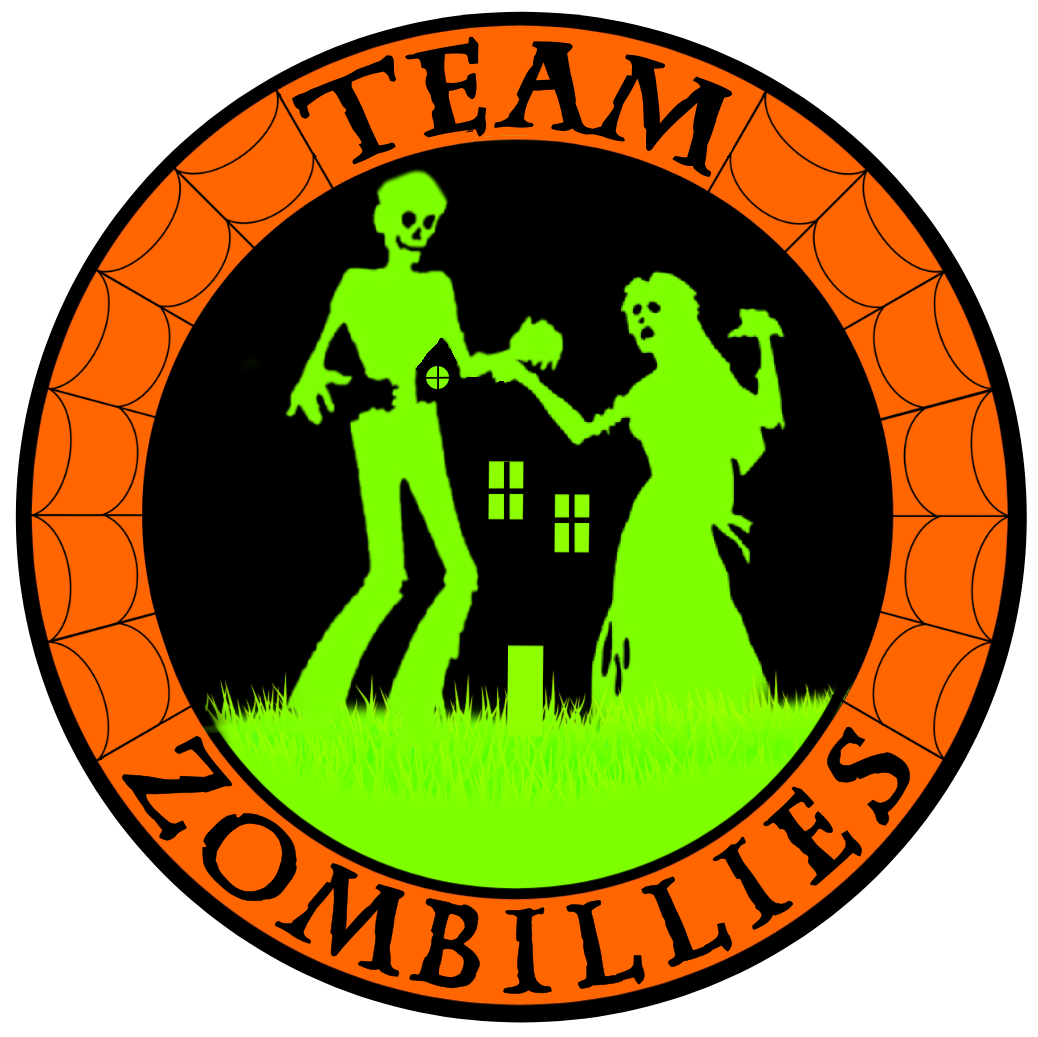 This attraction was reviewed on October 12, 2019 by Team Zombillies.
How Do We Get These Scores?

Final Score:

8.63
How Did We Get This Score?

Summary:
Grim Trails is a very unique outdoor haunt on the eastern edge of Louisville, Kentucky. Instead of having traditional monsters or classic movie villains, here you'll find the chance to step into an alternate realm of fantasy and lore. What's that you say? Fairy tales, myths, and legends aren't real, or aren't scary? We can assure you' quite the opposite is true!
Some of what makes Grim Trails so unique are the life-sized buildings that are on display along the trail. From Dracula's castle and Bluebeard's manor to an ice cave and some brand-new surprises, you're sure to find some childhood fiends that you never thought you'd actually meet in real life!
However, you can rest assured that this is also a 'no-touch' haunt. While these tormentors might get very close, everyone in your group will leave unhurt… someone might just need a change of underwear, though.
---
Cast: 8.01
How Did We Get This Score?

We noticed a slight increase in the number of actors scattered along the trail this year. Compared to seasons past, it seemed like there were fewer 'dead spaces' between the major scenes. This caused for a few extra frights when we thought we might be safe. Don't trust the bushes! However, only a select few of them provided more than a quick 'pop' scare.
A violent velitation between Goldilocks and her beastie bestie got the tour started. Luckily for us, his most-recent meal held him over until we could escape' but not without giving us a death stare and making us walk around him. After a seemingly hilarious encounter with the female vampires in the castle (all they did was laugh at us and follow us out the back door), we eventually made it to an ice cave where we found yet another furry fiend. At first, we thought he might've been hungry too! Fortunately, after he laid eyes on us, he backed away and let us go. (He must've thought we didn't look very tasty.)
Along the way, we had some tea with the Mad Hatter and a rabbit, witnessed an attempted murder in Bluebeard's estate, crossed paths with a variety of robed creatures (some more verbally active than others), and narrowly escaped the clutches of Kaa (from The Jungle Book) and several witches. Later, we found a few new additions to the Grim Trails cast, including Charon on The River Styx, a masquerading Medusa, as well as a massive minotaur.
While the former proved to be one of the most interactive of the tour, demanding payment from us for crossing, we felt that some opportunities were missed in Medusa's manor and many of the other areas.
---
Costuming: 9.06
How Did We Get This Score?

Grim Trails' maleficent monsters carried quite a variety of veneers. Ranging from simpler cloaked creatures to massive rock monsters and normal-ish people to a fully-transformed vampire, we just never quite knew what to expect around the next corner. For an outdoor trail, these guys (and gals) consistently have some of the most impressive and realistic costumes that we see each season. Our biggest complaint here was that some areas of the trail were a bit dark, which hindered our ability to make out some of the finer details that were (or weren't?) on display.
Among the most sinister sights we saw included the minotaur, Medusa, Charon, the yeti, the bear and the goat-headed cultist. Some highly-detailed masks were used by these and some of the less-elaborately-dressed monsters (at least the ones we could see), which made them appear much more life-like and fearsome. The most unique mask that we noticed was when the Mad Hatter revealed his true appearance beneath the guise of a plastic bunny mask. Also, at least one stilted assailant proved to be the most intimidating iteration on the trail.
Makeup, as a whole, seemed to be the most affected by the low-light conditions this year. Except for a few characters that we only encountered briefly, most of the maskless minions remained in the dark or had faint enough details to make them nearly undetectable. However, the ones that we did get a good look at seemed to be done well and helped add more freakishly-frightening features to their looks. One of the witches' victims even had her mouth sewn shut so she couldn't scream for help!
---
Customer Service: 9.58
How Did We Get This Score?

Grim Trails is easy to find on Google Maps and our GPS took us right to their entrance. They had a well-lit sign, string lights, and a skeletal-horse-drawn buggy at the pull-in making it nearly impossible for us to pass up. There was also a line of cars down each side of the street, so we knew something was going on at this place. Once we pulled in, there wasn't anyone outside to direct traffic. We decided to press our luck and drive around to the back and see if there were any available parking spots (luckily, there was). The parking lot behind the house is a large and well-lit gravel lot that's free to use. Lines for parking spaces are even added to make it easier to fit as many cars as possible.
From the parking lot, navigating the haunt was pretty easy. Another large, well-lit Grim Trails sign and a new, decorated entryway gave off a pretty good clue as to which way we needed to go to find the ticket booth, ATM, concessions, and entrance to the waiting line. Getting around the property was easy, as the walking areas outside the haunt were lined with gravel and the beginning of the ticket lines were clearly marked and roped off.
We'll reiterate here that Grim Trails is a very safe haunted attraction. They had a cop on location and they've added a metal detector that all customers must pass through before they're permitted to enter the waiting line. If you have any knives, eCigs or other metal items that you don't need on the trail, save yourself some walking or a confiscation confrontation and leave them in your vehicle.
All of the staff members that we came across were friendly and able to answer any questions that we had. The rule-giver was thorough and friendly as well. She even went as far as to show us a picture on her phone of Grim Trail's resident 7-foot snake that slithers about the property. Watch out for that one!
Before visiting, we pulled up their website and social media pages. Pertinent information that's needed prior to visiting was easy to find. Once on the property, they did have a recording playing at the entrance with rules, so pay attention!
---
Atmosphere: 9.2
How Did We Get This Score?

The spookiness of Grim Trails becomes more and more evident with each visit we make. This year, sounds were added to the main parking lot area that sounded like creepy kids singing (when we heard it). They also added an entryway near the ticket booth that gives off an idea of what can be expected inside. Aside from these new additions, Grim Trails has lighted poles in the parking lot with promo signs, a logo sign at the entrance, a rustic ticket shack, a waterscape, and other decorations to prepare guests for mystically-mischievous vibes before they enter. And that's all before we even got to the waiting line!
The waiting line was kept fairly dark and some downright unnerving whispering surround-sound effects echoed down the long gravel path. Even with a large line, we could still hear the sounds over everyone. When we paired those with the darkness and surrounding tree cover, it created quite a mind trick-inducing wait. Loud screams wailed from within the woods every so often, and that really made us wonder what was going on in there! Was it an actress? Was it a customer? Did somebody DIE!?!? We didn't know, but we were about to find out!
A costumed belly dancer was set up in the queue area on the night of our visit. But in the line, the only scares provided were the creepy sounds and ambiance to prepare guests to enter. However, right before we entered the fantasy world, we were stopped in a small shack with the rule-giver. The shack was well-decorated and quite a change from the dark queue line. While she was describing what we could expect on the trail (and getting all up in one gal's personal space bubble), things in the room began to move, signaling that it was our group's turn to finally get started. This was a great way to set the mood for what we were about to experience on the trail.
---
Special Effects:

8.73
How Did We Get This Score?

Although this is an outdoor haunted trail, you can still expect to see a large variety of special effects in use, including some large animatronics. They also have some monstrous and detailed facades that they've built in-house. The scenes at Grim Trails have been built to where they suck you in, enough to keep guests immersed in their fictional world. There were times when we could see groups up ahead or when we could hear them screaming, but for the most part, the details within the scenes and the trail kept our attention.
There was a mixture of realistic sound effects throughout the trail, but some areas were also quiet. The larger props were accompanied by loud sounds that increased their effectiveness. The sounds of bugs had us looking all around us to make sure we weren't getting ready to be attacked by a swarm of something.
There were a lot of details that added an extra realistic layer to the scenes. These included a mixture of thunder and lightning, flickering lights, running water, impaled bodies, a convulsing metal door, bamboo, vegetation, and uniquely-lit ice cave that was really making it stand out!
Some of the larger effects included a large, talking grim reaper (though we couldn't spend much time listening to him), a giant pumpkin head, Medusa's temple complete with a collapsed column inside, a cave area, a dragon, concrete catacombs with arched ceilings, multiple bridges to cross, and more!
---
Theme:

8.55
How Did We Get This Score?

While there is no single storyline for GT, the blanketing theme for their haunted trail – as stated on their website – is a 'dark, twisted, and spooky world of fairy-tales and folklore.' We didn't get an intro from any staff members or characters, but their new archway before the ticket booth states that Grim Trails is 'The Haunt of Fairytales, Myths, and Legends.' Although some of them may not be as obvious as others, this is mostly what you can expect to find within the twists and turns of the trail.
Their site also states that guests will 'venture into the lair of the elusive yeti, explore Bluebeard's murderous manor, and journey to Translyvania to catch a glimpse of Count Dracula himself.' We did experience each of these characters and then some!
When they said they were immersing us into the dark and twisted versions of these tales, they weren't kidding. Many of the characters and creatures weren't as friendly as one would think from reading or hearing about them. When you see a big fuzzy animal that you remember from your childhood, you might just want to walk up and pet it. Well, if you do that here, you might just draw back a nub! Don't touch the bear.
---
Scare Factor:

8.03
How Did We Get This Score?

In case you haven't figured it out already, Grim Trails is a trek through twisted timbers. It is dark in several areas and the path can get fairly tight and enclosed. This alone may be enough to keep some on edge. Things may creep up behind you, and we can guarantee that someTHING will be watching nearly every step you take through the woods.
One thing we noticed this year was an increase in startles between the main scenes. This was when our group let our guard down the most, and they totally took advantage of it! You would think we would have learned from our mistake early in the trail, but nope' we didn't, and they continued to keep these startles going down the line. They also targeted us with pitch-black areas where we couldn't see our hands in front of our faces, good hiding spots within the scenes, maniacal laughter, snakes, things that jumped out at us, and giant beasts. At one point, all 5 members of our group went flailing backward into one another when their mean-ass bear came charging at us! Dammit, we told you not to touch that bear! We watched it pluck a poor victim right up and carry her off into the next room. Great' now WE've gotta go in there. We're not sure exactly how that ended' In a different spot on the trail, one creature waited, silently gazing at us until the perfect moment to strike' particularly those that didn't realize it was real! Bravo for being able to sit completely still like that.
We've said it plenty of times before, but in case you haven't read any of our previous reviews, Grim Trails does not use chainsaws. In fact, they're one of the only haunts we visit annually that never uses them. They don't really fit with their attraction and they've come up with a more unexpected scare as their finale. We won't dare ruin it, but it does involve a loud sound and direct blinding of the eyeballs. You probably won't see it coming' until it's too late!
---
Entertainment & Value:

8.3
How Did We Get This Score?

General admission prices remain at $20.00 this season which is the same as they've been for the last few years. Tour times will likely vary per group, but we were on the trail for a total of 22 minutes this year. That brings their MPD (minutes received / dollar spent) to 1.1. This is just above average and actually one of the highest MPD values in the Louisville area.
While making our way up the queue area, we noticed a belly dancer that was entertaining the crowd and posing for pictures. She was impossible to miss due to her glowing wings! There were also some spooky sounds and, every now and then, we could see a group fleeing from the exit (which is always entertaining).
Grim Trails accepts major credit cards and cash, but they also have an ATM on-site in case their card reader is down and / or you need cash' say, for concessions, merch or other items that are available for purchase.
Each year that we visit Grim Trails, they keep adding more and more scenes and characters while also making upgrades to some of their older ones. For those seeking a fun and frightful journey through the dark timbers of a fearful fantasy world, then this is the scare for you! They have quite a variety of surprises up their sleeves and characters that aren't often seen in other attractions.
Oh yeah, don't pet the raccoon either!
---
How Did We Get These Scores

Promo Images:
Click to Enlarge
---
Guest ReviewsGuest Average: 10 out of 10
Jenna Durbin – 10/10 – October 11, 2019The atmosphere at this haunted house is amazing. You feel like you're not even in Louisville …show more anymore! Sets and costumes were incredible. Highly recommend!!
Darryl Moore – 10/10 – October 27, 2018Scariest haunted house in Louisville! The detail is absolutely incredible. It feels like you've been …show more transported into these different worlds of fairy tales. You will not be disappointed!
Ava Winebrenner – 10/10 – October 12, 2018This Was Very Scary! I never expected them to get so close!
---
Past Awards
---
2020 Awards
Scariest Duo - Goldilocks and The Bear (Given by: Team Zombillies)
Most Unique Costumes (Given by: Team Zombillies)
---
2019 Awards
Scariest Creature - The Bear (Given by: Team Zombillies)
Creepiest Vocals - The Demon (Given by: Team Zombillies)
Most Unique Haunt (Given by: Team Zombillies)
---
2018 Awards
Scariest Creature - "The Bear" (Luke Mays) (Given by: Team Zombillies)
Best Costume - The Rock Wall (Given by: Team Zombillies)
Most Realistic Vampires (Given by: Team Zombillies)
Most Unique Characters (Given by: Team Zombillies)
Actor Shout Out - Bluebeard - John Probus (Given by: Team Zombillies)
Actor Shout Out - Troll - Austin Hirtzel (Given by: Team Zombillies)
---