Grim Trails – Full Review
Grim Trails is a Haunted Attraction located in Louisville, KY.
2600 Freys Hill Rd, Louisville, KY 40241View All Details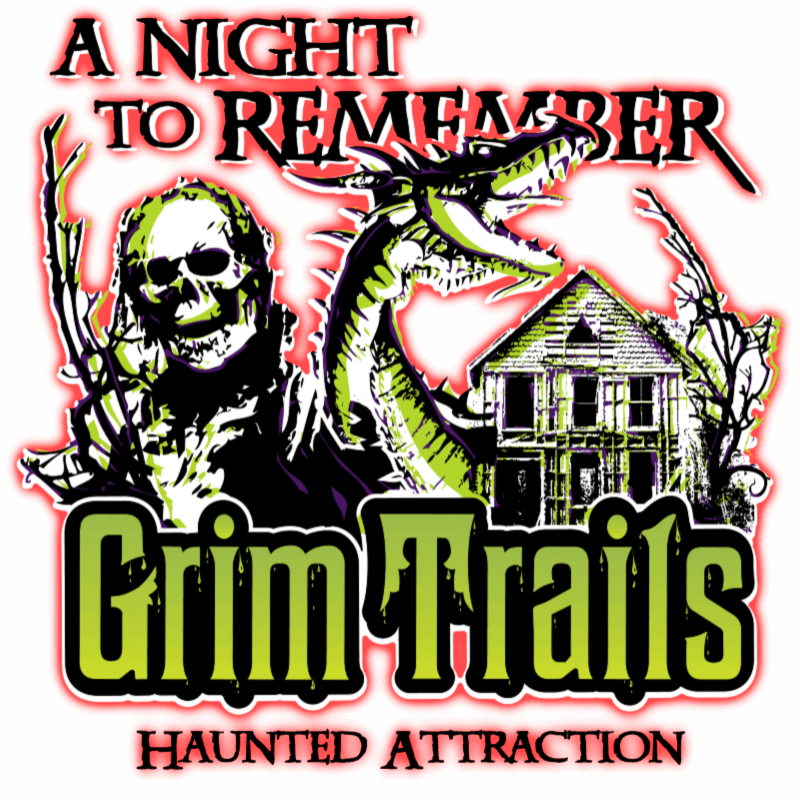 Features:

Free Parking, Restrooms/Porta Potties On-Site, Food/Concessions, Gift Shop/Souvenirs, You will NOT be touched, Uncovered Outdoor Waiting Line, Indoor/Outdoor Attraction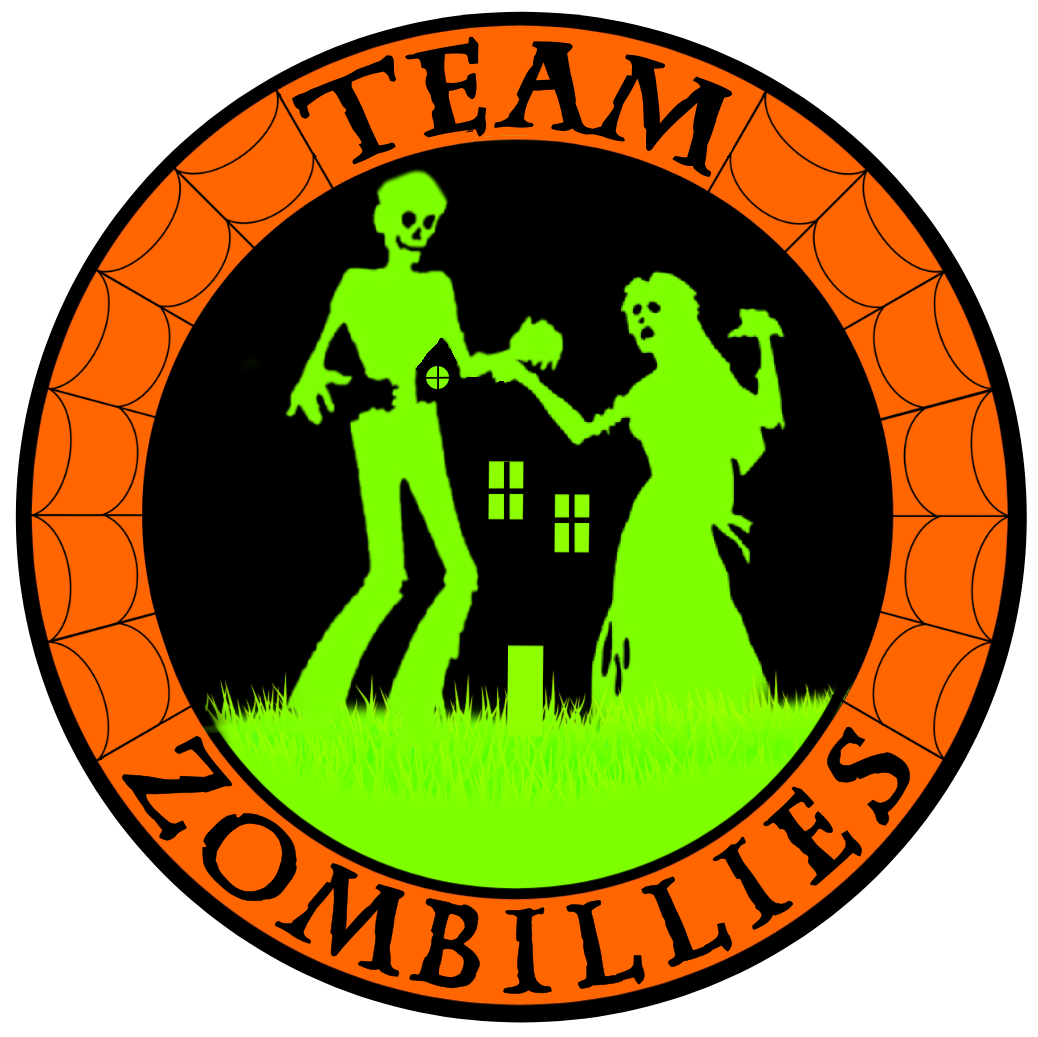 This attraction was reviewed on October 9, 2020 by Team Zombillies.
How Do We Get These Scores?

Final Score:

8.58
How Did We Get This Score?

Summary:
Welcome to Grim Trails, a haunted trail spanning through over 92,000 square feet of dark and twisted timbers! Grim Trails is rather unique in that you won't see your typical haunted house monsters here. Instead, you will cross paths with many iterations of folklore, fairy tales, and bedtime stories IRL. But these characters aren't quite like the ones in the stories you're familiar with' or are they?
Familiar with Goldilocks and the three bears? How about Dracula? The Legend of Sleepy Hollow? Have you ever crossed paths with a yeti or a wendigo? Now's your chance because, at Grim Trails, you will trek through realistic scenes involving these characters and many more! It's like stepping into your own, childhood nightmares!
For 2020, they have expanded Bluebeard's manor and created a whole new scene that we're sure will make some heads roll! If you're ready for some 'fear, fantasy, and fun in the forest,' then your journey begins here…
---
Cast: 7.86
How Did We Get This Score?

Despite being in a global pandemic and experiencing a decrease in scare-actors, Grim Trails did a great job of spacing out their cast members throughout the trail. We're pretty sure we ran into a handful more in between or right outside the actual 'scenes' than we have in the past.
Dialogue greatly varied this year. Some with non-speaking roles unearthed some unworldly growls and noises, while others remained completely silent. A few even spoke with an accent that increased their believability.
There were several instances where the cast members stopped us (to keep spacing between groups), but they didn't try to scare or engage with us besides that' and a few others walked past us to scare the group coming up behind us.
The Executioner was verbally interactive, though, as he tried to convince one of us to let him hang us' because, you know, who doesn't want to see how far our necks will stretch? Yikes! Also, don't call him an undertaker'
Those that stalked us leading towards the castle were persistent and utilized their space to come at us from multiple angles more than once. One was extremely skilled at making himself appear impaled! We also noted a few that provided distractions for one another, which works great while the characters are keeping their distance.
Kaa was very believable this year, and did a marvelous job at staying in character while trying to keep 3 groups separated. Along with him, Goldilocks and the bear were definitely the standouts of the night! She came running towards us in an attempt to flee the bear, but quite the opposite happened. The bear picked her up like she was a 5 lb weight and literally threw her into a wall! Do not make the bear mad' we repeat, leave the porridge alone!
---
Costuming: 8.86
How Did We Get This Score?

There are some very large and mighty creatures at Grim Trails, and just seeing them can make your heart pound. As noted above, many of them are not typical creatures that we see at haunts often; they are covered in fur, have antlers, and some of them are, quite frankly, monstrous!
In the River Styx area, we were greeted by a towering rock monster. However, the fog was really thick in this area and it was very hard to see the full extent of this character. It was also harder to see all of the wendigo's features as we missed it in the light. But, from what we could see, this was a very unique costume! The yeti and the minotaur wore costumes we've never seen before as well, and they made these creatures realistically horrifying.
All characters were wearing PPE masks, even with their theatrical masks. Some of the PPE masks blended in better than others, which enhanced the looks of the characters wearing them. The theatrical masks were high quality and consisted of several silicone pieces and others with all kinds of intricate details.
For the most part, the attire was appropriate for the scenes and characters. Clothing consisted of appropriate old-fashioned dresses, shirts, and darker pieces like cloaks and robes. Additional accessories were added to some of the costumes, such as wooden staffs and a crown. We did notice some bright white socks and a sleeveless undershirt on the troll, though' but we guess everyone has to layer up sometimes.
Additional standouts were Kaa, the witch with a rotten-looking face, the pumpkin head, and Bluebeard.
---
Customer Service: 9.69
How Did We Get This Score?

Finding Grim Trails was very easy as our GPS dropped us off right at the end of the haunt's driveway. We were greeted by a well-lit, large sign and a horse-drawn carriage. Additional signs directed us to their free, gravel parking lot. They have painted some parking lot spaces on the gravel and, once the attraction was busier, we saw several parking attendants with lighted wands helping park cars and directing traffic at the entrance/exit.
One of the first things we noticed was a police car and officer parked at the head of the parking lot for guest safety. They also have a metal detector. Masks were required by all guests and staff; and even the belly dancer (line entertainer) was wearing a mask! At the ticket and gift booths, they have added sneeze guards and they have hand sanitizer on-site. Before entering, we were informed that the monsters are cleaning touchpoints every so often and that they limited some of these as well (doors, dark places, etc).
At the ticket booth, we noticed that the voice recording stating the rules of the attraction had been modified for COVID precautions. This year, they have majorly expanded their queue line to accommodate social distancing, and several signs scattered about serve as reminders to keep distanced and masked' along with some monster trivia. Every staff member we came across was friendly and able to answer any questions we had. One even showed us a picture of a giant snake they've seen on-premises before we entered! We're sure if you ask her, she'll show you too!
As we've already mentioned, Grim Trails is an outdoor haunted trail. There is some uneven ground and real trees and bamboo to navigate through, so be sure to watch your footing. There were a few dark cloth-covered areas where it took us a few tries to figure out where to go, but for the most part, we were able to follow the lights and cleared paths. Lastly, Grim Trails has a new website that offers a lot of helpful information. Be sure to check it out while planning your visit!
---
Atmosphere: 9.3
How Did We Get This Score?

Each year, Grim Trails adds more haunt-related items that customers can observe before getting in line. From the time we pulled in until we made our way towards the ticket booth, we noticed some spooky haunt decor, lots of signs, and themed music playing throughout the parking lot.
After walking beneath the haunt's main archway, it was clear that we had entered the world of Grim Trails! Additional signage, a running water feature, a bridge, an authentic and hand-built ticket cabin, rustic decor, and an enclosed, wooded area quickly made for a surreal atmosphere.
As we made our way through the waiting line, it twisted and turned through the woods and a belly dancer with lighted wings was dancing the night away to metal and Halloween-themed music. There was also a very creepy queue entertainer stalking around. Every group that we watched him approach was getting creeped out! He was dressed in apocalyptic attire and, every now and then, his eyes would start glowing red and the crowd loved it… or maybe they were petrified of it. Same thing, right!?
The addition of scattered trivia signs not only gives guests a little something to do while they wait, but from what we could see, they were related to the haunt's theme, so it helps give guests something to look forward to inside the haunt as well.
---
Special Effects:

8.66
How Did We Get This Score?

Grim Trails offers a good blend of 'old-school' effects mixed with modern animatronics in their mostly-outdoor environment. Because the haunt is fairy tale-themed, the most noticeable things you'll see are the huge sets that are built to take you into the respective world that you're experiencing.
Along the way, you'll come across Dracula's castle, the 3 Bears' residence, an ice cave, Bluebeard's estate, and even the River Styx! Each area has Grim Trails' own twists and turns built in with appropriate decorations, furniture and lighting fixtures, which makes for quite a fear-inducing environment. There's also a good amount of theatrical lighting – not only to light up the trail so you can see where you're going, but also to make their world that much more immersive.
Of course, the structures themselves don't do that 'actual' scaring' but that's where the animatronics come into play. This year, we were welcomed by a large grim reaper, beheld thunderous lightning effects, attacked by a burning witch, and nearly mauled by a guy that came flailing down from the trees!
Large snakes struck at us from unsuspecting crevices, we walked under a waterfall in a [real] bamboo-filled jungle, and let's not forget the huge 'creature' that guards Dracula's castle (sorry, not going to spoil that one). We will, however, warn you that some of these things seemed noticeably closer to the path than in years past, which made them much more fearful.
Other less-invasive effects include an ancient-looking temple with turned-to-stone humans and other hellish monsters inside, a purple fog / laser entrance, a large gallows structure, a spooky witch house, and dolls' LOTS and LOTS of dolls! Most scenes were filled with the sounds of screams, whispers and appropriate whimsical music or other environmental sounds.
---
Theme:

8.55
How Did We Get This Score?

Although a theme introduction wasn't given by any characters or staff, they have signage in place that alludes to their theme starting from the parking lot. As we neared the ticket booth, we walked beneath an archway sign that read, 'The Haunt of Fairytales, Myths, and Legends.' And that's exactly what we found' or, shall we say, what found us!
Inside, we stumbled upon quite an array of themed areas and monsters. For 2020, guests can expect to encounter Goldilocks and a bear, Bluebeard and his female victims, witches, vampires, a wendigo, a minotaur, a troll, and much, much more! Some of them were more apparent than others and, depending on how familiar you are with various legends, tales, and folklore, you may recognize some more than others.
For the most part, the theme was well executed, but there were some areas where the cast members within them didn't interact with us much or at all, which left us wondering who or what they were supposed to be portraying. The trail does take place along a winding and twisting path through many well-built sets, some settled within twisting timbers and bamboo, thus reiterating their theme even more so.
---
Scare Factor:

8.03
How Did We Get This Score?

Decoys? Where?! Not only has Grim Trails gotten better at providing some effective distractions but they vary in execution. They have placed some slightly-apparent objects in between scenes that beckoned our human eyes to focus on them. While we tried to guess whether these objects were real or not (alas, most were not), we ended up with a scare from something totally different! Some of the cast members also grabbed our attention so they could nail us with hidden props. Kudos for great distractions!
We also discovered that some of their larger effects seemed to get a lot closer to us this season; one actually came down on top of one of our group members resulting in an accidental, 'Oh Sh!t!' In addition to this particular scare, scares sometimes come from very unexpected directions, such as from above and from within tiny crevices within the walls. This makes these scares much harder to predict, along with the distractions mentioned above.
We did end up having to tail another group through most of the 2nd half of the trail, so we did miss some timing and a few startles as we could hear them being used on the groups in front of and behind us (they caught up to us since the group in front was so slow).
There were a lot of opportunities where characters were hidden a bit off the path, making it much harder to pick them off. Some came at us; some did not. However, as one jolted out at us, they suddenly moved several stalks of real bamboo together. Let us tell you, there's nothing like the sound of real bamboo suddenly 'cracking' together right next to you!
---
Entertainment & Value:

8.25
How Did We Get This Score?

Ticket prices remain the same at $20.00 per person this year. Our trek through the twisting timbers took us a total of 29 minutes, although your time may vary for reasons mentioned above. At the general admission price, this brings their MPD to 1.45 which is above average and a great value for this length of trail!
On the night of our visit, a brilliant belly-dancer (Istra) was stationed in between the waiting and exit lines to entertain guests during the wait. They also had random signs placed throughout containing 'Trail Trivia' and a startling queue line actor. Each group that we watched stumble upon this actor was freaking out!
When visiting Grim Trails, we do recommend trying to arrive as early as possible; they tend to get busy rather quickly! Tickets can be purchased online or at the ticket booth, and they also have an ATM on-site if you prefer to use cash (cards are accepted as well).
If you're looking for a unique haunted house that won't break the bank, this is it! The trail is on the lengthier side at nearly a half an hour, they offer a very unique theme with differing characters and some well-disguised scares, along with some phenomenal sets for an outdoor trail!
Should you decide to visit (which you should), be sure you have a gold coin as payment to cross the River Styx, for if you don't' you just might burn in Hell!
---
How Did We Get These Scores

Promo Images:
Click to Enlarge
---
Guest ReviewsGuest Average: 10 out of 10
Jenna Durbin – 10/10 – October 11, 2019The atmosphere at this haunted house is amazing. You feel like you're not even in Louisville …show more anymore! Sets and costumes were incredible. Highly recommend!!
Darryl Moore – 10/10 – October 27, 2018Scariest haunted house in Louisville! The detail is absolutely incredible. It feels like you've been …show more transported into these different worlds of fairy tales. You will not be disappointed!
Ava Winebrenner – 10/10 – October 12, 2018This Was Very Scary! I never expected them to get so close!
---
Past Awards
---
2020 Awards
Scariest Duo - Goldilocks and The Bear (Given by: Team Zombillies)
Most Unique Costumes (Given by: Team Zombillies)
---
2019 Awards
Scariest Creature - The Bear (Given by: Team Zombillies)
Creepiest Vocals - The Demon (Given by: Team Zombillies)
Most Unique Haunt (Given by: Team Zombillies)
---
2018 Awards
Scariest Creature - "The Bear" (Luke Mays) (Given by: Team Zombillies)
Best Costume - The Rock Wall (Given by: Team Zombillies)
Most Realistic Vampires (Given by: Team Zombillies)
Most Unique Characters (Given by: Team Zombillies)
Actor Shout Out - Bluebeard - John Probus (Given by: Team Zombillies)
Actor Shout Out - Troll - Austin Hirtzel (Given by: Team Zombillies)
---