Meade Asylum Haunted House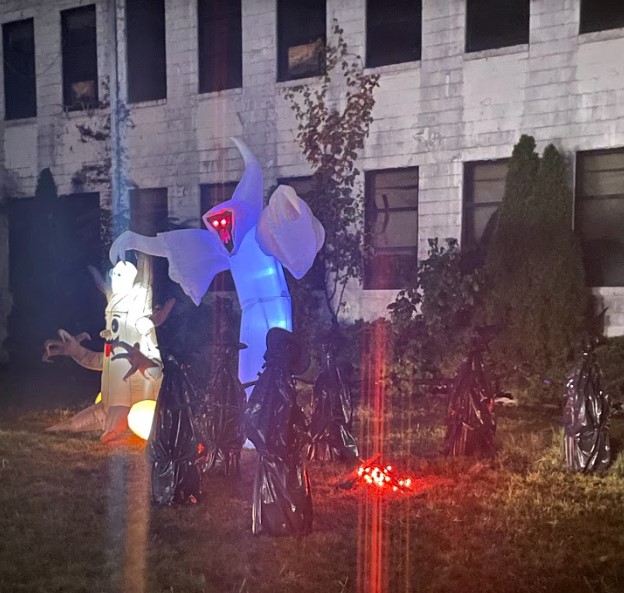 Team Blood Orchid traveled up to Williamsport, Kentucky, earlier this haunt season to visit Meade Asylum Haunted House. Meade Asylum is located in an old, abandoned school. Meade is easy to locate using a GPS and the address provided on their Facebook page. You will travel a dark, winding road just to get to the old Meade Memorial School. The setting of this haunt provides a feeling of unease before you even step foot outside of your vehicle. Once you arrive, parking is plentiful and completely free.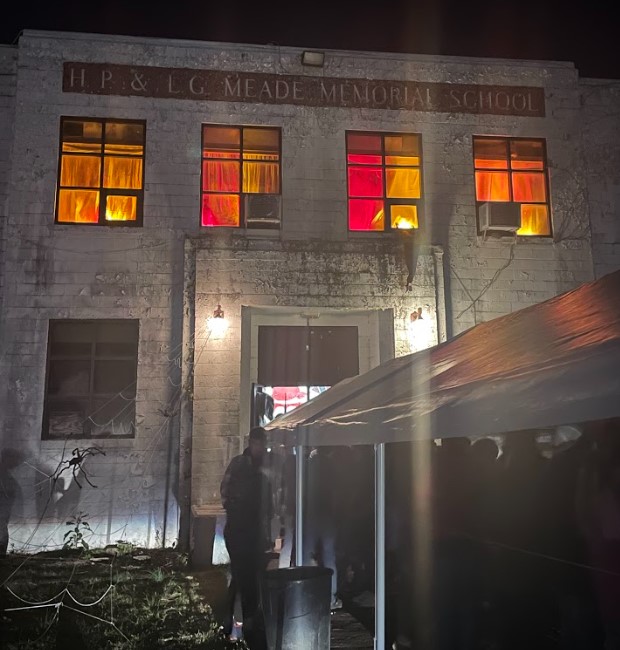 The first thing you notice about Meade Asylum is the building itself. The old building is the perfect picture of what one would expect a real haunted building to look like. The white paint is peeling away from the blocks on the exterior. Old vines have grown up and around many of the doors and windows. Lighting is placed perfectly outside the building to give the perfect ambiance to the haunt atmosphere. One of the most amazing special effects of the haunt is the windows on the second story of the building. The haunt has created the effect of a burning building, with makeshift flames that show through the upstairs windows. Their use of special effects creates actual moving flames that look almost real.
The haunt at Meade Asylum is indoors, but the queue line is outside. However, the line is completely covered by well-built tents and canopies that will keep you dry in case of rain. Be prepared to wait in a very long line to get inside. Many guests say it is well worth the wait, but remember that they generally only take a group every five minutes or so. The line does move slowly. They do this so that there isn't any danger of one group running into the one in front of them. While waiting in line, you can enjoy some fresh, hot popcorn, a bottle of water, or some nice hot chocolate from their small concession area.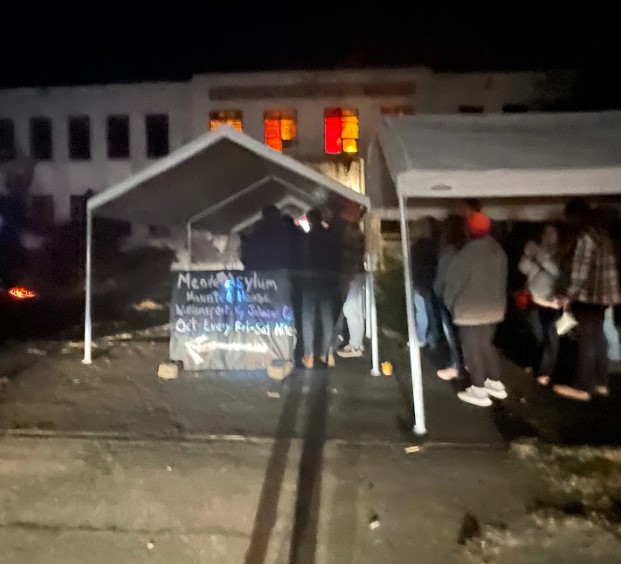 Meade Asylum is a very old-school haunt, which is what many families are looking for! Meade Asylum would be the perfect place for a youngster wanting to brave their very first haunt experience. There are plenty of old-school scares waiting at every corner. The staff is extremely friendly, and I'm sure they would be willing to meet any accommodations your group might have.
Our favorite part of this haunt was the finale. You think the haunt is over, especially since a staff member bids you farewell and tells you to "have a nice night." It's then that a chainsaw-wielding maniac chases you into the parking lot!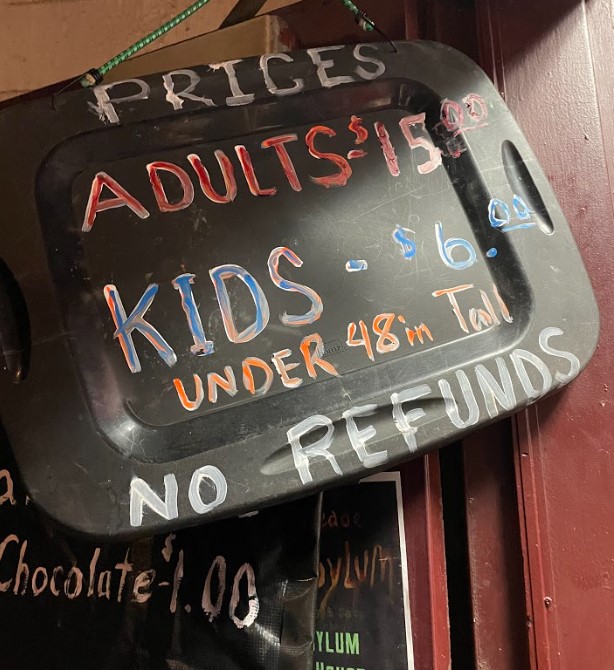 Meade Asylum continues to get positive feedback from the local community. The haunt has plans to continue to grow and improve as the years go on. We look forward to seeing what the future holds at this amazing building! Ticket prices currently sit at $15.00 for adults and $6.00 for children under 48 inches tall for 2022. Please visit their Facebook page for updated information.