Haunted at Mann Farms and Reapers Haunted Attraction: Farm Haunts in British Columbia
Team Terror Techies traveled up to British Columbia earlier in October to visit a few haunts in the area. Unsure of what haunts we could find, we pulled up local haunts in the haunt directory. We decided to visit two haunts: Reapers Haunted Attraction and Haunted at Mann Farms. Both attractions were outdoor haunts, typical to see here in the Pacific Northwest.
Reaper's Haunted Attraction has been haunting Western Canada for the last three decades. Lisa and Gary Moran affectionately refer to their visitors as victims. The Morans are the brains behind the Reaper's Haunted Attraction, located on Gibson Rd. in Chilliwack, BC. The Morans started Reaper's Haunted Attraction to get youth involved in constructive activities. Before 2020, Reaper's consisted of two attractions: a haunted house and a dark corn maze called Reaper's Maze of Terror. However, due to ongoing restrictions, Reaper's only operated the Maze of Terror for the 2021 and 2022 seasons.
Once we parked our car, we followed string lights down to a midway with decrepit facades and an abandoned graveyard. A few photo-op areas lined the midway, making it feel like a ghost town in the middle of nowhere. There was a food truck serving BBQ and quick snacks while we waited for the Maze of Terror to open.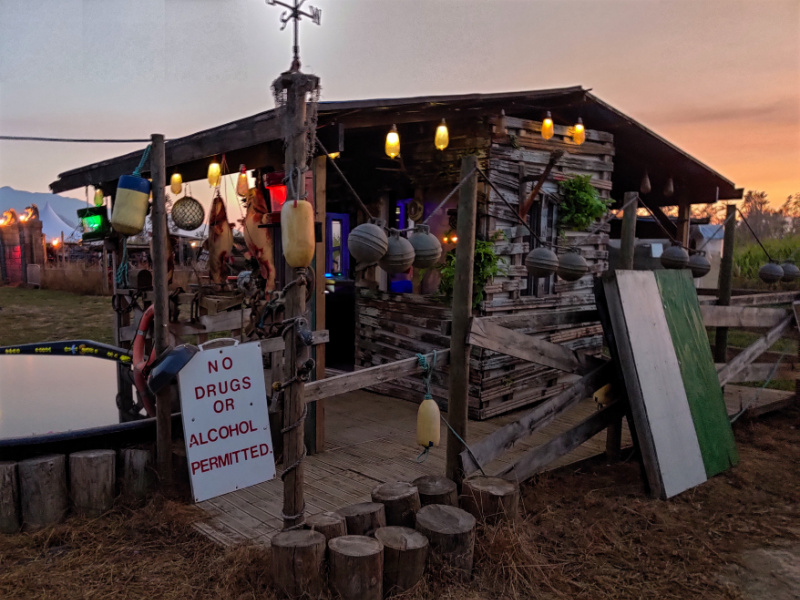 Entering the Maze of Terror, creatures emerged from the maze's dark corners. It was easy to get twisted around due to the many paths. Yet, we used the tiny buildings to keep ourselves from getting too lost. Luckily, we made it through the Maze of Terror without incident.
After exiting the Maze of Terror, we drove straight to Haunted at Mann Farms Winery Estate. Mann Farms Winery Estate in Abbotsford has served the local Fraser Valley and Greater BC area for the last 35 years.
In 2013, Mann Farms Winery Estate started a haunted corn maze to complement their daytime fall activities. Over the last nine years, that haunted corn maze grew to three attractions that serve up screams during the Halloween season.
The Haunted at Mann Farms event all began with The Slaughterhouse. In The Slaughterhouse, you follow a trail through the cornfield while being chased by flesh-eating creatures. If that wasn't enough to get your heart racing, there are also chainsaws – many chainsaws. It is important to note that The Slaughterhouse is the only attraction where the actors will not touch you.
In Mann's hooded experience, The Way Down, you fumble through the woods into a room of fire and brimstone with only rope to guide you. But, while you are hooded and concentrating on keeping a hold of that rope, there are ghouls around to assure you that you are not alone.
Mann's third haunted attraction, The Homestead, is built on the premise that you are an unfortunate guest of a dilapidated AirBnB. (The nightly rate did seem to be suspiciously low.) Your "friendly" host leads through you while they tell you stories about the property. Yet, your host forgot to mention that other family members will carry some of the people from your group. You will see them again – or parts of them, at least.
If you are planning to brave either of these haunts, keep in mind that both of these haunts are outdoors, operating rain or shine. Prepare for the weather and wear shoes that can get muddy.
Reapers Maze of Terror is open every night of the week except Mondays. The Maze of Terror is also open on Halloween night. The hours of operation are 7:00p to 9:00p (to 10:00p on Fridays and Saturdays). Tickets are $25 CAD Sunday – Thursday and $30 CAD Friday – Saturday. 
Haunted at Mann Farms is open on weekends starting the third week in September. The available dates/hours increase through the end of October. Tickets range between $45 CAD to $180 CAD depending on the night and which attractions you visit. Be sure to buy your tickets before 10:00p the night before your visit, or the prices will increase by $10 CAD.
Visit Reapers Haunted Attraction's website at: http://www.reapers.ca/. You can also follow their Facebook page at: https://www.facebook.com/ReapersHauntedAttraction.
Visit Haunted at Mann Farms at: https://maanfarms.com/pages/haunted.