Oak Lawn's Midnight Terror Haunted House ranked top 10 haunt in Illinois
Press Release – September 9, 2019
VOTED #8 BEST IN THE COUNTRY, TOPS IN ILLINOIS
The accolades continue to pour in for Midnight Terror Haunted House in Oak Lawn, which opens for its sixth season on September 27. It was recently voted a top 10 haunted attraction in the entire country by readers of USA Today, earning a coveted spot in the newspaper's "10Best Readers' Choice 2019" list. Ranking #8 on that list also earns Midnight Terror the distinction of being the fan favorite top haunted attraction in Illinois.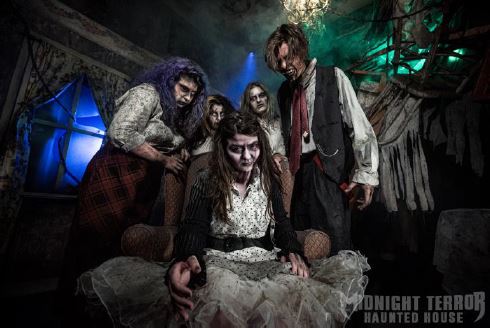 Midnight Terror (5520 W. 111th St.) was first nominated by USA Today editors and haunt experts, landing it on an initial list of 20 haunted attractions published in the summer. The newspaper then invited visitors to vote online for their favorite; strong support from fans helped the Oak Lawn haunt quickly climb up the ranks before polling closed in late August.
"Being recognized as one of the top 10 in the nation in USA Today's 10Best Readers' Choice 2019 poll is only the beginning," says Midnight Terror creator/co-owner Justin Cerniuk. "Our goal is to continue on as a group of friends creating absurdity, having fun, and letting the reviews speak for themselves. Supporters appreciate all the effort we put into our haunt to scare them out of their wits, and we are so grateful for this honor they've helped bestow upon us."
In 2018, Midnight Terror rated as the Top "Must-See Haunt" in the entire state of Illinois by TheScareFactor.com, based on votes by fans, and was declared the number one haunted house in all of Illinois by Fox 32 Chicago. In past years, it has been highly recommended and ranked by Thrillist, NBC, the Chicago Tribune, Patch.com, Haunted House Chicago, Illinois Haunted Houses, and others.
A big reason Cerniuk and company get so much love—and repeat business—from admirers is their extreme attention to detail and unwavering commitment to create fresh frights for visitors every year. Unlike many other commercial Halloween attractions, the Midnight Terror crew reinvent their haunt annually: moving walls, completely reconfiguring spaces, and adding new layers of realism to their macabre maze of 60-plus rooms spread out over some 26,000 square feet.
"Our haunt has never been this immersive. This season, we've added countless new fine touches, well-timed scares, ultra-detailed props, and strategically positioned light and sound effects," adds Cerniuk. "Every room's impeccable detail envelops you into this world we've created. We've packed so many new surprises into this space to guarantee that visitors will get an unforgettably terrifying sensory experience."
They can also claim a great value, courtesy of several 2019 promotions:
· Half-price tickets ($12.50 off the $25 general admission with promo code news13) on opening weekend (Sept. 27-29) only when purchased online at midnightterror.com.
· $5 off for students with a school ID every Thursday or Sunday.
· $5 off when you bring in any other haunted house ticket stub.
· Free upgrade to VIP tickets on Sundays for active-duty military and veterans with a valid ID.
· Free trick-or-treating for kids 12 and younger (who are accompanied by an adult) on October 27 from noon to 3 p.m.; this annual tradition is appreciated by area families, whose children are given candy and a fun "lights-on" tour of the haunt by actors appearing in friendly mode.
· Send in the clowns on Nov. 1 and 2 –The haunt is entirely populated by evil circus denizens for one "Clown Takeover" night, with a limited supply of half-price tickets now available (only $12.50 when purchased online).
· Santa scares you silly on Dec. 13-15. Those are the dates when Midnight Terror morphs into "Christmas Fear," with a limited supply of half-price tickets now available (only $12.50 when purchased online).
This year, Midnight Terror also plans to partner with charitable organizations such as Chicago Youth Programs and Veterans of Foreign Wars. Cerniuk will donate stacks of Midnight Terror admission tickets to each of these charities, which can be used for fundraising efforts.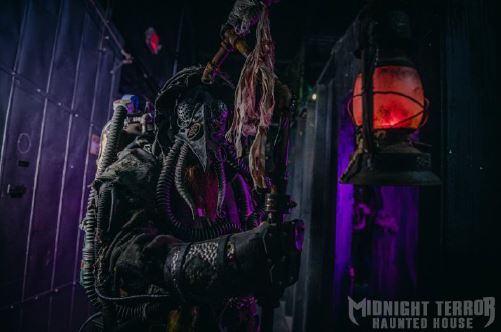 Midnight Terror Haunted House is located at 5520 W. 111th St., Oak Lawn, Ill., 60453, just east of the intersection of Central Avenue and 111th Street. General admission per person is $24.99; VIP admission per person, which provides faster entry without having to wait in the general admission line, is $34.99. Discounted tickets ($2 off) can be purchased online; regular price tickets can be purchased onsite at the box office.
The attraction is wheelchair accessible and open, rain or shine (waiting area is outdoor/indoor), from: 7-11 p.m. on Fridays and Saturdays (Sept. 27 and 28 and Oct. 4, 5, 11, 12, 18, 19, 25, 26, and Nov. 1 and 2); and from 7-10 p.m. on Sept. 29 and Oct. 6, 13, 17, 20, 24, 27, 30 and 31. Visitors can park for free at the Oak Lawn Metra station parking garage (located at 9525 Tulley Ave.) and take a complimentary round-trip shuttle – with costumed characters aboard to entertain passengers – to the Midnight Terror site.
For more information, visit midnightterror.com or email midnightterror.info@gmail.com.
Join ourspookyadventures!
We visit Halloween haunted attractions year-round! Follow us for haunted house walkthrough videos, behind the scenes footage, and more!