The Lizzie Borden House B&B Experience: How Scary Is It?
Author: Team Skelegore
Disclaimer: This is the start of an in-frequent blog series about haunted hotels, motels, B&Bs, and Inns. If you have a suggestion for a haunted stay, send an email to teamskelegore@gmail.com or contact us on Facebook @TeamSkelegoreReviews. All views and opinions expressed herein are those of the author, and not of TheScareFactor.com or The Scare Factor, LLC.
Lizzie Borden took an axe, gave her mother forty whacks. After she saw what she had done, she gave her father forty-one. Or so the rhyme goes. In reality, Abby Borden was Lizzie's step-mother, and received in the neighborhood of 18-20 whacks with an "axe-like object" and her father only suffered around 10-12. And despite the gruesome scene, it's still not a proven fact that Andrew Borden died from the blows. Nor is it a proven fact that Lizzie is the one who did the deed.
These days, it's almost like a folk tale rather than an actual scene that played out on August 4th, 1892. The house still stands on Second street in Fall River, Massachusetts, and it certainly stands out, being that it's surrounded by businesses, residential homes, an apartment building, and a courthouse. It's not unusual to see people driving by the Borden house slow down to take photos at all hours of the day or night. And while a quick selfie in front of the house is practically a requirement while in Fall River, you can do so much more as well.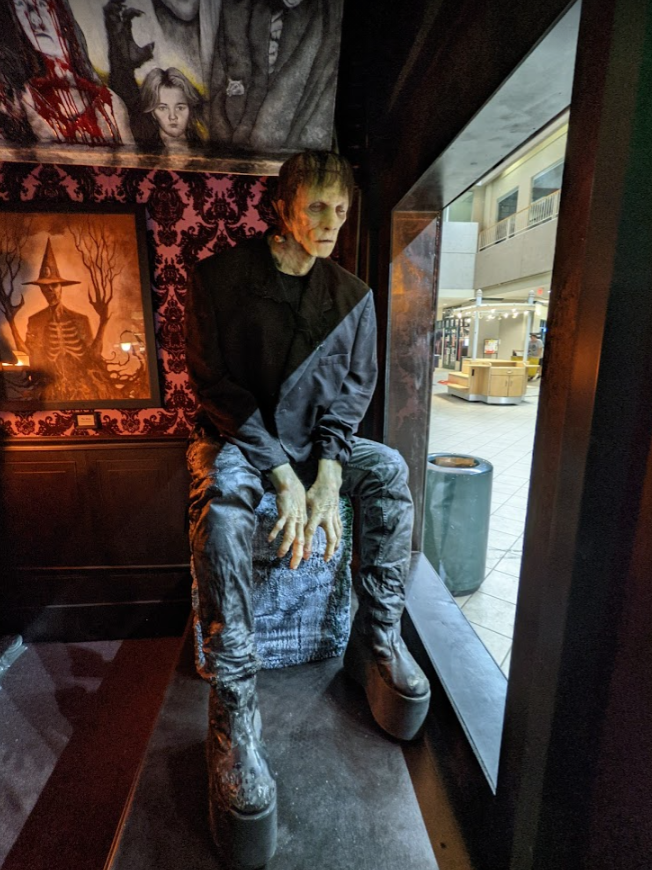 During the day, there are 90-minute house tours offered where visitors get to see every room inside the house, including the living room where Andrew Borden was found hacked up on the sofa, the upstairs bedrooms where Abby met her fate, and the Basement where the infamous handle-less axe head was found.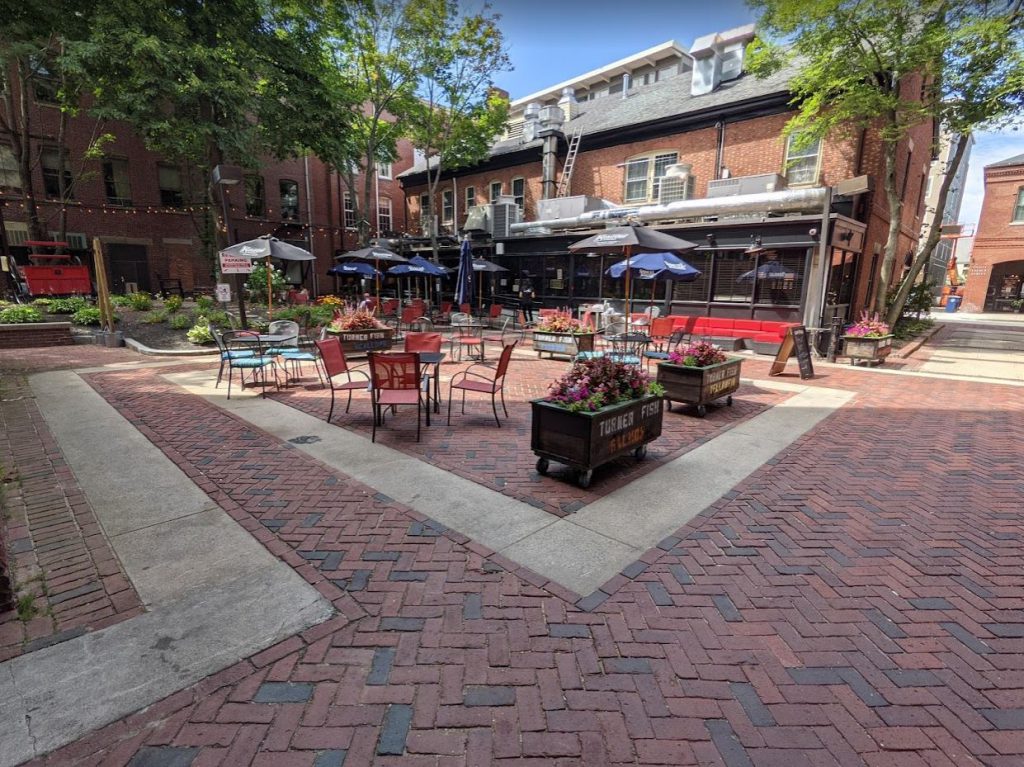 In the evening, ghost tours are offered around the city of Fall River, and guests visit the cemetery where Andrew, Abby, Lizzie, and Emma Borden are buried, among other notable sites around the city. And, of course, such a macabre legend wouldn't be complete without a 2 hour ghost hunt inside the first floor and basement of the Borden house.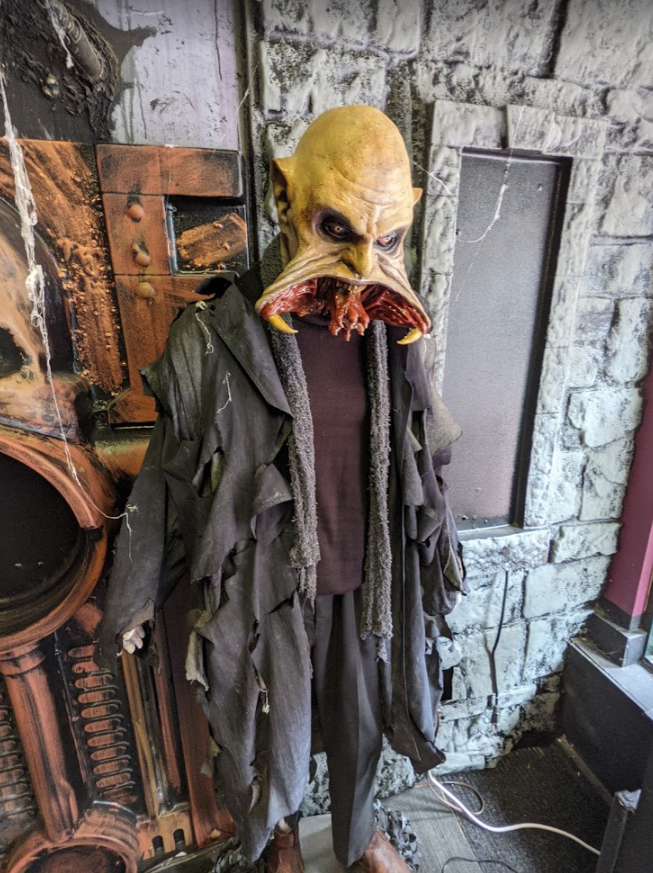 If looking for ghosts isn't really your thing, there is a rich Portuguese culture in Fall River featuring the best Portuguese food you can have outside of Portugal, as well as a U.S. Navy battleship museum featuring the USS Massachusetts, the USS Salem, the USS Lionfish, as well as some aircraft, and PT boats all available to explore underneath the very large and very impressive Braga Bridge that connects Fall River to Swansea. There's also a great music-themed bar within walking distance of the naval museum called Boneheads, and I understand that they are very well known for their chicken wings.
If you still haven't had your fill of spooky vibes after walking in the footsteps of a murderer, Salem is only about an hour and a half away to the north. Of course, everyone knows about the witch trials in the 1600s, and there are plenty of memorials, tours, apothecarys, and various other shops that celebrate the enchanting history. If you're in the mood for seafood, you might want to stop into Turner's Seafood, an excellent choice for salmon, haddock, clams, swordfish, and just about any other New England aquatic staple. Across the street from Turner's is a wonderfully peculiar shop called Hive and Forge that carries a wide selection of items from handmade soaps, to vintage-style ink drawings, to taxidermy animals and skulls. And what would a shop in Salem be without tarot cards, incense, and your standard witchcraft items? A block behind Turner's is the famous Essex street, which is full of stores, museums, haunted attractions, street performers, and tour sign-ups. If you're a fan of the cult classic Hocus Pocus, you'll be delighted to wander around the various filming locations from the movie. Just be sure to do some planning before you head in or out of Salem as the traffic around Boston can be absolutely atrocious during peak hours.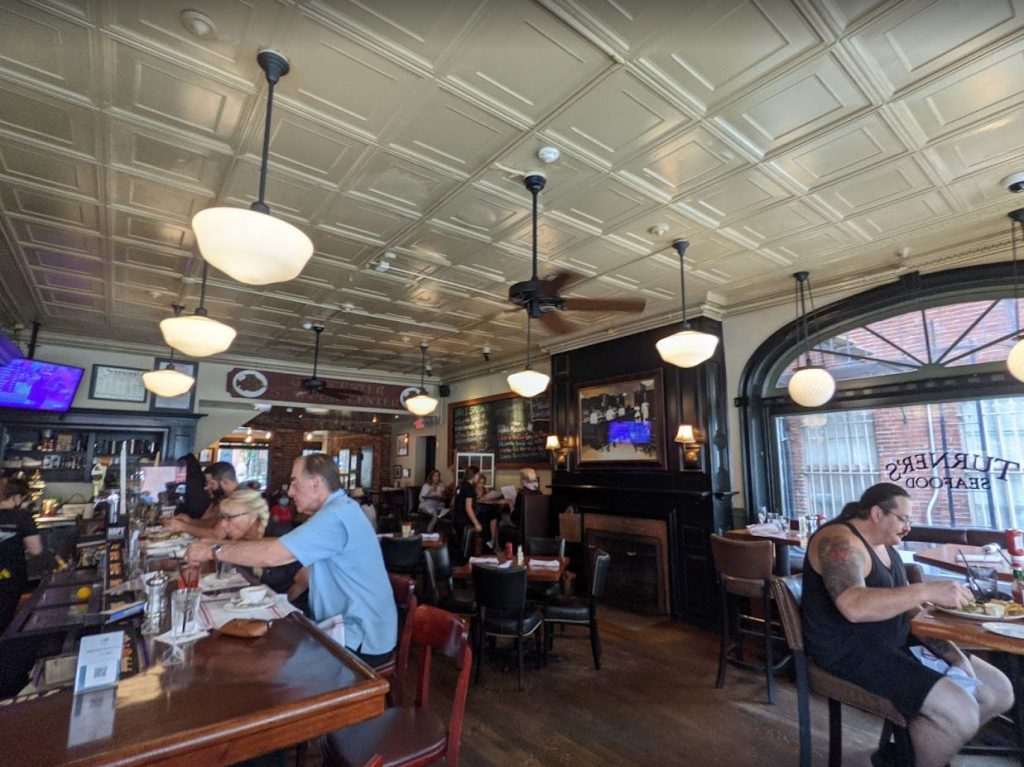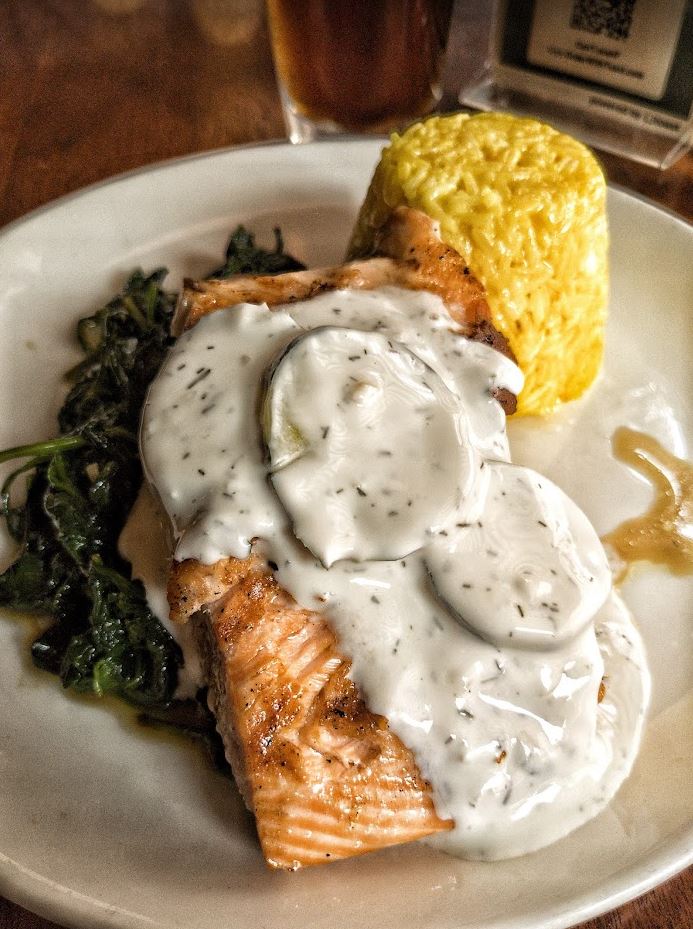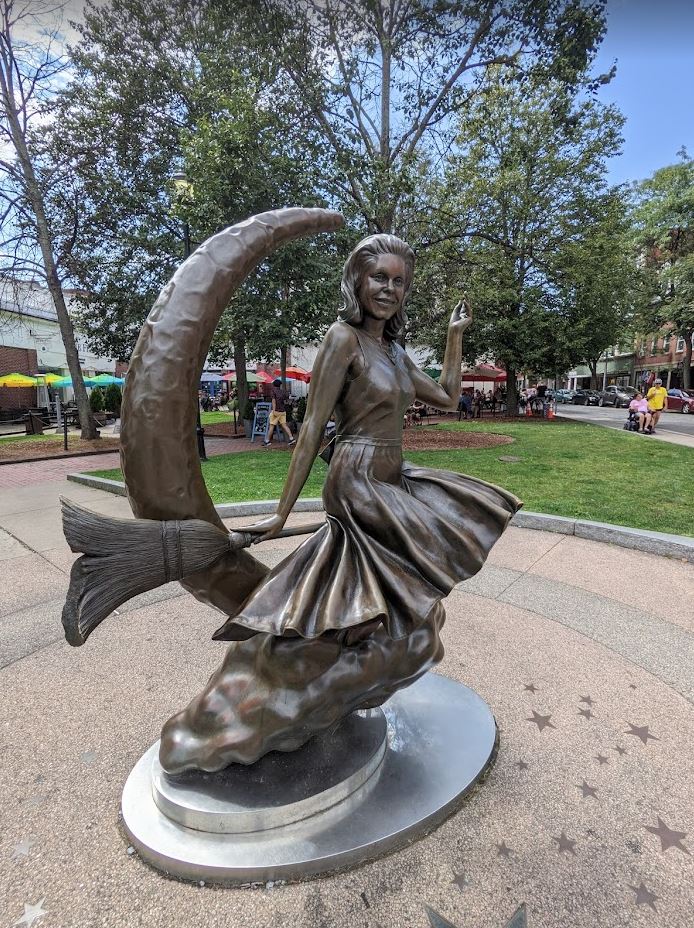 Now, I know why you're reading this. You read the title. You want to know what it's really like to stay overnight in the Lizzie Borden house. If you're expecting a hauntingly good time, then I don't think you're likely to find it here. For one, you won't find any ghosts within those walls (or at least I didn't). As one woman shouted in a very thick Boston accent while driving by the house, "IT'S NAHT HAWNTED!" And indeed, it's not. Even if you believe in ghosts (and I don't), why would they want to waste their time dealing with people day in and day out asking all of the same repetitive questions? I'm sure they've got better things to do, being ghosts and all.
That isn't to say that a stay in the Borden house isn't scary though.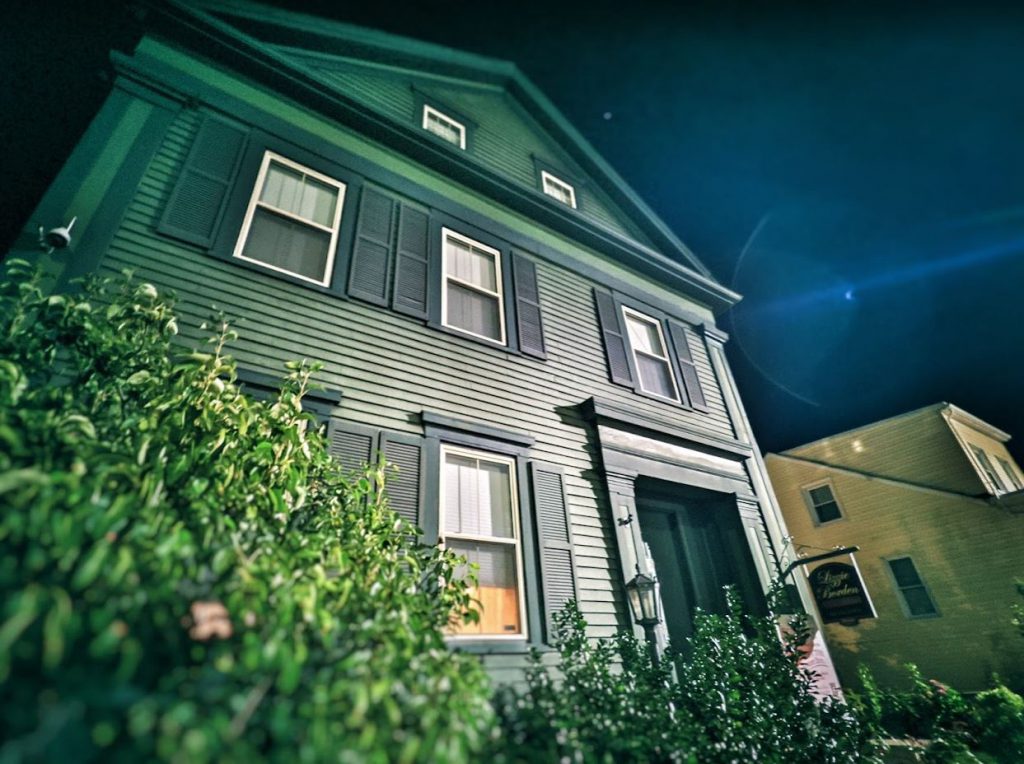 We'll start with the price – at the time of this writing, guests can expect to pay anywhere from $275 – $330 USD per night. Now, this isn't totally out of the norm for a boutique B&B and, for that price, one might expect a morning meal to come with their stay. After all, you are staying at a bed and breakfast. However, that was not the case. For the privilege of sitting in the dining room, enjoying a fare of eggs, pancakes, sausage, home fries, juice, and coffee, you'll shell out another $20. While the food was actually very good, and the company of the cooks was absolutely wonderful, it's possible to have a comparable meal at Denny's for a fraction of the price per person.
The rooms themselves were mostly not bad, and about par for the course; shared bathrooms, close proximity to other guests. What you should be aware of though, is that the basement rooms run upwards of $300 per night, and didn't even have locking doors. The "Washroom Suite" is barely a room, because the Oxford English Dictionary defines a room as "a part of a building that has its own walls, floor and ceiling and is usually used for a particular purpose" whereas this space was part of a larger area within the basement if you don't count the folding dividers. It came complete with a world class view of the hot water heater. If you'd rather have 4 walls around you, guests can stay in the "Under the Hatchet Suite" which shares space with the furnace and has a light bulb which is operated by a drawstring. As the website for the inn stated at the time of this writing, guests staying more than one night are requested to not be in their rooms between the hours of 10 am and 4:30 pm as there are house tours that visit the upstairs bedrooms.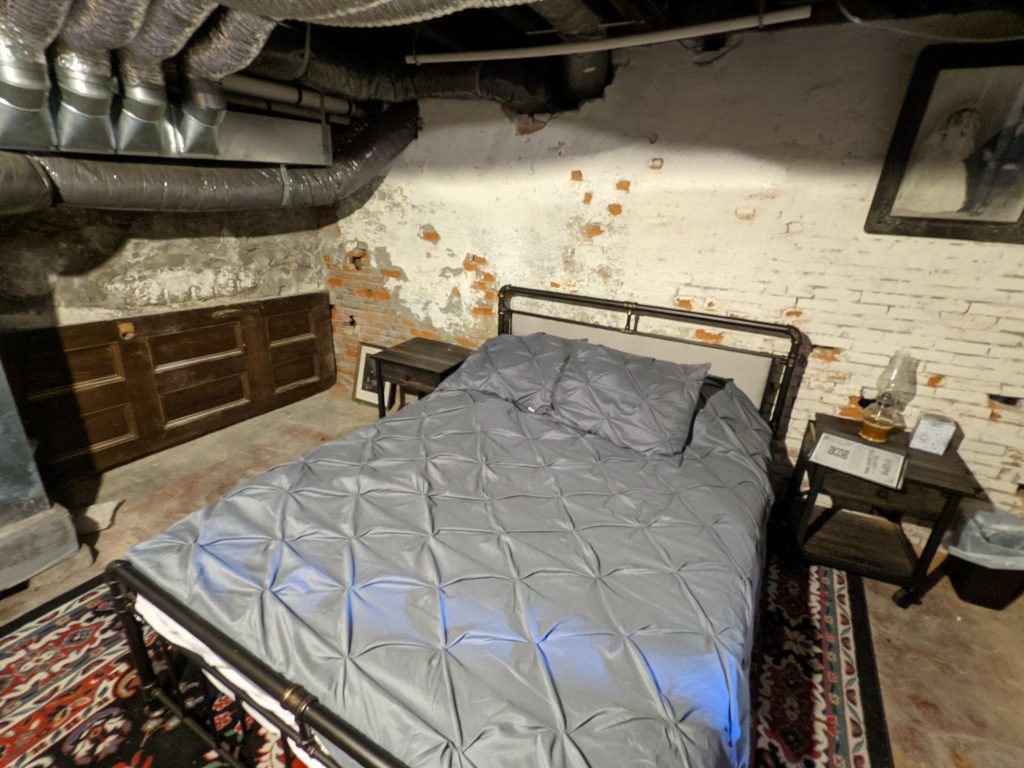 Basically, basement guests won't have a room to themselves until after midnight, as the ghost hunt took place in the basement, including in the suites. Now, call me crazy, but if I'm paying $300 per night, having a slew of unmasked guests wandering around in my room is completely and totally unacceptable. Especially since someone decided to unscrew the light bulb in my room and not have the courtesy to put it back.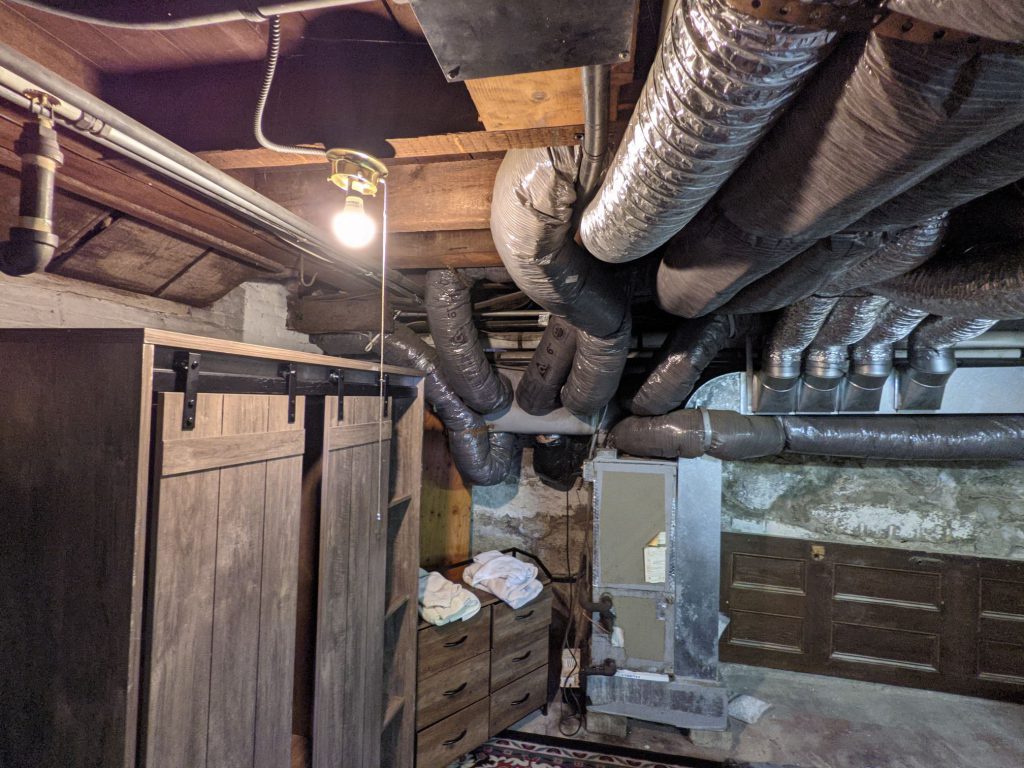 It is my strongly-held belief that these are not three-hundred dollar per night rooms. My experience was not exactly what the website describes as "…a steampunk dungeon with coffin mirrors and grungy environment." Okay, they are grungy, that part is true. I understand that the basement suites are very new (about 2 weeks old at the time of writing this), and there could be changes in the works to make these into more livable spaces. That being said, nobody should find dirt, dust, and stains in their room – no matter where they're staying. The couple staying in the Washroom Suite left early because of the condition of the room, and not wanting to take any chances. You know, with the stains on the walls. Not to mention the security/"ghost hunting" camera that was pointed directly at their bed.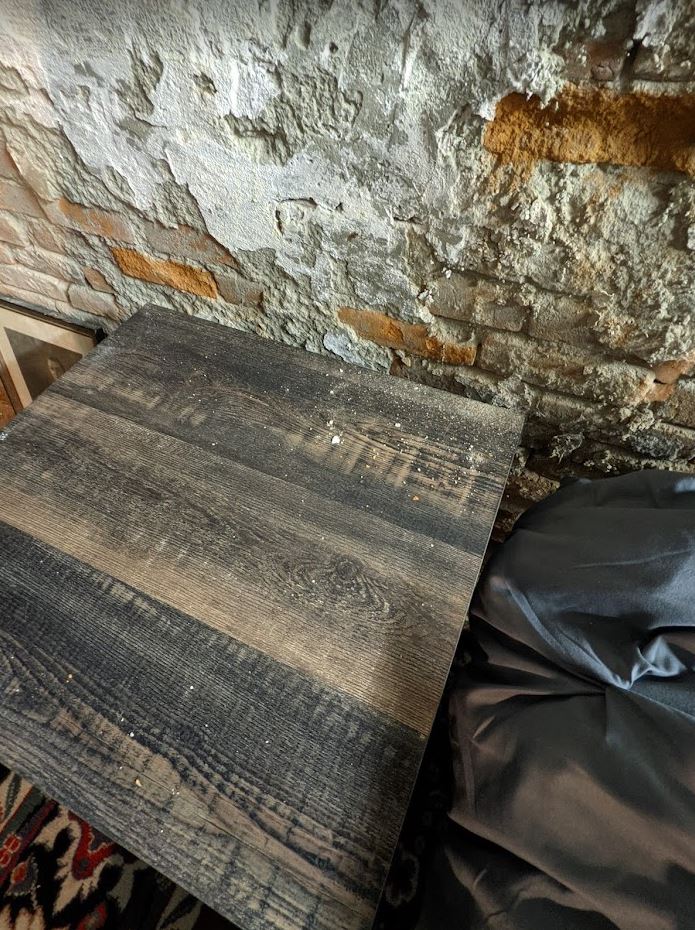 Aside from the damp and musty basement rooms, some of the furniture seemed chintzy, and was not even completely assembled. The chest of drawers features fabric bins for drawers that likely won't withstand the test of time after repeated use by guests.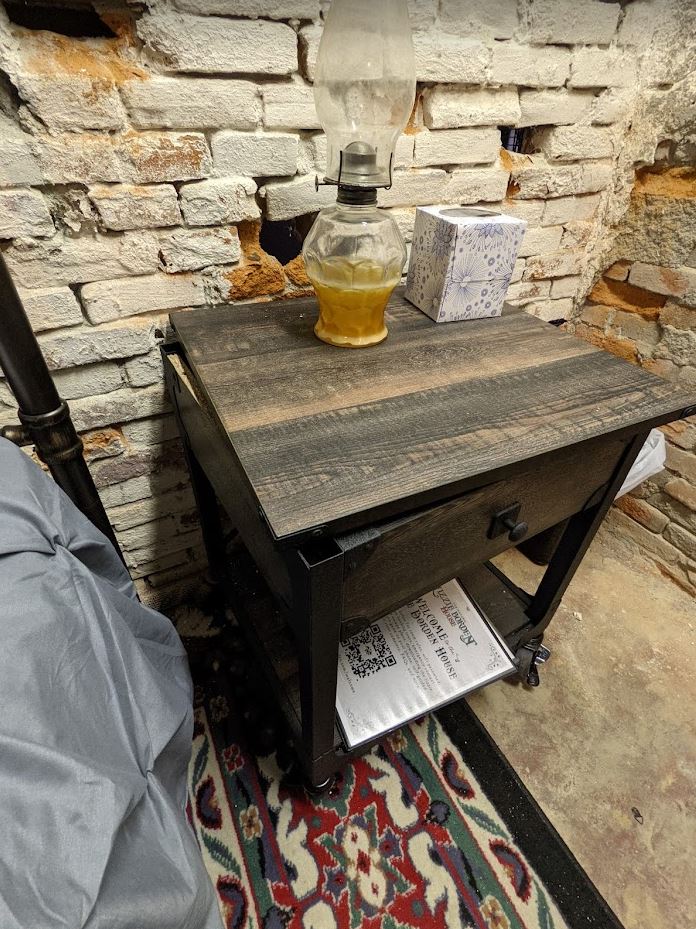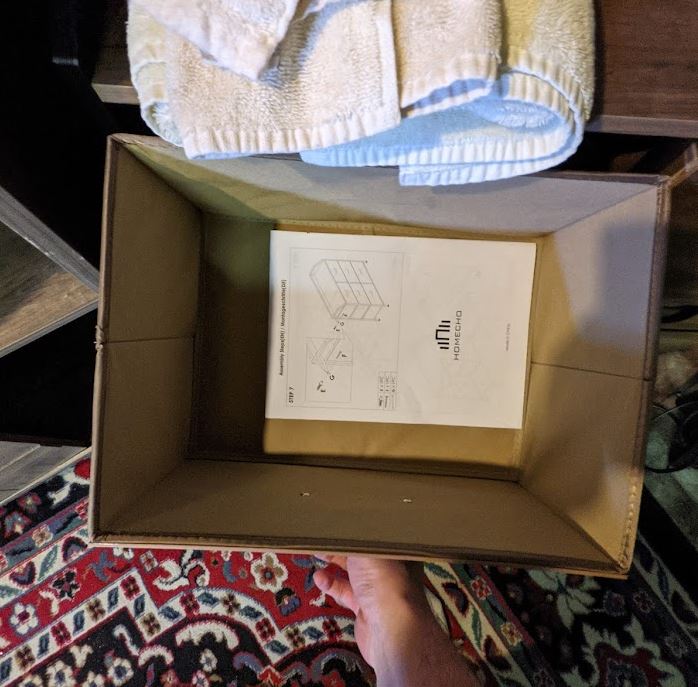 If you're feeling a little less than clean, and you likely will after being in these rooms for a short time, you might want to take a shower. That shouldn't be a problem as long as you don't mind standing in a shower surrounded by broken tiles that are covered by a piece of plastic and duct tape. Just hope the glue on the tape holds well enough while you're cleaning off. Again, this is not my idea of a three-hundred dollar experience. Hell, for half the price you can come stay in my basement. It's finished, the shower isn't falling apart, and I won't charge you extra for breakfast.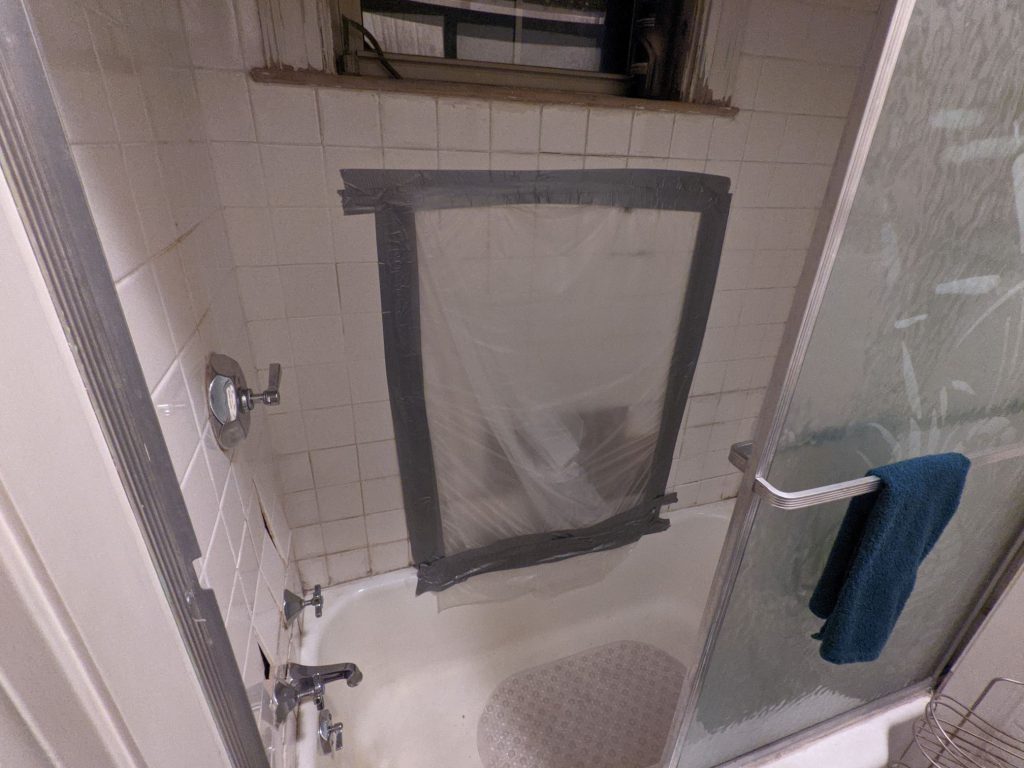 The ghost hunt event that takes place on Tuesdays, Fridays, and Saturdays was a little bit lackluster for my liking. It should be noted that this is not a "private" event for guests staying overnight in the house, but rather a ticketed attraction that any member of the public can attend. On the night of my stay, there were roughly 30 people in attendance, who were split up into 3 roughly equal sized groups. Each group was given a box that contained your bog-standard ghost hunting tools; an EMF detector, a spirit box (read: FM scanner), an audio recorder, and a walkie-talkie so you can be just like those guys on TV that never find any ghosts, either. It was suggested that the 3 groups rotate between the main floor, and the basement during the course of the 2 hour investigation so that everyone has the opportunity to find whatever it is they may be looking for in those areas.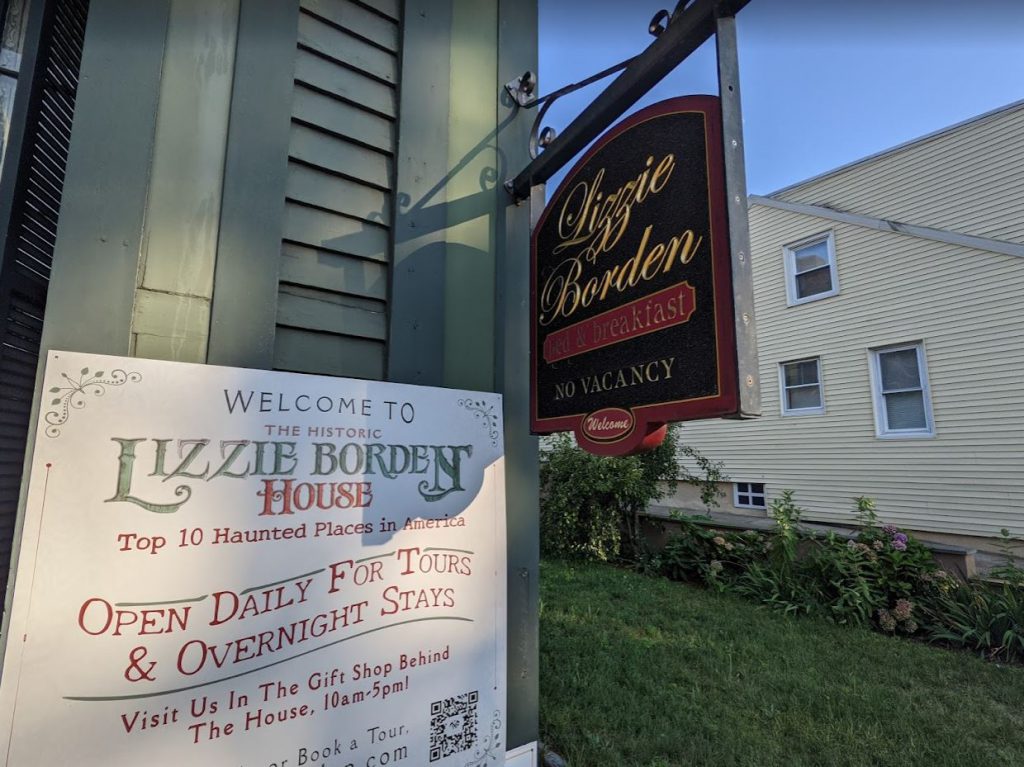 The other basement guests, a couple staying in the Lizzie and Emma suite, and I mostly hung out in the living room during the course of the ghost hunt, chatting with each other, and our host for the evening. I cannot speak to the reasons that the others kept away from the 30 or so people moving around the house, but I did so because not a single one of them was wearing a mask. If you happen to be reading this in the distant future, the current year is 2021, the Delta variant of COVID-19 is on the rise, and there are large amounts of unvaccinated, unmasked carriers of the virus roaming about, and I don't much care to get sick. We did hear through some folks on the main floor that a group in the basement was convinced that they had found evidence of something, but the jury's still out on that one.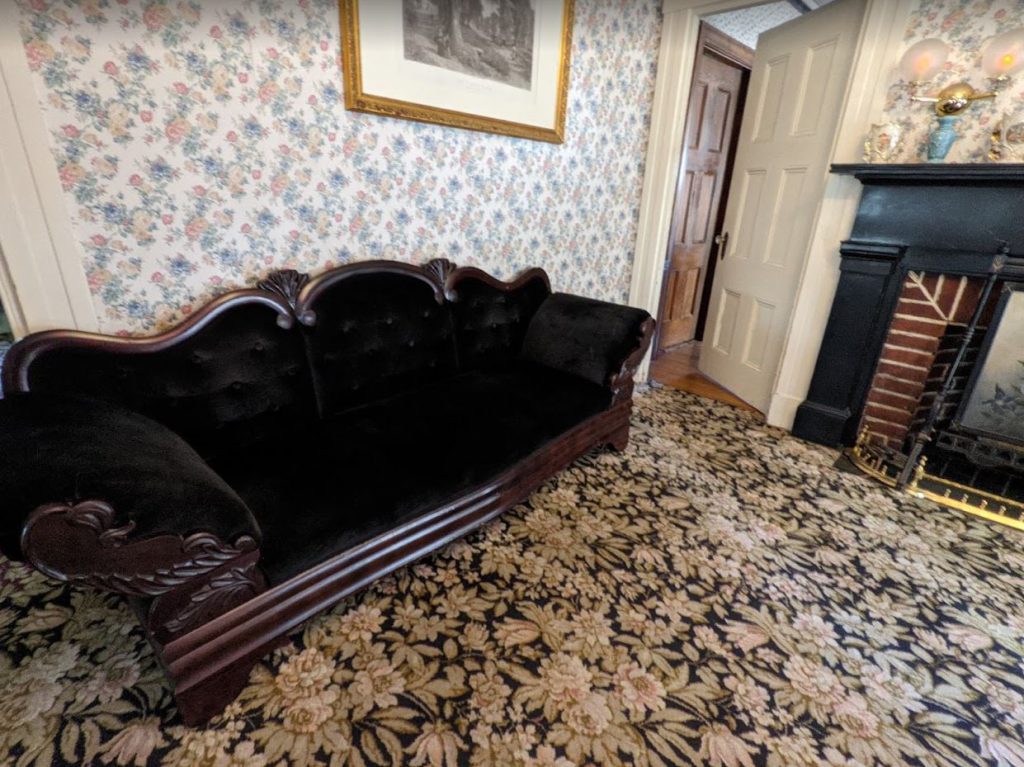 Midnight comes, the ghost chasers leave, and I can finally get some sleep after a long day. I slept in my clothes because I don't know what might or might not be crawling around in an old basement, and I'm certainly not getting under the covers. At one point during my slumber, I recall becoming half-awake, and I am acutely aware of a whole body chill. The kind you get when you look into the darkness, and you get the feeling there's something looking back. A head to toe chill that seemed to last for a while. In reality, it probably only lasted for a few seconds due to the fact that I'm sleeping in shorts and a t-shirt in a chilly basement with no blanket. But what if it wasn't? What if the house really is haunted, and I'm right about ghosts having better things to be doing, like creeping on guests that are asleep in the basement? Again, I don't believe in the supernatural, the paranormal, or anything of the sort. But what if I'm wrong?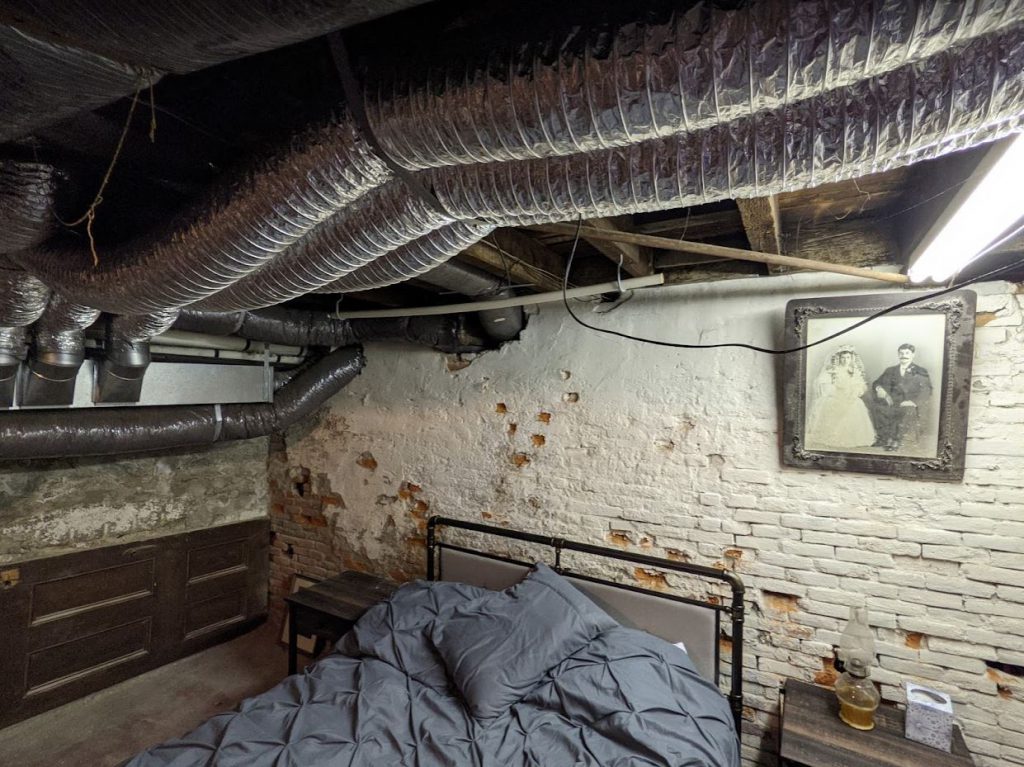 There were some other spooky things that happened during my stay. One of which occurred when I had arrived at check-in. I met the other basement-dwelling guests, and we looked around the common areas on the main floor. Another couple came in the unlocked front door, and decided to give themselves a tour of the house. As it turns out, they weren't overnight guests, and were able to just waltz right in because who's going to stop them? Seems to me that this could have been avoided if there were a dedicated check-in attendant to greet guests as they arrived.
In fact, I was even promised that there would be in an email I received the day after booking my room. Typically, you'd get an email with your door code and instructions on getting to your room. I however got an email with no code. When I replied back, this is the response I got "Seems to be a bug, please standby, we are asking support. You'll have a code before you arrive, and we'll be here at check-in as well." That's verbatim. We'll be here at check-in as well. To be fair, there were staff members present when I arrived, but they were not focused on greeting arriving guests. I did get my door code before I arrived (7 times to be exact), but if I hadn't, I wouldn't have been able to call the main phone number listed for the property either because, as one of the guides so eloquently put it, "the phone died with the old owner." I would have had to dig through the emails to find the "emergency contacts" that are listed at the bottom of an attachment.
---
The other very strange thing that happened was during the ghost hunt while I sat in the living room with the other basement guests and the host, Jack. As we came to find out, the wife of the couple is a sibling to the owner of a very well known haunted attraction in New Hampshire. Jack has worked for said haunt and, of course, I review haunted attractions. We pondered how many stars had to align in order for the three of us to be sat in the same room at the same time without prior coordination. Jack and I were able to connect over our involvement in the haunted attraction industry, and it almost made the stay a little more worth three-hundred dollars a night. The cooks I mentioned above are actually Jack's wife and daughter, and they are both involved in the haunt industry as well. In all honesty, the three of them were the best part of staying at the Lizzie Borden Bed & Breakfast.
If you're looking for a paranormal experience, my recommendation would be to stick to the tours. It was painfully evident during my stay that the new owners of the house were not interested in the comfort or privacy of their overnight guests, and instead it seemed they would rather charge for every little thing available to do. There used to be many loyal fans of the house, both as a museum and as a B&B, but my understanding is that many of those folks are loyal no more due to the poor management of the property by the new owners, US Ghost Adventures. Historically speaking, it's a fascinating story about a double homicide, and you really are transported back in time when you enter the house. I just wouldn't recommend sleeping there, and in my opinion, it was far from worth the hefty price tag, and there are plenty of places that are supposedly much more haunted around New England.
---
Links:
Disclaimer: This is the start of an in-frequent blog series about haunted hotels, motels, B&Bs, and Inns. If you have a suggestion for a haunted stay, send an email to teamskelegore@gmail.com or contact us on Facebook @TeamSkelegoreReviews. All views and opinions expressed herein are those of the author, and not of TheScareFactor.com or The Scare Factor, LLC.