Haunt Nights at Adventure Landing – Full Review
Haunt Nights at Adventure Landing is a Haunted Attraction located in Jacksonville Beach, FL.
1944 Beach Blvd, Jacksonville Beach, FL 32250View All Details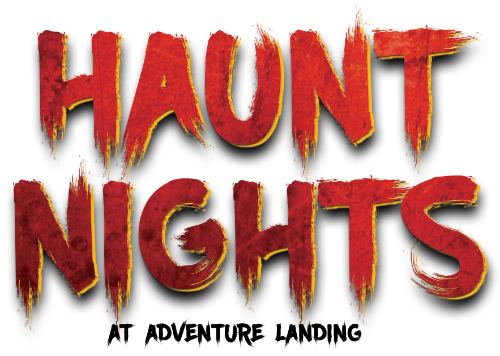 Features:

Free Parking, Handicap Accessible, Food/Concessions, Gift Shop/Souvenirs, Optional Games/Midway, You will NOT be touched, Original Characters, Indoor/Outdoor Waiting Line, Indoor/Outdoor Attraction, Family Friendly

Team Giraffic Shark reviewed this attraction on October 21, 2017.
Final Score:

7.47
Summary:
HAUNT NIGHTS AT ADVENTURE LANDING is a nighttime takeover of a daytime adventure park. When the water slides close, the haunts take over. With a large arcade, go carts, and miniature golf still open at night, hundreds of teens flock to Adventure Landing to get scared, often leaving parents behind.
Though overrun by teenagers, HAUNT NIGHTS caters to them with short walk through attractions of moderate intensity. With four unique themes, there is variety in the haunts providing different experiences in each.
HAUNT NIGHTS provides a spooky overlay to Adventure Landing creating a fun evening for teenagers and families to spend getting some scares and having fun with the different offerings including a game of mini golf or some healthy competition in the arcade.
---
Cast:

7.71
The HAUNT NIGHTS cast ranges completely from experienced haunt performers to novice scare actors. Some actors are well versed at carrying on a scene including dialogue and interaction, and others are more effective at scaring and disappearing until the next scare.
Most notable performances came from Al Stabya (a wonderful chainsaw wielding clown) and the 'slider' (occasionally with the flame thrower) scare actor, working the general areas between haunts, and providing some great scares and people watching moments for those of us not scared.
---
Costuming:

7.86
HAUNT NIGHTS adequately costumes its characters, providing complete character looks. CONTAINMENT perhaps falls to the weakest, creating plenty of victim characters but missing the mark on those characters that are being contained. Best costumes are seen in the 3D house as well as DESCENT, featuring some fun 'underground' themed costumes including a fun spider morph suit costume and other unique looks. Al Stabya takes a unique twist on a typical clown with jumpsuit, makeup (including on the performer's beard), wig, and contacts to create a successful deranged clown character on the loose from the local asylum.
---
Customer Service:

8.5
HAUNT NIGHTS staff, while helpful, are not the easiest to locate overall due to how busy the haunts become as well as monitoring the extremely busy arcade area including the ticket booths. However, upon encountering several of the HAUNT NIGHTS staff in queues, they were helpful and informative. Wristbands are distributed and marked off for each haunt experienced, however the colors are confusing and unclear, creating confusion in the FastPass lines. Safety seems to be top of mind, with police onsite and available. Similarly, haunts are safe and are able to be walked through without any safety concerns.
HAUNT NIGHTS presents a pleasant atmosphere overall with ample focus on Guest experience and safety.
---
Atmosphere:

6.42
HAUNT NIGHTS takes place at Adventure Landing, normally a fun park with water slides, go-carts and miniature golf and a large arcade. With one haunt located in the arcade area (normally a laser tag arena), and the rest scattered among the water park, the atmosphere doesn't inherently lend itself to a haunted attraction. The HAUNT NIGHTS team does a good job of adding lighting and scare actors throughout the park in order to help the atmosphere to be more suitable for this haunted event. Unfortunately the only thing scary about having to walk through the massive arcade to get to the haunt is navigating through the hordes of teenagers running amuck unsupervised.
---
Special Effects:

7.38
HAUNT NIGHTS mostly uses simple setups for the layout of the haunts including chain link fence, plastic tarp walls, etc., especially in CONTAINMENT and DESCENT. APOCALYPSE 3D CLOWN TAKEOVER and PINEHURST ASYLUM are more established with walls, painting, and other realistic locations.
HAUNT NIGHTS has several impressive special effects throughout their attractions, but are spread thin among the four of them. Most unique are the 'plasma' electric dummy (an effect the team has never seen before) and the foam pit finale to DESCENT (also a Team Giraffic Shark first) including a bubble-ridden rodent puppet. Also in DESCENT, the laser swamp effect was well done, making DESCENT probably the house with the most effects (or at least the most effective).
HAUNT NIGHTS has an impressive collection of creature puppets though sometimes not placed in areas for maximum effect, especially Pumbaa's distant scary relative in CONTAINMENT. The crawl through tunnel in DESCENT was unique, fun and disorienting, and an effect rarely used in haunts, but rather well placed in this attraction.
Overall, HAUNT NIGHTS has some good uses of special effects, but with some added focus and placement, they could be more effective and pack a bigger punch. Similarly, a more even focus to detail and scenery could bring all the haunts to the same level of quality.
---
Theme:

7.14
HAUNT NIGHTS creates four unique straightforward themes for its haunts. Though not the most original, they are successful in delivering themed haunts to Guests. Containment is perhaps the least successful theme as the scenery and characters provide little attachment to the theme for a zombie containment area.
---
Fright Effect:

7.25
HAUNT NIGHTS has a few great unexpected scares, and while seemingly effective for its primary audience of teenagers, haunt enthusiasts may find the scares more predictable overall. HAUNT NIGHTS has some great distractions and effect driven scares in some places, but others show several dead zones and lackluster areas. The teenage demographic which they heavily attract ran out of haunts and screamed sufficiently to prove that they are rather effectively targeting their marketed audience.
Needless to say, the team did manage to get a few startles throughout the night, and a lot of entertainment from the kids running and screaming from scare actors.
---
Value:

7.53
HAUNT NIGHTS presents four short walk through haunts for an average ticket price. It makes for a great night out for teenage kids and those who like haunted attractions but not those that are too intense or extreme. While the layout is good, taking up a decent footprint throughout the small water park, haunts could likely be expanded in the future with the existing layout. VIP Combo tickets feature an additional attraction (go-carts or miniature golf), making for an entire nighttime activity for Guests.
Combo Haunt Ticket (All 4): $26.99
Combo Ticket + Attraction (Includes game of Mini Golf or Go-Kart race): $32.99
Fast Pass (All 4 Haunts): $10
Group tickets available
---
---
Have you visited this attraction?
Join ourspookyadventures!
We visit Halloween haunted attractions year-round! Follow us for haunted house walkthrough videos, behind the scenes footage, and more!