Haunted Forest Moose Lodge 1550 – Full Review
Haunted Forest Moose Lodge 1550 is a Haunted Attraction located in Savannah, GA.
2202 Norwood Ave, Savannah, GA 31406View All Details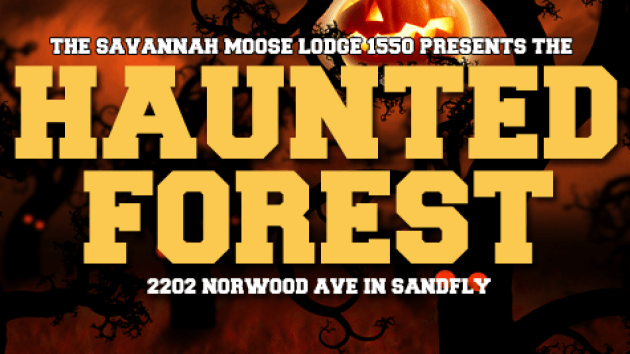 Features:

Free Parking, Restrooms/Porta Potties On-Site, Food/Concessions, You will NOT be touched, Movie Characters, Original Characters, Uncovered Outdoor Waiting Line, Indoor/Outdoor Waiting Line, Family Friendly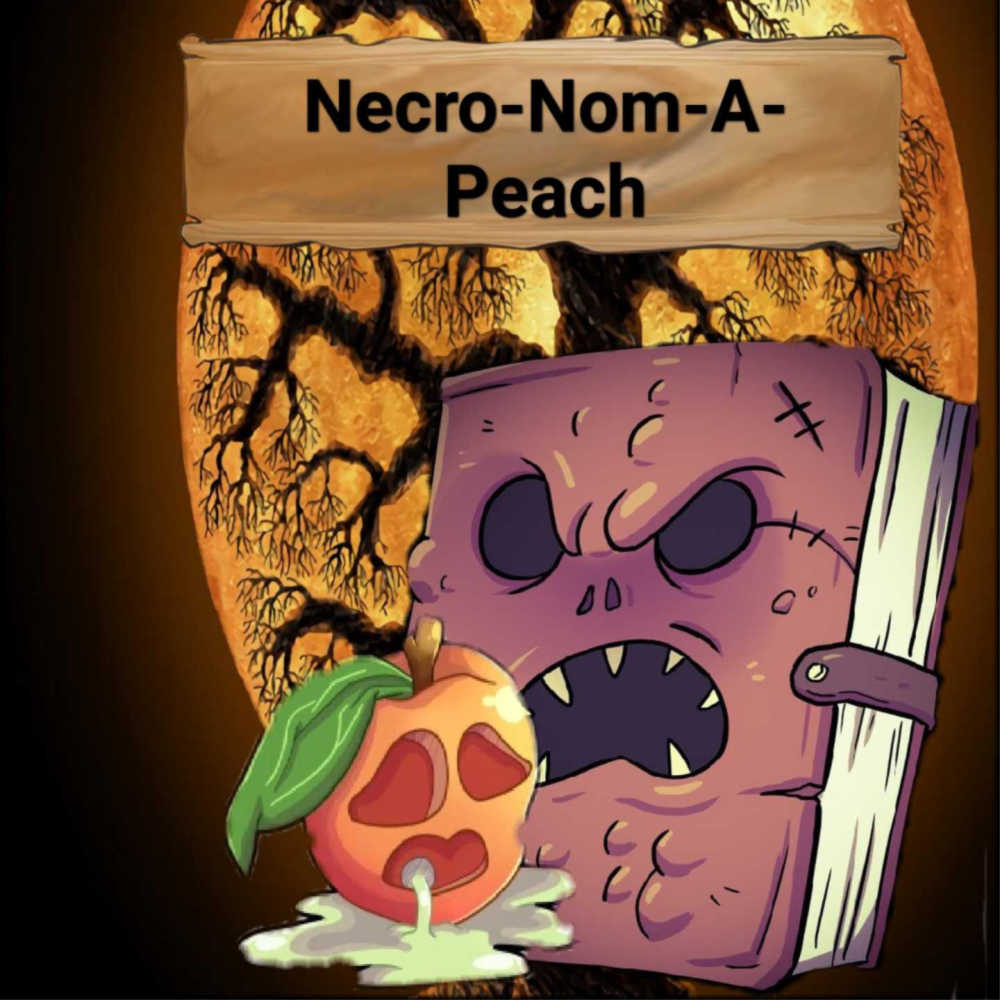 This attraction was reviewed on October 26, 2019 by Team NecronomaPeach.
How Do We Get These Scores?

Final Score:

6.69
How Did We Get This Score?

Summary:
There are few haunts that have been around for over twenty years, the Haunted Forest Moose Lodge is one of them. This haunt has been scaring it's locals for twenty-four years and giving its proceeds to its local community. Throughout those years, the haunt has grown and developed from a single room in the back of the Moose Lodge to a long trail in the woods outback, which is where our group found them this year. It is evident that this haunt is a local favorite in Savannah, given the large group they had waiting to go in. Our group had a fun time at the Haunted Forest Moose Lodge.
---
Cast: 7.28
How Did We Get This Score?

The Haunted Forest Moose Lodge had a wide variety of characters awaiting the customers. This haunt has volunteers of all ages and acting abilities. The child actors add a level of creepiness and they had a lot of energy for their roles. Several of the characters had unique dialogue and were able to interact well with their customers. We enjoyed the dialogue that the voodoo priestess had and her ability to roll with our group. We also liked the dog boy in the cemetery. He was really good at making the dog sounds and his timing was great. The fact that he approached from behind was a good scare.
The characters were a good mix of both well-known movie characters and original characters. The clowns also had good characters developed to be both crazed and also sightly evil clowns.
---
Costuming: 5.9
How Did We Get This Score?

The Haunted Forest Moose Lodge had quite a challenge on them given the variety of characters and the number of actors. While the main characters were fully done, some of the secondary characters had less thorough costuming. The costumes fit with their individual sets most of the time with clowns in the clown area and dead things in the cemetery. The redneck family with the cages in their pantry was especially authentic given that they could wear dirty street clothes and be true to their characters and settings.
There were a number of masks that were fun and creepy. The character in the room before the restricted area was extra creepy! It was really cute that the kids were the characters in the costumes for the classic horror characters (like Freddy and Ghostface).
---
Customer Service: 7.13
How Did We Get This Score?

The Haunted Forest Moose Lodge had some nifty ways to improve their customer experience. When people get a ticket, it has a number, then when the numbers show on their sign, that group can enter the haunt. It's kind of like the line at the DDS when getting a driver's license. In the meantime, customers are free to mingle, partake in concessions, and gear up for their haunting experience.
The haunt was fairly easy to locate, our GPS took us straight to them. Finding parking is a bit more challenging. Once parked it wasn't entirely clear where to go at first, however, they had friendly staff there to help us find our way. The haunt was about as safe as any standard wooded trail, with a few stumps and roots in the path. While this haunt does not have a website, it does have an active Facebook profile.
---
Atmosphere: 5.6
How Did We Get This Score?

The Haunted Forest Moose Lodge was a fun place for people to hang out. While the front area isn't haunt themed, they have plenty of space for groups to listen to music and socialize. For a brief moment, we saw a character actor out working the line, but when we were finished with the haunt he was already gone. The front area does have an expansive concessions stand with a grill and funnel cakes. While they weren't haunt themed, they were delicious! Due to the fact that the front waiting area is not haunt themed, it didn't really prepare us for what was in store for us inside the haunt. The ticket takers were not in any costume or Halloween garb, so the terrorizing experience at The Haunted Forest Moose Lodge is only within the haunted woods themselves.
---
Special Effects:

6.95
How Did We Get This Score?

The Haunted Forest Moose Lodge had a wild variety of different special effects, some of which we had never before seen done. While these special effects did not necessarily aid in escapism within the themes, some were truly a wonder to experience. The special effects that they used to make strange obstacles in the path were something that we hadn't seen in any other haunt. While this did stagger the pacing, it was certainly a nifty experience. Our group was really surprised by the giant simulated sinkhole. It was super gross feeling on our feet without actually being wet! We were spun topsy-turvy in the clown room of many doors. While we never did manage to choose the right door, we enjoyed all the wrong answers and the consequences of each. But physical effects were not the only effects we encountered in The Haunted Forest Moose Lodge. The little girls' room gave us goosebumps with the slow strobe lighting with the quiet and creepy characters within. Sound also was used to create ambiance in each set, changing the volume and type of sound systems and characters. It created a good mix of chaotic and loud, and quiet and spooky scenes.
---
Theme:

N/A
How Did We Get This Score?

The Haunted Forest Moose Lodge didn't have an overarching theme. However, a few of their sets had self-contained themes. These sections were clearly marked as we approached, and inside each we found cohesively themed areas where sound, actors, and effects built that place's story. The best example of this was the redneck house. Outside was quiet, eerie, and spooky, but then within things were loud, and chaotic. The density of actors increased, the sound system was blaring loud rock music, the characters were more aggressive and wild, and they climbed on walls and crawled on floors.
---
Scare Factor:

6.6
How Did We Get This Score?

The Haunted Forest Moose Lodge is a family-friendly haunt and as such this had a more entertaining, less scary motif. There were still a variety of scares including quite a lot of jumps and a few psychological ones. The best scares were the misdirected ones. Also the redneck house was an intense experience because of all that was happening at once.
---
Entertainment & Value:

7.05
How Did We Get This Score?

The Haunted Forest Moose Lodge was a fun haunt to visit. Their tickets were $10.00 and at a normal pace, our group walked through the haunt in 15 minutes, making the minutes per dollar ratio 1.5, which is decent. The haunt, we believe, was fairly priced for the entertainment and fun we had.
We really enjoyed this haunt. It's a group of good people doing good things for the community and putting on a fun, spooky show.
---
How Did We Get These Scores

Promo Images:
Click to Enlarge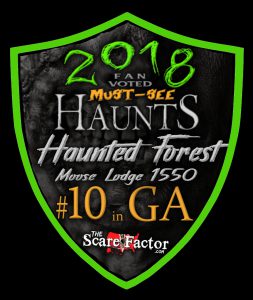 ---
Guest ReviewsGuest Average: 10 out of 10
Marc – 10/10 – October 12, 2018Very scary for good cause.
Marta Miltiades – 10/10 – October 31, 2017Awesome haunted forest!!!! I'll be going back this year…. I love a great scare!!
Michael – 10/10 – October 21, 2017This haunt is a must see. Well organized and the most scariest in Savannah. They have been doing …show more this for 20 years and it shows.