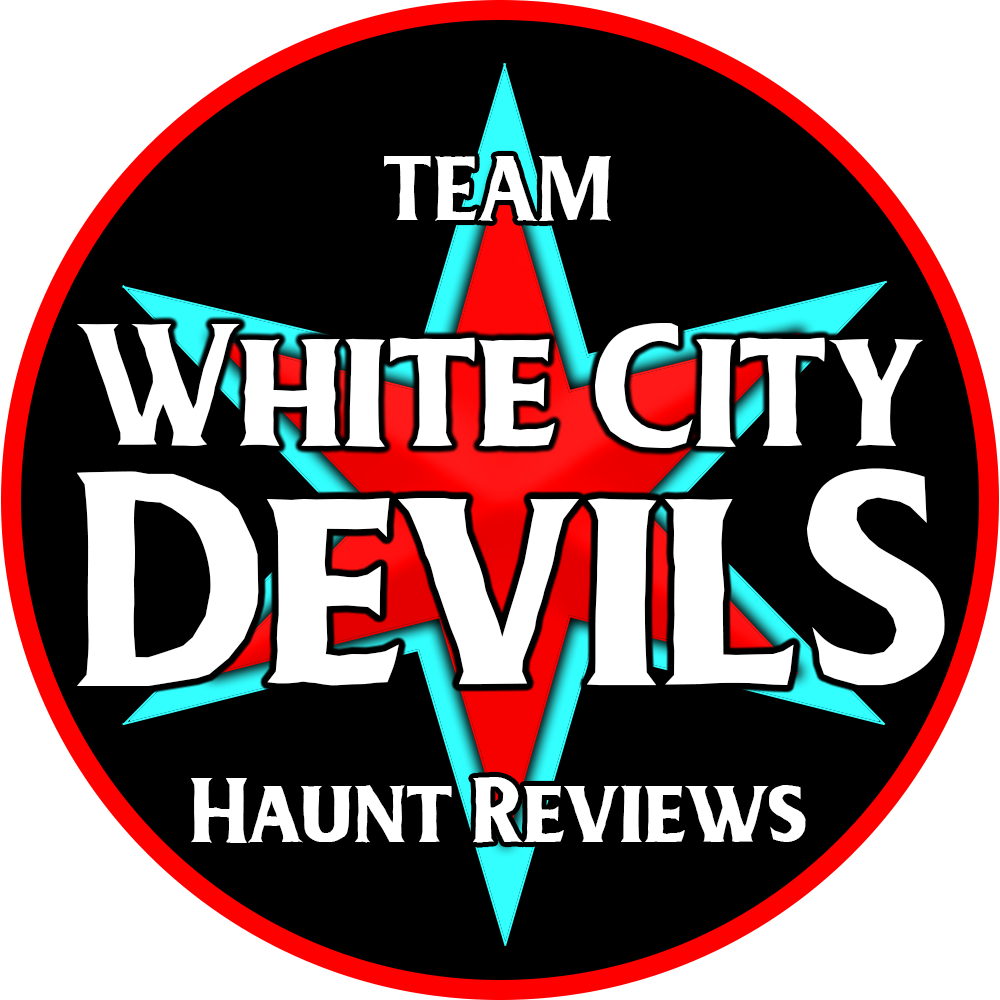 This attraction was reviewed on October 3, 2020 by Team White City Devils.
How Do We Get These Scores?

Final Score:

9.06
How Did We Get This Score?

Summary:
This season makes it our third visiting the horror that is Haunted Hills Hospital (HHH) in Lake Station, Indiana. Considering we are also regular visitors of their off-season haunts, it is wildly impressive to see such extreme changes every visit with such little time between as well as juggling a whole production store online for costumes and masks!
It is always such a treat to walk through and visit our favorite patients of Lake Station and see what kind of horrific nightmares they are living out.
---
Cast: 8.74
How Did We Get This Score?

On any given night, HHH has over 100 actors roaming between the midway and the haunt. There is seriously nowhere safe for visitors to hide. I don't believe we have ever seen so many people cower before even getting into the main attraction. Watching Hospital residents such as Reaper, Jax, and Alchemilla roam around and terrorize anyone insight is some of the most enjoyable times we have in October.
We happened to cross paths with a patient called Sid. Accompanied by a big sack of goodies (mostly body parts), Sid had a childlike behavior about them. Reflecting on that though, Sid actually sat down and drew a picture of us! I'll be sure to attach the pic with the review.
Actors inside the haunt were a ton of fun and looked like they were enjoying every moment of the scare. Walking into the clown room, the actor there held us for a moment and would not let up with great banter while keeping the whole act spooky. We ran into a Doctor who locked a patient up because it was 'Better for us to ignore her'. The locked-up prisoner made super wild accusations that the Doctor wasn't all he was cracked up to be, she begged for her 'Bozos' and really did great banging herself in the confines of the office she was locked in.
Part of the fun of HHH is not expecting how devoted these scare actors are. When walking into a new area, we approached a lone lunatic. When we were dead center in the room he laughed and casually pointed slightly up. When we looked in that direction another actor dove from above and relied on a harness to stop him from falling. It provided a good sudden scare that we were not expecting!
---
Costuming: 8.95
How Did We Get This Score?

HHH never fails to impress with costuming and makeup. What works well for them as a hospital themed haunt during the whole COVID crisis is that their PPE masks look like they're just a part of the natural attire! The majority of the actors of course garmented smock-like tattered clothes, all of which looked like it had not been washed in a while. This of course adds to the rough conditions of HHH and helps keep the story alive.
The 'queue line' actors have more stand-alone outfits and attire as those characters have great detailed backstories easily found on their website.
HHH also is home to Haunted Hills Productions, a company that creates costumes and masks and such for purchase. Knowing this, it's no surprise that the quality of costuming and makeup they provided for their own haunt comes with high regard.
---
Customer Service: 9.73
How Did We Get This Score?

HHH is ever-changing (for the better) but the one constant is their guest service. Last year, they provided a security check on the grounds to assure guest and employee safety and continue to practice it this year. There is always a friendly face at tickets or merch and plenty of employees to talk to if there is an issue or concern. Local police volunteer their time and have not only a stop area for traffic to slow down, but this year also installed a speed bump (talk about going all out).
Because I'm not a medical professional, I can only say that HHH practiced all they listed down for their COVID-19 Plan. Part of this idea is to prevent a line entirely and they did so with the virtual line. What this means is guests have to provide a phone number that will receive a text message when it is your group's turn to enter the haunt. It seems HHH is really implementing some great ideas that work within their recommended guidelines.
---
Atmosphere: 9.5
How Did We Get This Score?

One new feature that worked wonders is the Mayhem Midway and Hills Hallow Condemned Scare Zone. Guests can help themselves to the food vendors on-site as well as a great new area with photo op stations, roaming actors for entertainment, and a live DJ. It really transforms the usual 'stand in line and wait your turn' idea to making a whole evening out of visiting the haunt!
We arrived roughly at just about 6:30 pm and probably left at about 9:30 pm. This was not because it took so long to get in, rather there is so much to do now and plenty of entertainment provided so we wanted to stick around.
There are add-on options to try including a five-minute escape room (we obviously suck at escape rooms and lost) and axe throwing (we also suck at this). HHH offers so much more now with the bigger midway in play and it really is a great addition. After talking with owners, I was glad to hear that even after COVID passes, they have no plans on changing the new midway.
---
Special Effects:

8.97
How Did We Get This Score?

HHH is always impressive when it comes down to their special effects. They are of high, professional quality and never fail to frighten. One of the highlights for the special effects department in my opinion is a rather minor detailed piece that is amazing. The marionette human has to be the perfect combination of creepy, disturbing, chilling, and detailed. Moving in rhythm to some 1930s-esque kid-friendly music (you know the creepy kind horror movies love to use) the human marionette is a personal favorite. I sort of categorized this piece as 'minor' only in the sense of there being 'major' effects throughout the haunt as well. Right before entering the garden area there is a ridiculously giant plant monster that can give Audrey II a run for her money.
One of my favorite scenes that makes great use of lighting and fog is the boiler room. Having the right amount of fog and light not only coming from under us but also from the giant tanks works amazingly. It is also highly effective when actors pop out of said tanks.
Overall, HHH clearly spends a great deal of time on details and they shine throughout the haunt.
---
Theme:

8.77
How Did We Get This Score?

HHH does have a really great storyline and shows throughout the haunt. What I like most to relate into it is the old 1950s TV sets playing scenes that help follow up the story and kind of help provide almost a time stamp on when these horrors took place. The old-timey TVs play old-timey clips, and certain scenes also provide music samples from what I feel is the same time period. I have never really confirmed this, but these are some small details that do make me believe these patients may have been roaming these walls longer than we expect'
As I have said before and will say again, personally I am a sucker for themes. To help with a better understanding of the storyline behind HHH, I will end this category with what I have written from last year's review, detailing HHH's theme:
Hills Hospital houses the nation's worst of the worst mental psychotic prisoners that couldn't be handled in a general mental establishment. During their time here, the doctors and nurses show plenty of neglect toward these prisoners and even go as far as using them as experiments for inhumane practices. These patients eventually turned on the staff and unleashed the hell behind Ward H, a strictly secured ward that housed many of the most diabolical prisoners that were saved for experiments under the Truman Corporation.
What is great about this theme is all actors know the story, so they know the names of the medication we are introduced to and name these products out. When we reached the Truman Crop. held Ward H, the patients are also way more intense, here is where we had most actors banging their entire bodies against the walls it worked so well at convincing us that there was a special place for them in Ward H.
---
Scare Factor:

8.92
How Did We Get This Score?

The actors in HHH clearly know and understand the art of the scare. As accustom as we have become by now in terms of being frightened, HHH actors always find ways to misdirect or jump scare and still affect us properly. When combined with amazing scenes and props, these constant scares are effective throughout and really mess with all of our senses.
HHH also provides plenty of creepy methods throughout as well that are terrifying. A great example of this would be the patient with the goat head. This is near the start where for a moment, all the halls align just right, and off in the distance is a person with a goat head (on their shoulders). Moving through wall to wall, and from room to room, we progressively had no choice but to get closer. This character did a great job at remaining ominous through that scenario and owned it.
What I really appreciate considering the scare factor is that it is not limited to just the haunt. HHH is still (during this season) chasing guests back to their cars during their finale. I truly believe this may be why the town installed a speed bump, just in case the chase goes too far out!
---
Entertainment & Value:

9.09
How Did We Get This Score?

Our walk-through time was just shy of 20 minutes, of course this varies from person to person as we ourselves have had longer times by a few minutes. With general admission being $20, our MPD value comes to .97 which is really amazing considering GA includes The Scare Zone and the Midway.
They have seemed to use all possible space with the new features so I cannot stress how good 20 dollars is for GA. VIP is a 30 dollar value and either ticket can have a five-dollar add on for a 5 minute escape room and axe throwing session.
HHH is a must-see on any season and is worth the short drive to Indiana but be cautious, you will run out of there right back to your car!
---
How Did We Get These Scores