Helheim Haunted Attraction – Full Review
Helheim Haunted Attraction is a Haunted Attraction located in Wytheville, VA.
3081 Chapman Road, Wytheville, VA 24382View All Details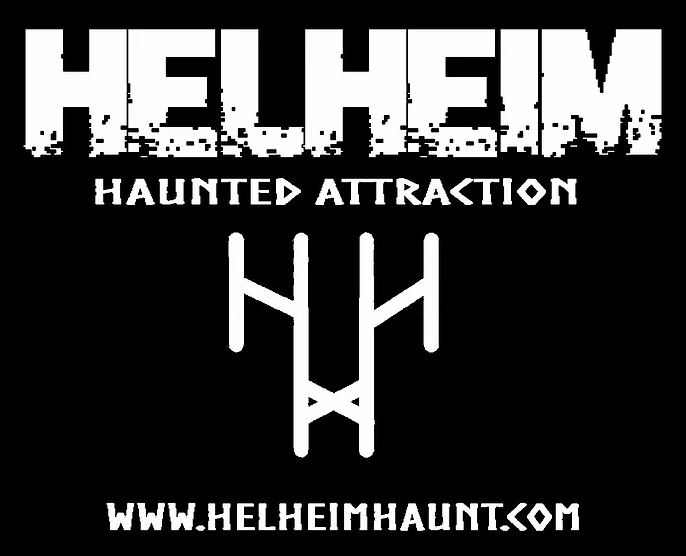 Features:

Free Parking, "Hi-Tech" Attraction, You may be touched, Original Characters, Uncovered Outdoor Waiting Line, Indoor/Outdoor Attraction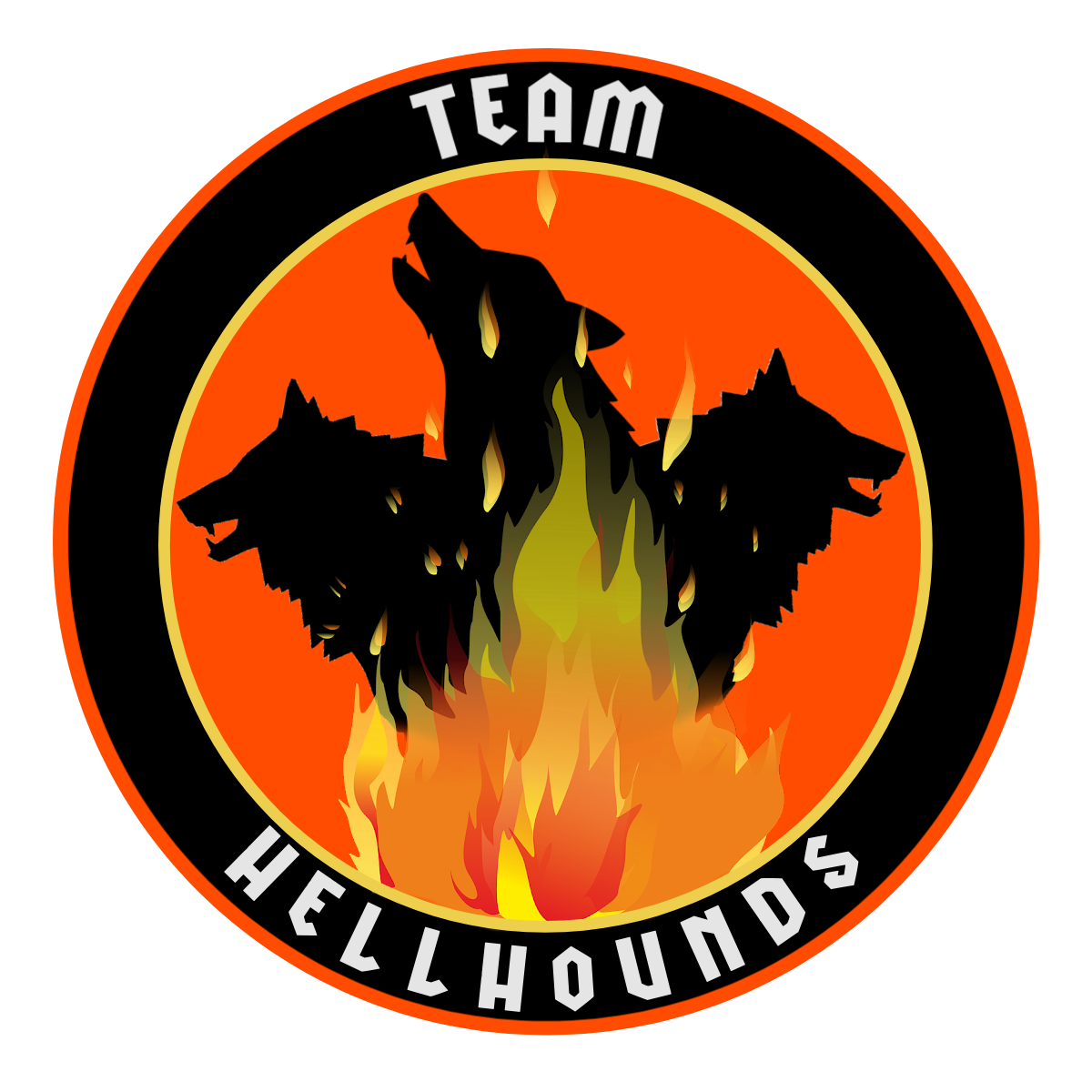 This attraction was reviewed on September 26, 2020 by Team Hellhounds.
How Do We Get These Scores?

Final Score:

8.7
How Did We Get This Score?

Summary:
If you read our review last year, then you have to know we could not wait to get back here this year. We can assure you; it was worth the wait. Helheim really took the time to see what worked, what did not, looked for small things to improve on, or in some instances, what to remove. We all know not everything has a purpose that works as intended. We were thrilled to see and ultimately terrified of the time and effort spent to upgrade and change the haunt. Keep reading to get down in the dirt of our visit this year.
---
Cast: 8.68
How Did We Get This Score?

Once again, this haunted attraction proved it has some of the best actors on this side of Virginia. They all seemed to be more interactive, talkative and had a witty sense of humor with their comebacks. We for one, wish we could think of sassy comebacks off the top of our heads. However, in reality, the majority of us just stand there like a deer in headlights. I am the one staring into the high beams. My improv skills need a major boost or a master's degree. Anywho, let's get back to the ones who actually matter.
This year we found more actors, characters, demons, and animals roaming about outside in the waiting area. Some of them, we cannot even begin to describe what they looked like. Maybe it is time for us to brush up on our Syfy shows and horror movies. Nonetheless, these characters were something else. I had taken my family which consisted of two kids (3 and 5) and the actors loved it! The way they interacted with them and talked to them was unbelievable. And the best part, they never once broke character. It was such a fun time for them, and us as well getting to watch this take place. They had a blast and so did everyone else. One character I would like to give a shoutout to here is 'Squeaky!'
The cast in the first part of the haunt really stepped their game up from last year. There were not as many dead spots, they were hidden much more efficiently, and were a lot more verbal this year. Enthusiasm and energy were in abundance! I imagine their vocal cords were screaming for water and cough drops. Probably looked like dried up raisins after they got finished with us. I distinctly remember some holy water, maybe you should try drinking some! One actor in particular here was astounding, creepy, and almost got stomped on! We have come to know him as 'Dragore.' When I say he slid out of nowhere, I mean he literally came out of nowhere. We were walking, looking at all the scenery and details, and then 'Bam,' he was at my feet. I must have jumped 10′ feet in the air. Well, maybe 6′ is more like it, but you get the point. He is definitely one of the creepiest characters here and I am sure he is going to get you too!
Once inside the haunt, it takes a sharp turn real fast. The entire energy shifts into something dark and devilish. We saw actors/characters we did not even know was possible. The imagination of the creators ran wild and unhinged at Helheim. Nothing was going to stop them from bringing your wildest fantasies to life to haunt you for the entire night. If you do not have nightmares, then you may need to seek some mental help. They have everything from deranged and rabid animals, to Texas Chainsaw inspired costumes, and some pretty vivid, morbid, grotesque characters. There are a few in here that will make you say, 'Oh my gosh! Did they really have the nerve to do this?' Our minds were blown and yes, for all the right reasons!
---
Costuming: 8.94
How Did We Get This Score?

Even during a pandemic, with all new policies and procedures in place, Helheim pulled it off again! Costuming was at an all-time high and corners were not cut. Masks were used effectively and very creative at that. All costumes seemed to be complete with every accessory imaginable to make it fit the scene and turn unbelievability into reality. You will not see actors here in plain clothing. They take pride in providing you the best experience possible. There is so much we would like to tell you here, but we do not want to give the good stuff away. However, beware of 'Pink Fluffy' and stay away from any baskets, we beg of you! One more thing, do not let the name 'Good Boy George' fool you! We assure, this year, he is in fact a bad, bad boy and dressed like it as well. I cannot imagine why they let him run loose without supervision. I know what I will be taking with me next year'
---
Customer Service: 9.57
How Did We Get This Score?

Look, you're down in the south and country, you know what you're going to get here. That good ol' southern hospitality. Again, everyone was very polite and more than helpful. They go above and beyond to ensure your happiness and enjoyment. Going back to my kids, I think just about everyone came up and talked to them and made sure they were comfortable. Even the owners stopped by and said hi! What more could anyone want?
Helheim is in the same great location as last year. Right off the I-81 and I-77 corridor at exit 77. You can see the haunt from the interstate. Parking is free, but they do have somewhat of a limited amount. I suggest carpooling if at all possible.
Remember to bring your mask as you will need to wear them. Local health inspectors have been known to make pit stops and they do not want to get shut down for not enforcing a minute solution. Also, please keep a 6′ distance from other groups. They will remind you if need be. It was nice to see them doing everything they can to help keep you and their actors safe in this crazy time.
Information is easily obtained on their website, Facebook, or a very simple google search. Be sure to like and follow them on Facebook as they have been known to do discount ticket nights, food drives, and other promotions. Here you will also find information regarding food trucks and other entertainment. The night we went, they had a Bar-b-q food truck present and the food, scrumptious! I just hope the food did not come from inside the haunt'
---
Atmosphere: 7.79
How Did We Get This Score?

As with most haunts in our area of Virginia, the outside area is a bit tame. It allows for some relaxing of nerves before beginning your journey into the unknown, as well as a place to calm down after returning (hopefully with your soul intact).
Quite a few characters like to roam around and sneak up on innocent bystanders. Keep a look all around you, even up as you never know what things lurk above. We still would have liked to have seen some more props or decorations. Even some creepy music would have helped add to the creepy tone and increased excitement as we waited our turn.
This year, while in line, they did have a 'fire dancer?' I honestly do not know what the correct title is for their profession, but he danced with and blew fire out of his mouth. It was an appealing and noteworthy entertainment option we found to be enjoyable.
---
Special Effects:

8.78
How Did We Get This Score?

Helheim worked hard during the off-season to ramp up their special effects. Major improvements were made to the lighting and sound systems as well as some added effects to engage more of your senses. We were stunned with the amount of times some form of liquid was thrown, chucked, and/or splashed at us. Some of the smells on the inside would have been enough to have Hannibal Lector running for the hills!
Laser lights were used in an effective manner and fog machines placed at precise locations added an effect that was awesome! As with some of the other haunts, I believe the use of some animatronics or other props could help break up the monotony of actor-driven scares. Do not get us wrong, the actors do an amazing job with their scares that are timed precisely and they are well hidden, but with the addition of other types of scares, we believe it would help to bring peoples guards down a bit more. Some equipment used by the actors seemed far too realistic for our comfort zone. I am not sure how they can make a circular saw sound so real and so loud! It got a little too close for comfort to certain body parts of mine. I thought for sure I would literally be screaming like a little girl for the rest of the night.
We believe the special effects used at Helheim did a superb job at maintaining the suspension of disbelief and made us uncomfortable.
---
Theme:

N/A
How Did We Get This Score?

There is no specific theme for this haunt, but do not be deceived! This works to their advantage and can provide anything and everything that will surely make you sweat, even in places you might not think was possible. Not to mention, may cause some other undesirable, uncomfortable, or rather stimulating reactions for the circumstance. Who knows, maybe you will like it.
---
Scare Factor:

8.64
How Did We Get This Score?

We are not even sure where to begin here. I jumped far more times than I did last year. I screamed louder and may have even said a few more dirty words than I should have. To be honest, we were not prepared for what they had in store this year. We all thought with the pandemic going on, it would be more on the mild side, but nope! They turned the knob all the way up and went further in every direction this year. This includes the ending. We all gasped and the look on our faces must have been priceless. They definitely know how to push the envelope and are not afraid to do so.
If you are someone who is easily startled, or even if you are not, just be prepared to jump and scream. You will not be able to see the actors, you will not know where to look for their hiding places, and in some instances, you will not be able to see at all. When we say do not be shocked at anything you see, we mean it. You will find and see things here no other haunt would be willing to display. This added much-needed excitement to the haunt, and we wish other haunts would do the same.
The bottom line, this haunt is designed to knock your pants off!
---
Entertainment & Value:

8.46
How Did We Get This Score?

We feel like the only thing needing to be said here is, just GO! Do not even think about it, get in your car, on your bike, call Uber, just get there. It is so much fun and provides an insane amount of amusement.
This year we got about 1.18 minutes per dollar spent. This is about average for this area of Virginia. If you are hungry, a food truck is there on most nights. Be sure to check out Helheim on Facebook to confirm.
Also, just another note, please remember to bring your mask and maintain 6′ distance from other groups. You are sure to have a fantastic time here! Get out and enjoy it!
---
How Did We Get These Scores

Promo Images:
Click to Enlarge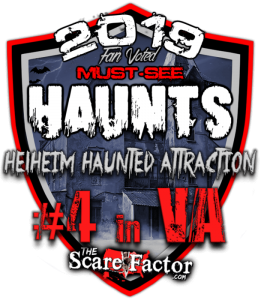 ---
Have you visited this attraction?
Join ourspookyadventures!
We visit Halloween haunted attractions year-round! Follow us for haunted house walkthrough videos, behind the scenes footage, and more!