Hellscream Haunted House – Full Review
Hellscream Haunted House is a Haunted Attraction located in Colorado Springs, CO.
3021 N Hancock Avenue, Colorado Springs, CO 80907View All Details

Features:

Free Parking, Restrooms/Porta Potties On-Site, Gift Shop/Souvenirs, Original Characters, Uncovered Outdoor Waiting Line, All-Indoor Attraction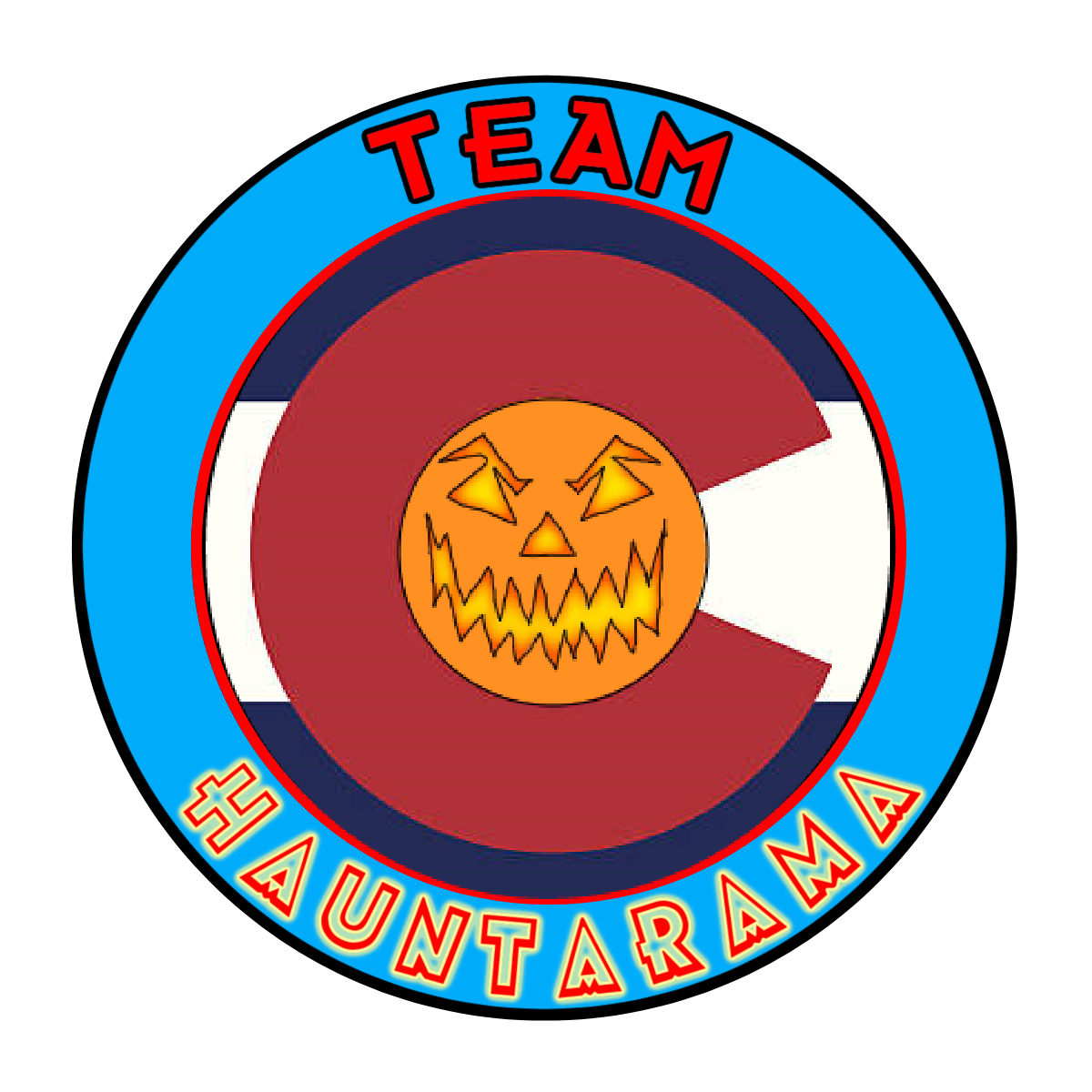 This attraction was reviewed on October 12, 2018 by Team Hauntarama.
How Do We Get These Scores?

Final Score:

8.85
How Did We Get This Score?

Summary:
Hellscream haunted house took the top spot in Colorado this past summer as the fan favorite in the state, and lived up to that reputation this fall as it continues to bring the screams in Colorado Springs. Even as you approach the haunt, there is no question you're in for a good scare, as the creatures inhabiting the unassuming building flit about the windows and spill out into the courtyard, including the infamous Dr. Von Helton, the abode's resident medical expert and mad scientist. In addition to the creepers in the crowd, Hellscream hosts local entertainment, such as the fire spinning fiends entertaining the masses on the night of our visit, and a large screen for projecting venerable Hollywood horror classics. Being a charitable bunch, Hellscream also partners with other benevolent organizations, such as the Combat Veterans' Motorcycle Association and the USO.
After a brief video from one of Dr. Von Helton's red cloaked "friends," warning hauntgoers of the horrors inside, guests are whisked into the manor to be greeted by the gruff Aussie butler. There is barely time for fear seekers to catch their breath before some of the residence's other inhabitants pounce on their latest prey. The multi-level labyrinth that is Hellscream is tremendously impressive in both scale and detail, with unique and unusual characters and scenes throughout the haunt. This feat is truly impressive, as we did not notice a single repeat character between Hellscream and Haunted Mines, both operated by Hellscream Entertainment, creating a doubly diverse scare pair. While Hellscream's sister haunt, according to this review team, seized that top spot among the two this year, Hellscream definitely put up a good fight. The best news for haunt fans, however, is that Hellscream Entertainment offers guests combo tickets, providing the opportunity to experience two of the state's top haunts for one low price.
---
Cast: 8.6
How Did We Get This Score?

Although we're not certain, it appeared that the Hellscream cast was largely composed of veteran thespians at the haunt, as there were several spots where the cast utilized the settings and dialogue so well that the narrative of them legitimately living inside seemed plausible. Generally, the cast's dedication to achieving screams was unmatched, as it ran the whole gamut of interaction, from soft yet sharp whispers and bloodcurdling screams to being pursued by aggressive ghouls and playful pumpkins. One creeper in particular relentlessly haunted our group, expertly winding her way around our path, and achieving an unbelievable number of screams before bidding us adieu. Another actor that truly stood out was the friendly, neighborhood hangman, whose pallid demeanor masked his snarling, soul-stealing desires. Finally, despite mixed reviews of the clown scene indoors, which was nonetheless full of energy, Hellscream's final clown actor was one of the best we've ever encountered. From his sinister silhouette to his putrid glare, saying nothing about his realistically threatening demeanor, he was spot on. His expert efforts even succeeded in separating our duo, which is a rare occurrence.
Although some actors never made it beyond making loud noises while relying on their made up menacing visages, the vast majority of the cast did a tremendous job at Hellscream.
---
Costuming: 8.74
How Did We Get This Score?

The costuming at Hellscream left little to be desired. The costumes themselves were thorough and well thought out, illustrating a high level of care for quality and detail. The make up was modest but effective, and there were a few masks that really stood out. One of the coolest aspects of Hellscream, however, is its variety of settings, and the haunt did a terrific job of keeping the proper creepers in the proper settings.
---
Customer Service: 9.4
How Did We Get This Score?

Finding Hellscream was a piece of cake. It is just off of Fillmore Street and Hancock Avenue, directly across from a well-lit 7-11, and — with the courtyard strobes, movie, crowd, creepers and folks flipping flaming effects — it is plainly visible.
Hellscream also does a great job of providing basic information on its website, such as location, hours, calendar and ticket prices, as well as more fun stuff like the haunt's narrative and promotional videos.
The staff at Hellscream was exceptional! Although we didn't have much occasion to interact with much of the non-cast staff, those that we did encounter, including the omnipresent security staff, were friendly and helpful.
---
Atmosphere: 9.3
How Did We Get This Score?

The atmosphere around Hellscream is utterly energizing! Dr. Von Helton's creatures and fiends creep through the queue, clamoring up to the guests who seem in need of a good scream, while the wise-cracking quack himself ambles about, greeting guests and providing insight into some of his creations. Despite Doc Von Helton's well-wishes before we entered his decomposing home, the levity of the exterior quickly gave way to the horrific hobgoblins within, as each floor has a different feel.
Initially, guests enter the remains of Dr. Von Helton's manor, which has a distinct old money feel, including an exceptionally plush armchair, a billiards room and a long hallway lined with framed pictures and paintings, presumably of the property's prior proprietors. This gives way to the clown-filled basement, where the remnants of the Slaughter Brothers Circus reside in a wide open, winding, chain link maze. Patrons are then taken to the CDC quarantine and decontamination areas on the top floor. After escaping the upstairs area, the coolness of the outside air suddenly hits. The joyous screams of guests in line slip through the wooden slats of the surrounding walls that meander into a short maze, just enough to disorient the sense of direction recently achieved, before being greeted by the stellar finale. There was little left to be desired upon exiting Hellscream. Nevertheless, it was still disappointing to find that the haunt had ended, because it was an excellent time!
---
Special Effects:

8.59
How Did We Get This Score?

Many of the special effects at Hellscream, were very creative and unique, and beautifully blended with cast interaction to create unexpected scares, despite lacking some of the high tech toys at it's sister attraction, Haunted Mines. There is also a bit of nostalgia, as some of the props and animatronics were pleasantly reminiscent of the days before Halloween and haunting became the big industries they are today, when props were often custom made with love. The toxic waste barrel spills and experimentation rooms, however, were small gems, using more modern machines to truly bring them to life.
For as well composed as most of the haunt was, however, there were a couple of spots on the top floor that really brought reality back into sharp contrast. One room in particular was overly bright and seemed incomplete, giving the appearance of a how-to instructional video that was only two thirds of the way through. In another spot, an office suite sign reflected enough light to turn the impression of being in an overrun CDC quarantine ward into thoughts of The Office gone wrong. Those small sections notwithstanding, the overall effectiveness of the combination of a superb cast, great sets, well-healed costuming, and all of the other experiences that compose the kinesthesia of the haunt was outstanding.
---
Theme:

8.45
How Did We Get This Score?

The Hellscream tragedy begins with a mysterious train crash that unleashed a murderous cavalcade of clowns and restless souls into the catacombs beneath the infamous Von Helton mansion. Meanwhile, Dr. Von Helton, who was presumed dead, had recently been located and placed on house arrest while the CDC worked to quarantine, decontaminate and research the creatures affected by the toxic waste spilled in the train wreck. This history, while clearly fictitious, paints a clear vision of what hauntgoers can and should expect, and exactly what they will find. This is not surprising, as the story is the brainchild of Hellscream Entertainment's General Manager, Jesse Clark, who is also responsible for the narrative behind the Haunted Mines as well.
Those backstories, while potentially believable enough to cause our team to research whether there was any truth to them, do a tremendous job of building the haunts' themes, setting the stage for what's to come while remaining flexible enough to provide a plethora of scary storylines and scenes.
---
Scare Factor:

8.79
How Did We Get This Score?

Given the potent haunted cocktail, composed of the committed cast, superb settings, proper props, and special effects, served up by Hellscream, the haunt is, to put it simply, a frightfully good time! The cast and other effects provided scares and entertainment to the the front and back of the line, while certain creepers dedication (the lady in the orange hat in particular) ensured that every last scream was wrung from our lungs before letting us pass. The construction of the interior of the haunt lent itself well to the restless pursuit by the cast, as the twists and turns, well known to the scare crew, provide ample coverage to the actors. There were a few areas that would have benefited from additional cast, however. Some spaces were only aided by the solitary experience but others were uncharacteristically empty of both cast and scares.
The Slaughter Brothers clown area was full of discord and caprice, as we were surrounded by gnarly, wild jokers. The CDC decontamination area provided gruesome experiments with terrifying experiences. Overall, Hellscream hit on all of the cylinders: the unpredictable, the grotesque and the macabre, with a mixture of cast tag-teaming, nicely timed animatronics, and a full scale sensory experience, from loud to quiet, bright to dark, and intense to subtle. Even the downtimes simply let the uneasy anticipation of the next scare build.
Once again, we have to hand it to the finale at Hellscream, which was about the best we have ever encountered. Although it relies on a couple nearly stale standbys, the performance from the actor coupled with the absolutely astounding makeup and costuming, made the finale what it was, earning Hellscream a near perfect score in that portion of this category. Even though there is always room on the dial to kick it up a notch, Hellscream lives up to its reputation as the fan favorite in the state!
---
Entertainment & Value:

8.7
How Did We Get This Score?

Given the above, it's easy to see why Hellscream is such an entertaining event. 'I've had a vision since I was a little kid,' says Vince, founder of the haunt and one of the owners of Hellscream Entertainment, the parent company that also operates Haunted Mines, and that vision was immaculately brought to fruition. The employees — from the security guard there to keep us safe, to the maniac milling about the queue line with a real machete — were a pleasure. Our meeting with Dr. Von Helton and his cohorts kept the outside area fresh and fun, and our tour through his decrepit domicile was a blast. Not only did the Hellscream team do a great job utilizing the space — up, down, inside and out — it was clear that the haunt's construction, including its use and placement of props and other effects, coupled with the cast's expert usage of both, came together for an exemplary event.
Best of all, for the first time ever, guests can purchase discounted combo tickets good for both Hellscream and Haunted Mines for one low price, and visit two of the state's top haunted attractions.
---
How Did We Get These Scores

Promo Images:
Click to Enlarge
---
Guest ReviewsGuest Average: 5.5 out of 10
Brad – 10/10 – October 12, 2018I love this haunted house. It's by far the best one i have ever been to! I must say that I'm not a …show more easy person to scare. But I have to give props to some of the actors. By what I could tell by there rooms shout out to the clowns down stairs, they really started to creep me out with there childish sounds. Also to who ever is the doctor upstairs that had a patient after the fan room that double scare was on point. Doc hands down to you. I'm so going to tell the guys about this place.
Randi – 1/10 – October 22, 2022It was a 2 1/2 hour wait & once we were inside they kept telling us to go faster; trying to get …show more everyone through. It was not organized well & will not go back.