HellsGate Haunted House – Full Review
HellsGate Haunted House is a Haunted Attraction located in Lockport, IL.
3101 Canal Street, Lockport, IL 60441View All Details

Features:

Free Parking, Restrooms/Porta Potties On-Site, Food/Concessions, Gift Shop/Souvenirs, Optional Games/Midway, Special Events, "Hi-Tech" Attraction, Original Characters, Covered Outdoor Waiting Line, Indoor/Outdoor Attraction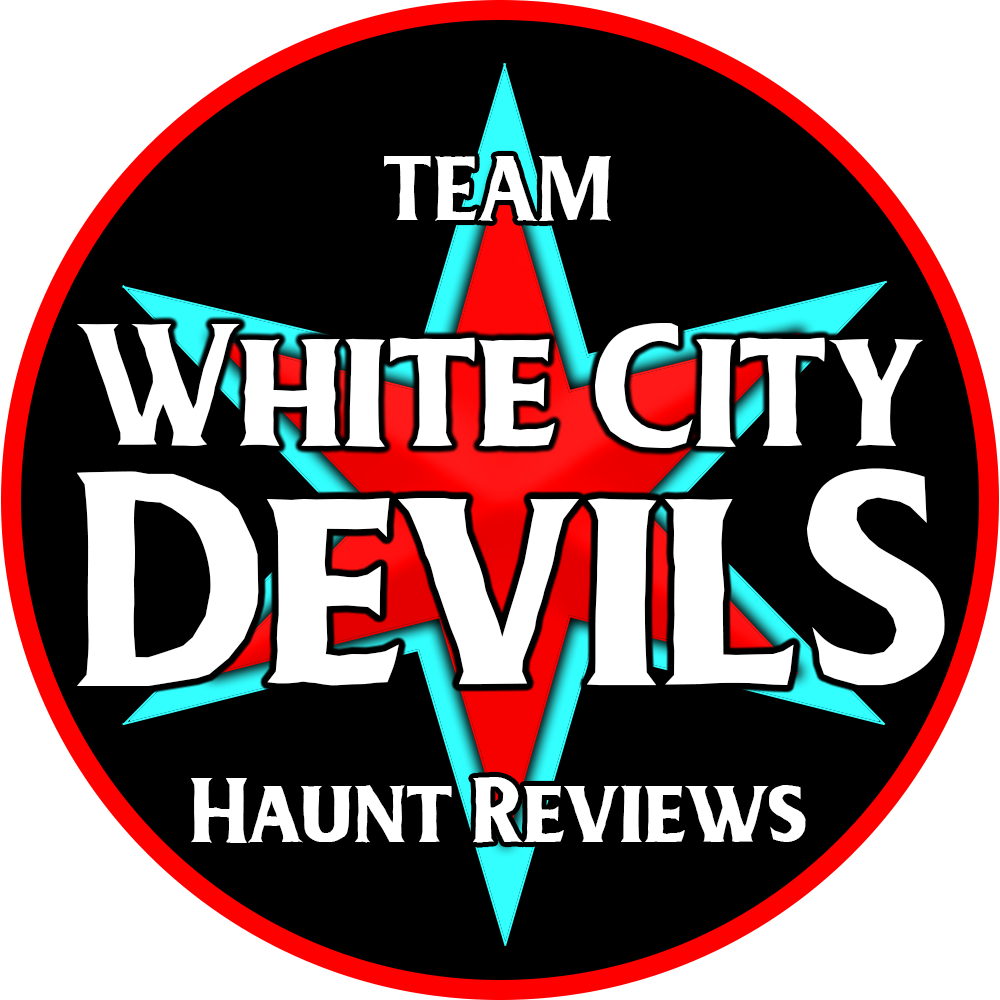 This attraction was reviewed on October 15, 2022 by Team White City Devils.
---
About Our Reviews and Rating System
---
Final Score: 9.42
Final Scores – By Category

Final Scores – By Attraction

Summary:
The darkness inside Hellsgate Haunted House has taken in a few familiar faces that have escaped from Statesville Haunted Prison. However, the rumored abandoned mansion in the middle of the woods was not abandoned.
ZAP is very well known for putting out great video content for the world to see its storytelling come to life in the palm of your hand using social media platforms. With the significant number of actors, highly detailed rooms, and immense dedication, it's no wonder that HellsGate Haunted House has become world-renowned.
---
Cast Score: 9.34
Cast Scores – By Question

Cast Scores – By Attraction

Cast Review:
If you have attended this haunt before, you will know that there is excellent staff and actors in every section. The closing of their sister haunt, Statesville Haunted Prison, gave them a unique advantage to keep their existing characters and introduce the prison characters now consumed by the darkness. Depending on the roles, they provide a feeling of urgency to rush you out to safety or a creepily slow and intriguing vibe that pulls you into their story.
The trail in the woods is inhabited by a great variety of characters with either the drive to attack, to give guidance, or are just lost in the sudden limbo created by the darkness. The zombies do a great job of quietly creeping up from off of the trail and behind small spaces to pop up. Something that threw us off was when we were inside the mausoleum, and someone crawled in from outside the building. The emptiness of the woods does give them the freedom to maneuver undetected.
Many different characters will be encountered as you approach the mansion. Most of them wandering around are the staff that once served this beautiful home. Their demeanor is very welcoming, with a hint of chaos because of the darkness. In a way, they want to keep you safe and alert of everything happening. Their actions are compelling as they look to be dusting and offering the "guests" drinks before going inside. We also see Mother, who looks to be lost in the grasp of the darkness, but with a maternal presence, she welcomes you into her home.
Once inside, the staff played their respective roles with a bit of a twist. The chef was in the kitchen cooking up something that didn't look quite appetizing. Banging on pots and using utensils to create loud noises made it clear that we were not allowed to stay in the area for too long, so we made our way out of the kitchen as quickly as possible. The staff rushed us out of the unsafe areas through the hallway in between rooms to hide from the roaming beings that would be the twins.
Apart from the quietly creeping actors, there are also highly active actors. In the basement are forgotten, lingering specimens that were once humans left to wander. The ear-piercing nonstop screams of those suffering from the side effects of botched experiments perfectly match the scene creating a sense of chaos.
Overall, it is evident that no one skipped a training day and kept to their characters and respective story. The acting alone is very impressive and convincing.
---
Costuming Score: 9.43
Costuming Scores – By Question

Costuming Scores – By Attraction

Costuming Review:
Depending on their respective role, the costumes were of high quality because everything looked custom-made and detailed to fit their areas. The zombies blended in well in the dark areas while the uniformed staff were clear to point out while walking around the mansion. One notable character that blended a little too well was a black, leafy character in the garden section that was camouflaged with the plants.
The makeup was of great detail and blended with the costumes. The staff wear white shirts or aprons and have the darkness visibly starting on their faces and running down their arms and clothing. Airbrush makeup applications added minor details of contouring the arms and face structures. Different contacts also helped with the visuals of the darkness spreading, like a blacked-out eye mixed with a colored eye.
The masks used for the characters were also unique to their roles. The possum in the graveyard had a mask that was textured with fur to resemble the furriness of a real one (making me want to pet it). Speaking of cute animals, a bird on the porch guided us to the door; the layers of feathers and beak, topped with the cooing and seductive dancing, gave us a calming feeling. A mask that seemed like it would be a bit odd by itself makes perfect sense in their role was the mask worn by the chef. The chef has a mask that looks to be cut up pork skin and sewed together to look like a pig.
Overall, the makeup and costumes go hand in hand to create an immersive experience and keep the story going from beginning to end.
---
Customer Service Score: 9.65
Customer Service Scores – By Question

Customer Service Scores – By Attraction

Customer Service Review:
The website is a tremendous amount of help if you are a first-timer. There are also a few interactive video slides with a backstory behind Hellsgate. There is a visible disclaimer for parking which is very important since you have to take a designated shuttle bus. It is also highly encouraged to follow all forms of social media to keep up with important real-time news. On the night we visited, pre-sale tickets were already high enough to start announcing an early sell-out.
There are clear signs on the main road for the parking lot, along with security blocking the road that leads to the mansion. Getting off the bus leads you directly to the ticket booth with all prices and options listed; ticket upgrades are available on-site. Queue lines are marked to separate the different ticket holders.
With the authenticity of the woods, there is a slight chance of uneven walking paths. There are also smooth and intentionally unstable floorboards inside the haunt and a well-lit staircase with a slide for fast access to the basement. While there are no visible ADA-compliant signs, we witnessed a family walk-through with a bit of assistance for a member in a wheelchair.
Hospitality and safety are a top priority here, given the nature of the area. All information is easily accessible through social media. Rain can't even seem to stop the show, thanks to their covered waiting area!
---
Immersion Score: 9.42
Immersion Scores – By Question

Immersion Scores – By Attraction

Immersion Review:
When it comes to immersion, the ZAP crew takes the cake. It all starts as soon as you board the bus. The dark trail into nowhere is unsettling because the rocking of the bus is a clear indication that this is not a paved road but a dirt trail.
The queue to go through the woods is under a big tent with designated lines to separate different ticket holders. There are roaming actors all over, and they are eager to see you. Right away, we saw Slider Jesus doing what he does best, sliding and sparking on the slightly rocky ground! While walking around, we were approached by many actors dressed in servant clothing covered with a bit of darkness. I could not possibly keep going without mentioning the incredible Sharky and her new outfit, clearly consumed by the darkness while keeping her style and staying classy with a lolita-style black dress and a pretty neck ruff. Fluffy also came around, looking at you with his completely blacked-out eyes. If you pay close attention, you might see his collection of victims on the fence, a simple homage to his former home.
The darkness runs the show while walking down the trail. The staff warns that the twins are deceivers and the darkness has taken over their bodies. Throughout the haunt, everyone has either become infected with the darkness or has come to life in the form of it. The twins are also seen throughout the haunt as if they follow you everywhere you go.
After leaving the haunt, the path to the gift shop is decorated with a few animal-shaped topiary shrubs. The gift shop is also filled with various items like shirts, sweaters, Mother keychains, dolls, and more accessories. There is also a little section with oddities for a reasonable price to start a collection. If you missed out on last year's Statesville shirts, they are still available. Along with past year's shirt designs, Sinister Visions has come up with two new designs that are a must to buy.
The fun doesn't end yet! There is a midway filled with many activities to check out before leaving. There are a few food options if you feel a little lightheaded from all that screaming. Need a pick-me-up? There's also a bar with a few beer and cocktail options to keep the party going. Want a little memory to keep? There are a few photo-op stations with different scenes and props. The photos can even be sent straight to your phone, so you can post them to your social media before boarding your bus; pics or it didn't happen!
---
Special FX Score: 9.59
Special FX Scores – By Question

Special FX Scores – By Attraction

Special FX Review:
If there is one thing ZAP is known for, it's their storytelling and theater-quality performances. The trail in the woods has eerie background music to give you a sense of suspense. It's similar to a movie with ambient music in the background; without it, it wouldn't be as intriguing. During the intro inside the mansion, lighting and thunder sounds coordinate to mimic a storm.
The path through the haunt goes from room to room. While in a designated room, the path leads around the main focal point and sometimes under some props. This gives you enough time to take in all the scenes from different angles while getting multiple scares from the same actor.
Something new this year was the path where you go behind the walls. This path is set up to look plain with a few surprises. It feels like there are multiple sets of twins; some move, and some don't. You won't know which one will move until it's too late. There is also a new room that looks to be the source of the darkness. This area is covered in what I can describe as black vines with a moist (sorry, guys) texture which looks like it's moving and breathing. This area feels so wrong, but it looks awesome!
While it is actor-driven, a good haunt can't go without some incredible animatronics. The most noticeable ones will always be the dragons and their gigantic size; no other haunt has this unique scene. The basement also has a laboratory with all sorts of electrical sounds, like buzzing and zapping sounds from wires hanging down. It sounds like you are about to get shocked at one point.
---
Scare Factor Score: 9.14
Scare Factor Scores – By Question

Scare Factor Scores – By Attraction

Scare Factor Review:
As mentioned above, the crew does an excellent job of immersing the audience with its storytelling and setting the mood with a theatrical performance. This helps create pop scares while still relating to the story. Everything is placed with purpose, and they are successful in constant scares.
The path leading in and out of different parts of the room gives the actors the advantage to scare the group and reset while the group makes its way around. This also allows other actors to distract the other way.
In the garden, a gigantic spider is moving its legs all around. While a minor distraction, it was enough not to see someone creep up from the opposite side to provide a pop scare. Arachnophobia happens to be one of my fears which is an unfortunate coincidence.
What makes Hellsgate unique is the ability to provide scares at any angle. So whether you have someone from the side approach you, someone in the closet climbed on top of the clothes rack, or crawling up towards you, there's no doubt that the sky is the limit to getting a good scream out of you.
---
Entertainment & Value Score: 9.55
E&V Scores – By Question

E&V Scores – By Attraction

E&V Review:
The total walk-through time from the start of the woods trail to the end of the mansion was 35 minutes. The price for a general admission ticket is $35, which makes the minute per dollar an even 1.0. This is a fair amount and well worth every dollar for the amount of entertainment inside the haunt, considering there were two different sections to go through. Other ticket options are VIP for $50 and $65 for instant entry, and $150 for all access which includes a backstage tour, a T-shirt, and a picture with your favorite character. It would be worth noting these are online pre-purchase prices and will increase on-site.
While waiting in the queue line, there are many opportunities to interact with the actors. My favorite is to take pictures and videos to share on social media. Fluffy might even take your phone and take videos or selfies if you are lucky enough. There are also alcoholic drinks you can buy while waiting in the queue line.
In the past few years, there has been a scavenger hunt in the basement to find the key and get your ticket for free. This year, it's a bit different. A few hints have been dropped on Instagram about having a designated key master every weekend. When you approach the key master, they ask you a question about HellsGate trivia. If you get it right, the key is yours! On the night we visited, we witnessed a little girl proudly holding up her key.
Considering all that there is to offer here, this is well worth the money to attend this haunted house that people have been traveling to from around the world.
---
View Full Score Sheet
---
Pics We Took From Our Visit:
---
Promo Images:
Click to Enlarge
---
Guest ReviewsGuest Average: 7.5 out of 10
Greg – 10/10 – October 15, 2022Best haunted house I've ever been to! Sets were excellent. Actors were spectacular. Should be rated …show more so much higher than it actually is. It's a MUST SEE haunt. So glad we made it this year. Can't wait to go again. Worth the 6 1/2 hour drive one way!
Charlie – 5/10 – October 21, 2023This was my 3rd time returning to Hellsgate and I was very disappointed! Many of the scare actors …show more were replaced with animatronics and only the first people in our group got to experience the jump scares. People were piling up and they were rushing us through the house (not worth $40)! There were also many places throughout the house where scenes were missing an actor or had a static "doll" in place. I ended up bringing a group of 7 newcomers with me, and all of them thought it wasn't worth the money.
---
Past Awards
---
2022 Awards
Highest Rated Haunt in IL (Given by: The Scare Factor)
---
2017 Awards
Best Introduction of the Theme (Given by: Team Zombillies)
Best Zombies (Given by: Team Zombillies)
---
2016 Awards
Memorable Moment - The Hidden Key (Given by: Team Zombillies)
Scariest Duo - Twins (Given by: Team Zombillies)
Best Introduction of the Theme (Given by: Team Zombillies)
Most Decorated Exterior (Given by: Team Zombillies)
Actor Shout Out Award - Bad Kitty (Given by: Team Zombillies)
---
---
Past Awards
---
2022 Awards
Highest Rated Haunt in IL (Given by: The Scare Factor)
---
2017 Awards
Best Introduction of the Theme (Given by: Team Zombillies)
Best Zombies (Given by: Team Zombillies)
---
2016 Awards
Memorable Moment - The Hidden Key (Given by: Team Zombillies)
Scariest Duo - Twins (Given by: Team Zombillies)
Best Introduction of the Theme (Given by: Team Zombillies)
Most Decorated Exterior (Given by: Team Zombillies)
Actor Shout Out Award - Bad Kitty (Given by: Team Zombillies)
---
Join ourspookyadventures!
We visit Halloween haunted attractions year-round! Follow us for haunted house walkthrough videos, behind the scenes footage, and more!