HellsGate Haunted House – Full Review
HellsGate Haunted House is a Haunted Attraction located in Lockport, IL.
3101 Canal Street, Lockport, IL 60441View All Details

Features:

Free Parking, Restrooms/Porta Potties On-Site, Food/Concessions, Gift Shop/Souvenirs, Optional Games/Midway, Special Events, "Hi-Tech" Attraction, Original Characters, Covered Outdoor Waiting Line, Indoor/Outdoor Attraction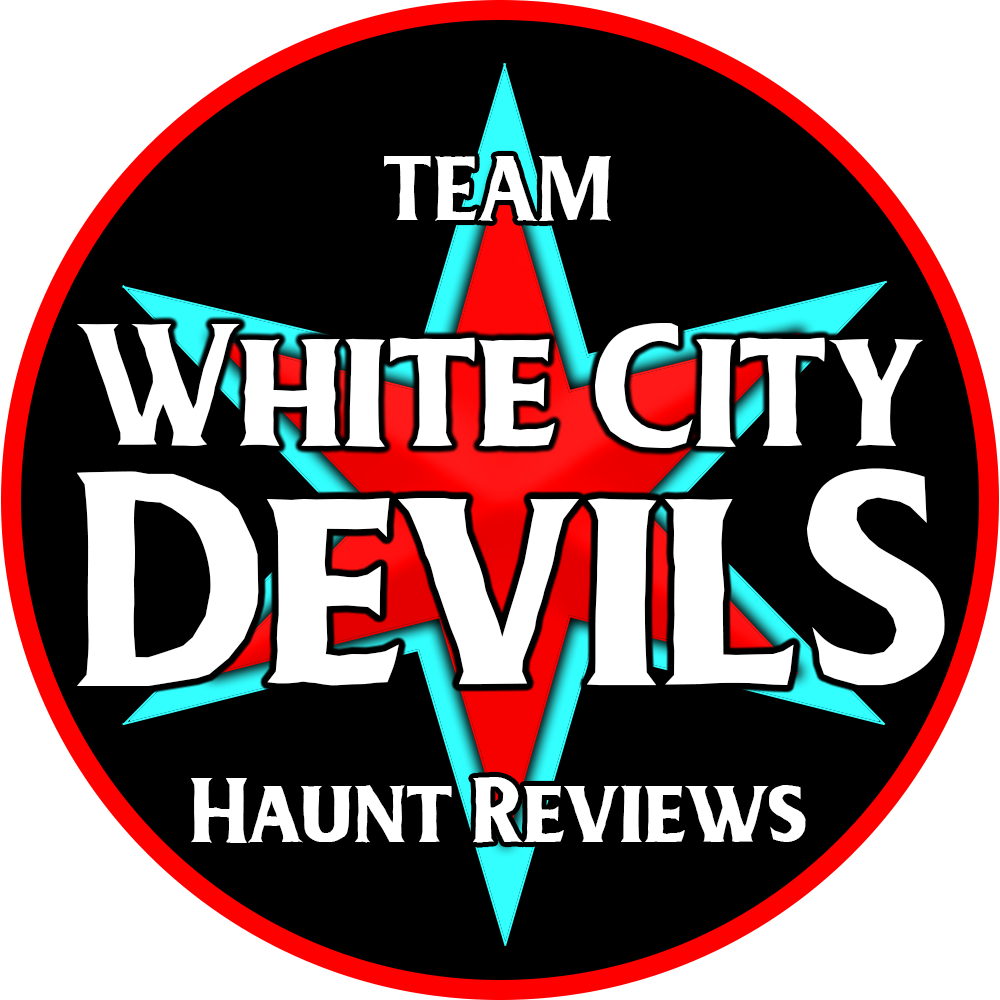 This attraction was reviewed on October 7, 2023 by Team White City Devils.
---
About Our Reviews and Rating System
---
Final Score: 9.45
Final Scores – By Category

Final Scores – By Attraction

Summary:
HellsGate Haunted House is an abandoned mansion in the middle of the woods in Lockport, Illinois. We have had the pleasure of seeing this place grow since the first year, and every year is a treat. Zombie Army Productions (ZAP) does an excellent job providing great acting, highly detailed makeup, and immersive sets that are out of this world.
This year, we were teased with a few videos and pictures on social media about a few new additions, and they did not disappoint. We recommend putting Hellsgate Haunted House on your list this year!
---
Cast Score: 9.39
Cast Scores – By Question

Cast Scores – By Attraction

Cast Review:
It is no secret that ZAP does a fantastic job with its casting. Their dedication and training bring the house to life with their many interactions and all-around scares.
What can be said about the cast on the trail? They are constantly on their hands and knees, crawling and growling. Though it is entrancing, it is also very unsettling. They also used their surroundings to blend in to give a proper scare to the whole group. The interactions were a standard growl and moan, given their respective roles.
Inside, we encountered a variety of actors that make up the being of the mansion. Some of their roles are either staff or items that come to life. The staff members wear housekeeper costumes and display a neutral stance as they give guidance about the horrors to avoid inside the house. On the other hand, you have an oversized plant that is out to attack anyone who gets too close.
Actors are efficiently placed throughout to keep all rooms occupied. The one room that was overwhelming for actors was in the basement after passing the mad scientist. Cackling uncontrollably, it was clear that these were former experiments that were left for dead.
Overall, the cast does an amazing job bringing their characters to life and making them believable while patronizing the customers.
---
Costuming Score: 9.46
Costuming Scores – By Question

Costuming Scores – By Attraction

Costuming Review:
The costume and makeup department works hard to keep its reputation as one of the best in town, and it shows! Everything is of top quality and highly detailed, giving the actors a more convincing and complete look.
The unique use of makeup and costumes gives the trail actors a distinctive look versus the ones in the mansion. The clothing is distressed, which matches the dark makeup covering their faces and exposed arms, which are visible as they reach out towards you.
Depending on their respective roles, the actors wear convincing costumes to match their settings. The staff inside wore appropriate uniforms as they either cleaned or maneuvered the guests inside and out of the hallway. If you look close enough, you can see that bit of darkness on their faces.
A few characters I have seen that are not getting enough attention are the creatures inside the walls. Their costumes cover them completely, and the material looks like a burlap sack and has distinct pointy ears. I like to think they are dust bunnies that have collected and touched a bit of the darkness.
Overall, the costumes are well put and unique according to their roles, and the makeup is movie quality that looks realistic. This helps keep the immersion of the storyline.
---
Customer Service Score: 9.65
Customer Service Scores – By Question

Customer Service Scores – By Attraction

Customer Service Review:
It is HIGHLY recommended to check out the website and social media if you are attending for the first time since there have been sell-out days before and special parking instructions. Also, the key is now in the hands of a chosen key master that will be posted on Instagram daily, answer the question correctly, and your ticket is free.
There are straightforward signs on the main road for the designated parking lot since the road up to the mansion is blocked off to customers to reduce unneeded traffic. There are school buses on rotation leading up to the mansion and dropping off back to the parking lot. Getting off the bus leads you directly to the ticket booth with all prices and options listed; ticket upgrades are available on-site. Queue lines are marked to separate the different ticket holders.
Out in the woods, there are naturally uneven dirt paths. There are also smooth and intentionally unstable floorboards inside the haunt and a well-lit marked staircase that leads up to a slide for fast access to the basement.
Safety is of top priority here. We got to witness a code red call in and saw the staff react in seconds to control the situation while keeping their cool and not creating panic among the other customers.
---
Immersion Score: 9.38
Immersion Scores – By Question

Immersion Scores – By Attraction

Immersion Review:
The beer garden is a great option to visit before getting in line with a few options of alcoholic drinks and cocktails, along with hydrating non-alcoholic beverages. While enjoying some drinks, there are different photo ops to check out before proceeding to the ticket line.
Under the big tent, actors will be roaming around and congregating with the visitors. If you are familiar with Fluffy, it is tradition to bring teddy bears for him to destroy. We brought him six this time, and he destroyed them like a bull seeing a red flag. Sharky and Buna joined us for some selfies and even took over my phone for some more close-up shots.
The trail itself is authentic and creepy without the additional actors and props. Walking through the trail, multiple small buildings gave us the creeps because of how big and realistic they looked. In the new cabin, there is a lit fireplace that feels appropriate on these chilly nights.
Walking up to the mansion, you cannot help but stop and appreciate the beauty of this building. After the introduction, you will feel fully immersed in the storyline. Walking through the haunt, the mansion does not break any belief that you are, in fact, in a home that has been consumed by the darkness.
Right as you exit, there is a gift shop that provides a variety of Hellsgate Haunted House designs on shirts and hoodies. There are also various other items like dolls, keychains, attachable bone tails, and a few oddities options. There are also food truck options, gelato, carnival games, and tons of photo ops. We recommend sticking around and enjoying the added entertainment.
---
Special FX Score: 9.6
Special FX Scores – By Question

Special FX Scores – By Attraction

Special FX Review:
Once inside, the stage is set with lights, sounds, and fully immersive sets. This efficiently keeps the storyline active and flowing.
A new addition we had seen on social media was the 1927 Dodge Brothers sedan. This car was left abandoned during the time the darkness took over. Upon trying to take a closer look, something set off the horn and sent us jumping! The cabin is also a new addition to the trail. The cabin is nicely decorated with taxidermy and some natural spiderwebs. Someone or something was occupying the cabin before we showed up since the fireplace was on and dirty dishes were left in the sink. This is a perfect scene out of a slasher horror movie.
The introduction will always be our favorite part of the haunt. Lightning hits perfectly with the sound of thunder, the music is loud enough to create great suspense, and one of the twins is flying from one side of the room and back. Boy, does this get your heart pumping!
Most of the mansion is filled with artifacts and basic furniture, except it is not so normal. While the spiderwebs are visible on everything some furniture is broken or misplaced. The attic is the worst damage to be seen as there are cats ripping bed sheets and chairs.
The most impressive scene is the dragon room. There is not just one but three dragons of behemoth size guarding the cave. They take up so much space and their growls are thunderous. Following the dragons, the darkness room is next. This whole room is covered in slimy, moist, and squelching black goo that seems to have a victim caught in the middle. There is a gurgling sound that can be heard throughout the room, and it is very unsettling.
How can I forget to mention that huge raccoon on the porch? My bad, I mean possum! Haha.
---
Scare Factor Score: 9.25
Scare Factor Scores – By Question

Scare Factor Scores – By Attraction

Scare Factor Review:
The crew does an excellent job of immersing the audience with their storytelling, which sets the mood for a theatrical performance and helps with keeping the audience captivated while providing efficient scares.
Paths leading in and out of distinct parts of the room allow actors to scare the group efficiently multiple times. It does not just stop there; scares are provided at all angles, leaving no one safe. A scene where this was effectively done is in the study where two bookcases are against each other, and an actor sticks their hand out as you are passing by.
Some of the actors crawl on the floor and crawl slowly to keep pace. One actor in the trail walked and crawled in front of a streetlight. This stopped us in our tracks as we saw them swaying back and forth. This felt like something out of a movie and did not give a great vibe.
Spoiler: The finale was a bit unique. We walked outside to see a gardener touching up the bush sculptures. As we walked by cautiously, the gardener happened to notice us and stared at us for a second. As soon as I heard the chainsaw rev, I immediately tried to pass by, but they blocked me, so I was not allowed to pass. I quickly took a step to the left to create a deception and then went right. Unfortunately, I was unsuccessful and danced with the gardener for a while. This would have been more if they just dropped the chainsaw, but I do not think that was an option.
---
Entertainment & Value Score: 9.53
E&V Scores – By Question

E&V Scores – By Attraction

E&V Review:
The total walk-through time from the start of the woods trail to the end of the mansion was 40 minutes. The price for a general admission ticket is $37, which makes the minute per dollar 1.08. This is a higher amount and well worth every dollar for entertainment inside and outside the haunt, considering there were two different sections to go through. Other ticket options are VIP for $55, $70 for instant entry, and $150 for all access, which includes a backstage tour, a T-shirt, and a picture with your favorite character. It would be worth noting these are online pre-purchase prices and will increase on-site.
While waiting in the queue, there are many opportunities to interact with the actors. My favorite is to take pictures and videos to share on social media. Fluffy might even take your phone and take videos or selfies if you are lucky enough. There are also alcoholic drinks you can buy while waiting in the queue. HellsGate does a great job with the Midway after the haunt. With so many different games, food trucks, and photo ops, it's an all-evening type of event that embodies the Halloween season.
---
View Full Score Sheet
---
Promo Images:
Click to Enlarge
---
Guest ReviewsGuest Average: 7.5 out of 10
Greg – 10/10 – October 15, 2022Best haunted house I've ever been to! Sets were excellent. Actors were spectacular. Should be rated …show more so much higher than it actually is. It's a MUST SEE haunt. So glad we made it this year. Can't wait to go again. Worth the 6 1/2 hour drive one way!
Charlie – 5/10 – October 21, 2023This was my 3rd time returning to Hellsgate and I was very disappointed! Many of the scare actors …show more were replaced with animatronics and only the first people in our group got to experience the jump scares. People were piling up and they were rushing us through the house (not worth $40)! There were also many places throughout the house where scenes were missing an actor or had a static "doll" in place. I ended up bringing a group of 7 newcomers with me, and all of them thought it wasn't worth the money.
---
Past Awards
---
2022 Awards
Highest Rated Haunt in IL (Given by: The Scare Factor)
---
2017 Awards
Best Introduction of the Theme (Given by: Team Zombillies)
Best Zombies (Given by: Team Zombillies)
---
2016 Awards
Memorable Moment - The Hidden Key (Given by: Team Zombillies)
Scariest Duo - Twins (Given by: Team Zombillies)
Best Introduction of the Theme (Given by: Team Zombillies)
Most Decorated Exterior (Given by: Team Zombillies)
Actor Shout Out Award - Bad Kitty (Given by: Team Zombillies)
---
---
Past Awards
---
2022 Awards
Highest Rated Haunt in IL (Given by: The Scare Factor)
---
2017 Awards
Best Introduction of the Theme (Given by: Team Zombillies)
Best Zombies (Given by: Team Zombillies)
---
2016 Awards
Memorable Moment - The Hidden Key (Given by: Team Zombillies)
Scariest Duo - Twins (Given by: Team Zombillies)
Best Introduction of the Theme (Given by: Team Zombillies)
Most Decorated Exterior (Given by: Team Zombillies)
Actor Shout Out Award - Bad Kitty (Given by: Team Zombillies)
---
Join ourspookyadventures!
We visit Halloween haunted attractions year-round! Follow us for haunted house walkthrough videos, behind the scenes footage, and more!