Hill of Terror – Full Review
Hill of Terror is a Haunted Attraction located in Bonnieville, KY.
3666 Priceville Road, Bonnieville, KY 42713View All Details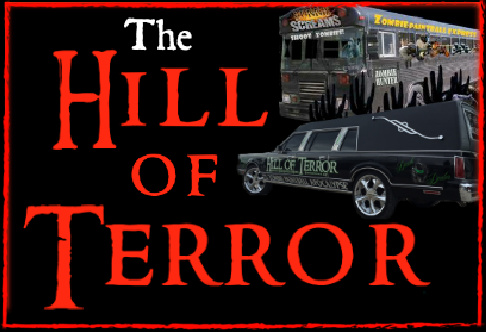 Features:

Free Parking, Restrooms/Porta Potties On-Site, Food/Concessions, Gift Shop/Souvenirs, Optional Games/Midway, You will NOT be touched, Uncovered Outdoor Waiting Line, Indoor/Outdoor Attraction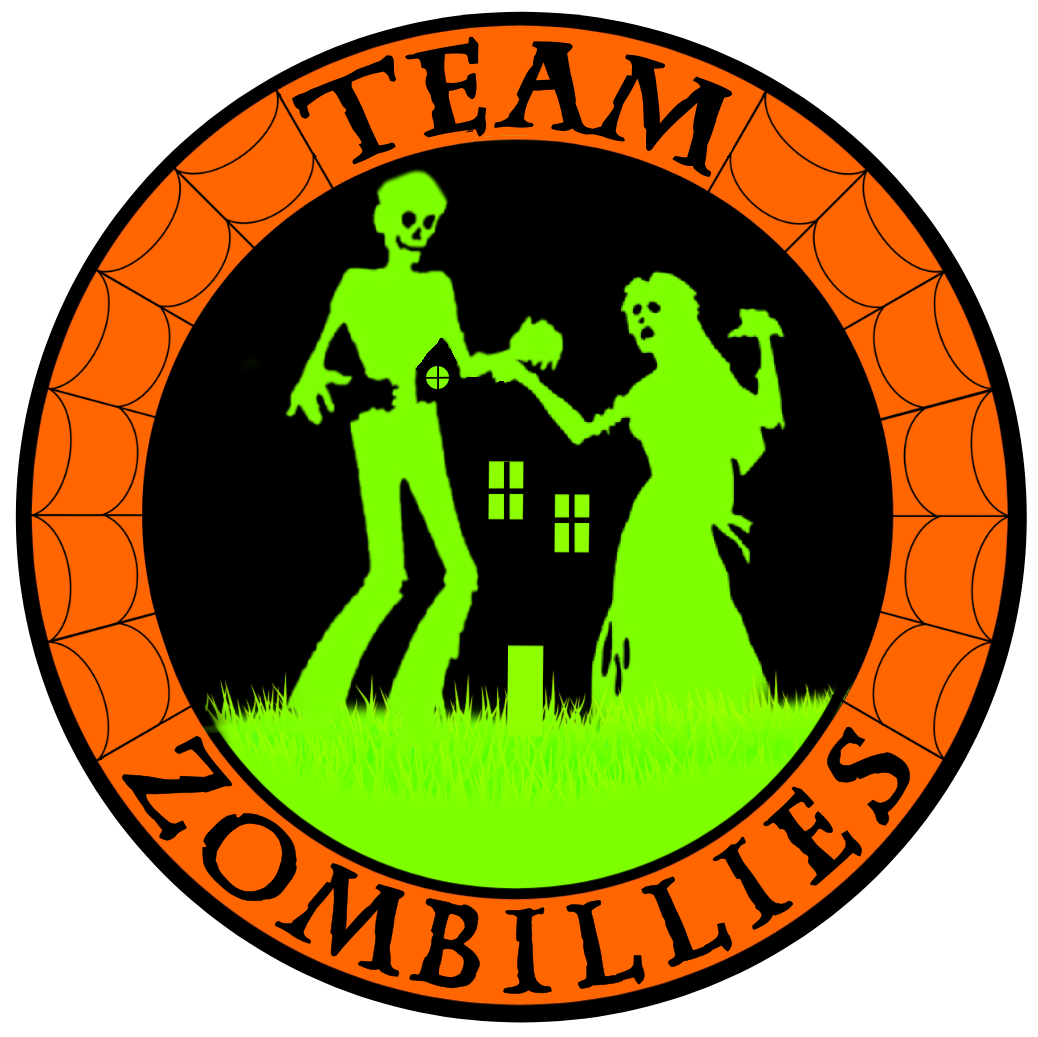 This attraction was reviewed on September 21, 2018 by Team Zombillies.
How Do We Get These Scores?

Final Score:

7.25
How Did We Get This Score?

Summary:
Hill of Terror (HoT) is a large, outdoor haunted trail located on 100 acres of farmland and wooded terrain about an hour south of Louisville, Kentucky. This is consistently the longest outdoor trail that we visit every year. If you love haunted trails and aren't afraid to get down and dirty, then this is a great match for you! Visitors will find several areas where they must crawl, slide, navigate ramps, tight places and more. On top of that, startle scares come in abundance here!
Also, the CDC is at Hill of Terror and they are blocking roads in an attempt to contain the zombie epidemic! 'Momus' will help you by supplying plenty of ammo for those brave enough to take on the hordes in Zombie Paintball Apocalypse!
---
Cast: 6.24
How Did We Get This Score?

Quite a variety of monsters have taken residence on the Hill. The general vibe that we got from the cast this year was very 'casual.' Some of them seemed very eager to play their roles and scare us, such as the little girl who stalked us through the corn, the crazy bus driver, and Pennywise (who had a helluva laugh, by the way)! On the other hand, a good portion of the rest of the actors were more-so in the mood to talk after their initial scares (maybe it was the warm weather?). A few had good character-related things to say, but we also had some regular 'get outs' and 'go's' along the way. A handful did break character, but this was mostly to make sure we were headed in the right direction and safely getting through some of the slick spots on the path. Our biggest concern was that one of them asked if he even needed to scare us with his chainsaw (or wait for the next group).
---
Costuming: 5.81
How Did We Get This Score?

The costuming at HoT ranged in quality from very basic and incomplete to completely finished and impressive. We came across a lot more masks than makeup on the trail this year. Some of them, especially in the queue areas, were full-blown, silicone models that even moved when the characters talked! The vast majority on the trail were latex versions that, even though they may have dampened the characters' voices, still pulled off the desired effect. The few that stuck to using makeup were mostly traditional with darkened eyes, dabbles of blood, etc.
Outside of the rank-and-file minions, there were some stand-out looks that were some of our favorites, including Pennywise, the stilt walker, the graveyard creature and a select few of the clowns around the paintball area and the one wearing a patchy jacket.
---
Customer Service: 8.52
How Did We Get This Score?

Our GPS brought us right to the entrance of HoT, but be sure to slow down when you are close. The entrance is right around a curve in the highway and the haunt's custom-wrapped van is kindof behind a tree (it's hard to see it until you've already passed one of the entrances. A large, grassy, and dimly-lit parking area is plenty big enough to hold hundreds of vehicles, but beware of parking at the bottom of the hill if there's been a recent rain and you don't have 4-wheel drive. From there, all we needed to do was follow the lights and music to their ticket barn.
Friendly staff members immediately greeted us and, once we got our tickets, directed us up the trail to get in line for the paintball ride. The ticket barn offers some photo ops, concessions, other goodies and FREE popcorn! Another rare treat is the regional Ski soda that's available' a carbonated lemon-orange delight that you MUST indulge in if you're not from the area.
At the top of the hill (close to the entrance of the trail), there was another concession stand for customer convenience, complete with shaved ice (the weather was warm when we visited), snacks and cold drinks. They mentioned something about 'hairy pickles' and 'beef stew on a stick,' but we did not partake.
The portable restrooms and certain parts of the trail were lit up better this year. Do keep in mind that this is a large, outdoor attraction that is susceptible to the elements. You will want to dress accordingly for the weather. It was a little muddy during our visit, but the staff did a great job of putting down straw in places to keep things from getting too slick. This haunt also goes in and out of buildings, has slanted floors, tree roots, stairs, slides, ramps, dark walkways, head-knockers and uneven ground. Be sure to watch your step, especially if you are known to run away from what is trying to kill you! The staff did their best to watch our safety, but we did come across some pretty foggy stairs when exiting a bus on the trail.
---
Atmosphere: 8.03
How Did We Get This Score?

HoT provided a very fun and upbeat atmosphere. It's almost like a club, but out in the middle of the woods! Now don't let that fool you. Just because these folks like to have fun and keep it entertaining for their crowd doesn't mean that they don't throw some Halloween in there too…
The ticket barn is decorated with some vintage artifacts including an electric chair and some very interesting photographs. There was also a TV playing a CDC warning, explaining that roads were being shut down due to the zombies overtaking the area! This really kicked in our inner, 'let's shoot some zombies!' The portable restrooms had flickering lights over them and the music had horror-related tunes mixed in. We faced several, very well-dressed clowns and other monsters that gave us a taste of what was to come in the deep, dark woods.
---
Special Effects:

6.95
How Did We Get This Score?

HoT has lots and lots of effects, including things that you wouldn't typically expect to see out in the middle of nowhere on a haunted trail. A lot of these effects are hidden well within their surroundings, making them more… 'effective.' As mentioned above, many of the scenes are what we call 'physically interactive,' meaning you will face obstacles that keep you from simply walking through normally. At one point, there was a hallway completely full of doors that you must find your way out of, a very tight tunnel that is sure to petrify anyone with claustrophobia, another tunnel that you must feel your way through while crawling and other similar areas.
Air cannons and pyrotechnical effects are a-plenty at HoT! If machine guns, electrical poppers, vibrating floors, animated pictures, and swaying bridges aren't enough to keep you on edge, the blasts of air (some with water) will, for sure. One of the most unique effects is what was called 'the rabbit hole' last year' a lengthy section of dark woods with the only light coming from multi-colored laser speckles.
Amidst these high-end special effects, to be fair, there are also several areas that are pretty 'dead,' relatively speaking. Many of the scenes and sections of trail are pin-drop silent. In some cases, this provided some nice, creepy ambiance for some suspense build-up. Usually, though, it tended to come off as 'unused space' to our review group. However, there were also some very loud and realistic sounds paired with some of the effects.
---
Theme:

N/A
How Did We Get This Score?

HoT doesn't follow any particular theme, so you can expect to see a huge variety of scenes and monsters. They are set on scaring folks and, if that doesn't work, they aim to entertain. We experienced some common 'haunted house' areas, but we also stumbled upon some things we've never really seen before including run down trailers, stuffed-animal hoarding, a 'panic attack' room and an interesting dance party.
---
Scare Factor:

7.77
How Did We Get This Score?

This is a pretty long trail which means there are plenty of opportunities for scares. Did they jump on those opportunities? On a lot of occasions, they did! Sometimes we even got a 'double tap' (two scares, one right after the other). There were some areas where no scares came at us for longer periods of time, but when something did finally happen, it was hard to predict. Some very good distractions were used; both of our team members fell victim to this technique on multiple occasions.
HoT is set up a little bit differently than most other trails we come across. Instead of having scares mostly near or inside the buildings that you walk through, they've always been good at giving scares in between the actual scenes. You literally never know when a huge fireball is going to go off next to you, or when a ghillie suit is going to pop out of the bushes! Yea… those piles of leaves, trees and shrubs aren't always as innocent as they appear. Neither are the shadows! If you think you heard a twig snap, you probably did, and it's probably a creature of some sort that's waiting to feast on you. They also used a lot of horns throughout the trail and, although they were on the edge of being 'repetitive,' some of them were timed well and we never really knew when they were coming. We came across a lot of doors that we had to open and, sometimes, just walking through them put us in the middle of a trap!
Bottom line, the trail does focus on many phobias. For those of you who are afraid of the dark, entrapment, enclosed spaces, and chainsaws, you are really in for a treat!
---
Entertainment & Value:

8.06
How Did We Get This Score?

HoT's general admission price is $25.00 per person this year. It took us a total of 38 minutes to navigate the trail and go through the trailer at the bottom of the hill. That brings their MPD value (minutes of entertainment per dollar spent) to 1.52 which is a little higher than average for most haunts in the area (which is a very good thing!).
For those who want to try their aim at saving the world, separate $10.00 tickets are available for Zombie Paintball Apocalypse. If you are down for the challenge, you will board a trailer rigged especially for taking down zombies! This isn't your ordinary zombie paintball ride… There will be many targets for you to shoot, including exploding ones (aim for the targets), and the zombies will come right up to the wagon if given the chance! As we've said in the past, this is one of the best paintball attractions we've come across yet! We highly recommend spending the extra money to do this and the paintball ride takes you to the top of the hill where the queue line is just the same as the bus.
HoT likes to keep everyone as entertained as possible. Just about everywhere we waited, they had something going on, such as music, queue entertainers, and one of the concession stand staff had a loud mic he could use to interact with guests. The horned creature on stilts did a great job of keeping the line entertained at the top of the hill while everyone waited for the bus and DJ R.I.P. included fog and bubbles in his mix. For those who don't want to participate in shooting down live zombies, HoT's party bus will give you a ride to the top of the hill. If you are brave enough to experience what it's like to be buried alive, they have a coffin ride simulator for an extra $5.00 and it's in the queue area so your friends can watch your reactions while they wait!
We recommend going all in and participating in as much as you can at HoT as it's all very fun!
---
How Did We Get These Scores

Promo Images:
Click to Enlarge
---
Guest ReviewsGuest Average: 6.56 out of 10
Sara c – 10/10 – October 11, 2019It was great !! Never have a moment to get bored !! Lots of work has went into this attraction!! It …show more was entertaining for sure !!
Brittani – 10/10 – October 5, 2019We come here every year never get tired of it! Always something new and exciting
Kaye Ball – 10/10 – September 13, 2019This has been my favorite. Above field of screams and Waverly hills……the staff is great! The …show more attractions are amazing. And never fells, there is always something new each year to scare me just enough to come back.
---
Past Awards
---
2019 Awards
Best Zombie Paintball (Given by: Team Zombillies)
Most Atrocious Scent (Given by: Team Zombillies)
---
2018 Awards
Most Realistic Scare - The Pond (Given by: Team Zombillies)
Best Pyro Scare (Given by: Team Zombillies)
Longest Outdoor Haunt (Given by: Team Zombillies)
Actor Shout Out - Stilt Man - Chase Williamson (Given by: Team Zombillies)
Actor Shout Out - Swamp Goblin - Todd Hodges (Given by: Team Zombillies)
---
2017 Awards
Grossest Scene - Fat Farting Guy (Given by: Team Zombillies)
Memorable Moment - Sparky the Dog (Given by: Team Zombillies)
Best Hearse (Given by: Team Zombillies)
Best Pyrotechnical Scare (Given by: Team Zombillies)
Best Haunted Trail (Given by: Team Zombillies)
---