Hill of Terror – Full Review
Hill of Terror is a Haunted Attraction located in Bonnieville, KY.
3666 Priceville Road, Bonnieville, KY 42713View All Details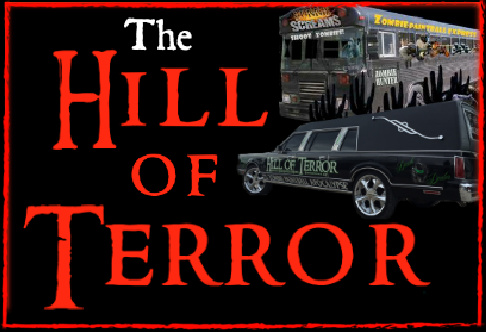 Features:

Free Parking, Restrooms/Porta Potties On-Site, Food/Concessions, Gift Shop/Souvenirs, Optional Games/Midway, You will NOT be touched, Uncovered Outdoor Waiting Line, Indoor/Outdoor Attraction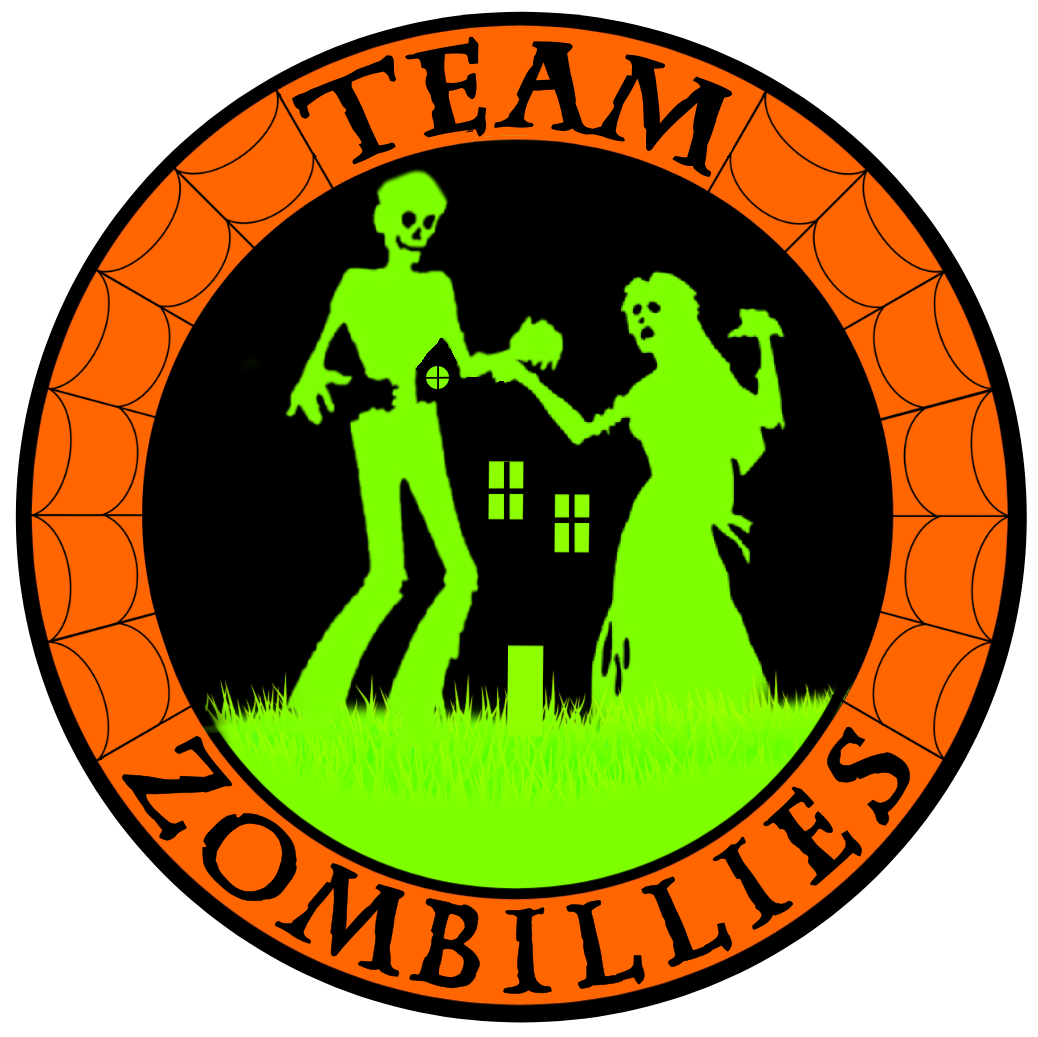 This attraction was reviewed on October 19, 2019 by Team Zombillies.
How Do We Get These Scores?

Final Score:

7.28
How Did We Get This Score?

Summary:
Hill of Terror, now in their 10th year for 2019, is an outdoor haunted attraction in central Kentucky. Residing on approximately 100 acres of wooded farmland, they are consistently one of the longest haunted trails that we visit each Halloween season. With a unique combination of dark woods and corn field paths mixed with a barn, full-sized cabins, and a variety of other structures, HoT has quite a selection of scares for you to get your fright fix!
Hill of Terror is also actually on top of a large hill, so they've created some fantastic ways of getting folks up and down the property! For starters, be sure to try the Zombie Paintball Apocalypse ride, which lets you slay the undead and get some target-triggered effects while listening to a DJ and upbeat music as you make the ascent to the top. On the way down, the show keeps going with quite an interesting 'performance' on Hill of Terror's very own party bus!
HoT is always a fun time for us and some new changes this year definitely kept things interesting. The group we went through with even made some comments that they enjoyed it more than some of the big-name haunts from nearby cities! Join us as we recap our 2019 walk-through of the one and only Hill of Terror!
---
Cast: 6.24
How Did We Get This Score?

Hill of Terror's cast is primarily comprised of local volunteers. While we did get a few more excitable interactions from those within the structures along the trail, most of the rest resorted to stalking us creepily after their initial startle attempts. The dialogue was pretty vanilla this year, with most using generic one-liners, ear-piercing screams or similar as we passed by.
We did see a couple of first-time acts this year, though, out of all the haunts we've ever been to! One of the actors was double-fisting a chainsaw in one hand and a sparky in the other! Needless to say, we didn't hang around that guy very long. The other was a victim strapped to an upright table in a torture room. She yelled at us for help the whole time we approached her (despite one of our group members replying with, 'Hold on baby, I'll be there in a minute!' lol ). When we finally got to her, she reached out and pleaded that one of us call her mother to let her know she needed help! Can't say we've ever heard that one before.
Jason was pretty intimidating, silently stalking some of our group members for quite a ways, and staying in character no matter how much they tried to strike up a conversation with him. The actors we couldn't see actually turned out to be some of the ones we had the most interaction with! We'd occasionally hear one shouting at us from deep within the woods, so we knew when something spooky was coming up.
Hill of Terror's incredible length, while providing a great value, is also one of their biggest hurdles. As far as actors go, there's simply so much ground to cover here that there are several times when groups will go several minutes without crossing paths with anyone outside of their group. While some scenes contained multiple characters, others had very few if any at all.
---
Costuming: 6.13
How Did We Get This Score?

Each of the characters we encountered were appropriately dressed for their respective areas. As 'clowns' are a common fill-in character at some haunts, we did see quite a few of those here and in a variety of scenes. We also crossed paths with several well-camouflaged ghillie-suited ghouls, as well as some more unique creatures' especially one named 'Cybil' at the finale!
A mix of masks and makeup are used throughout the trail, with a bit more emphasis on masks. Most are fairly common latex models and not all of them really matched the rest of their costumes. However, some did and even those that didn't made decent additions to those characters' looks. Similarly, some of the monsters appeared to be wearing mostly normal clothes, while others had coveralls or more complete and unique looks.
Perhaps the worst part of the whole trail was when we approached a group of actors and saw at least one putting on their mask, and then later saw them take it off as we were getting ready to leave the scene. Granted, they may not be the most comfortable things to wear all night, but this small aspect really took away from the believability of the whole area for us. Please try to keep your masks on when customers are around.
Some of the stand-outs of the night were Jason, Twisty, the tortured girl victim, the dog-faced character, the clown by the Panic Attack scene, and one of the clowns on the bus.
---
Customer Service: 8.64
How Did We Get This Score?

As we passed through the big, tall skyscrapers of Bonnieville, there were signs at the intersections pointing the way to Hill of Terror. In past years, we've seen large vehicles with reflective HoT wraps out by the road, which were great 'heads ups' for where to pull in. But this year, there was nothing by the road, so we had to rely more on our GPS to tell us when to slow down. The first pull-off almost appeared to be blocked off, and if we hadn't noticed all the parked cars, we may have missed the second one. However, once we pulled in, multiple parking attendants with lighted wands helped us find a spot without any troubles. They have a very large and dimly-lit field with plenty of free parking.
From there, navigating the attraction was fairly easy as we just followed the lights and sounds. Ray Charles could spot the huge barn by the parking lot, which is where tickets are sold, and a wide dirt path directs guests to the first queue area. This is where we boarded the Zombie Paintball Apocalypse trailer, got our safety glasses, and hitched a ride to the top of the hill. Once there, our chauffeur and his assistants directed us to the next queue line, which is where the haunt begins.
Everyone that we spoke with was very friendly, excited about us being there, and able to answer any questions that we had about ticketing and what all is included with each option. Everyone was having a blast and even the staff were singing and dancing to the music that blares throughout each of the queue areas!
Be sure to do some stretches, bring your walking shoes, and also some clothes that can get dirty! There's a lot of walking, some crawling, some stairs and ramps to negotiate, and even a few slides to slither down. This is mainly an outdoor trail that's partially wooded, so there are plenty of tree roots and rocks that are effective at snagging your sneakers for most of the way. Leave your flip flops, heels, and skirts at home, unless you want to bring home some carpet burn in some uncomfortable places!
---
Atmosphere: 8.2
How Did We Get This Score?

All the way around, Hill of Terror provides a party atmosphere for their customers to enjoy as they wait their turn to enter the trail. First of all, this place is out in the middle of nowhere (A.K.A. – B.F.E.)! It's one of those places where they'll tell ya, 'No one can hear you scream!' For real. That alone may be enough to cause panic to some. But for others, the spookier atmosphere starts showing itself at the porta potty. Yep, right at the barn, shit starts getting scary! They have a light overhead for your viewing pleasure, only it flickers and won't stay on bright. Meanwhile, in the barn, they had a TV giving guests an idea of what the Zombie Paintball Apocalypse is all about. The barn also has plenty of creepy decor and some decorated free photo ops!
As we were directed up the hill towards the zombie shooting, the facade to ZPA had loud music, party lighting, and a showcased dead and bloody body suspended from chains up top. There was also a large banner at the ticket building for the paintball.
The party atmosphere really began when we headed up the hill. Both the bus and the wagon were playing upbeat music with color-changing lights, as the same was present with the DJ at the barn. Although this wasn't spooky at all, and we didn't see any queue line entertainers, some of those in line were dancing to the music. Something new we noticed this year was the laser light show on the side of the woods at the edge of the corn field!
Once it was our turn to enter the barn, we were instructed to begin our journey by entering an open, walk-through coffin, which helped bring us back into 'haunt land' and set the mood to get our scare on!
---
Special Effects:

7.01
How Did We Get This Score?

For an outdoor haunted trail, Hill of Terror has a large variety of special effects to experience. They also have some unique and creative pieces, from house trailers and semi trailers to multiple uses of nearby bodies of water, pyro, and a sideways cabin.
Yes, you will walk across some water, and yes, you might get shot at. You might also gag from some downright disgusting scents (like those in our group did). You might also get a nasty surprise if you stick your head near one of their toilets. Don't worry about what's in there, just look at it and keep walking. Trust us' we've done this before'
If you've never been to Hill of Terror, this is no ordinary trail. This one consists of places where you may need to stoop, bend, crawl, and slide to progress to the next scene. At one point, members in our group didn't know how they were going to descend to the next scene. Needless to say, their layout is quite interactive in several different ways. The trail also weaves in and out of buildings, a barn, a corn field, a wooded path, and more.
A few of the animations had such good placement and partnering sounds that they resulted in jump scares all by themselves. Two of these were the nun picture and the clown with the chainsaw. We never expected the clown to come out as far as he did (although the timing was a bit off for our large group).
Aside from the effects mentioned above, Hill of Terror utilized multiple CGI's (moving pictures on TV's), a looping vortex, a sinister cemetery, an interesting laser light area in the woods, and they had rainwater dripping off the roof to their bait shop! Now that was a cool sight to see' especially when it wasn't raining outside!
When it comes to sounds, the audio paired with the effects were pretty realistic. There were a lot of scenes that could have benefited from additional sounds, though, as all we could hear was the echoing DJ back by the queue area. However, towards the end, they became a bit more prevalent. Sounds throughout the trail ranged from bells and horns to lightning strikes, gator growls, and hard rock music.
---
Theme:

N/A
How Did We Get This Score?

Hill of Terror doesn't follow a single theme. Instead, they've made it their goal to offer a large variety of phobias, creatures, and differently-themed areas. That way, they have something to get under everyone's skin. There were also a lot of random items within the scenes, so even each area doesn't necessarily follow a single theme. Hill of Terror has told us in the past that they want to scare folks, but if that doesn't work, they aim to entertain.
---
Scare Factor:

7.4
How Did We Get This Score?

The Hill was very busy on the night of our visit (they had about a 3-hour wait), so we were let in with a group of 10 people. Although that's a lot of people to let through at once, they spread out the scares the best they could and we never ran into another group! However, the back and front of the group still seemed to get the most attention. Regardless, there were still some vicious attacks that nailed us all at once; now that's pretty impressive!
Right from the beginning, our whole group fell victim to a surprising introduction utilizing a screen and' well, we can't tell you as it would ruin the scare, but it got all of us! We also fell victim to some skin-crawling sounds, a few stalkers, a few good hiding spots (most of the villains were already in plain sight), and sudden blasts of air, fire, water, and audio! Just when we thought we were safe, someone started shooting at us with what appeared to be a real 50-cal! It even had fire coming out of the barrel. Being that we were walking across a floating bridge at the time, it brought a whole new meaning to feeling like we were sitting ducks!
There are also going to be times where they prey on making their victims feel uncomfortable. We found pitch black areas, very tight areas, and areas where we had to crawl without being able to see where we were going!
This trail is so long that there is an unbelievable amount of scare opportunities throughout and between scenes. Unfortunately, they just weren't fully taken advantage of. We feel that many of the characters could have thrown more scare tactics at us instead of seemingly giving up or just staring at us. Some of the other 'dead spots' are broken up with some of the actor-less effects that are sprinkled along the trail. Though, there are still several areas that are devoid of man-made scares. However, if you're afraid of walking in darker woods with just you and your group, then you're likely going to be on edge the whole time!
If you're walking along and you wonder what something is along the trail, be like us and get a closer inspection of it. Just remember, you may end up soiling yourself.
---
Entertainment & Value:

8.03
How Did We Get This Score?

General admission to experience Hill of Terror remains the same as last year at $25.00 per person. We were mixed in with a group of 8 that walked a bit slower than we normally do, but we still clocked our trail time right at 45 minutes! This is definitely still one of the longest trails we've experienced to date! This puts HoT's MPD (minutes/dollar spent) at 1.8 which is quite a bit higher than the average of 1.0 that we typically see. If you're looking for a long haunted trail, this is it!
When it comes to entertainment aside from the haunted trail itself, music could be heard nearly at all times while we waited. The main queue line had a DJ on-site spinning some custom tracks and he had an awesome laser that was casting figures onto nearby trees, which was entertaining to watch. If you choose NOT to partake in shooting zombies with paintballs, you will still get to experience Hill of Terror's party bus (Midnight Mafia) that will take you up to or down from the hill. There 'may' be scares on the bus and there's lots of music and quite the party going on in there! We were entertained by their infamous dancing baby during our ride this time (Baby Gus Gus). Again, HoT wants to make sure its customers are having as good of a time as they can.
Our group did partake in the Zombie Paintball Apocalypse ride. If you choose this option, you will slaughter some lively zombies and targets with UV-reactive paintballs on your way up to the top of the hill versus riding the bus. It is an absolute blast (haha, get it!?) and the targets are interactive. They're much better than some that barely peek their heads out or stay out of range the whole time. The better your aim, the better of a time you'll have setting off the zombies and their nearby special effects! We annihilated zombies for about 5 minutes as we made our way up the hill. If you like the idea of shooting at targets that can't shoot back at you (including real ones), then we highly recommend this addition!
When visiting HoT, plan on being there for a while, as their haunt alone can take you anywhere from 40-50 minutes or more (unless you run most of the time). It was a good night of fun and we think they have one of the best zombie paintball rides we've seen at a haunt. If you're looking for fun and fright, Hill of Terror has you covered!
---
How Did We Get These Scores

Promo Images:
Click to Enlarge
---
Guest ReviewsGuest Average: 6.56 out of 10
Sara c – 10/10 – October 11, 2019It was great !! Never have a moment to get bored !! Lots of work has went into this attraction!! It …show more was entertaining for sure !!
Brittani – 10/10 – October 5, 2019We come here every year never get tired of it! Always something new and exciting
Kaye Ball – 10/10 – September 13, 2019This has been my favorite. Above field of screams and Waverly hills……the staff is great! The …show more attractions are amazing. And never fells, there is always something new each year to scare me just enough to come back.
---
Past Awards
---
2019 Awards
Best Zombie Paintball (Given by: Team Zombillies)
Most Atrocious Scent (Given by: Team Zombillies)
---
2018 Awards
Most Realistic Scare - The Pond (Given by: Team Zombillies)
Best Pyro Scare (Given by: Team Zombillies)
Longest Outdoor Haunt (Given by: Team Zombillies)
Actor Shout Out - Stilt Man - Chase Williamson (Given by: Team Zombillies)
Actor Shout Out - Swamp Goblin - Todd Hodges (Given by: Team Zombillies)
---
2017 Awards
Grossest Scene - Fat Farting Guy (Given by: Team Zombillies)
Memorable Moment - Sparky the Dog (Given by: Team Zombillies)
Best Hearse (Given by: Team Zombillies)
Best Pyrotechnical Scare (Given by: Team Zombillies)
Best Haunted Trail (Given by: Team Zombillies)
---