Hundred Acres Manor – Full Review
Hundred Acres Manor is a Haunted Attraction located in Bethel Park, PA.
1 100 Acres Drive, Bethel Park, PA 15102View All Details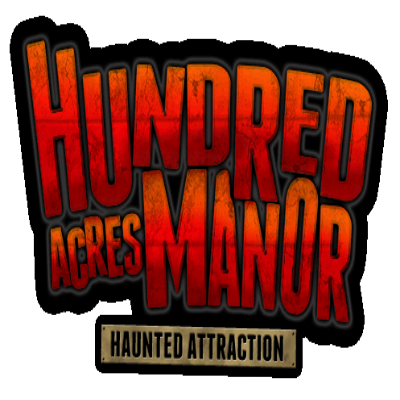 Features:

Free Parking, Restrooms/Porta Potties On-Site, Handicap Accessible, Food/Concessions, Gift Shop/Souvenirs, Optional Games/Midway, "Hi-Tech" Attraction, You will NOT be touched, Original Characters, Covered Outdoor Waiting Line, Indoor/Outdoor Attraction, Family Friendly

Team Scary Potter and the Hauntwarts Express reviewed this attraction on October 22, 2017.
Final Score:

9.47
Summary:
Can a haunted attraction be accurately labeled 'beautiful?' If so, the craftsmen of Hundred Acres Manor are some of the best 'Van Goghs'in the business. These Hauntrepreneurs have returned to Bethel Park, Pennsylvania for another season of scares, featuring this year's newest attraction 'The Host', a unique vision of the foggy streets of Victorian London, plagued by all manor of viral and tactile dangers. Disease and monsters, what more could you ask for? 'The Breach', 'Torture Tank' 'Hallows' Eve', 'Vodou', and 'Deadlift' all return as well.
The Manor is more than a haunted attraction, it's a macabre landscape painted upon a malformed canvas utilizing a uniquely-ghastly palette ' you know, pretty in all the worst ways and scary in all the best ones.
Deranged art lovers, rejoice! Haunt-aficionados cheer! Hundred Acres Manor is back for another year!
---
Cast:

9.14
A mixture of paid and volunteer actors numbering in the triple digits occupies the Manor each night. Though a few of the 'scare-actors' left something to be desired (including one actress who casually pushed a prop and then stared at us as we passed), the vast majority of the performers did an excellent job.
Prominently this season we noted that our ability to distinguish between actors and humanoid props diminished immensely. Obviously a portion of this is due to the quality of the prop design (and the vast number of these artificial people lingering around), but the actors who were imitating their latex brethren should receive foremost praise. The gentleman who perfectly mimicked the gesticulations of his mechanized fellows (that is as specific as I'll be) was definitely the stand-out for us.
1AM featured many actors who offer prolonged exchanges with us in various fashions. We always seem to end up (intentionally or not) testing the ad-lib abilities of 'talky' characters in attractions. At one point we remarked to each other about a pair of legs absent their complimenting torso (long story) as we rounded a corner into a shop occupied by a young girl. Hearing this, the actress interceded, offered a brief anecdote and then redirected the conversation toward her scripted dialogue. It wasn't a profound, on-the-spot monologue, but it made her seem like a real person, as she was able to work the diversion back into her character. Too often the actors in haunted attractions seem more mechanical than the surrounding animatronics, reciting only rigid dialogue, incapable of adapting to customer feedback. This young lady (who eventually went on to offer us a cure to the plague) did a great job of avoiding that pitfall.
Conversely, some actors didn't need to say much of anything to be effective. A young woman in a coffin, whose spastic convulsions told us everything we needed to know about her present condition was good, as was the werewolf we encountered during The Host. The alien from Breach was probably our favorite of the night, though, as he incorporated both of the previous paragraphs' tactics ' good luck figuring out which alien prop is actually a real person ' and then, when he did choose to strike, he modified his behavior to include reasonable (non-verbal) reactions to our dialogue. Plus, his scare method was impressively subtle and creepy.
Speaking of creepy, the plague doctors and their vocal deliveries were uniquely eerie. It needed to be explained to me that there were, in fact, two of them, because they were so similar and transitioned very well. Also, the gentleman in Torture Tank who overheard our appraisal of the room he was in and then twisted it into a soft, but haunting reply as he stared up at us from the corner did a great job.
The majority of actors seemed to reside within The Host (which makes sense with it being the longest attraction), but we definitely felt that Torture Tank and Hallows' Eve could have used a few more wicked denizens.
Finally : yes, she is presumably a one-trick pony, and not at all scary, but our greatest amusement definitely came from a woman in the house that begins Hallows' Eve. As we paced through the living room, we turned and saw her sitting on the couch. 'MMMMMYYYY CANNNDDDDYYY', she snottily proclaimed. With no reasonable context to buffer our confusion, we burst out laughing. Well done.
---
Costuming:

9.42
1AM featured an impressive haunted palette of disturbed Londoners, sadistic killers, and intergalactic horrors. Everyone in the The Host looked properly disheveled and dreary ' the unfortunate reality of life as a common-person during that period. Amongst the bleary-eyed rank-and-file, though, the werewolf costume was excellent, so much so that we assumed he was a well-designed prop. The stitchers are still the best-outfitted monstrosity in Torture Tank, and our favorite alien is also one of our favorite costumes.
1AM fortunately avoided using any 'mask-and-done' wardrobing. Every major non-human character wore full-body costuming as far as we could tell so as to avoid any 'Why is that werewolf wearing Air Jordans?' moments. Additionally, no one stood out as being particularly anachronistic, which was no easy feat, considering the time period of the first attraction.
---
Customer Service:

9.63
One could be forgiven for feeling a bit moth-like when approaching the Manor. Residing in an otherwise unassuming county park, the robust carnage emanating from 1AM is the only source of sensory stimulation in the area, so as soon as we had exited civilization, we really had only one viable destination. I'd say that's about as easy to find as one could ask. Heck, I'm pretty confident that I saw a deer and two squirrels in line. At my wildly-inquisitive glare, they merely shrugged, pointing toward the overhead spotlight. Moths get blamed for everything.
There is an abundance of parking and multiple parking attendants present to guide vehicles into happy, grassy homes. An actual restroom (hooray!) is available for all patrons.
To entertain anxious line-riders, several cast members prowled through the crowd, popping up amongst guests for quick scares and interacting with them. A female ne'er-do-well of some ilk accosted our band, snarling in fits as we attempted to pass her. That was the extent of our personal experience with them the line actors, though, as we weren't in line long enough to further appreciate their talents. The queue-keeper fellow was excellent as well, and Jeremiah, the purveyor of rules was entertainingly dismissive. Demanding that I perform for him, I immediately bedazzled with a deft, graceful jig… he made fun of me and I wept openly.
The night we visited, the only remaining titular vehicle used in the filming of 'Christine' was on display, and guests were able to take photographs with it and speak to the very friendly fellow who owned it. Also, there was a radio station there doing some radio stationy things. There was a wheel; there's always a wheel. Why is there always a wheel?
There were plenty of concessions available either in-line or after completing the attraction. I'm becoming a complete haunt-grub snob, but their cookies are just as wonderful as I remembered. Eat them, eat them all. As usual, I can't comment on most of the heftier items on the menu because, well, animals and all that. Additionally, the merchandise booth is back, with plenty of Hundred Acres Manor gear available.
The 1AM staff continue to excel at being professional, courteous, and helpful, and, despite the lofty quality of the attraction itself, remain the highlight of our visits to the Manor.
---
Atmosphere:

9.42
I'm still torn on haunted attractions that employ aggressive rock music as their atmospheric, line soundtracks. Old Man Leo prefers more traditionally-chilling haunted tunes. I understand I'm probably in the minority on this; regardless : GET OFF MY LAWN.
As the aesthetic is not vastly altered from last season ' with one exception : a 20-feet tall monstrosity that must be seen to be appreciated ' so, too, shall my description remain unchanged :
Hundred Acres Manor is a horse-drawn carriage ride on a quiet October evening with a death metal-blasting boombox in tow. Their location could be one of quiet reflection or subtle, Gothic eeriness, but that just isn't in 1AM's blood. You first hear the music from your car as you drive toward the parking lot. The building's facade is emblazoned, colored lights beaming forth. The entire exterior of the Manor is a challenge, insisting "Get ready, we are coming for you." The approach is not subtle – far from it, but it matches the tone of the attraction. 1AM hits hard and fast. They don't mess around; from the moment you enter the first attraction, they intend to throw the kitchen sink, the dinner table, and even a stray bookshelf or two at you… I mean at least one of those literally.
---
Special Effects:

9.75
Hundred Acres Manor's attention to visual, auditory, and olfactory detail is still incredible. Easily the most impressive addition this season is the large set piece displaying a fog-swept London street. From the merchant stands' decaying wears to the intricate building facades, the entire scene appeared to be plucked directly from a Victorian street corner, corrupted through the prism of fantastical horror, and deposited in Bethel Park. The bar was well-made, also, right down to the mid-game dart board, and the dungeon, hanging lanterns and shackles warning us about the potential outcome of dallying too long looked great. The chanting room was incredibly eerie ' its animated residents' gyrations a bit TOO human-like… The whole of Host was an urban sprawl, dilapidated and forlorn, with a persistent haze imbuing everything with an eerie complexion as we anxiously tread from building to building in hopes of evading suspicious townsfolk or worse.
For whatever reason, we appreciated Torture Tank more this season. There really isn't an inch of that attraction that isn't caked with sinew or flesh. The Stitcher hallway is especially gruesome, and the Tank's version of the electric chair animatronic was one of the most violent that we've seen. The 'Bridge Over the River Stitch' was a pensive affair. Hidden amongst the carcasses and crimson canvasing, we knew the proverbial 'they' would be coming, but we didn't know from where.
The lead-in to Vodou seemed to be improved this season, as well, with the endless of billows of fog from London wafting over to obfuscated the vines and foliage that signaled the transitioned into that attraction. The cave segment is still fantastic, all dripping puddles and stalactites. The two major scares within were good : the first approached slowly, ominously; the second was a tour-de-force. Obviously the tilt room hasn't lost any of its impact. The heartbeat hallway, something out of a Poe-induced nightmare was our favorite sliver of madness within Vodou. Perhaps the simple 'effect' at the end was meant to indicate who the true 'monsters' of the Manor really are.
The Breach wasn't drastically altered this year, but received a handful of touch-ups that improved the overall experience. After the decontamination hallway, we abruptly encountered the first of these : an excellent full-size xenomorph. It stared us down as evasively side-stepped it, but fortunately kept its distance. The undeniable highlighted set piece remains the 'alien attack' room, though an additional, unexpected element has increased the chaotic carnage of that scene. The Breach certainly utilizes the broadest range of light effects of all the attractions, and its 'blue light' hallway is mesmerizing, like experiencing a futuristic, hyper-active toaster oven from the bread's perspective.
Hallows' Eve still opens with its most impressive set display : essentially the Cleaver household if those folks were haunt enthusiasts. We always find ourselves dallying at the entrance to absorb all the detailing. The teleportation haze that transitioned us from peaceful (if eerie) house into the macabre vignettes was nice; another display of the Manor's extensive fog effect wizardry. Each of the proceeding scenes was well-detailed, as were the passages between them, but the hunter scene was probably our favorite. The entrail hallway has the dis-stink-tion of being one of the worst smelling segments of any haunted attraction we've ever visited. Congratulations? 1AM is a truly odoriferous attraction all-around, but you've won the Right Guard reward!
Excluding a chunk of Hallows' Eve that was uncharacteristically quiet, the entire walkthrough included eerie haunted soundtracks and effects. From torture tanks high-tempo, adrenaline-awakener, to the traditional haunting somberness of The Host, the effectiveness and immersion of the entire attraction is greatly benefited by its aural accompaniments. It's quite a unique ride, too, reaching 'Mr. Sandman' at the start of Hallows' Eve after having the equivalent of 'Enter Sandman' greeting us at the ticket booth. The Breach's sci-fi accents, the howling winds and crickets of Vodou's swampy area, the alien buzzing of the Stitchers, the tribal drumming that increased as we progressed through the caves and the Heartbeat Hallway's Tell-Tale throbbing were the best auditory effects that we encountered.
Hundred Acres Manor is undeniably one of the greatest examples of a haunted attraction providing ample and effective stimulation across nearly perceptive mechanism available to the human machine. We appreciate that they uninvited taste; the haunt world isn't ready for him to show up just yet.
---
Theme:

9.5
It seems that 1AM is now making it a habit to pass beyond the seemingly-rigid spectrum of haunted house tropes. With the xenomorph-friendly Breach and stuck-in-the-50's throwback Hallows' Eve added last season as eye-spitting, unique fabrications, 1AM clearly began the process, and The Host has extended their thematic defiance.
Understandably, hearing 'Well, there's this plague…' will immediately elicit predictable eye-rolls at the presumed insertion of a new entry into the long-tired zombie motif. However, rejoice friends, IT'S NOT THAT PLAGUE.
The Host takes place in Victorian-era England, and the 'plague' in question, though never fully revealed, isn't turning people into undead fiends, it's just flat-out killing them Black Death style (though likely closer to Small Pox, Rubella, or Cholera in this case). The attraction takes place on the foggy streets of London, passing amongst apprehensive citizens, sadistic plague doctors, and, eventually, a collection of nightmarish creatures that seem to have been invoked in some connection with the disease.
In haunt-terms, this is unfamiliar territory, and was an appreciated deviation from the same 7 or 8 recycled thematic backdrops that we see time and again. The characters that we met certainly never let us forget about the omnipresent plague and its rat-transporters, and the various shop and markets that we traversed fit the theme perfectly.
---
Fright Effect:

9.42
As it's related to both categories, I discussed 1AM's aptitude for 'actor or prop?' scares under Cast, but just to reiterate : the quality of props and the cleverness of actors to imitate them convincingly really led to an impressive number of scares. This was definitely the most successful facet of the Manor's fright-attack. Other varieties of distraction-scaring were employed as well, including a great 'hey look at me…got you' bit at the beginning of The Breach.
The werewolf and alien (as previously mentioned) were the most successful direct scares. They both waited for the middle/back of our group to animate and were then able to access most or all of our group for a combined scare. The alien especially, due to his specific tactic, wove through our ranks, eeking each team member in turn. I made a comment last year about 1AM's haunt-radius being too front-focused, and they definitely repositioned their cross-scares this season to improved success.
The Manor was sure to include a broad range of environmental and animatronic hazards, resuming the 360 degree cone of vulnerability for patrons. The ceiling tried to crush us, the floor turned us into stumbling drunks, and, at times, we couldn't even trust gravity. After adding a lot of really impressive animatronics, including the closer ' a 12-or-so feet tall behemoth, the lack of an actor in our immediate vicinity never meant that we could enjoy a moment of relative safety ' danger came from every direction at all times.
'Cross-scares…' Seriously, folks, I'm available for parties!
---
Value:

9.5
Pricing is simple at Hundred Acres Manor. A ticket is 20 dollars whenever you visit, and the VIP option is 35 dollars. We spent 33 minutes in the attractions, so the minutes of entertainment per dollar spent was 1.65.
Though they only shuffled in one new attraction this season, 'The Host' accounted for perhaps 40% of the overall length of the haunt. Considering the detail that 1AM has put into each scene, I'd imagine that would equal the effort of re-designing a full-sized, free-standing attraction. While it may not have had quite the impact that last year's updates brought, The Host is still an excellent addition to the Manor and absolutely worth a visit this season ' especially when considering that all of the other attractions have returned (in improved versions!) this season. Any unfortunate haunt-fans who might have taken a year off from sensible haunting and would be experiencing most of the Manor for the first time must absolutely attend this year. This is a decree, not a suggestion.
1AM still stands as one of the best attractions in the Pittsburgh area and beyond, and we highly recommend a visit this season.
---
Promo Images:
Click to Enlarge
---
Guest ReviewsGuest Average: 5.73 out of 10
The Hauntfinder General – 9.5/10 – September 9, 2016While I was originally planning on starting the season with a huge bang next week in Michigan, last …show more minute circumstances led me to Pittsburgh yet again. Still, kicking the season off with what I always claim to be the 'best house in PA' is not too shabby.
Always a great area for haunted attractions, but the drive is kind of long and shitty. And the PA tolls are just terrible.
And the rain. Can't forget the rain…
It poured so bad right up to a couple minutes before we got there. And then it just stopped entirely. Weather is so bizarre. Nevertheless, I was just happy that we wouldn't have to get drenched from the car to the ticket booth.
We didn't arrive til late-like 9:30ish. Two full hours after they opened.
I wasn't concerned by this seeing how it's so ridiculously early in the season. I only had one other place I was planning on hitting last night, and they were open til midnight, and 20-some odd minutes from there. So there was plenty of time. Or so I thought…
Upon arriving, they had lot attendants directing traffic, which I was surprised they'd need so early in the month. But as we approached the illuminated labyrinth that is Hundred Acres Manor, I could see the line was bigger than anticipated.
Still, I figured general admission would suffice. So we paid our $20 (a modest price for such a good attraction) and proceeded through the archway to the line, which I could now see was clearly even longer than I had thought.
The place from the outside looks pretty amazing. Spotlights shining in the sky, metal music blasting over the PA, cool stained glass windows glowing in the castle-like exterior of the enormous structure. Truly an intimidating haunted attraction if there ever was one.
It began to rain again. Then stop. Then start again.
And what luck, their line there is uncovered for no apparent reason. It looks like they constructed their line area and just forgot to put on a roof of some sort. No idea why there's nothing there.
20 minutes pass and I realize that for $10 more, VIP would've totally been the right way to go, as we've only moved 1/4 of the way to the entrance.
There appeared to be a total of 4 line-actors patrolling the perimeter of the line. A deformed nurse, chainsaw zombie guy, alien guy (that smelled funny), and a stringy-haired screaming girl. They're mildly entertaining for the first half hour, then boredom and annoyance quickly set in.
75 minutes pass overall before we get to the door. That's an hour and 15 minutes of listening to clusters of high school kids inane conversations and stupid selfies being snapped from every angle all while being rained upon. I definitely admit I f*cked up not going VIP. But it won't happen again.
By now it's 10:45, and we're just entering the place.
They're sending in small groups of people, hence the slow line. But I can't complain. After all, group separation is key to an ideal experience in these places.
What luck, the VIP couple in front of us are slow-moving, so it takes literally no time at all to catch up to them. Sometimes it's just a no-win situation.
I just reviewed this place last year, so I'm recognizing a lot in the first half of the place. Most of which is virtually unchanged.
The attraction starts with a traditional haunted house kind of vibe, with lots of long hallways, flickering lights, cobwebs and such.
The first memorable prop/animatronic is the sawed-in-half corpse that rises into the air and lets out a spray of flatulence out of it's hanging intestines as we pass by.
The Torture Tank section is a trip also. I think it's the same, but it's a little more memorable this time for some reason.
Featuring scenes involving a corpse with a birthday cake and party hat with the back of it's head blown out, a crazed magician with a chainsaw, and very realistic mutilated dummies in various gruesome scenarios.
I'm looking forward to the 2 new additions allegedly installed in this place for 2016. But I'm assuming they're probably towards the end, which the were.
Things remain kind of humdrum for me (since I just saw all this stuff a year ago) til we get to the voodoo section, which if I'm not mistaken, was the standout for me last season.
We pass through an outdoor courtyard complete with a small graveyard and flickering candles before entering through some sort of mausoleum into a very realistic cave section. Employing the use of flowing water, dripping stalactites and whispering voices, and a charging giant skull headed creature, this section is virtually unchanged from last year, but still equally as effective.
The bayou area with the wooden bridge and waterfall is also an amazing part. Another of my favorites from last year.
Lots of jungle-like atmosphere. Snakes, giant plants (even a guy dressed as a plant), and a giant crocodile head that emerged from the darkness comprised the rest of this part.
Finally we make it to the first of the new sections. This one has some kind of alien/sci-fi theme to it.
We pass through a bunch of science-laboratory rooms and hallways featuring actors in bio suits and alien carcasses before coming upon the coolest room in this area.
Designed to replicate the interior of a space craft, a lop-sided room (at almost a 45 degree angle !), complete with a giant dead alien thing sitting at a console of some sort. This one was a challenge to make it through because of the extreme floor angle. Very cool though!
This area concluded with a pair of dazzling neon blue laser light tunnels that were mesmerizing to pass through, along with a slow-moving black-lit tunnel where I ran headlong into some actor guy that looked just like Dick Van Dyke. I laughed about this for the rest of the way through the place.
Then came the second new section. This one based around traditional Halloween themes, traditions, and classic monsters.
This one wound up being my new favorite.
We began by entering through what looked the facade of an old house all decorated with traditional Halloween decorations.
We passed through furnished rooms like you'd find in a house from 50 years ago or more, complete with creepy, silent characters watching as we pass by.
Eventually winding up in some sort of attic lined with costumes and old decorations.
The next portion revolved around traditional horror movie monsters, such as witches, mummies, vampires, and werewolves, to name but a few.
I recall passing through curtains that looked like bloody guts at one point. Haven't seen those before!
The attraction convened in a big room with a giant, multi-eyed alien animatronic creature that roared as we passed through the exit door.
By now it was 11:30, and there was no way we'd make it to Demon House, which I wasn't too broken up about. They didn't impress me much the last two years anyway. So I called it a night, and began the long trek home.
At about 40 minutes, this place is a staggeringly large house. So much to see and experience within, there's really something for everyone here.
Love the new attractions, especially the last one. So glad to see that they got rid of their annoying maze at the end. Instead replacing it with legitimately good attractions. I hope more places follow suit!
Really the only bad things I have to say about this place is their need for a cover over their line area, and the actors could play maybe a slightly bigger role in this place. Not many of them are overly memorable, mostly opting for a quick pop out scare and disappearing.
All things considered though, this place remains THE house in PA as far as I'm concerned, and has consistently updated and improved their attraction every year that I've been there for the last 6 years or so. Keep up the great work guys! Their 13th year open has definitely started with a bang. Great way to start the season!
Hauntfinder Rating: * * * 1/2 (out of 4)
Randy – 6.4/10 – September 24, 2022Okay if you want an Average Haunt. I was extremely disappointed because this haunt is said to be in …show more the top 50 Haunts with a high score. They advertise as top 13 in USA but it was average. For super VIP ($65) you have to wait in line (but you do get a sweatshirt at the end) although they did have a few good scenes and costumes. they have alot of empty passage ways and not many actors. Alot of the themes and props were a great value knock off of the Haunted School House and Laboratory in Akron Ohio. And id Recommend Scarehouse in Pittsburgh before Hundred Acres Manor.
Bottom line.. Doesnt live up to standards. Was a Disappointment.
Caleb – 6/10 – October 8, 2017I am very sad to see what has become of Hundred Acres Manor. It has been the same scenes and set up …show more for years with little to no changes. The lack of actors is getting very disappointing as well.
---
Past Awards
---
2022 Awards
Most Detailed Sets (Given by: Team Houdini)
Highest Rated Costuming - TIE - with Crawford School of Terror (Given by: Team Houdini)
Highest Rated Special Effects (Given by: Team Houdini)
Trixx - Megan M (Given by: Team Houdini)
Lars - Wayne T (Given by: Team Houdini)
---
2018 Awards
"Domo Arigato, Mr. Roboto" - Best Animatronic (Werewolf) (Given by: Team Scary Potter and the Hauntwarts Express)
"Wouldja look at that?" - Best Set Piece Non-Mechanical (Chapel) (Given by: Team Scary Potter and the Hauntwarts Express)
"You stink... but I love you" - Best/Most Diverse Smells (Given by: Team Scary Potter and the Hauntwarts Express)
---
2016 Awards
Scariest Haunt in Pennsylvania (Given by: Team Scary Potter and the Hauntwarts Express)
---