Hundred Acres Manor – Full Review
Hundred Acres Manor is a Haunted Attraction located in Bethel Park, PA.
1 100 Acres Drive, Bethel Park, PA 15102View All Details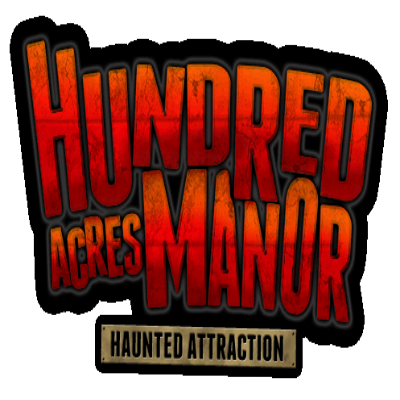 Features:

Free Parking, Restrooms/Porta Potties On-Site, Handicap Accessible, Food/Concessions, Gift Shop/Souvenirs, Optional Games/Midway, "Hi-Tech" Attraction, You will NOT be touched, Original Characters, Covered Outdoor Waiting Line, Indoor/Outdoor Attraction, Family Friendly

This attraction was reviewed on September 15, 2018 by Team Scary Potter and the Hauntwarts Express.
How Do We Get These Scores?

Final Score:

8.8
How Did We Get This Score?

Summary:
Boasting six devious attractions, a pair of escape rooms, a new last-ride simulator and a 'Not So Scary' Wagon Ride, Bethel Park's Hundred Acres Manor haunted house (1AM) is becoming a one-stop shop for all things dreadful and macabre during the Halloween season. Featuring a brand new, possession-themed attraction, Cursed, and massive reworkings of Breach and Voodou (Voodeux if ya' nasty), 1AM continues to provide patrons with a fresh experience every season. Come down to Bethel Park to experience the horror for yourself.
---
Cast: 7.96
How Did We Get This Score?

Let's take The Host a step further into different Ol' England territory to describe this year's cast : "It was the best of times; it was the worst of times."
First things first, though : The Manor featured approximately 120 plague-dripping, alien-probing, curse-sweatin' residents when combining volunteer and paid positions. This felt like it was probably near the sweet spot for the size and requirements of the attractions available. There were only one or two locations that may have been bolstered by an extra (severed) hand-on-deck, but overall things felt well-lived-in without going all "Old Lady in a Shoe."
The quality of the cast members, however, are a more interesting dichotomy. Admittedly, the barometer spiked right out of the gate (well, elevator), as both the hype man, Jeremiah, and our elevator attendant, Lucille, were believable and creepy. Lucille even took a prolonged dip off-script to accommodate our unique circumstances quite well. Spilling over into The Host, the dial stayed impressively high. Seamstress the seamstress (inside joke) was lovably passive-aggressive and the dour bartender gloured as dryly as the whiskey she poured. Overall, with one fairly glaring exception (a broken-record performance that, at least, was so woeful as to peak back towards entertainment territory), The Host's cast were good to excellent. I fled that vermin-rich site, issuing a glowing, "They were really good this year." Reviewer's curse. Sigh.
Following a lackluster opening dialogue to Breach 2.0 (henceforth dropping the version specification for the sake of my sanity), things soured quickly. There were certainly bright spots among the remaining characters with the STILL entrapped coffin girl and the eerily sweet final gal doing good jobs at their respective roles, but a lot of lazy, lethargic performances (and one grinning mummy) separated the gems.
It must be said, though, that the "boo" scarers, of which there seemed to be a lot more than usual, were actually quite boisterous in spots. There's not a whole lot that one can really do with "RAWR", but there was definitely a lot of folks with hearty haunt furnaces pushing out those screams.
Also, several of the now-staple silent actor-monsters were quite good, as usual. I'm looking at you rat-monster and slinky alien. I really miss the inhumanly-persistent wolf-man though.
We didn't experience much of the line-scarers, but the two gals that we spoke to were excellent. The remainder were too busy scaring the pants off of large swaths of unsuspecting youths so they were probably pretty great as well.
In all, there's no denying that we were disappointed. That the performances started out so well made the eventual worsening feel so much more profound. Hundred Acres Manor usually features some of the best quirky, interactive cast members but this year, unfortunately, it seems that The Ripper may have gotten to many of them. Those that remain, though few, still did provide us with several wonderful interactions.
---
Costuming: 8.93
How Did We Get This Score?

For the most part, Hundred Acres reserves the monsterin' for animatronics. Most of their flesh and blood constituency retains (some degree of) their human exteriors so costuming is often kept simple. Still, we found the costuming to be appropriate for each attraction and fairly effective.
When The Manor does unleash the occasional human-sourced fiend, they don't hold back. The rat monster, alien, and stitcher all return in their hideous glory. These full-body, extensively-detailed outfits are excellent representations of their intended source material.
---
Customer Service: 9.68
How Did We Get This Score?

With the entire park to themselves, it's a pretty simple task to navigate to the Manor. The exterior is awash with visual pomp while the gentle, relaxing lull of throat-enflaming hell-screams drifts along the Autumn breeze. Again, my yearly meta-criticism : I don't understand haunted attractions and Heavy Metal. Also, get off my lawn, youngster.
If all else fails, of course, follow the 11-foot tall demonic monolith. It's definitely still one of the most impressive animatronics we've seen and a great beacon for any haunt goers lost in the night.
Arriving along the only possible route, we were immediately greeted by parking spotters who directed our vehicle to its temporary home. A moment of unexpected praise : some genius parked his car in, essentially, the middle of the aisle of cars, thus blocking the exit. When we came back out, though, the spotters had re-calibrated the parking lot to accommodate this unreasonable outlier quite well. We were able to leave with little issue. Well done, folks.
This year, in addition to the escape rooms and haunt-proper, two additional avenues of entertainment have been added. A Last Ride simulator, made specifically for Hundred Acres Manor, and featuring the work of Tom Savini, is available. We were able to experience this unique version of the popular claustrophia-tickler. Complete with a new palette of unpleasant smells, an audio track voiced by Mr. Savini himself, and roller-coaster level jolts, it was definitely an exciting deathventure.
Also, a "Not-So-Scary" Wagon Ride has been installed. Initially, this round trip transportive journey was meant as a trolley to and from a spillover parking lot. However, the clamoring of intrigued customers caught management's ear and it is now available for a few dollars for anyone who is interested in an unhaunted nighttime dalliance. Guests purchasing their tickets online are welcome to a free trip, though.
The Manor has retained it's concessions area and well-stocked merchandise booth. Just to ensure quality control, I partook of a few cookies. Fortunately still as delicious as I remembered. This act of pure altruism on my part was all in a day's work.
As always, the staff is incredibly welcoming and helpful, clearly labeled, and very friendly. Extra special thank you to our humble MC, Tyler.
---
Atmosphere: 8.7
How Did We Get This Score?

One constant that remains through the ever-shuffling of expired and innovative attractions at 1AM is the atmosphere. Allow me to remind you of the perennially-consistent nature of Hundred Acres Manor :
Hundred Acres Manor is a horse-drawn carriage ride on a quiet October evening with a death metal-blasting boombox in tow. Their location could be one of quiet reflection or subtle, Gothic eeriness, but that just isn't in 1AM's blood. You first hear the music from your car as you drive toward the parking lot. The building's facade is emblazoned, colored lights beaming forth. The entire exterior of the Manor is a challenge, insisting 'Get ready, we are coming for you.' The approach is not subtle ' far from it, but it matches the tone of the attraction. 1AM hits hard and fast. They don't mess around; from the moment you enter the first attraction, they intend to throw the kitchen sink, the dinner table, and even a stray bookshelf or two at you' I mean at least one of those literally.
---
Special Effects:

9.13
How Did We Get This Score?

Can I begin with the sensory organ least-utilized by most haunts? 1AM retain their crown as Olfactory Overlords. The amount of different scents and their subtle application to specific scenes is as impressive as ever. This year they've even included four new, custom-made odors to "delight" our nasal cavities. You know, it's tough to appreciate the oft-nauseating billows of putridity swirling through the Manor's halls in the moment, but in the aftermath, I must acknowledge : they are still the kings.
As has become tradition, 1AM introduces its chaos with a short hellevator experience. Being Bounced around a tiny, cubic, buttoned coffin is an appropriate initiation into the haunt-proper, and The Manor's version of this mechanical meltdown is excellent.
Victorian London's alleys and thoroughfares of The Host remain mostly unchanged from last season fortunately. The attention to detail etched into the ratty, moldy sewers and street corners provides ample spooky eye-candy, honestly requiring multiple viewings to notice and appreciate it all.
An open-air city block (affectionately deemed Ripper Street by our team) is still The Host's most impressive set piece. Admittedly it felt a bit too empty last season, but that desolation has been remedied thanks to the addition of a uniquely impressive creature of the night (see Scare Factor).
The chanting room remains another favorite. The sound effects, set design, and lighting therein compliment one another to create a deeply sinister ambiance.
Have you ever visited a haunted attraction, and though you enjoyed yourself, felt that something was missing… that a familiar, if unwelcome, tickle in your superego requires a bit of education with your entertainment? If so, The Host has solved your dilemma! A subtle soundtrack retelling the history of Jack the Ripper is now tucked between the plague-addled screams. Learn about history while running for your life!
Ironic as it may seem considering its relative lack of human occupants, the best way to describe Breach is 'active.' As we passed through its high-tech hallways, the environment was constantly buzzing, chirping, and grinding all around us. Argus was audibly continuing its obligatory, if malfunctioning procedures. Around every bend, the hiss of scientific equipment acted as the backdrop for the ample supply of malicious mutations. The variety of auditory mechanizations was certainly impressive. Our favorite effect, though, is still the blue light hallway which now doubles as the entryway into the ship-labratory's abandoned recesses.
Similar to Breach's omnipresent audio cues, Cursed provided a continuous offering of visual stimulation. Bodies suspended from the ceiling, demons skittering across our periphery… chaos is an apt qualitative description. This demonic concourse led into a new version of a display previously showcased by Breach, now revisited as a hellish beehive like the somnambulant misadventures of a Psychedelic-dosed Pooh bear. We scaled the steep (even more so than previously!) path, disoriented by the honeycombed walls – and let us not forget the exaggerated insectoids that stared down at us menacingly from the center of the room! Colony Collapse Disorder, where are you when we need you?
Cursed also features several of The Manor's newest animatronic installations. Overall, the gap left by the weakened cast performance this season was partially filled by these new automatons. The axe-bearing fiend in Cursed, wreathed in billows of distortive fog was one of the best examples.
Voodou's primary alteration was the removal of a much-maligned (though not by this writer 🙁 ) empty cave area that had clearly hung around long past its expiration date. Converted into a large, open-air cemetery, this improved pathway now leads to a massive, ominous free-standing chapel. Though the cemetery was a bit emptier than it might have been, it did function well to increase tension as we wound our way toward the chapel. Inside, the sanctuary was adorned with all the fixin's of your standard voodoo shrine, including a 9-feet tall Beelzebub leering down at us disapprovingly. This chapel was clearly the Manor's most impressive physical addition this season.
Voudou's Stitcher hallway also remains, a bridge between fleshy human-sourced mannequins and ritualistic anatomical components. Likewise, the priestess's shifting room is still as unpredictable as ever, while its massive reptilian guardian has returned to greet the unwary haunt-go'er with its venomous kiss. Both of these installations feature unique set design and, from the latter, a very impressive environmental hazard.
A new 'heartbeat hallway' effect, serving as Voodou's transitional exit, shuddered a Poe-esque biological rythm as we escaped into Hallow's Eve.
Hallow's Eve has remained largely unchanged, though its impressive entry-point has now been unroofed. The macabre artistry applied to each vignette, like The Host, encourage one to get lost in the thickly-layered set design, while still finding oneself toe-tapping along to the classic tune permeating the first portion of the attraction. Multiple thickly-fogged effects compel the suspension of disbelief, and a flurry of monstrous props and ainmatronics threaten every inch of available space.
---
Theme:

8.95
How Did We Get This Score?

One of our favorite aspects of Hundred Acres Manor throughout our years of reviewing them is that their attractions offer more thematically than the majority of other haunts. Anyone who attends a decent number of different attractions each year can understand where I'm coming from here : how many hillbilly butchers or escaped mental patients can possibly co-exist in the haunt meta-world?
Fortunately, The Manor eschews turn-key motifs and we are always thankful for it. That being said, this year's new attraction (Breach and Vodou don't count in this capacity) wasn't quite as appealing as other iterations in recent years. The idea for Cursed – a cabin whose residents have been possessed – had some interesting promise, but the execution felt a bit too general and pastiche. I will say, though, that a few stronger central characters could have provided a greater narrative focus. Instead, we were met by a few gurgling stumblers who served only to further confuse the ethos of the attraction. The set design was good, but the coherency and characterizations were not. Cursed has a lot of potential; hopefully it can realize it for next season.
All that being said, most of the other attractions that have returned have improved their thematic consistency and flow. An overall shift toward better transitions between attractions has definitely paid off. Repositioning one of Breach's best effects to serve as its new entry-point particularly enhances its effectiveness.
The redesign of Vodou, featuring an ominous trek toward its new centerpiece chapel was a good design decision, though we would have liked for a bigger payoff upon reaching it. Several characters demanded an appointed sacrifice throughout the attraction and we continuously designated an offering (sorry, Dave), but nothing ever came of it. It felt like a missed opportunity for a thematic build-up leading to an interactive climax. Even something as simple as leading the chosen party member down a different path "to be sacrificed" (and eventually meeting back up with them) would have been a unique, story-based conclusion.
The Host improved the most. Foremost, a well-intentioned design flaw from its inaugural season has been removed : a confusing cluster of demons fixed into the set design… unfortunately most customers mistook them for aliens, befuddling the cause of their inclusion. Now : gone.
This makes the flow from plague-addled London backstreets into Ripper territory a lot more straightforward and greatly increases the consistency.
Breach is certainly the most clear-cut of the bunch. Aliens escaping from a laboratory; aliens? Check. Lab? Check. Nothing was out of place thematically and the environment was logical and well-detailed.
Hallow's Eve's theme is more complex than than a standard attraction and may require a few minutes to completely reveal itself, but overall, it's one of the cleverer haunted themes that 1AM has executed. First, we undertook brief time travel to a 1950's, Halloween-obsessed suburban home. Therein we found ourselves teleported into a collection of vignettes featuring classic film monster tropes. Everything flows very smoothly with obvious transitions between locations and a good selection of traditional horrific creations.
---
Scare Factor:

8.25
How Did We Get This Score?

The best shudders came from a combination of ambience and animatronic. Hundred Acres Manor has gone all-in in the giant, mechanized assailant category. The additions of the last few seasons have been only a precursor to this year's windfall. The new monstrosities (of which there are quite a few) share a few important characteristics : massive, well-constructed, and creepy as hell. Good placement for these mechanical marvels has managed to amplify their effectiveness beyond the usual woeful outcomes of most animatronic scarers. It is definitely one of the best collections we've seen. The newest edition to the main thoroughfare of The Host received top marks from us. His visceral, slurping mastication solidifies his 'ickiness' as a true masterpiece.
As for flesh-and-blood interactions, the overall downswing of actor quality has induced a reflexive ineffectiveness in their fright potential. Additionally, many of the best interactive actors are portraying more lighthearted roles which, though entertaining, do not lend toward increasing the overall frightfulness of the attraction. The most effective startle scares were produced by the few acted monstrosities that returned from previous seasons : the rat monster and alien foremost.
What the Manor has in droves this season, however, is an ample supply of screamers and boo-scarers. While these are generally not the most effective manner for sustained frights, the intensity of several of the wailers did an excellent job of startling us. Though there wasn't as much misdirection in play as years past, that which was available was quite effective at amplifying the outcome of these brief outbursts. The Host's howling horde were easily the best of the bunch, though Breach did include several commendable boo'ers.
A few of the actors from Cursed really stuck out in an unfortunate way : the mumblings that they were producing… whatever the intended implications for their gutteral utterances, they just flat-out didn't work, and deadened the malevolent ambience being fostered by the excellent sound and set design.
Overall the Manor didn't quite generate the same level of scares from previous seasons, despite a commendable push from their new animatronic horrors.
---
Entertainment & Value:

9.16
How Did We Get This Score?

A general admission ticket to Hundred Acres Manor remains a very reasonable $20; VIP skip-the-line tickets are $35, and Super VIP tickets that also include a t-shirt are $50. Purchasing tickets online includes a free round-trip on the Not-So-Scary Wagon. We spent 27 minutes in the Manor, which sets the minutes per dollar spent value at 1.35.
Though we were not wholly mind-blown by the newest addition (though the repurposed skewed room is wonderful!), and felt that segments of the cast were more than a little lackluster this time around, the newest animatronics impressed us in a big (about 10 feet) way. Also, the updates that they've made to their returning attractions are the true lure here : Voudeux's chapel, alone, is worthy of a visit. Improvements in Breach and The Host were also much-appreciated and very effective.
So, while this may not be 1AM's best iteration by their own usually top-of-the-class standards, it is still a great attraction and a top player in the local haunt scene. We recommend a visit to Bethel Park this season to see all of the new changes for yourself!
---
How Did We Get These Scores

Promo Images:
Click to Enlarge
---
Guest ReviewsGuest Average: 5.73 out of 10
The Hauntfinder General – 9.5/10 – September 9, 2016While I was originally planning on starting the season with a huge bang next week in Michigan, last …show more minute circumstances led me to Pittsburgh yet again. Still, kicking the season off with what I always claim to be the 'best house in PA' is not too shabby.
Always a great area for haunted attractions, but the drive is kind of long and shitty. And the PA tolls are just terrible.
And the rain. Can't forget the rain…
It poured so bad right up to a couple minutes before we got there. And then it just stopped entirely. Weather is so bizarre. Nevertheless, I was just happy that we wouldn't have to get drenched from the car to the ticket booth.
We didn't arrive til late-like 9:30ish. Two full hours after they opened.
I wasn't concerned by this seeing how it's so ridiculously early in the season. I only had one other place I was planning on hitting last night, and they were open til midnight, and 20-some odd minutes from there. So there was plenty of time. Or so I thought…
Upon arriving, they had lot attendants directing traffic, which I was surprised they'd need so early in the month. But as we approached the illuminated labyrinth that is Hundred Acres Manor, I could see the line was bigger than anticipated.
Still, I figured general admission would suffice. So we paid our $20 (a modest price for such a good attraction) and proceeded through the archway to the line, which I could now see was clearly even longer than I had thought.
The place from the outside looks pretty amazing. Spotlights shining in the sky, metal music blasting over the PA, cool stained glass windows glowing in the castle-like exterior of the enormous structure. Truly an intimidating haunted attraction if there ever was one.
It began to rain again. Then stop. Then start again.
And what luck, their line there is uncovered for no apparent reason. It looks like they constructed their line area and just forgot to put on a roof of some sort. No idea why there's nothing there.
20 minutes pass and I realize that for $10 more, VIP would've totally been the right way to go, as we've only moved 1/4 of the way to the entrance.
There appeared to be a total of 4 line-actors patrolling the perimeter of the line. A deformed nurse, chainsaw zombie guy, alien guy (that smelled funny), and a stringy-haired screaming girl. They're mildly entertaining for the first half hour, then boredom and annoyance quickly set in.
75 minutes pass overall before we get to the door. That's an hour and 15 minutes of listening to clusters of high school kids inane conversations and stupid selfies being snapped from every angle all while being rained upon. I definitely admit I f*cked up not going VIP. But it won't happen again.
By now it's 10:45, and we're just entering the place.
They're sending in small groups of people, hence the slow line. But I can't complain. After all, group separation is key to an ideal experience in these places.
What luck, the VIP couple in front of us are slow-moving, so it takes literally no time at all to catch up to them. Sometimes it's just a no-win situation.
I just reviewed this place last year, so I'm recognizing a lot in the first half of the place. Most of which is virtually unchanged.
The attraction starts with a traditional haunted house kind of vibe, with lots of long hallways, flickering lights, cobwebs and such.
The first memorable prop/animatronic is the sawed-in-half corpse that rises into the air and lets out a spray of flatulence out of it's hanging intestines as we pass by.
The Torture Tank section is a trip also. I think it's the same, but it's a little more memorable this time for some reason.
Featuring scenes involving a corpse with a birthday cake and party hat with the back of it's head blown out, a crazed magician with a chainsaw, and very realistic mutilated dummies in various gruesome scenarios.
I'm looking forward to the 2 new additions allegedly installed in this place for 2016. But I'm assuming they're probably towards the end, which the were.
Things remain kind of humdrum for me (since I just saw all this stuff a year ago) til we get to the voodoo section, which if I'm not mistaken, was the standout for me last season.
We pass through an outdoor courtyard complete with a small graveyard and flickering candles before entering through some sort of mausoleum into a very realistic cave section. Employing the use of flowing water, dripping stalactites and whispering voices, and a charging giant skull headed creature, this section is virtually unchanged from last year, but still equally as effective.
The bayou area with the wooden bridge and waterfall is also an amazing part. Another of my favorites from last year.
Lots of jungle-like atmosphere. Snakes, giant plants (even a guy dressed as a plant), and a giant crocodile head that emerged from the darkness comprised the rest of this part.
Finally we make it to the first of the new sections. This one has some kind of alien/sci-fi theme to it.
We pass through a bunch of science-laboratory rooms and hallways featuring actors in bio suits and alien carcasses before coming upon the coolest room in this area.
Designed to replicate the interior of a space craft, a lop-sided room (at almost a 45 degree angle !), complete with a giant dead alien thing sitting at a console of some sort. This one was a challenge to make it through because of the extreme floor angle. Very cool though!
This area concluded with a pair of dazzling neon blue laser light tunnels that were mesmerizing to pass through, along with a slow-moving black-lit tunnel where I ran headlong into some actor guy that looked just like Dick Van Dyke. I laughed about this for the rest of the way through the place.
Then came the second new section. This one based around traditional Halloween themes, traditions, and classic monsters.
This one wound up being my new favorite.
We began by entering through what looked the facade of an old house all decorated with traditional Halloween decorations.
We passed through furnished rooms like you'd find in a house from 50 years ago or more, complete with creepy, silent characters watching as we pass by.
Eventually winding up in some sort of attic lined with costumes and old decorations.
The next portion revolved around traditional horror movie monsters, such as witches, mummies, vampires, and werewolves, to name but a few.
I recall passing through curtains that looked like bloody guts at one point. Haven't seen those before!
The attraction convened in a big room with a giant, multi-eyed alien animatronic creature that roared as we passed through the exit door.
By now it was 11:30, and there was no way we'd make it to Demon House, which I wasn't too broken up about. They didn't impress me much the last two years anyway. So I called it a night, and began the long trek home.
At about 40 minutes, this place is a staggeringly large house. So much to see and experience within, there's really something for everyone here.
Love the new attractions, especially the last one. So glad to see that they got rid of their annoying maze at the end. Instead replacing it with legitimately good attractions. I hope more places follow suit!
Really the only bad things I have to say about this place is their need for a cover over their line area, and the actors could play maybe a slightly bigger role in this place. Not many of them are overly memorable, mostly opting for a quick pop out scare and disappearing.
All things considered though, this place remains THE house in PA as far as I'm concerned, and has consistently updated and improved their attraction every year that I've been there for the last 6 years or so. Keep up the great work guys! Their 13th year open has definitely started with a bang. Great way to start the season!
Hauntfinder Rating: * * * 1/2 (out of 4)
Randy – 6.4/10 – September 24, 2022Okay if you want an Average Haunt. I was extremely disappointed because this haunt is said to be in …show more the top 50 Haunts with a high score. They advertise as top 13 in USA but it was average. For super VIP ($65) you have to wait in line (but you do get a sweatshirt at the end) although they did have a few good scenes and costumes. they have alot of empty passage ways and not many actors. Alot of the themes and props were a great value knock off of the Haunted School House and Laboratory in Akron Ohio. And id Recommend Scarehouse in Pittsburgh before Hundred Acres Manor.
Bottom line.. Doesnt live up to standards. Was a Disappointment.
Caleb – 6/10 – October 8, 2017I am very sad to see what has become of Hundred Acres Manor. It has been the same scenes and set up …show more for years with little to no changes. The lack of actors is getting very disappointing as well.
---
Past Awards
---
2022 Awards
Most Detailed Sets (Given by: Team Houdini)
Highest Rated Costuming - TIE - with Crawford School of Terror (Given by: Team Houdini)
Highest Rated Special Effects (Given by: Team Houdini)
Trixx - Megan M (Given by: Team Houdini)
Lars - Wayne T (Given by: Team Houdini)
---
2018 Awards
"Domo Arigato, Mr. Roboto" - Best Animatronic (Werewolf) (Given by: Team Scary Potter and the Hauntwarts Express)
"Wouldja look at that?" - Best Set Piece Non-Mechanical (Chapel) (Given by: Team Scary Potter and the Hauntwarts Express)
"You stink... but I love you" - Best/Most Diverse Smells (Given by: Team Scary Potter and the Hauntwarts Express)
---
2016 Awards
Scariest Haunt in Pennsylvania (Given by: Team Scary Potter and the Hauntwarts Express)
---