Review of Hush Haunted Attraction Haunted Attraction
Review of Hush Haunted Attraction Haunted Attraction
Review of Hush Haunted Attraction Haunted Attraction
Hush Haunted Attraction
Hush Haunted Attraction is a Haunted Attraction located in Westland, MI.
37550 Cherry Hill Road, Westland, MI 48185View All Details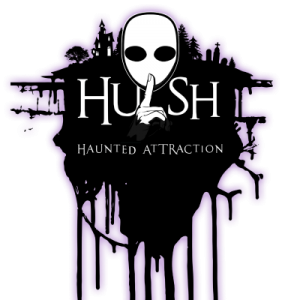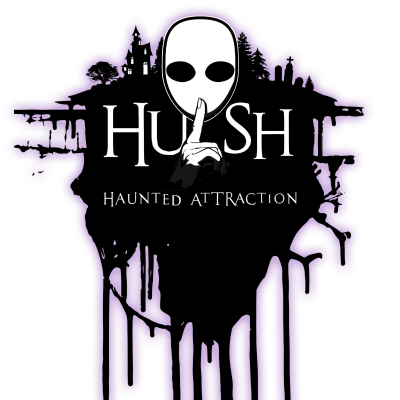 Features:
Free Parking, Handicap Accessible, Food/Concessions, Special Events, You will NOT be touched, Indoor Waiting Line, All-Indoor Attraction
Team Cleaverland reviewed this Haunted Attraction on October 15, 2021.
How Do We Get These Scores?

Final Score:

9.1
How Did We Get This Score?

Summary:
In the first stop of our second swing through the wolverine state in as many years, Hush Haunted Attraction stood up, grabbed us by the collar, and demanded our attention with super-realistic, 360 degree sets and a talented cast sporting exquisite costuming.
Hush simulates a New Orleans-like town called Hush Falls and its environs. The area has fallen under the sinister influence of dark forces bent on twisting the city and its residents into vile corruptions of their former selves.
The three advertised attractions (Hellmouth, Ancient Evil, and Rosecliff Manor — covered more in the Theme section) were presented and experienced seamlessly (no queue breaks, etc.), so we are scoring the attraction as a single walkthrough.
Bottom-lining it, Hush is a fantastic attraction that performs exceptionally well at every aspect of haunting. Hanging out at the exit for a little while after we finished, we heard outcoming patrons saying things like "that was amazing!" We agree!
---
Cast:

9.16
How Did We Get This Score?

The remarkable cast fully inhabited their characters. They most often offered a scare before interacting more completely.
We had lengthy conversations with hellfire preacher Father Marrow, the DNA scientist, a hilarious squeaky voiced guy behind the spider wall, the doorman at the mansion, and the baron & baroness who rapid-fire switched between slinging barbs at each other to either welcoming or menacing us. The skeleton bride was a chatty riot.
Even the quicker appearing characters often had something meaningful or fresh to say. This made the few silent creatures stand out even more. There had to be someone quiet, with a name like Hush!
We found the clowns and the executioner in the midway to be most definitely not the silent types. Daffodil talked our ears off!
She was pitch perfect in channeling the mannerisms and Brooklynese of Harley Quinns both cartoon and live action, while mixing in some horrific traits and personal flair to make it feel more like a fully fleshed out character rather than just an homage. Following suit, all the midway characters were engaging, entertaining, and personality-forward.
---
Costuming:

9.43
How Did We Get This Score?

This was easily the best costuming we've seen this year. Makeup, masks both partial and full, and facial applications were all very well done.
We saw killer costumes all around, complete and detailed head to toe, starting with the splendid Mardi Gras-flavored midway clowns.
Inside the attraction, we shuddered at the disturbing giant headed doll, admired the snappily attired hotel staff who were decked out to the nines, and shrunk from the bizarre beekeeper, skeleton bride, the baron and his bootiful wife, Father Marrow, a malevolent nun, and the demon girl with sickly green contact lenses.
All the applause to Hush for excellent costume work.
---
Customer Service:

9.58
How Did We Get This Score?

We ran into no difficulties at all finding Hush. GPS navigation was straightforward as it guided us to the location in Westland, Michigan (basically, suburban Detroit). A large illuminated overhead sign welcomed us to the attraction.
Free parking was in a standard lot with good lighting and attendants pointing the way.
Hush maintains a cool, great looking website (hushhauntedattractions.com) with all the necessary info and a very nice photo gallery, plus a bevy of social media channels including Facebook, YouTube, Twitter, Instagram, and Snapchat.
Navigation of the areas inside was obvious and easy. Inside the attraction, we found very little to be worried about safety or footing wise. And in fact, the entire haunt is billed as accessible to all.
---
Atmosphere:

9.5
How Did We Get This Score?

Outside, Hush was fairly nondescript. Once we got in the doors, well, it blew off *our doors! The queue was absolutely amazing, like something out of Anne Rice's decadent and gothic dreams of sultry, romantic New Orleans.
The interior recreated the look and feel of a once-thriving Louisiana low-country town turning malignant as something infectious boils up from the underworld and spreads its squicky tentacles over the main street, a bayou analogue of Derry or Castle Rock.
Customer interactions with the queue actors added considerably, whether joking, scaring, or even chasing. We've heard there are plans to expand this area even more, with additional gorgeous scenery as well as food and beverage service. That will be something to look forward to — but it's tremendous as it is now, one of the best queues we've ever seen.
---
Special Effects:

9.07
How Did We Get This Score?

Hush transported us into weird worlds through super-detailed, ultra-realistic, fully immersive, all-in set design.
Some standouts: the mansion façade and entrance, the lengthy graveyard, the diabolical church with goat headed figure surrounded by a group of hooded acolytes in candlelit alcoves hiding a sinister surprise, the boiler rooms and other dangerous industrial areas under the hotel, an ancient tomb, and an Evil Dead-ish cabin interior.
That list just scratches the surface! See the Hush site (hushhauntedattractions.com) photo gallery for great images of sets and costumes that still don't really capture their sheer excellence.
Other great effects included some wicked looking giant spiders, enormous animatronics, an explosive dining room table, an interesting laser fog application, and an eerie off-kilter soundtrack.
---
Theme:

9
How Did We Get This Score?

Each section is distinct. The first, Hellmouth, was a door to hellish regions under the hotel that serves as the well of evil bubbling up and into the town above. Next came Ancient Evil, set in bayou country amidst abandoned cabins, decrepit swamp shacks, and steamy cemeteries. Last up, Rosecliff Hall depicted a depraved family living out their disgusting dreams in a dingily opulent mansion in the style of the great old estates of Nawlins.
Each section lived up to its billing with effective theming, sets, and characters. We think it was easier to follow and more enjoyable to experience having read descriptions on the website.
---
Scare Factor:

8.14
How Did We Get This Score?

We got plenty of scares, greatly helped by the fully immersive sets. The cast did most of the heavy lifting with their capable fright muscles developed through wonderful character work and the marvelous and hideous costuming.
Special callouts here to: Father Marrow, calling damnation upon us with a mellifluous timbre and topped off with ringing peals of laughter, really hit a chord and set hairs to raising; the intimidating nun emerging silently from shadows; and the cabin demoness whose wild looks and feral manner put us on edge in one of the best frights of the night.
We also got spooked by animatronics and environmental obstacles, and the hellevator was among the most violent we've ridden. The fully immersive sets certainly played a part in setting the stage for frightfulness.
Props for a final scare-out that was different and kind of weird, if not all that frightening, but it was well executed and appreciated for uniqueness.
For the fraidy cats out there, Hush offers (for purchase) glow sticks or necklaces to help you get through the dark, and a no-scare medallion that will make the monsters lay off you.
---
Entertainment & Value:

9.14
How Did We Get This Score?

We headed through Hush in 22 delightful minutes. Ticket prices vary throughout the season ($19.99-28.99) based on what month and day of the week/weekend it happens to be. Whatever the base price, fast pass can be added for $10 per ticket and immediate access (meaning, entry usually within 5 minutes) for a rather steep-seeming $22 a ticket.
Group sales are available starting at 20+ people, please see the Hush site for complete pricing info.
For us, general admission cost was $28.99 for the evening we attended. That makes for an MPD (total attraction minutes per dollar spent) of 0.76. It's under the 1.0 baseline we usually like to see, but a couple caveats are in order.
First, let's address the highly variable pricing, if you went earlier in the season or on a weekday, your MPD could be close to 1 or even over.
For those looking for a great discount, assuming next year's pricing works the same way, opening night this season (9/17) came at a cost of only $19.99, and you probably won't need faster access anyway since September is a lot less busy. This ridiculous price is also available on Monday, 10/25. Start the week off and make Monday actually be awesome for once, that's a massive deal!
Second, we had a great experience that fully justified any of the basic price points. The fabulous atmosphere and outstanding line actors would lead us to say you should probably steer clear of at least the immediate entry, so that you get some time to soak in everything …unless you are in one hell of a hurry to get through.
We should note that Hush is offering a special kid's day on Halloween during the afternoon with lights on, monster meet-and-greet, and candy giveaways.
Hush comes highly recommended for any fright fans within driving distance of Detroit.
---
How Did We Get These Scores

Photos from Review Trip:
Click to Enlarge
Promo Images:
Click to Enlarge