Indy Scream Park – Full Review
Indy Scream Park is a Haunted Attraction located in Anderson, IN.
5211 South New Columbus Road, Anderson, IN 46013View All Details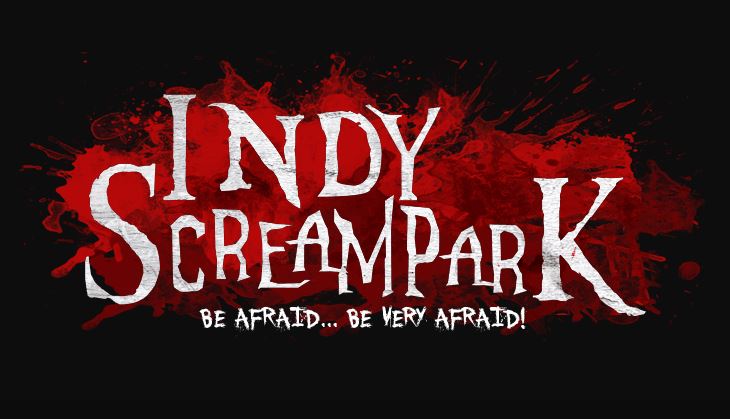 Features:

Paid Parking, Handicap Accessible, Food/Concessions, Gift Shop/Souvenirs, Optional Games/Midway, Special Events, "Hi-Tech" Attraction, You may be touched, Original Characters, Indoor/Outdoor Waiting Line, Indoor/Outdoor Attraction

Team Zombillies reviewed this attraction on October 30, 2016.
Final Score:

7
Summary:
Indy Scream Park consists of 5 differently-themed haunted attractions and a 'Monster Midway,' all at one location! New for 2016 is 'Pandemic,' a viral outbreak-themed haunt with lots of rooms and passageways to make finding your way out a challenge! 'Zombieland Apocalypse' has been redesigned for this season and the other three attractions include 'Rage 3D,' 'Brickmore Asylum' and 'Backwoods.' Our team hasn't visited this attraction since 2010 and, even though there were a lot of changes and a few high-quality scenes, we must say that we were disappointed with our experience. For the money this haunt spends on marketing (evident by all of the billboards we see on the interstate) and their carnival-/theme park-style atmosphere, a lot was left to be desired when we pulled out of the parking lot. The Park does charge $5.00 for parking so be sure to bring some cash (although, this can be purchased online as well).
Pandemic: 7.05
Rage 3D: 6.43
Brickmore: 7.34
Zombieland: 7.34
Backwoods: 6.86
---
Cast:

5.43
Honestly, we were a bit disappointed with ISP's cast during our visit. For starters, it should be mentioned that a lot of the scenes here are pretty large and spacious in comparison to most of the other haunts we visit. While there's nothing wrong with that, the extra square footage usually requires a few more monsters – or at least an actor or two with a lot of energy – to help cover the space. As we made our way through each of the haunts, we found ourselves often thinking, 'Wow, this is awesome! When's the next actor gonna pop out?' Unfortunately, our emotional build-ups were often left unsatisfied and our brief encounters with the actors that we did see were often underwhelming. Now, it's not like there weren't any actors at all, but the scene-to-actor ratio just seemed a bit off' favoring the 'lacking in actors' side. Admittedly, we did visit ISP on a Sunday, but it was the day before Halloween, so we aren't sure if there was an underlying reason for the apparent shortage or not.
A few veteran actors did give us some good performances, but it seemed that most of ISP's cast consisted of teens and young adults that may not have had much experience at the time of our visit. Combined with some issues with keeping the groups separated, our actor encounters were usually pretty brief, as they'd give us their scripted scares and turn away to look for the next batch of customers. Here's a breakdown of the cast in each of the haunts:
Pandemic: 5.68
Pandemic's stand-out characters were undoubtedly the ones that took advantage of our glow necklace participation. These two (yes, unfortunately' just two) separated us from the rest of our group and provided a couple of entrapment scares and threats that were a great start to our evening. However, some of the others said a few words to us, but very little interaction was noticed otherwise… except for the occasional, infected monster that would snarl and brush up against us before moving on to the next group (presumably searching for more-appealing victims).
Rage 3D: 3.49
The 3D haunt's unique scenes and effective props gave this cast the ability to be some of the most intense at ISP. But, when you walk around the corner (as a customer), see several of them standing around chit-chatting and their only response is to give you a blank stare as you walk past, it's a little hard to pull that off. The glow necklace wasn't an option for this haunt, so there wasn't much they could do for physical interaction. However, most of their performances just came across as 'I know I'm not scaring you, but I have to do THIS so it looks like I'm doing my job.' Very saddening, but maybe it was just a bad night for this cast.
Brickmore Asylum: 6.11
The Asylum seemed to have the most interactive and believable crazies during our visit. They had a lot to say to us and proved their need for the treatment they were (presumably) receiving there. The first patient we came across popped up in several places throughout the first portion of the attraction, interacting and threatening us with a sharp object! At one point, we even stumbled upon a helpless victim who was getting ready to receive an enormous dose of who knows what by two very sadistic tormentors. The main thing we must mention with some of this crew is that, even though the whole park had only been open for 30 minutes, we caught several of these characters just leaning on props (not in character) when we entered their scenes. They did, however, quickly spring to life and start interacting with us after being 'busted'… with good performances, we might add.
Zombieland Apocalypse: 6.11
Zombieland had some energetic zombies when we saw them, but we aren't sure how to describe the most interactive character of the attraction. At first, he acted like a zombie… but then he spoke. When one of our group members made a comment about it (zombies usually don't talk), he immediately pulled her back and said, 'I am SO much more than just a zombie!' So, maybe he was one of the Jebs, but we aren't positive. We could hear a chainsaw attacker when we reached the end, but there must've been another group behind us because, when he rounded the last corner to get to us, he just stood and stared at us with his gas-guzzler idling in hand as a slew of scared customers ran off ahead of him. Right when we thought he was getting ready to come barrelling toward us, he turned around and went the other way. A few other undead characters came crawling out from their various rubble-ridden hiding spots, growling and snarling away, but that was pretty much the extent of their performances.
Backwoods: 5.74
Although the trail was the longest attraction and probably staffed with the most characters, it seemed to us like it had the least due to all of the space between scenes with nothing or no one but the woods and a little bit of light leading the way. We're sure this 'secluded' effect is intentional, but the transitions far outlasted the active areas. We're also pretty sure that there may have been more mannequins out there than live actors; if they WERE live, anyway, they didn't move at all. There was, however, some entertaining dialogue heard out there and the hillbilly with the bomb attached to his stomach was by far the most believable character on the whole property. We would like to note that, although we were permitted to navigate the trail with only 2 group members, even as slow as we are, we caught up to a conga line and, when we tried to let them gain some space ahead of us, another large line of folks caught up to us from behind. So, eventually, we were trudging through the woods with at least 20 people, which made it extremely hard for the hillbillies to interact with or surprise all of us. Many of them did make an effort to randomly choose people along the line to 'pick on,' but others were just repeating their lines and rhythmically beating on the walls as we approached, which ruined their element of surprise. One actress in an all-black cloak (maybe a witch?) approached us at one point and had us thinking, 'Sweet… what's she going to do?'… as she silently walked past us; but, she never did anything or said a word. She definitely seemed to be on a mission as she headed for the trailhead; we certainly hope that it was more important than blatantly ignoring paying customers that were walking through her scene.
---
Costuming:

6.7
Each of the costumes were made to match their respective attractions and, for the most part, they all made sense. Several viral infection masks were noticed in Pandemic that looked great, but other than that, the scientific researchers in there were pretty average. In the 3D attraction, some of the costumes matched pretty well, but at one point, a tall clown walked up to us and all he had on that appeared to be part of a costume was a partial face mask that only covered his eyes. That was it; there was no fluorescent-colored makeup to match his scene (actually, he had no makeup at all)… just black pants and an inside-out, black t-shirt and he was in the middle of a room where we could all see him, plain as day. Granted, any other masks or makeup that we noticed in the 3D haunt were adequate. Those in the Asylum, on the other hand, were wearing appropriate costumes, though with minimal makeup, as well as those in the zombie attraction. However, we might advise that adding a bit more aging and distressing would have helped increase the believability of their appearance. On the trail, we mostly came across hillbillies wearing typical country clothing, but again, minimal makeup.
Pandemic: 7
Rage 3D: 5.58
Brickmore: 7.4
Zombieland: 7.19
Backwoods: 6.58
---
Customer Service:

8.63
If you've traveled the interstates of Indianapolis (especially on the East end), you've probably seen at least one or two of ISP's billboards. Your GPS app should lead you straight there, but plenty of large signs lined the road as we started getting close, making it impossible for us to miss the place. Several friendly parking attendants guided us to the closest area to park (they have more parking space than almost any haunt we've been to), but it costs $5.00 per vehicle, so make sure you bring some cash if you didn't pay for it ahead of time online. The attraction itself is very easy to navigate; the ticket booth, all of the haunts and the different queue lines were all appropriately marked for whichever type of ticket you have. Both of the outdoor attractions were lined with straw and gravel, making it very easy to traverse them both. Lining the center of the queue area are different carnival-style games and stands where you can purchase food, drinks, gifts and even shoot some zombies (at additional costs, of course) if your heart so desires and plenty of picnic tables were available for consuming any of the aforementioned concessions. We noticed what appeared to be a stage as well, so we're assuming that live entertainment may be present on select nights. Because ISP's opening time is usually right around dusk, if you arrive before it gets completely dark outside, you might get to see the outdoor actors' ceremonial opening act just before they all race to their scenes to scare the daylights out of you. We caught the tail end of it when we returned to the midway from going through the indoor haunts, but it certainly looked like something you'll want to make an effort to see if you've got the chance! Some of the staff at the entrances to the haunts acted like they were a little less than excited to be there, but each of them were professional and pleasant enough to deal with when it was our turn to go in. While the following issue can affect several aspects of an attraction, we feel the need mention 'group spacing' here as well. Granted, it's a balancing act for the haunt to figure out how to reduce line waits without sacrificing the show, but ISP definitely leaned towards 'quantity' versus 'quality' when it came to spacing out the groups during our visit. As we mentioned before, we became part of a massive conga line in the Backwoods attraction and groups caught up to us through each of the other 4 attractions as well' so don't be surprised if you see some non-actors yourself while you're visiting ISP' I think we all know how much that can affect your overall experience at a haunt.
---
Atmosphere:

7.92
Just seeing all of the parking space and the massive tent for the indoor attractions got a few 'Holy craps' out of us as we made our way to our parking spot! The large, red- and white-striped ticket booth gives off a 'carnival' vibe and the similarly-striped midway, all of the various booths and the music that was playing definitely set the mood for having a good time. All 3 of the indoor haunts are lined up side by side, so not only do you have the freedom to choose which haunt you want to enter, you get to check out each of their facades while you wait! Several TV's were playing in the indoor area and, although we couldn't hear what they were saying, we're assuming they were talking about the rules of the Park. Why couldn't we hear them? Well, between the sirens going off for Pandemic and the loud dubstep music coming from the 3D haunt, you pretty much had to be standing next to one of their speakers if you wanted to get the message. Anyway' yes, the indoor queue areas were cool to look at and listen to, although we never did see any line actors. There's no facade or much to look at while you're waiting to enter Backwoods except for the fireballs erupting from the zombie attraction. Speaking of which, it was clear that a lot of time had been put into Zombieland Apocalypse's facade, with a full map of 'infected' U.S. States, various auto parts and scrap building supplies as its primary composition' fittingly applying the post-apocalyptic junkyard theme of the haunt. Of course, the occasional blasts of fire got plenty of 'ooh's' and 'aah's' from the crowd.
---
Special Effects:

7
Indy Scream Park actually has some of the most detailed scenes in the Indianapolis area' excluding the Backwoods attraction (more on that later). With that being said, you also will NOT find very many animatronics or air-operated props here. Most of what you see is pretty much just for looks and creating the various environments that make each of the haunts' respective themes a reality. However, each attraction is very different from the next, so here's a few details about each of the them:
Pandemic: 7.03
This haunt gives you the feeling that you're walking through a recently fallen-out medical research facility. With lots of exam rooms, patient beds, some medical equipment, piled-up boxes, alarming sirens and lots of blood splattered everywhere, it's pretty obvious that something went REALLY wrong here. The whole haunt is designed as a labyrinth of these exam rooms and connecting hallways. If you take the time to look into each of them, you'll see some other doorways that give the impression that they're connected from more than one direction. Could these just be actor-only passages? Maybe. Are they intended to cause mass hysteria by turning the whole haunt into one big maze? Possibly. We didn't make the effort to cover every passage in every room; we were too busy dodging the ravenous mutants that were trying to get ahold of us! Despite the realistic setting, many of the scenes looked kind of 'empty' for their spacious sizes and left the haunt with just a touch of an 'unfinished' feel to us.
Rage 3D: 7.52
This 3D haunt (which includes the use of 3D glasses) started off with multi-colored striped walls, strobing black lights and a matching overlay of Skrillex' 'Bangarang' that was duly worth a few head bangs from our group. After this impressive start to the attraction, the rest of the haunt simmered down a bit while continuing (minus the strobing effect) with various fluorescent wall designs, a few drop panels, clown mannequins, claustrophobic passages and a unique usage of lasers that we hadn't seen before. Something else that we found interesting was the 'button hallway;' a stretch of walls lined with backlit, red buttons (some labeled 'press me') that triggered a few smaller, quirky scare effects upon depression.
Brickmore Asylum: 7.63
We've gotta give another shout-out to the Asylum's facade here. This thing went almost all the way to the top of the tent, so we'll give it a 'towering' label. Combined with the overhanging entryway roof and gothic architecture, we were chomping at the bit to get into this one! The credible decor extended into the inside of the haunt as well, which really make us feel like we were in an old, run-down facility. Dimly-lit rooms, neutral/greyish colors, dilapidated walls, antiquated equipment and a thick haze of fog authenticated the age of the place and gave the Asylum a nice, creepy feel. This was another haunt that had large, spacious rooms (even with high ceilings), but the 'empty' feel wasn't quite as bad as what we experienced in Pandemic. Amidst all of the old stuff, the most memorable was definitely their big Tesla coil for their 'shock therapy' scare!
Zombieland Apocalypse: 7.18
Zombieland is heavily propped around the idea of mass chaos in a post-apocalyptic setting. Quite a few of the path dividers are made of corrugated sheet metal and a whole lot of piled-up cars (we even had to walk UNDER one), which really helped get the destruction/carnage/junkyard theme across! While the fire marshall is probably reluctant to allow a bunch of pyrotechnic usage in a haunt, the several blasts of flame that we encountered along the way was, admittedly, pretty awesome amidst the rubble. The gas station scene was a nice touch as well and seemed to fit with the all of the junkyard's vehicles.
Backwoods: 5.63
This is a very dark walk through the woods. One member of the group is given a glow stick, however, but it probably works better for letting the actors know you're coming than actually lighting the path. A LOT of walking space is present between the scenes and, except for a few mannequins along the way, there's not much going on between these hillbillies' shacks. One exception to this was an area lined with piled-up barrels that may hold a surprise or two for your group. Inside the small buildings is where we encountered most of the effects for this haunt. Some of the things we witnessed along our journey include well-hidden drop panels, real animal skins, torture tables, dismembered body parts and a couple of chainsaws that sounded like they were in dire need of a tune-up (hey, admit it' it's hard to be REALLY scared of a saw that sounds like it could, itself, die at any second). Not to add insult to injury here, but the conga line of people that we found ourselves in really didn't help the actors with setting up some good scares with the scenes and props they were given, so we didn't get to see some of these things getting used the way they were intended. In other words, it was difficult to fully judge all of the special effects' effectiveness in this haunt.
---
Theme:

7.54
Pandemic is the result of an uncontrolled release of a mutated contagion that has spread to the personnel of Omni-Labs, a once-highly-regarded genetic research facility. Rage 3D sets out to be an 'assault on the senses' as you 'descend into madness.' Brickmore Asylum has been a 'home to the criminally insane since 1902' and horrifically operates as a 'patient-run asylum.' Zombieland Apocalypse is, obviously, a post-apocalyptic world filled with zombies and 'the Jebs:' self-titled 'zombie wranglers' that have isolated themselves in the ruins of an old junkyard. Backwoods involves the story of 'the Tate family' in what's said to be a 'small corner of Bearstone National Forest.' Wander the trails to meet the various family members if you like, but 'if you happen to encounter the Tate brothers, you'll wish you had stayed on the main roads.' The Monster Midway is the common gathering area that ties each of the haunts together at ISP and is advertised as 'the perfect place to get the night started or to take a break and bask in the afterglow of adrenaline-fueled terror.'
Each of the haunts' full themes (and videos for each, minus the midway) can be found on Indy Scream Park's website. They boast claims of offering 6 attractions, but one of which is the 'Monster Midway,' so only 5 of them are actually haunted houses or trails. None of the haunts' themes were explained to us (although it appeared that several of themes may have been playing on the TV screens we were unable to hear in the indoor queue area) during our visit and we didn't look them up before our arrival, so all we had to go off of was what we assumed by reading each of the haunts' names and taking in what we saw in our walkthroughs. In hindsight, each of them did seem to go along with their respective stories, but only a couple of actors actually made statements or references that implied there was a thought-out method to the madness.
Pandemic: 7.65
Rage 3D: 6.6
Brickmore: 7.6
Zombieland: 7.92
Backwoods: 7.94
---
Fright Effect:

5.86
First of all, this facility uniquely offers an optional 'interactive' experience in a couple of their haunts: Pandemic and Zombieland Apocalypse. This means that you have the option to be physically involved in the attractions instead of just watching the monsters as you walk through! By agreeing to participate, you will be given a glow necklace that signifies your permission for the beings within to touch you, separate you from your group, etc. This is not a requirement and is available for anyone that buys a ticket, so if you don't like to be touched, just don't take the necklace. If you try it and decide at any point that it's too much for you, you can remove your necklace and drop it on the ground and the monsters will no longer physically 'interact' with you' no harm, no foul. Of course, we took the necklaces. At one point, they did (briefly) separate one group member by himself and two of us from the rest of the group on another instance. Other than that, the only difference this necklace brought to us was the occasional brush on the arm or when one actor pulled one of us backwards. If you enjoy touch haunts, there are certainly some other haunts out there where we received a lot more physical interaction. Aside from this, though, their go-to fright technique seemed to be drop panels in the majority of the attractions, including the trail. We did see some of them popping out from inconspicuous locations, but as large as this attraction is, it would be great to see a larger variety of scare techniques used. Some of the other frights we experienced including blasting flames, exploitation of the fear of heights, tight hallways a little bit of threatening dialogue and the eeriness of the dark woods.
Pandemic: 5.58
Rage 3D: 4.82
Brickmore: 6.54
Zombieland: 6.84
Backwoods: 5.5
---
Value:

6.92
We were able to visit ISP on a Sunday night and general admission tickets were $26.95. Prices vary depending on what night you go, but since the park was very busy during our visit, we did go the VIP ticket route… which got us for $46.95 per person. Because of the limited time available in our schedule, we were glad we went that route because the lines were rather long. One cool thing about the ticket prices is that, if you don't mind waiting in the lines again or they (the lines) are short during your visit, your tickets do grant you unlimited access to each haunt! However, you will want to verify this before you visit since changes can be made between now and when they open again. The time it took us to go through each of the individual attractions was not long at all, except for the trail which took us 15 minutes. Pandemic was 4 mins., Rage 3D was 3 mins., Brickmore Asylum took us 4 mins. and Zombieland Apocalypse was 6 mins. When the total time is combined together, we were inside all 5 haunts for 32 minutes, which comes out to 1.19 minutes of entertainment received per dollar spent with the $26.95 ticket option and gives ISP a 'below average' value rating ('average' is 1.5, calculated out of all the attractions we were able to visit during the 2015 season). Out of all of ISP's attractions, we would say that the trail is the only one strong enough to be a stand-alone attraction and, for the prices you pay to get in and the long waits you may encounter, we sure hope you receive a lot more frightening entertainment than we did. We would suggest showing up early regardless of what night you decide to visit and, if you don't purchase the VIP tickets, make arrangements to spend a lot of time at the park.
---
---
Guest ReviewsGuest Average: 5 out of 10
Samantha Cobb – 10/10 – October 18, 2018This place has it all. Small-town 'carny' feel. Actors who literally get in your face and don't let …show more up. They can even touch you if you wear one of their glow necklaces!
There are no congo lines, which makes every house terrifying. I'll be back next year! Does anyone know if tickets are available yet?
Owen – 8/10 – October 16, 2019This place was a lot of fun. I went on a Wednesday because it is cheaper to go on week nights and …show more the lines were shorter. The shorter lines also meant we could go through the attractions over and over.
Oh and if you are 21, they serve beer which makes it even better! haha
Lexie Sanders – 1/10 – October 21, 2019The actors barely scared us. Everything was cheesy, the costumes were bland. The only good thing …show more there was midway. I would never go there again
---
Past Awards
---
2022 Awards
Best Eats (Given by: Team Zombillies)
Michael Myers (Given by: Team Zombillies)
---
2019 Awards
Most Intimidating Character - Tree in Backwoods (Given by: Team Zombillies)
Best Electrical Scare (Given by: Team Zombillies)
Most Challenging Maze (Given by: Team Zombillies)
Best Use of Strobes (Given by: Team Zombillies)
Highest Rated Customer Service (Given by: Team Zombillies)
---
2018 Awards
Craziest Patients - Brickmore Asylum (Given by: Team Zombillies)
Actor Shout Out - Brickmore Asylum: Crazy Guy on Table (Given by: Team Zombillies)
---