Interested in joining The Scare Factor's Team of Reviewers?
The Scare Factor is a haunted house and escape room review website and directory with 3348 business listings and 159 recently-published reviews.
Our goal is to provide honest, professional, fair and accurate coverage for as many of these attractions as possible. That way, thrill seekers like you can be better informed about what to expect before they arrive.
Because of how many attractions there are, and we only have 27 teams to cover them, we are actively looking to expand our network of professional reviewers!
If you view yourself as a talented, dedicated, and creative person with a clear passion for haunted houses, writing, working hard, and all things spooky, then the next step is to check out the map below…
This map shows our current Teams' locations. Most of them travel a few hours' radius from where their arrows are pointing. If you live in an area that is more than a couple of hours away from any of these locations, then we'll likely have an opening for you!
Current Team Locations: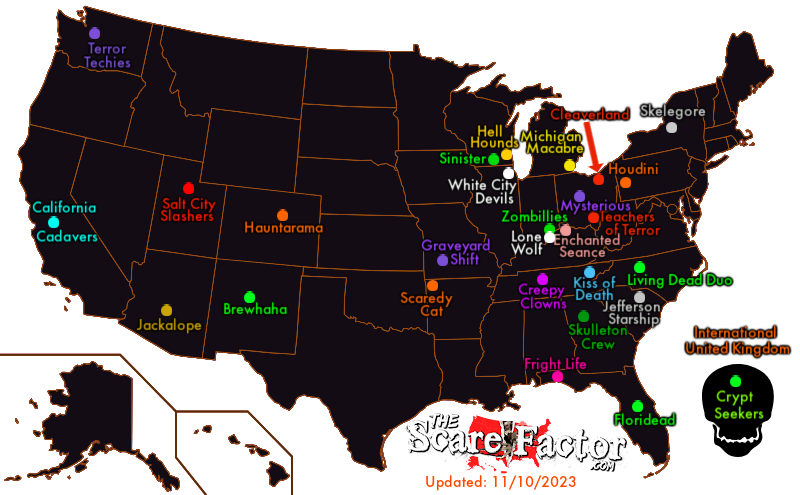 ---
Am I Eligible?
Does reviewing haunts and/or escape rooms sound like your idea of fun? Do you live in an area that looks like it could use some extra coverage? That's great! Here are a few of our basic requirements:
Have not recently (in the last 6 months) owned or worked for a haunted house or escape room.

Willing to write lengthy, thorough and in-depth reviews for each attraction, visiting a minimum of five (5) per year.

Willing to follow instructions and submit reviews / attraction updates using our online platform.

Willing to represent The Scare Factor professionally, ethically and soberly.

Willing to communicate closely with TSF leadership, other Teams and attraction managers as needed.

Able to skillfully read and write using proper grammar, English, punctuation, etc.

Able to follow schedules and required deadlines, especially during haunt season.

Have a reliable source of transportation.
---
What All is Involved?
The biggest part of reviewing that not many people are aware of is how much work is involved. It takes a special kind of person to create our caliber of reviews and help us maintain our reputation within the industry. Here are some of the things that will be expected of you if you are accepted as an official review team:
Learning our in-depth and standardized review criteria and applying it to your reviews.

Learning our rules and policies, and following them throughout the year.

Maintaining an active social media presence via your Team's Facebook Page, and possibly other platforms.

Communicating closely with TSF leadership, other teams and attraction owners.

Submitting reviews and Score Sheets online, via our online platform.

Being detail oriented in all aspects of reviewing and online publishing.

Assuming accountability for your work and performance.
---
Benefits
All of our reviewers are volunteers who put in many long hours. It's not as easy as throwing down some numbers and sending in an email to get our reviews published. We don't get monetary payments for what we do, but despite all of the hard work involved, reviewing haunts certainly has its rewards!
Potential to receive complimentary tickets for you and up to three (3) of your friends. (*Not Required, and ONLY after achieving "Veteran" team status.)

Access to behind-the-scenes tours, exclusive interviews, makeup demonstrations, etc.

Access to trade shows and conventions reserved for industry professionals.

Potential for promotions within TSF, including taking on editorial, regional management and other duties that are relevant to your skill sets.

Be a part of the world's LEADING haunted attraction and escape room review network!
*Note: On most occasions, our official "Veteran" (i.e., Experienced) Teams are permitted to ask for up to four (4) complimentary tickets at each attraction they visit while acting on behalf of The Scare Factor. This is a privilege and courtesy that is granted by the attraction's management, which they are *not obligated to do. Our teams are NOT entitled to this, and the attractions are NOT required to agree to this in exchange for their review. The Teams are also not required to ask the attractions for this benefit. Before applying, you should be willing to purchase your own tickets to – and write reviews for – at least five (5) attractions during your first haunt season with us.
---
How do I start?
If you LOVE to visit haunts and/or escape rooms, have the qualities listed above, and would like to share your experiences with others, then we would love to talk with you!
We can't stress enough that joining The Scare Factor isn't as simple as signing up. We hold extremely high standards for our reviewers, and as such, there is a multi-step application process that must be successfully completed before we'll even offer you an official position. At minimum, this involves completing a few dozen survey-style questions and writing at least one 1,500-word mock review.
Other than that, all we need is some basic info about you to get the ball rolling…
To submit your application, use the sign-up form below to get started! This will trigger a series of automated and time-sensitive emails that you'll need to respond to within the required time frames. If you complete these steps satisfactorily, we will manually review your answers and decide how best to proceed.
Be sure to follow ALL of the instructions that you are given very closely.
We can't thank you enough for your interest in joining The Scare Factor! Without people like you, The Scare Factor wouldn't be what it is today. We look forward to hearing from you and, as always…
Happy Haunting!
Tyler & Nora Proffet
Co-Owners: The Scare Factor, LLC
Reviewers: "Team Zombillies"