Review of Kersey Valley Spookywoods Haunted Attraction
Review of Kersey Valley Spookywoods Haunted Attraction
Review of Kersey Valley Spookywoods Haunted Attraction
Kersey Valley Spookywoods
Kersey Valley Spookywoods is a Haunted Attraction located in Archdale, NC.
1615 Kersey Valley Road, Archdale, NC 27263View All Details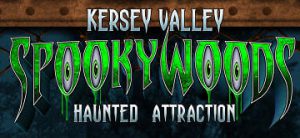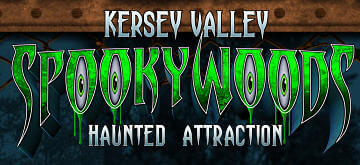 How Do We Get These Scores?

Final Score:

7.12
How Did We Get This Score?

Summary:
Kersey Valley Spookywoods is a fan favorite in North Carolina, shifting their family-friendly adventure park at nights into a lengthy and detailed Halloween playground. With a high-energy fair-like atmosphere and a large number of upgrades and add-ons to enhance your evening, there is a full night's worth of events at Kersey Valley Spookywoods for you and your group to enjoy. Line entertainment is plentiful and midway actors are incredibly outfitted and highly energized. Screams echo around the park as customers move from one house to another experiencing all that Kersey Valley Spookywoods has to offer.
Our team was able to enjoy several of the add-ons including the Spookywoods special nighttime zip line and one of the escape rooms. Make sure to give yourself ample time to see all the park has to offer, and also bring money for merch, food, and add-ons that you can't experience anywhere else! Kersey Valley Spookywoods is more family friendly focused than the sort of dedicated haunted house we usually visit, but the live DJ engaging the crowd, the variety of options, and many details and moments made it apparent why Kersey Valley has received so much praise from its community.
---
Cast:

5.86
How Did We Get This Score?

The cast at Kersey Valley Spookywoods is slightly different between the midway/queue entertainment and the house. On the midway where monsters are highly visible, all cast were outfitted to the nines and highly interactive. A Dark Bride waltzed her way to the music, keeping time to something more traditional than the modern hip hop playing and causing a creepy and off-putting schism between sight and sound. A tall Butcher loomed over frightened guests, and a highly detailed Creeper slid silently behind unwary visitors to pull off his ghoulish surprise. On all of our tram rides through the darkness of the woods, we encountered highly energetic monsters chasing after us, spooking riders and leaping out at random points.
Within the houses of Kersey Valley Spookywoods, the cast is a bit of a mixed bag. We found some interactivity with monsters like the Grave Digger and the character that welcomed us into the castle built in the depths of the trees. A Vampiress managed to stump Doug with witty repartee, an event that happens so rarely he is still hearing about it, and a well-timed grave creature blended seamlessly into his surroundings before lifting up. On the trail, we were particularly impressed with a jump scare that yowled at us with no warning. Many actors rely on screams and jump scares but, where the interactivity and creativity was high, it was very good.
---
Costuming:

7.22
How Did We Get This Score?

Costumes at Kersey Valley are fairly different between the midway and the houses. Since monsters on the midway are in full view as they interact with queueing and wandering guests, the costumes are highly detailed and visually stunning. The character in the Ouija board room had an outfit and makeup that was spot on and impressive. The Vampiress that outwitted our Doug was beautifully attired, and the Butcher in line was perfectly detailed with a mix of costume, makeup, and victims' blood. Some masks were untucked or open in the back, possibly a side effect of the unseasonal heat North Carolina was experiencing on our visit, and a few costumes were a bit perplexing for our team, but we were very pleased with the level of attention to detail given to several of the monsters that haunt the Kersey Valley Spookywoods.
---
Customer Service:

8.11
How Did We Get This Score?

Our team had no trouble at all spotting staff at Kersey Valley Spookywoods. Team members out of costume wear clearly marked uniforms, and each carries a radio or earpiece to be able to communicate with others for guest safety. The ticket booth employee we interacted with was incredibly friendly and more than willing to give us any advice or information we needed. Security is high here as this is a family-friendly haunt, and visitors cannot enter with any lighters, weapons, or other potentially dangerous items. Along with guards, there is a metal detector to further ensure safety.
The inclusion of a DJ ups the attraction's pull for guests, and the atmosphere is perfect for families with teenagers or for teenage groups. Kersey Valley's website is highly detailed and easy to use, and interaction with staff through the "Contact Us" section was quick, easy, and friendly. Our team had some issues with finding the parking lot and then the exit due to signage at night, but because of the large crowds, we suggest arriving early to ensure an easier parking experience and a good spot.
---
Atmosphere:

8.28
How Did We Get This Score?

Despite Kersey Valley's year-round daytime existence as a family-friendly adventure park, the Kersey Valley Spookywoods nighttime event holds all the atmosphere one could want for a haunted attraction. Our timing was impeccable, we exited the car to the high energy DJ blasting "Thriller" as people screamed and cheered for the haunt and its staff. The midway is full of Halloween themed items, it is well lit, and monsters weave effortlessly through the crowd. The first waiting section of the haunt is an enormous façade carrying a sign that marks where you are and sets the tone for the terror to come. Filtered and colorful lights, rolling fog from machines, and the sounds of guests echoing through the woods make for an enthusiastic haunt vibe.
---
Special Effects:

6.37
How Did We Get This Score?

The facades at Kersey Valley Spookywoods were exceptional upon approach, looming above the crowd and packed with nightmarish details. From light being utilized to enhance gorgeously spooky and one of a kind hand-crafted stained-glass windows to well-placed fog machines turning ordinary woods and built swamp scenes into mysterious landscapes, the team here has put a lot of thought into the use of special effects to create illusions.
Most sound effects seemed actor generated, and there was little bleed in between areas. A highly technical laser zombie shoot in a corn maze allowed us to make one too many Aliens jokes, and then our joking ended when we encountered several props and scenes containing Aliens reminiscent items. Some facades allow too much view of their unfinished sections later in parts of the houses, but the hand-built caves and crypts, and some of the actors' hiding spots, create unforgettable moments within the multiple areas of Kersey Valley.
---
Theme:

N/A
How Did We Get This Score?

---
Scare Factor:

6.71
How Did We Get This Score?

The crowd that we encountered on a Saturday night at the beginning of the season is a true testament to the reason fans voted Kersey Valley Spookywoods in their top North Carolina attractions. All around us we saw groups screaming, teenagers running for their lives from monsters on the midway and within the haunts, and younger children laughing and cowering at the same time. The large crowd did cause some conga line situations within the house as well as bottlenecks, and this occasionally made the scares very front of the line heavy instead of being dispersed amongst the group. On top of that, the reliance on scream scares from actors did at points get repetitious. Despite this, many good distractions were employed by both monsters and set building, and several unusual and unique fixtures of the different haunts and trails created great moments for fear.
---
Entertainment & Value:

8.02
How Did We Get This Score?

Kersey Valley Spookywoods has a large selection of ticket options and add-ons that can enhance your visit depending on your budget and preferences. With the time it took our group to get through every attraction, not including lines (about 40 minutes) we saw a value of about a $1 a minute of scares based on just the basic admission. While we were in line getting our tickets an employee of Kersey Valley Spookywoods sold us on a very reasonably priced upgrade that would get us immediate access to all the haunts and a try at one of their unique and home programmed escape rooms.
Not only does the midway and queue entertainment offer you frights as you wait, the DJ runs a regular contest all night to allow you to upgrade your group's access to VIP for free all night long. We heard several groups cheering their win as we moved from attraction to attraction. For even the base ticket price, there's a lot to do and see to make this a good value for you, your family, and the rest of your group. Buying VIP with zip line access, if heights don't terrify you as much as they do Desi and Kristin on our team, is highly recommended as the zip line flight coaches are incredible, the experience is one of a kind, and the VIP access drastically cuts down on your time in line. All in all, Kersey Valley Spookywoods is a well-priced haunted attraction for families and teens looking for a Halloween event to enjoy for the whole night.
---
How Did We Get These Scores

Promo Images:
Click to Enlarge
Guest ReviewsGuest Average: 10 out of 10
Shannon Barkey – 10/10 – October 6, 2018Spooky Woods is like no other. From the second you get out of your car, the energy and excitement …show more you feel is intoxicated.
This year they created a Club atmosphere while you are waiting in line. A DJ Booth and catwalk are set above the que line where DJ Dustin plays some awesome music. They have contests where you can win and your entire group gets upgraded to VIP, they throw beads and Merch out into the crowd. The lights and fog machines create an amazing environment. And there are TVs set up with trivia, horror movies, and promos playing. The wait doesn't even seem bad now since there is so much to keep us entertained.
Going through the haunt, you understand really quick why Spooky Woods is in USA todays top 10 haunts in America. Every scene, every costume, every actor is on point. And, 95% of all they have is homemade!! They create amazing creatures and costumes. Their art department is just the best.
Customer service is impecable. Bathrooms are super clean. And the apple cider doughnuts are to die for.
And, there are plenty of add ons you can choose from to make your Spooky Woods experience even more special. Like ziplining in the dark, or doing one of their awesome escape rooms!
Overall, I give Spooky Woods a 20 out of 10. Never disappointed. Always leaving there happy and feeling like I just had the best night of my life. It has become tradition for my family. We look forward to it every year.
Andrea Jarrett – 10/10 – September 29, 2018I've been a fan of Spookywoods since my first visit way back in 1989. They have continued to set the …show more bar high adding and upgrading attractions and sets every year. This year, they've added Club Spooky so guests can party and participate in contests while waiting to enter the attraction. The DJ is off the chain and the midway actors are spectacular! I encountered several guests along the way terrified out of their wits and even witnessed a group of girls request to skip the rest of the attraction because it was so intense, they were scared to death.
Darlene Brushwood – 10/10 – November 4, 2017We've been visiting for years with our kids and each and every year Kersey Valley Spookywoods keep …show more out doing themselves. We have had kids from the age of 7 on up to their 30's join in on the fun. The special effects, costumes and makeup are extraordinarily fantastic! Come one come all to the scariest haunt around!
---
2018 Awards
Actor Shout Out - Monsters (attacking the trolley) (Given by: Team Jefferson Starship)
Actor Shout Out - Trail Kitty Cat (Given by: Team Jefferson Starship)
Actor Shout Out - Vampiress Hosting Dinner (Given by: Team Jefferson Starship)
---