Lake Hickory Haunts – Full Review
Lake Hickory Haunts is a Haunted Attraction located in Hickory, NC.
520 Carolina Ave, Hickory, NC 28601View All Details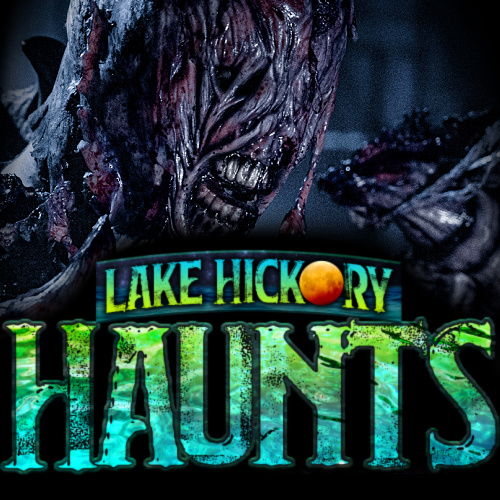 Features:

Paid Parking, Restrooms/Porta Potties On-Site, Food/Concessions, Gift Shop/Souvenirs, Optional Games/Midway, Special Events, "Hi-Tech" Attraction, You will NOT be touched, Original Characters, Uncovered Outdoor Waiting Line, Indoor/Outdoor Attraction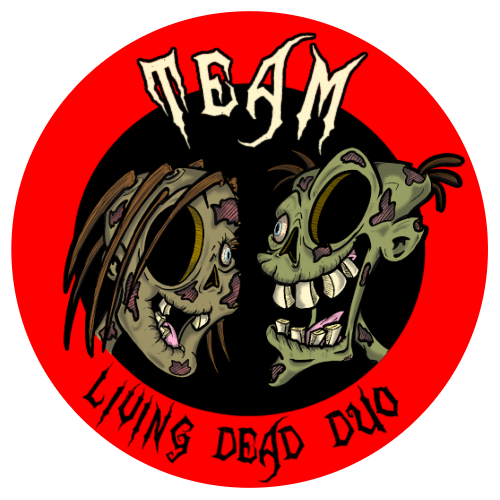 This attraction was reviewed on September 29, 2023 by Team Living Dead Duo.
---
About Our Reviews and Rating System
---
Final Score: 8.94
Final Scores – By Category

Final Scores – By Attraction

Summary:
If you're on the hunt for a thrilling haunted experience, look no further than Hickory, North Carolina. Just a short 15-minute drive from downtown Hickory, you'll discover the spine-chilling world of Lake Hickory Haunts. Since its inception in 2012, Lake Hickory Haunts has been delivering hair-raising scares to haunt enthusiasts. They began as the first lakeside haunted attraction in the Carolinas and have steadily expanded their frightful offerings over the years.
A standout element of this haunt is its lakeside trail of Hollywood-caliber quality, providing an eerie journey guaranteed to give you goosebumps. Lake Hickory Haunts has grown significantly since its inception and now stands as one of the largest haunts in the Carolinas. As we delve into our review, you'll come to appreciate the haunt's unwavering commitment to creativity, exceptional set design, and distinctive theming.
Our most recent visit to Lake Hickory Haunts was in 2019, and we were thoroughly impressed by the remarkable additions they've made since then. Notably, they've introduced exciting new areas, like Midway of Mayhem, Ghost Town, and Boss' Big Top Circus Freakshow. This haunt is constantly evolving, ensuring that every visit promises a fresh and bone-chilling experience. This haunt stands as a testament to the enduring appeal of the eerie and the unwavering dedication of its creators to deliver top-notch scares year after year.
---
Cast Score: 8.56
Cast Scores – By Question

Cast Scores – By Attraction

Cast Review:
Our spine-chilling adventure began with a descent into the all-new Midway of Mayhem at Lake Hickory Haunts, and let me tell you, it was an experience like no other. As soon as we stepped foot into this eerie enclave, we found ourselves immersed in a world of interactive monsters lurking at every corner, and their relentless personal approach left us screaming in terror. The standout character in this sinister carnival was none other than Boss the Clown, the twisted ringleader of this haunt. His demented mission to transform innocent souls into clown minions had us both shivering.
Among the various memorable characters in the Midway, Bloody Moira and her Pet Possum stood out. This seemingly innocent girl would sweetly approach you, asking you to feed her pet possum, only to reveal her dark, mischievous side. She even swiped my phone and made a mad dash for it, adding an unexpected twist to our night. Additionally, the Midway featured Art the Clown, a movie character who was portrayed with eerie precision, perfectly balancing between silly and terrifying. What truly set Lake Hickory Haunts apart was the dedication of its cast members; every single one of them fully embraced their roles, making it one of the most immersive Midway experiences we've ever encountered.
Before reaching the Main Attraction, we ventured through Old Town, where we came face to face with the Behemoth—a truly nightmarish creature that left me convinced it had drooled on me. The attention to detail in crafting this monster was remarkable, and it left a lasting impression.
The main haunt itself was an intensive trail of scares, and while we did stumble upon a few quiet moments, the majority of our journey was action-packed and filled with suspenseful encounters. The creative, original characters throughout the haunt were a testament to the imagination of Lake Hickory Haunts. From Dr. Death in the Nightmare Factory to Papa Legba and Marie Laveau in the Voodoo Bayou, each character pulled us deeper into their horrifying narrative. Boss, the Ring Leader and the Candy Creature in the Big Top Circus, were particularly captivating, drawing us into their sinister world with immersive interactions and convincing performances.
---
Costuming Score: 8.68
Costuming Scores – By Question

Costuming Scores – By Attraction

Costuming Review:
The costume details at Lake Hickory Haunts were nothing short of cinematic, as if Hollywood had descended upon Hickory, NC. The level of intricacy in Art The Clown's appearance was so impeccable that he seemed to have stepped directly from a movie set. Fadrus, the towering, demented tree-like figure, loomed at a staggering 20 feet, and Nova (Cain), the nurse, wielded a needle that appeared capable of inflicting excruciating pain. The unnerving sight of Bloody Moira, with her razor-sharp teeth, tattered clothing, and a deceased opossum in hand, was amplified by her chilling, childlike demeanor, which we found strangely captivating. And Boss The Clown exuded an aura of underworld majesty, exquisitely adorned with flawlessly blended makeup and a commanding swagger.
In the main haunt, the Big Top Circus presented our favorite costumes. The clowns within this section exuded an American Horror Story-esque aura, providing a level of realism and horror that was truly compelling. Aquaphobia, Shipwrecked, and Extinction 2.0 also demonstrated good attention to detail in their character designs, and the costumes were consistently well-suited to their respective themes.
While the majority of costumes and makeup were of high quality, a few side characters might benefit from a touch more attention to detail to further enhance the scare factor and realism. A quick technique to consider is using black makeup around the eyes of characters wearing masks to add a realistic effect that intensifies their presence.
---
Customer Service Score: 10
Customer Service Scores – By Question

Customer Service Scores – By Attraction

Customer Service Review:
When it comes to customer service, Lake Hickory Haunts deserves nothing less than a perfect score of 10 out of 10. From the moment you decide to visit, the haunt's commitment to ensuring your experience is seamless and enjoyable is evident.
First and foremost, finding your way to Lake Hickory Haunts is a breeze, thanks to a plethora of well-placed signs. From eye-catching billboards to clear signage as you exit the highway, they leave no room for confusion. Once you arrive in the parking lot, you'll appreciate the impeccable organization and layout, making parking a hassle-free experience. The staff members are incredibly informative, ensuring you're never left wondering where to go next.
Safety is unquestionably a top priority at this haunt. The presence of numerous security officers throughout the premises helps guarantee that your visit is not only thrilling but also secure. Moreover, including metal detectors at the entrance adds an extra layer of assurance.
What sets this haunt apart is their exceptional communication. The staff wears headsets, allowing everyone to stay informed about everything happening within the haunt. Directional signs strategically placed throughout the attraction guide you on your journey, eliminating any chances of getting lost. Additionally, they offer brochures that provide valuable information on navigating the area around the lake.
For those moments when you're waiting to embark on the main attraction, convenient seating options are available. Lake Hickory Haunts has implemented a ticketing system based on time slots, a brilliant strategy that prevents overcrowding and long waits. This ensures that your haunt experience remains smooth, enjoyable, and without the stress of large crowds.
---
Immersion Score: 8.65
Immersion Scores – By Question

Immersion Scores – By Attraction

Immersion Review:
Before the heart-pounding adventure, the pre-haunt area is filled with interactive monsters who delight in getting their scares all over, creating a thrilling anticipation for the main haunt. Lake Hickory Haunts boasts an astonishing 11 individual haunts, each with its own unique theme and storyline. The transition between each attraction was remarkably well-organized, ensuring that you never crossed paths with other groups, intensifying the eerie isolation that envelops you throughout this hair-raising experience.
Lake Hickory Haunts offers a spine-tingling, experience that leaves victims in a state of perpetual fear and exhilaration. As you enter, the nightmare factory introduces you to mad doctors conducting grotesque experiments, setting the tone. Loud chainsaws rip through the air, while the sounds of screams echo around you, making your heart race. The various moving floors underfoot add to the disorienting dread throughout the entire haunt, and creepy dolls lurking in the shadows seem to follow your every step. The relentless sounds of zombies trying to claw their way out of coffins can be heard in the Lair of the Undead. In the bayou, Voodoo priests beckon with sinister rituals asking for your soul, followed by pirates surrounding a shipwreck. Where you feel as if you're walking on the beach observing the shipwreck and hoping to make it out alive. The stench of death lingers in the air as you enter the Slaughterhouse before you descend underground to navigate pitch-black tunnels. Be forewarned, you ARE NOT alone in the tunnels. The Big Top is filled with demented clowns that assault your senses, and the sweet scent of cotton candy lures your mind into the feelings of being at the fair. The Candy Creature tries his best to hypnotize you with a sway to his walk that would make Axl Rose jealous. Jump scares keep you on edge throughout, making Lake Hickory Haunts a nightmarish journey you won't soon forget.
---
Special FX Score: 9.48
Special FX Scores – By Question

Special FX Scores – By Attraction

Special FX Review:
The special effects at Lake Hickory Haunts brought a multisensory experience to life. In the Big Top, the scent of cotton candy wafted through the air, immersing you in the eerie circus atmosphere. Conversely, the Slaughterhouse engulfed you in the unsettling odor of decaying animals.
The use of strobe lighting was impressively well-timed, avoiding overuse, and adding to the disorienting atmosphere. Unexpected bangs and pops kept you on edge throughout, accompanied by nearby and distant screams that heightened the sense of foreboding.
The meticulous attention to detail in each scene was akin to a Hollywood movie set. The tilting bridge over the water and the shifting floors added an extra layer of realism and unease. A couple of vortex tunnels provided thrilling disorientation, and numerous animatronic animals added to the immersive horror experience. Near the end of the haunt, a colossal animatronic surprise lay in wait, potentially coming face to face with you, delivering a memorable and heart-pounding conclusion.
---
Scare Factor Score: 8.61
Scare Factor Scores – By Question

Scare Factor Scores – By Attraction

Scare Factor Review:
Lake Hickory Haunts is thoughtfully designed to provide a genuinely scary experience while keeping it well within the boundaries of a more family-friendly entertainment. This haunt does not incorporate excessive gore, gratuitous blood, and guts you might find elsewhere. Instead, it relies on the power of eerie and unsettling monsters to send shivers down your spine, making it more of a PG-13 event.
What truly sets Lake Hickory Haunts apart is its ability to keep you guessing. The scares here are far from routine; they are refreshingly unpredictable and executed with creative flair. As you navigate the lakeside trail, you'll find yourself in a state of suspense, never quite sure where the next bone-chilling encounter will manifest. This unpredictability adds an extra layer of excitement to your journey through the attraction.
However, it's worth mentioning that while the finale of the haunt, known as the Mangler, was undoubtedly intense and well done, it didn't quite reach the same level of anticipation and excitement generated by the preceding Big Top Circus. As you make your exit, you'll also encounter the classic chainsaw scare, which, while enjoyable, can be somewhat predictable. Nevertheless, even as you conclude your visit, you'll likely still be riding the adrenaline rush from encountering unforgettable characters like Boss the Clown and the other eerie figures that populate Lake Hickory Haunts.
---
Entertainment & Value Score: 9
E&V Scores – By Question

E&V Scores – By Attraction

E&V Review:
When evaluating the entertainment and value of a haunted attraction like Lake Hickory Haunts, several factors come into play, such as parking, ticket pricing, and special discounts. Here's a breakdown of what you can expect in terms of convenience and pricing:
Lake Hickory Haunts offers a well-organized parking system for visitors, and at $5 cash only, it's very reasonable. This ensures a smooth start to your haunting experience.
Lake Hickory Haunts offers a variety of ticket options to suit different preferences and budgets. Keep in mind that the pricing can vary depending on the night you choose to attend. Here's an overview:
Online General Admission: Ranging from $30 to $38 per person.
Online Fast Pass: Ranging from $45 to $53 per person.
Online VIP (aka RIP) Pass: Ranging from $65 to $70 per person.
On-Site General Admission: Ranging from $32 to $40 per person.
On-Site Fast Pass: Ranging from $48 to $55 per person.
On-Site VIP (aka RIP) Pass: Ranging from $65 to $70 per person.
This range allows you to choose a ticket that best suits your schedule and budget, making it accessible to a wide audience.
Discounts for Heroes:
Lake Hickory Haunts honors Military, Police, Fire, and EMS personnel with a $3 discount when they present their ID. It's a great way to show appreciation to those who serve our community. Just remember that this discount cannot be combined with other offers, coupons, or discounts.
VIP Pass Details:
For those looking for an enhanced experience, the VIP (aka RIP) pass offers exceptional value. This pass includes:
Lanyard with VIP pass souvenir
Immediate access to the haunt with no waiting time on the midway or in the queue.
Exclusive access to the VIP Lounge, complete with a complimentary snack.
A FREE VIP Sticker, making you an official Lake Hickory Haunts VIP.
ONE FREE Midway Attraction ticket for a Midway Attraction of your choice, adding to the entertainment value.
$5 credit that can be used at the Gift Shop, Concessions, or Midway Ticket Booth, allowing you to make the most of your visit.
The VIP pass truly enhances the overall haunt experience, providing convenience and added entertainment value.
In conclusion, Lake Hickory Haunts offers a well-organized parking system and a range of ticket options to cater to different budgets. The special discount for heroes is a nice gesture, and the VIP pass takes the entertainment and value up a notch with its exclusive perks. Whether you're looking for an adrenaline-pumping scare or a more exclusive experience, Lake Hickory Haunts has options to suit your preferences.
---
View Full Score Sheet
---
Pics We Took From Our Visit:
---
Promo Images:
Click to Enlarge
---
Guest ReviewsGuest Average: 10 out of 10
Morgan – 10/10 – October 22, 2016Amazing haunt, I visit year after year and it gets better each year! Visit Lake Hickory Haunts and …show more you won't regret it, trust me!
Gina Settlemyre – 10/10 – October 17, 2015Lake Hickory Haunts is my personal favorite haunted attraction! Their detail, unique scenes/sets, …show more and innovative ideas are truly one of a kind. It is unlike any haunt experience and it is a must see for any haunt goer. Most of all, you can tell that they care dearly about their customers and fans!
Terrance Osborne – 10/10 – October 16, 2015Of all the haunts I've visited across the country this haunt is by far the best! Open rain or shine …show more and even in the downpour their actors never once broke character! Boss the Clown and other actors were in the midway keeping us entertained even though they were soaked to the bone. The scares were top notch, the circus kept us on our toes and just when we thought we were done here came more clowns!
---
Past Awards
---
2022 Awards
Best Voodoo Scene (Given by: Team Jefferson Starship)
---
---
Past Awards
---
2022 Awards
Best Voodoo Scene (Given by: Team Jefferson Starship)
---
Join ourspookyadventures!
We visit Halloween haunted attractions year-round! Follow us for haunted house walkthrough videos, behind the scenes footage, and more!