Land of Illusion Adventure Park – Full Review
Land of Illusion Adventure Park is a Haunted Attraction located in Middletown, OH.
8762 Thomas Road, Middletown, OH 45042View All Details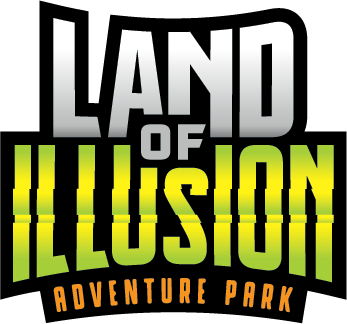 Features:

Paid Parking, Restrooms/Porta Potties On-Site, Food/Concessions, Gift Shop/Souvenirs, Optional Games/Midway, Special Events, "Hi-Tech" Attraction, You will NOT be touched, Original Characters, Celebrity Appearances, Indoor/Outdoor Waiting Line, Indoor/Outdoor Attraction

Team Zombillies reviewed this attraction on September 3, 2016.
Final Score:

8.19
Summary:
If you're looking for an entire night of fun and fright, then Land of Illusion has you covered! With unlimited access to four differently-themed haunted houses, one haunted trail and live entertainment on select nights, it's hard to go wrong here. Don't feel like getting the daylights scared out of you? They have activities for non-boo-seekers too. Want to test your luck at flying? Their 40ft. 'Demon Drop' jump tower is just the thing for you. Does fighting back against the zombie apocalypse sound right up your alley? You can slay (paint) these savage stragglers on their Zombie Sniper Patrol Ride. Want to see how long it takes before you're bucked off a mechanical bull? Yep, they've got that too! Speaking of live entertainment, check out their concert line-up to find out some well-known bands that'll be playing on the Stage of Rage throughout the season. We must say the AC/DC cover band (Dirty Deeds) owned the stage on the night of our visit and absolutely rocked! LOI also has a full bar, clean restrooms, a bonfire, plenty of seating areas, food in the Creepy Cafe, a large gift shop, a piercing station, psychic readings and more! Heck, they've even got energy drink vending machines scattered around the park… just in case you need a little extra heart rate after getting scared senseless! So round all your friends up, pile in a car and head out to Land of Illusion for an evening of frightful fun. Oh yea, for those of you who've been here before, they've made several changes for their 19th season… especially on the Trail! Keep in mind, our visit to LOI was on their second night open, so many things are liable to change as the season progresses.
Middletown Haunted Trail: 8.74
Voodoo Bayou Shanty: 8.23
Killer Klowns: 7.1
Dr. Psycho's Haunted Estate: 7.45
Temple of Terror: 7.3
---
Cast:

7.36
Middletown Haunted Trail: 8.38
According to the Trail's manager, around 60 actors and actresses preoccupy the passages of the Middletown Haunted Trail each night. Aside from a scene or two with no actors in them, the cast on the Trail were by far the most energetic and interactive with our group during our tour of LOI. Most of them had believable dialogue for the characters they were playing, but they mainly talked about what they were going to do with our body parts after they ripped, cut, bit and chopped them off, so there wasn't much diversity in there. As far as their acts go, we were quite impressed with the dedication shown by the actresses playing the parts of victims; some of them were bludgeoned over the head, hauled around over their assailant's shoulders and even dragged across the ground' kicking and screaming the whole way! Others were excellent storytellers and one even had us dancing through her scene (hey, if you can't scare them, entertain them, right?)! Nevertheless, their combination of grotesque voices, intent, beaty-eyed stares and high-energy acting made this crew the highlight of our evening! Some of the most memorable characters from the Trail include Michael Myers (due to his size!), Grammy, Dr. Beak, the lunch lady and the butcher.
Voodoo Bayou Shanty: 7.52
The folks in the Shanty were kind enough to welcome us into their humble abode for supper; little did we know that WE were on the menu! When Amos took us in and prepared us for our 'anal bleachin',' we knew we didn't stand a chance. During our tour of the Shanty, we managed to get some 'poo' shoved in our faces, attacked by a few dis-'grunt'-led swine, invited to stay for supper (of course), and witness a jaw-chattering (literally) voodoo ritual as their resident houngan priest manipulated the jaws of of his precious, ritualistic skull. Aside from one woman who had her mouth sewn shut (she gets a pass on this one), several of the cast members didn't say much during our interactions with them. However, most of them that DID talk were able to pull off their hillbilly accents and attitudes well, which made for some nice performances. Some other cast members you can look forward to seeing are a big-handed pig-faced mutant, a couple of 'distressed' nurses and a plethora of other pissed-off piggies! In the end, a few lengthy dead spots accompanied their added length this year, which ultimately contributed the most to their decrease in score this year.
Killer Klowns: 7
Our trip through the funhouse started off 'trippy' enough with a crazed female klown skipping and twirling around and threatening one of our group members with genital mutilation and an assault of bodily fluids (we won't go into details)! Oh yeah, and don't touch the railing in the vortex tunnel' she said they have AIDS! Shortly after, a 'kluster' of klowns tag-teamed our group by distracting us while the others snuck up on us from unsuspecting locations. The mime/klown duo in the cage maze kept us entertained as we made our way through their area as well. In the past, this attraction has tended to run a bit skimpy on actors and, unfortunately, this year is no different. Most of the klowns we krossed paths with used either a normal, conversational voice as they foretold their freakish intent, or that squeaky dialogue and high-pitched laugh that can be oh-so creepy. In the end, the drop in score for this year is because most of the actors' intensity was focused towards the beginning of the haunt and some of the scenes were void of actors.
Dr. Psycho's Haunted Estate: 7.05
There's a split bunch of actors in Dr. Psycho's. It seemed they were mostly either mutilated, experimental subjects or assistants to the mastermind himself! Accompanying groans, growls and pleas for help were echoed by the insane screams and taunts of those who were inflicting such foul tribulations. This attraction also had a few scenes with no actors present at all, but the cast of Dr. Psycho's were fairly evenly distributed with most of them being focused inside the Estate. Some of them were exceptional and delivered outstanding performances, while others seemed to be less-experienced and, thus, their intensity was lacking during our visit.
Temple of Terror: 6.82
Our entrance into Temple of Terror smacked our group right in the face with two VERY intense and energetic actors! While one was psychotically giggling 'You're all gonna die,' the other complimented him with a maddening laugh that would wake the dead (and we're pretty sure it did). After casting us away with a sinister 'Welcome to Hell,' a quick scream or phrase and a demented laugh here and there was the dialogue of choice used by the ghouls and archaeologists that inhabited the ancient shrine. Except for a couple of nearly-motionless actors who had mastered the art of camouflage, the rest of them gave a sincere effort at keeping us on our toes.
---
Costuming:

8.32
Middletown Haunted Trail: 9.11
MHT had some of the best makeup and costumes at LOI during our visit! Throughout the Trail, we found that their looks ranged from 'minimal' to highly-elaborate and detailed, depending on each character's needs. Most of them looked their parts pretty well, except we did notice a few wearing visible street clothes that made them seem out-of-place compared to the other actors around them. Despite that, the mutant insect in the first section, Dr. Beak, the lunch lady and the butchers were among the most memorable characters in this category as well. With enough blood, injuries and rotting flesh for everyone, don't embark on this Trail unless you want it all up close and personal!
Voodoo Bayou Shanty: 9.07
With a common 'hillbilly' theme for the Voodoo Bayou Shanty, these characters stick to it with typical backwoods attire and plenty of 'stank' to let you know you're in the wrong part of the woods! They're all about their swine, too, with random pig-ish integrations into some of their outfits. We noticed a lot of black-and-white makeup too, which doesn't normally make sense for the hicks that are wearing it. But you'll notice that it all comes together when you see the main voodoo guy wearing the same color scheme and realize these aren't your typical Hell-billies! One unpleasant-looking feller with a rather large, mutated hand was debatably the most impressive costume in the Shanty; although the nurses and the multiple assailants with animal masks looked especially menacing in their scenes as well.
Killer Klowns: 7.98
Believe it or not, the characters in Killer Klowns are mainly dressed up as' clowns!! With wild, colorful hair (including a green mohawk), deranged makeup, equally-sarcastic outfits, tu tu's, and fuzzy buttons, there's little doubt that these freaks belong in the not-so-funhouse that is Killer Klowns. We didn't notice any masks, but that goes to show that you won't see these particular clowns in any other attraction! Over the course of the years, we've seen quite a few clowns and we can say that, although these may not be the most extravagant and terrifying specimens of the klown species, they're certainly not something you'll wanna hire for your kid's next birthday party. The mime that we came across had no shirt on and only the necessary makeup to portray his character, but the rest of the characters seemed to be well-dressed for the most part and matched their scenes appropriately.
Dr. Psycho's Haunted Estate: 8.09
We could tell that Dr. Psycho had been hard at work before we'd arrived! Most of the characters were either horrifically mutilated and mangled (or about to be) or blood-covered from their tyrannical 'experiments.' Several prosthetics were seen helping them achieve these effects and definitely assisted with the 'mutilated' looks that we found. Most of them matched their scenes well; particularly the skinned man in the barn decorated with curing human flesh, the doll girl in the kid's room and the charred man in the crematory. Overall, the costuming in Dr. Psycho's was on-par with what we typically see at most haunted attractions.
Temple of Terror: 7.21
Most of the characters in the Temple were either ghostly figures in black cloaks or deranged archaeologists in plaid shirts and other distressed attire. Aside from that, we did encounter an extremely detailed skeleton/mummy emerging from one of the tombs and an equally-fitting ghillie suit in the jungle area. The ghosts and the ghillie suit character blended in seamlessly with their surroundings (literally), but the archaeologists seemed a bit out-of-place before we realized who they were. The makeup detail in the Temple looked a bit rushed during our visit and didn't have the level of detail as some of the other attractions at LOI. The black cloaks worn by the ghouls didn't help things' especially when compared to some of the movie-quality costumes worn by other characters at the Park. The fact that they did, in fact, assist the characters with blending into their hiding spots and the logic behind the archaeologists being inside the Temple helped keep the score higher in this category.
---
Customer Service:

9.37
Land of Illusion is pretty hard to miss, considering their 3 spotlights circling the sky, road signs, and massive gravel parking lot; driving by without seeing the place just isn't likely. If you've never been here before, it's easy to be impressed with the many features that LOI offers besides their haunts. The entire common area of the park is gravel, so there's little need to worry about mud if the weather turns foul. Another thing you'll notice is their streamlined ticketing system. Once you've paid for your ticket or redeem your online order at one of the ticket booths, you're given a paper receipt with a barcode on it that you'll use to scan yourself into the park via scanners and turnstiles. This setup alleviates the need for separate tickets or bracelets to each of LOI's 5 walk-through attractions. Fast Pass holders get a special UV stamp that's required to be shown under a blacklight to gain entry through the VIP lines. How cool is that? If you purchase tickets to any of their other activities or attractions, be sure you hold onto those tight, as they're separate from your main Park ticket. They also have plenty of restrooms all over the park, including indoor, permanent facilities next to the Voodoo Lounge and Creepy Cafe, and Monster energy drink vending machines are dotted around the Park as well. Forget to get some cash before you arrived? No worries; there are multiple ATM machines located on-site. If you need to rest your legs, seating can be found near the Voodoo Lounge and in front of the Stage of Rage where live entertainment can also be enjoyed (on select nights). We arrived during the daylight this year and it was easy for us to find their look-out spot over a small lake complete with a gazebo wildlife feeding station! We're telling you, this place has nearly everything! In the central area of the park there were several, towering queue entertainers engaging with the crowd as well as several selfie/photo opportunities. The queue area of the Trail featured a large projection screen displaying horror movies and a sly, chainsaw-wielding maniac 'might' sneak in a few extra surprises during your wait. Amos and Mamma were found talking amongst one another at the entrance of the Shanty, and Amos talked to us about our 'preparation' to be scared before entering (don't mention Preparation H' that seemed like a sore subject). We were also greeted by a funny entertainer at the beginning of Killer Klowns, and we caught a glimpse of another horror film as we waited in that line, too. However, during our visit, the other two attractions didn't have anything to keep us entertained while we waited which luckily, wasn't long at all. Staff were located at the beginning of each attraction and could also been found riding golf carts throughout the night in case any questions or concerns are to arise. The staff at Zombie Sniper Patrol were extremely friendly and helped set the tone for slaughtering their zombies.
---
Atmosphere:

9.13
Land of Illusion is an amusement park full of haunts and entertainment and that's exactly what we felt when we arrived. Accent lighting casted an eerie glow on their large facade and some spooky music greeted us after we parked. In the common area of the park, it didn't take long for us to pick up on the high-energy feel of the live entertainment and the rest of the Park's patrons scurrying about, either running from their last scares or looking for their next ones! The same energy bled into the queue areas of the other attractions as the mood slowly shifted to the darker 'feels' of the individual haunts. This helped set the tone for each of them, although some of the queue areas weren't as heavily themed, so some of them seemed to prepare us to enter more-so than others.
---
Special Effects:

7.78
Middletown Haunted Trail: 8.94
We noticed quite a few changes to MHT this year. A few brand-new areas were added, particularly the sewer/utility tunnel section near the beginning. Complete with running water, steel grating, and thick fog, this stretch was a nice, creepy addition to the Trail! Area 49 remains a classic, yet predictable MHT scene, but the wooden catwalk seemed especially hair-raising this year with it's ambient soundtrack, thick fog and mysterious gazes piercing us from within the woods' not to mention it's signature character. It actually made everyone in our group NOT want to continue, it was so creepy! The underground experimentation facility is still a highlight of the trail, as are the busses protruding from the ground, the new 'smashing' scene, spider tunnel, double-vortex tunnel and the gore-filled school and butcher scenes. With ample quantities of blood-thirsty weaponry, strategic lighting, high-quality sounds and movie-quality scenes, this haunt is debatably one of the heaviest hitters on special effects at LOI. Unfortunately, some of the scenes seemed markedly unfinished during our visit, which took away from the realism that the rest of this attraction creates.
Voodoo Bayou Shanty: 8.43
An intense blend of trashy, run-down, body part-packed rooms and outdoor, swampy scenes crawlin' with carnivorous critters were visible during our venture through the Voodoo Bayou Shanty. Posters of murderers and blood-written scripts were scattered on various walls, along with a laser spectacle, a well-placed air cannon, plenty of strobe lights and, occasionally, fluorescent designs. Most of the main scenes were incredibly detailed, although we did encounter some lengthy, blacked-out stretches of the attraction that served as transition areas. Scents were used quite a bit in this attraction, which added another (rotten) dimension to the experience, along with plenty of loud music, banging sounds and enough chainsaws to make short work of any butchering they decide to do!
Killer Klowns: 6.49
Faded, hand-painted, freak show-themed artwork covers most of the walls in Killer Klowns, as well as illusion-creating schemes like checkers, stripes and warped mirrors (just to keep things interesting). Flashing lights accompanied the cage maze, and several areas of thick fog made passage a little 'sketchy,' even for our review group. A mix of party music and warped, dark carnival tunes echoed through the hallways of the evil funhouse, while a claustrophobic passage, animatronics, a giant gorilla and a new, 'never-ending' illusion near the end kept us wondering what they were going to throw at us next! Overall, there's something weird and cooky around every corner in Killer Klowns, but the special effects left the attraction feeling a bit bland after we exited.
Dr. Psycho's Haunted Estate: 7.67
Since Dr. Psycho's is a mix of outdoor trails and outbuildings and, inside the Estate, hallways and passages, quite a variety of special effects can be found in this attraction. From chainsaws, hanging flesh and undead corpses to stinging insects and massive beasts, just getting inside the Estate is a feat! Once inside (if you make it), you'll likely see plenty of blood, guts, bubbling experiment containers, medical weaponry and REAL flames just to name a few. Lots of good sound effects accompanied the actors and animatronics in Dr. Psycho's, but some of them didn't match the props they were coming from so well and there were a few long stretches of trail that ended up being uneventful during our visit. However, we really liked the zombies behind the fence; we'll just say' don't hang around them very long!
Temple of Terror: 7.37
The Temple's iconic elevator 'chamber' clutches it's victims and plunges them into the mouth of this ancient, archaeological find. Driving through the claustrophobic passage will land you in the darkest depths where the Temple unleashes its full fury! A vast assortment of toe-pincher coffins, sarcophagi and an underground forest have been unearthed and a host of threats, including monstrous guardians, sliding floors and a collapsing room, will test your wits as you attempt to escape. Some of the hallways and scenes have movie-quality detail while others weren't quite as impressive.
---
Theme:

8.56
Each haunted attraction at Land of Illusion has its own theme and unique storyline. None of the themes were explained to us (although they are all fairly obvious), so if you want to read about them before visiting, their stories can be found on their website or in our previous reviews. Here's the short explanations: The Trail doesn't follow a single theme and, instead, consists of a variety of horrors from a deadly, contaminated sewer system and a hacked hospital to a hillbilly holler, a creepy cemetery, a mineshaft and other sickening scenes where their main objective is to, well… kill you! The Shanty is full of deranged hillbillies that may not be as nice as they seem. Killer Klowns is a dark carnival-themed, not-so-fun house. Dr. Psycho's leads you through the property and home of a madman, and Temple of Terror will test your survival skills against the spirits and guardians of an ancient, underground, Egyptian temple. While each of LOI's attractions have their own, special stories, some of their deliveries from the different attractions were similar to ones we experienced in the others. However, the Shanty does have an interesting twist of voodoo and hillbillies, a few of the scenes on the Trail are also incomparable to other attractions, and we haven't come across very many haunts that embrace the Egyptian temple concept, so congrats to LOI on those accomplishments!
Middletown Haunted Trail: N/A
Voodoo Bayou Shanty: 9.25
Killer Klowns: 8.03
Dr. Psycho's Haunted Estate: 8.15
Temple of Terror: 8.82
---
Fright Effect:

6.69
As stated earlier, we visited Land of Illusion on their second night open, so we're sure their scaring and timing will only improve as the season continues. However, they were still successful at delivering startles to our group on multiple occasions!
Middletown Haunted Trail: 7.94
The Trail is where we received most of our startles. A portion of our journey was so creepy that the first person in our group mentioned how they 'didn't know if [they] wanted to keep going,' when the back of the group quickly let out a 'we don't want to go first either!' We won't ruin anything, but we can tell you that the combination of sound, unique lighting, fog and darkness that was used in this area seriously had us wanting to turn around! An abundance of good hiding places were utilized throughout, but the creatures tended to target the front of the group the most often. Immediately upon opening a door, one of them even tried to sneak in a shot at stapling our group leader's face! Some of the crew did a great job at working together, like providing excellent distractions for one another and terrorizing their victims right in front of us, which helped keep us on edge. One incident involved a chainsaw brute carrying his kicking and screaming victim off over his shoulder. After seeing that, we sure didn't stick around long enough to be next! The chills took over our body again when we noticed a shadowy figure off in the distance that disappeared shortly thereafter, leaving us to wonder WHAT it was and WHERE it went. Other types of frights used on the trail included realistic-looking weaponry that was being waved very close to our heads, excellent placement of a drop panel and lots of threatening dialogue and suspenseful sounds. The exit of the trail is a little different this year and can be very entertaining, depending on what type of group you are with.
Voodoo Bayou Shanty: 6.89
The Shanty is just one of those houses where you never know what to expect; these folks seem like they'd be capable of doing anything! It's like they have no boundaries and, once you're inside, it makes you really wonder what in the Hell you just walked into. Imagine that, plus some really messed up music; there's no other way to describe it, but we bet you'll find yourselves glaring all around watching your backs! As the haunt progresses, the music intensifies and gets faster and louder, which makes for one suspenseful trip through this abominable abode! Other than the threatening dialogue from a few of the folk we ran into, we were only surprised by a half human, half hog creature and a double chainsaw assault; one came from one end of a hallway and another assailant came from the opposite end. Talk about being screwed if you're afraid of chainsaws! Then, there was the finale… all we have to say on that one is to keep your body parts tucked in nice and tight up against your body because these crazies might just try to feed you to something that's very likely to be bigger than you!
Killer Klowns: 5.98
If you're afraid of heights, tight spaces or, oh yea, clowns… then Killer Klowns is the haunt for you! In this mind-looping circus, we were faced with quite a few threats and one involved an actor who wanted to know our skin sizes so he could make lamp shades out of us! There were also a few surprises that caught us off-guard including some distractions provided by the klowns themselves, but we feel like there were a lot of missed opportunities within these brain-warping walls during our visit. The finale to this show could have been rather effective; it was an entire room full of similar-looking klown mannequins. Unfortunately, nothing happened in this area or after we stepped out of the building.
Dr. Psycho's Haunted Estate: 6.33
The beings in Dr. Psycho's had some quick tricks to show us. From a snarling zombie to fast-moving doors, a run-in with a chainsaw, offerings of fresh meat, large creature attacks and more, we didn't let our guard down very often in this eerie Estate! There was a lot of death and destruction here; many human and non-human remains (some seemed alarmingly fresh) acted as a reminder as to what the Doctor was truly capable of. He had even skinned a man's entire body all the way down to the muscle, who kept begging us for our skin after he found us! We must give credit to the girl in the hall of many doors; she waited until just the right time to swing a door open to where it made nearly everyone in our group jump! We were hoping for an interesting finale as we neared the exit, but our departure from the sewer system was basically uneventful.
Temple of Terror: 6.31
Temple of Terror has quite a few dark areas and cleverly-placed coffins that provided many hiding places during our visit. We just never knew which direction something was going to dart out at us from! Dark beings popped out around corners and randomly throughout the passages, nailing the front of our group for the most part every chance they could get. Beware of things that look like they don't move in this attraction! Other types of frights that were found deep within the temple included quickly moving objects, towering monsters, a ride to 'Hell' and an air cannon blasting us as we reached the end of our journey.
---
Value:

8.33
Land of Illusion allows you to visit all 5 of their walk-through attractions an unlimited number of times for one ticket price! We must admit, on the night of our visit, we decided to go through the Trail twice and some parts were different the second time around than they were the first time. Typically we reviewers are known to travel through the haunts at a slower pace than other customers (except the ones who cower in the corners), so our tour times may be different than yours, but here's the breakdown of how long it took us to go through each of the attractions:
Trail ' 26 minutes
Shanty ' 11 minutes
Killer Klowns ' 9 minutes (we made no wrong turns in the cage maze)
Dr. Psycho's ' 12 minutes
Temple of Terror – 7 minutes
That brings our overall time spent in the haunts to approximately 65 minutes! So, if a general admission ticket is $35.99, 65 minutes would put us at 1.81 minutes of entertainment per dollar spent (average is about 1.5). The Fast Pass price of $51.99 will put you at 1.25 minutes per dollar, but we'd probably still recommend going that route if you show up on one of their busy nights, just for better odds of making it through all of the attractions. Season passes are also available if you plan on revisiting LOI multiple times. The Demon Drop, Zombie Sniper Patrol and Bucking Bull have separate tickets prices that are not included with general or fast pass admission. Some of their concerts also have separate ticket prices, so be sure to check all of that stuff out before you visit… the ticket booth shouldn't be where you get your surprises! Zombie Sniper Patrol costs $12.99 per person and lasted 10 minutes for our group. That doesn't sound like much of a good 'minute-per-dollar deal,' but we assure you that the fun that we had shootin' zombies was well worth it' especially when you're encouraged to target the nether-regions (sorry, zombies)! We did run out of paint rather quickly this time, so if you're trigger happy, you may want to carry an extra $5 or $10 on you so you can buy more ammo. In closing, if you're travelling to the Cincinnati/Dayton area and want to experience unlimited trips through haunted attractions and additional, live entertainment, be sure to pay Land of Illusion a visit… where 'tickets won't cost you an arm and a leg,' although those folks out on the trail may saw them off AFTER you've purchased your tickets! And remember to bring parking money ($5 cash required, per vehicle)… the proceeds are given to several charities. Happy Haunting!! -TZ
---
Promo Images:
Click to Enlarge
---
Guest ReviewsGuest Average: 8 out of 10
Jason Ross – 10/10 – October 19, 2019Everything was amazing, great for the whole family and highly recommend a large group. There was a …show more concert going (acdc cover) that did extremely well and the concert was of high production. Sound, Attention to effects, cast, them park atmosphere all great. I have been multiple years and always excited to go back.
Tamara – 6/10 – October 4, 2019This haunt is alot different from your backwoods haunted attraction. They seemed like they had their …show more stuff together. The only thing I did not like was they claim to sell tickets until 2am but they close the lines down for some of the attractions at 1:30 or 1:45 but whoever was in line gets to go through. It was good from what we saw because we had gone to another haunt first so we didn't have time to make it through all of the attractions we only went to 3 of them. Overall experience was good
---
Past Awards
---
2019 Awards
Memorable Moment - Clovis (Given by: Team Zombillies)
---
2018 Awards
Best Outdoor Scenes - Middletown Haunted Trail (Given by: Team Zombillies)
Actor Shout Out - Middletown Haunted Trail: Bubby - Mickey Jackson (Given by: Team Zombillies)
Actor Shout Out - Middletown Haunted Trail: Kalamity the Kreator - Beth Jones (Given by: Team Zombillies)
Actor Shout Out - Middletown Haunted Trail: Dr. CR33P - Christian Greschel (Given by: Team Zombillies)
Actor Shout Out - Middletown Haunted Trail: Jimmy Dawn - Justin Retherford (Given by: Team Zombillies)
---