Literally A Haunted House at Culbertson Mansion – Full Review
Literally A Haunted House at Culbertson Mansion is a Haunted Attraction located in New Albany, IN.
914 East Main Street, New Albany, IN 47150View All Details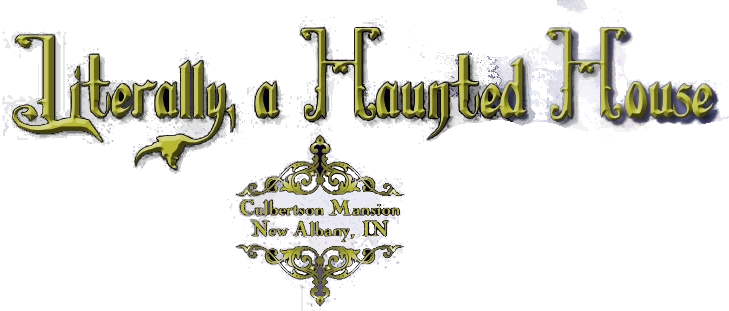 Features:

Free Parking, Restrooms/Porta Potties On-Site, Food/Concessions, Gift Shop/Souvenirs, "Old-School" (Low Tech), You may be touched, Original Characters, Covered Outdoor Waiting Line, Indoor/Outdoor Attraction, Family Friendly

Team Zombillies reviewed this attraction on October 14, 2016.
Final Score:

8.18
Summary:
Each year the historic Culbertson Mansion puts on it's annual event in the former carriage house building in its back yard: 'Literally, a Haunted House' (no, really, that's what it's called)! As with every season, the folks at Culbertson strive to create and provide a different theme for their customers and, this year, that theme is 'Nightmares and Phobias.' Think you've got the picture? We doubt it. This haunted house (literally) has a fantastic cast and crew that break the mold of every theme they tackle and it's no different for this season! They've conjured up just enough of your common phobias to cover the regular crybabies, but their creativity kicks it up a notch with some very un-common fears that aren't used against you at other attractions. Read on for all of the details, but don't slow down when, or if, you get to the end; Granny is waiting for you in Hell' and she's MAD!
---
Cast:

8.11
The Culbertson crew is a diverse one that brings to life the horrors that have haunted folks for centuries. Now, some of the characters certainly do highlight a few of your more-common fears, such as the clown, the zombies, the not-so-friendly, stuffed bunny rabbit and, of course, the chainsaw-wielding woman near the end (wait'.. grandma??). However, one thing about visiting this haunt is that you're guaranteed to see some unique creatures that you won't find at other attractions (that is, if you can make it past the zombies)! From 'the little things' that you'd hoped you'd forgotten about' like the monsters under your bed (and in the closet)' to horrifying mannequins that aren't as lifeless as they seem, man-eating creepy crawlies, and others that portray scopophobia (the fear of being watched or stared at), trypophobia (holes), thanatophobia (death) and more! Much of the cast had very relevant dialogue that helped clarify each of their characters and, because of the outlandish beings that they were, a few of them made some pretty darn creepy noises, too! Each of them stayed in character from start to finish and, although a few of the cast members seemed to be a little less experienced than others, they all gave valiant performances during our visit. The Renoroc (well, coroner) and her assistant were exceptionally exuberant and believable during our visit, as well as the mannequin monster, the really big bug and the homeless person.
---
Costuming:

8.46
The costuming at Culbertson is well done, as we had little issue with figuring out exactly who each of the characters were. While a decent chunk of the nightmare-driven characters used high-quality masks to enhance their looks, it seemed like many of the others were maintaining a certain level of modesty for added realism and it was definitely working for them! For example, the first child that we saw who was scared of the monster in the closet was just wearing PJ's as she was tucked into bed and her mother was similarly-dressed in comfy evening attire, which was 100% appropriate for their characters. Those two didn't have a bunch of fancy makeup or anything, but they didn't need it to pull off their looks. Now, that's not to say that none of the characters that we found had good get-ups! The actor in the scopophobia room, for example, looked like their eyes had been completely ripped out amidst the on-looking eye-balls that adorned the walls of the room. The trypophobic actor had holes all over their face and different parts of their body and another looked like they were turning into some type of insect right before our eyes (we found out why shortly after)! A lot of the characters even had some scary accessories to go along with their looks, such as the people whose teeth and hair were falling out, the homeless person with their squirmy critter-filled box, the clown with the mallet, the bunny with its saw-tipped club and Granny with 'her' trusty chainsaw!
---
Customer Service:

9.45
With the Culbertson Mansion being a historic building that's recognized by the State of Indiana, we started to see signs for the landmark throughout the city as we neared the destination. A large, yellow banner is draped over the road and the immaculately-preserved presence of the estate is hard to miss amidst the rest of the buildings in downtown New Albany. There is limited, street-side parking available around the front and sides of the property, but a large, free parking area is located just a short drive down the road (10th Street) and across the railroad tracks. Do be mindful that the tracks are still used, occasionally. From 10th Street, a large, wooden sign hangs on the fence to let you know you're at the right place and the white and yellow-striped tents are easily recognizable as the places to go for your tickets, souvenirs, concessions and, secondly, the queue line. One exceptionally-creepy, baby-faced clown certainly wasn't making any friends with those waiting in line and another whimsically-mischievous character was sure to give us a sniff before it was our turn to enter. We must make note of the barbaric melee we received from the latter and his water-hurling assault squirter… cleverly disguised as an innocent, flower-shaped chest medallion; watch out for that thing! Navigating the attraction itself is relatively easy, although there are some stairs and uneven flooring to negotiate throughout the tour. If you have any questions or concerns, there are plenty of friendly and professional staff members in the tents and, occasionally, roaming about the common area that will be happy to assist you.
---
Atmosphere:

8.08
The towering Culbertson Mansion and its matching carriage house are beautiful, victorian structures. If you arrive in the daylight like we did, the true exquisiteness can be captured; but, at night, their appearances become much darker and more gothic… providing a perfect atmosphere for a haunted attraction! As we neared the ticket tent, pleas for help and 'don't let me die here' were heard escaping the walls of the carriage house. The two characters that we quickly noticed made it obvious we were at the right place for fright. Both of these characters were entertaining everyone while they stood in line and definitely increased our excitement to enter! They were scaring the group behind us so bad that they trampled down the queue line rope at one point! Adorning the waiting tent is the haunt's tally board that keeps track of all the personal dampenings, quitters, barfers, cryers, pass-outs and crap-tastrophies; it just leaves the mind to wonder what they are doing to customers to earn all of those marks! Although there was no music or recorded sounds heard as we waited, the screams and laughs from the other customers in line, inside the haunt and fleeing from the exit were good silence breakers.
---
Special Effects:

7.63
Culbertson works hard to re-theme the entire interior of the carriage house each season and the amount that they're able to change is always quite impressive! They custom-create many of the items within, so you will get to see many unique items that aren't at other haunts! This season, we noticed some estranged and one-off paintings, as well as some unique transitions that really helped in bringing their theme to life. Their spinning room and coffin surprise duo are the talk of the haunt when their name is brought up in conversations and have been for years! If you haven't been here to experience them' well, we don't know what you are waiting for; you won't see these effects anywhere else (or we haven't, at least). It was noticeably quiet in many areas, but the sounds that were heard in the freakshow and hellish coffin demise areas aided in their expulsion of ferocity. You won't see many large, fake or air-operated animatronics here; but, instead, you will face more-authentic items here… such as a foggy, green-lit cemetery, a closet you must find your way out of, a projector screen displaying graphic videos, phobia-based wall designs, shackles, dead body 'art,' cages, chains, and more!
---
Theme:

8.39
Are you prepared to face the bad things that you only see in your nightmares? What about some of your worst phobias? Well, you'd better be because this carriage house is filled with them this year! From snakes, tight spaces and clowns to zombies, mannequins and more-uncommon phobias, this crew has done a good job at covering what irks the majority of people very well. They've even covered those with a fear of holes, dying and losing parts of their bodies! The theme wasn't thoroughly explained to us during our visit, but their advertising and website was a dead giveaway. In the first room, we also witnessed a child being read a bedtime story… insisting there was a monster in the closet when, in fact, a large creature was behind her and grabbed her! So, we knew from there that we were liable to experience a number of creatures under the bed, demons and more… especially after we were directed to enter that very same closet…
---
Fright Effect:

8.04
Our experience in the carriage house threw many different fears and phobias at us! Remember that horrible nightmare you had where a giant bug attacked you? What about the one where you lost your teeth? How 'bout the one where you lost your job or became homeless for whatever reason? Yea' you'll be re-living that here this year! Some effective hiding spots served in catching our group off-guard and their timing left many of the scares rather sporadic, so we never knew when something was going to happen. One very effective distraction consisting of a double-wall surprise even made [some bad words] escape several of our group members' mouths! A startling encounter with Bloody Mary left us wanting to get out of her presence quickly and just the sight of a particular female's flexible limbs was enough to make us shiver and stare in awe. Additional types of scare techniques that we fell victim to were comprised of stalking, fog, weapons soaring towards our heads, group separation, spine-tingling screeches and getting touched by the ravenous creatures on several occasions! Yes, you read that right… they CAN touch you here! The finale consisted of a chainsaw-wielding granny who will chase you down; but, don't be afraid… she only wants to make YOU art!
---
Value:

7.25
General admission to face these nightmares and phobias will cost you $14.00 per vic' err' person this year. Even though it only took our group 11 minutes to escape this go-around, you will see way more than 11 phobias and nightmares, which definitely made it seem like we were being tortured for much longer! That brings their minutes per dollar to 0.79 minutes of entertainment received per dollar spent which is, admittedly, below the average of 1.5 (1.5 is the average from all of the haunts we were able to attend last year). This haunt still remains one of the lowest-priced attractions in the Louisville area and we still suggest that you pay them a visit. This crew puts on a very unique show each season and we were thoroughly entertained from the moment we stepped into this nightmare until we were able to flee the unhinged Granny! This is also the only attraction that we go to every season that re-themes their entire haunt, thus allowing customers to experience something different each year that they visit. Many also believe that the carriage house (the building that the haunted attraction takes place in) is, in fact, truly haunted, so you just never know when some 'extra entertainment' may follow you home! We did find a Groupon discount online and keep up with their Facebook page for possibly even more coupons! Culbertson never disappoints our review team and, instead, impresses us each season with what they're able to do with their smaller budget. You really need to stop in and see them this season; they can't wait to find out what you actually smell and look like… when you're awake!
---
Promo Images:
Click to Enlarge
---
Join ourspookyadventures!
We visit Halloween haunted attractions year-round! Follow us for haunted house walkthrough videos, behind the scenes footage, and more!