Malice Manor – Full Review
Malice Manor is a Haunted Attraction located in Clarksville, IN.
640 Providence Way, Clarksville, IN 47129View All Details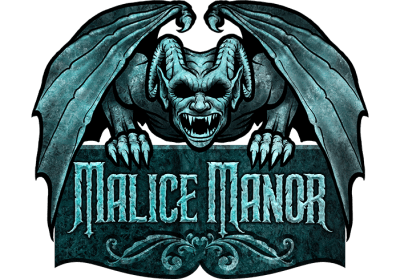 Features:

Free Parking, Restrooms/Porta Potties On-Site, Gift Shop/Souvenirs, Special Events, You may be touched, Original Characters, Indoor Waiting Line, All-Indoor Attraction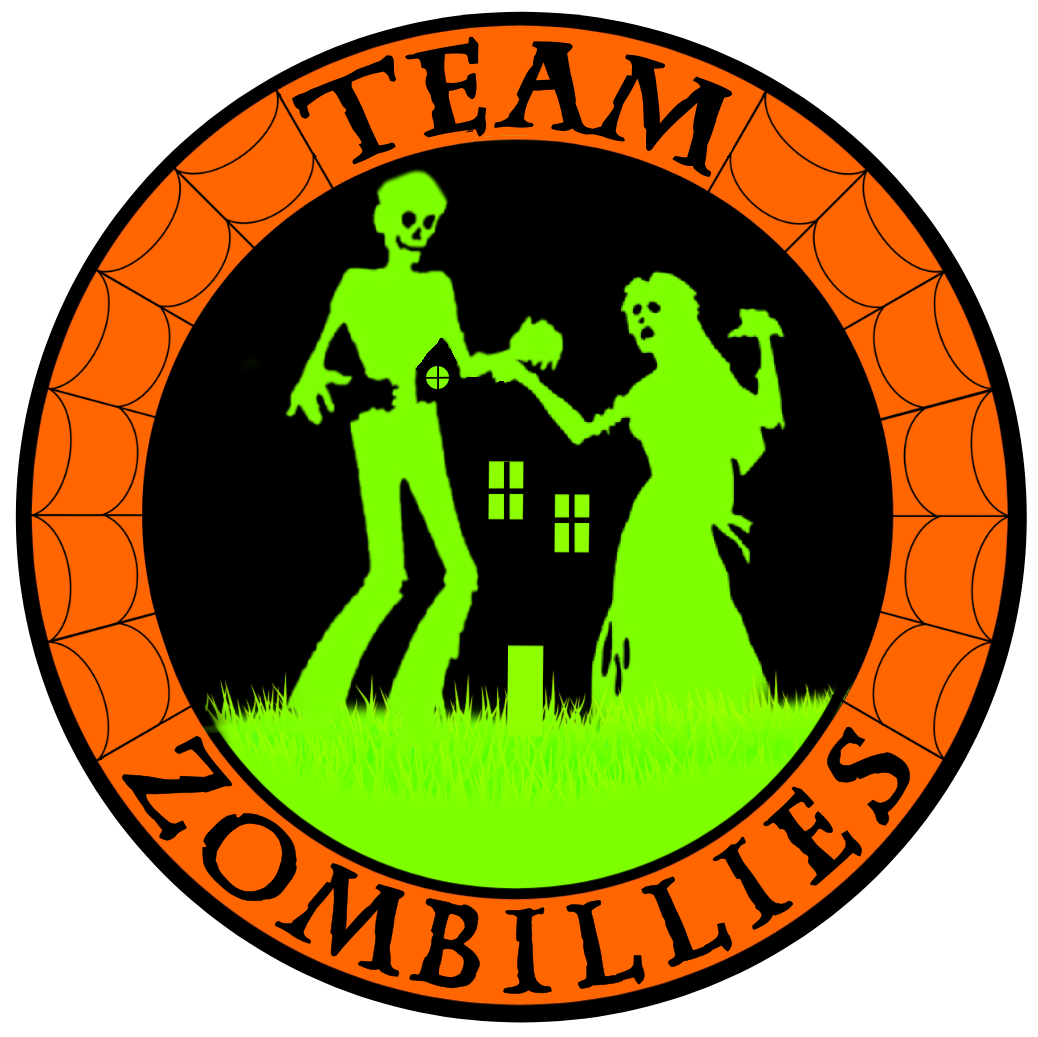 This attraction was reviewed on October 12, 2019 by Team Zombillies.
How Do We Get These Scores?

Final Score:

8.51
How Did We Get This Score?

Summary:
2019 marks the inaugural season for Malice Manor, Southern Indiana's newest haunted house! They are located completely indoors in Clarksville, IN, which isn't far into the Hoosier State from Louisville, KY. But don't discredit them because it's their first year; these malicious masterminds have tapped into experience gained from working at several nearby haunts, including The Haunted Hotel, to bring their take on terror into a very surreal +10,000 sq. ft. reality!
While this may be the first time they've owned a haunt, they've made it abundantly clear that this isn't their first rodeo. We visited Malice on their 2nd week open to the public and, not only did we get some scares that we've never seen before, they're already using some visual, psychological, and sometimes hilarious tricks commonly used by the industry's top-rated attractions. While we still noticed some room to improve, they're already on the heels of some of the best haunted houses in the region.
Malice Manor is also a touch haunt. The creatures and denizens within can – and will – touch you, and they will likely destroy any personal space bubble that you may have prior to entering. You might as well pack light and just leave that thing at the door! However, they are *NOT a 'full contact' haunt, so you won't be physically picked up or pulled away from the scenes.
With that, join us as we 'step into their insanity, and try not to get burned by the fire.'
---
Cast: 9.13
How Did We Get This Score?

One of the owners (Sean, aka 'Joker') informed us that, despite the great performances that we witnessed, most of their actors have never worked in a haunted house before. Though, with the help of an experienced management team, Malice Manor still provided an incredibly interactive and skillfully-executed show. As mentioned, the actors here can (lightly) touch you. You won't be thrown around or grabbed or pushed around like a chew toy, but adding this element of touch was just enough to shed any perceived barriers between us and these crazy characters.
The first lady that we encountered (no, not the President's wife) and her devious counterpart proved to be a strangely-sinister duo for the opening scene. Her dialogue and delivery were quite theatrical and well crafted, and the same can be said for the intimidating guy in the next room. There, we learned that, 'Pain is pleasure,' and, 'Misery is joy;' which certainly came to fruition throughout our tour of the Manor.
Despite us being the last group to go through for the night, the entire cast was all up in our personal space bubbles as soon as they saw us! They were very energized, feeding off one another and, on occasion, mingling with those adjacent scenes when the opportunity presented itself. The butcher and the lady behind the meat market counter were a great example of this. After complaining that she only had single breasts in her inventory (instead of a pair), she then yelled at the nearby butcher that he needed to stop eating them! Apparently, further violations would be grounds for termination. Watch it, butcher!
'Bubba' was quite the character as well, proudly prancing his well-rounded 'thunder belly' around his bathroom and giving us plenty of 'love' before we could escape his grungy grasp! He then showed us his wall of asses – literally – and explained how he was going to put one of ours on a blank spot on the wall. Yikes!
The guy in the arcade was one of the most interactive, the pirate (yes, they have a pirate!) called us 'his favorite cuttlefish,' and we could keep going about the other actors and how they made us a part of their performances. But hey, we've gotta leave some surprises for you, right? Overall, we were very impressed with this largely-first-year cast and can't wait to see how they develop their show in the coming years.
---
Costuming: 8.59
How Did We Get This Score?

The costuming at Malice Manor is off to a great start as well. We saw several high-end masks in use (especially the hole-y one), makeup helped them achieve that sinister 'dirty / grungy' look, prosthetics added depth to their demeanors, and their attire was well suited (haha, get it?) for each character and their respective scene. These aren't the most outrageous or elaborate outfits we've ever seen, but each of them were distinctly different from their co-monsters. There weren't many cases where we didn't know exactly what we were getting attacked by.
The mermaid and the pirate were some of the most unique characters we've seen in a while! Lots of little details made them very believable and realistic in their nautical setting. The butcher, the crazy Santa-esque scoundrel (which should reminisce with those who remember the Christmas scene from The Hotel, years ago), the lap dancer (complete with extended eyelashes), Bubba and his 'thunder belly,' all of the queue actors, and the big guy from the second scene were all especially memorable for their looks.
---
Customer Service: 9.59
How Did We Get This Score?

We had the liberty of getting a sneak-peek of this attraction during the off season, so we knew exactly where we were going this year. However, for first-timers coming from the main highway through Clarksville, it may be difficult to spot until you're directly in front of the building. A 'Malice Manor' banner is displayed above the front door and a classic car with their logo beckons passers-by to stop and see the haunt (someone else was parked in front of it on this night). Still, our GPS gave us the signal to keep our eyes peeled and their big, tan warehouse sets them apart from their surroundings.
The queue area is very large and completely indoors; a huge benefit for rainy nights! Though, the exit path directs guests around the outside of the building to get back to the parking lot. Remember rain gear if you visit them during a downpour. Everyone that we spoke with was very friendly, welcoming, able to answer any questions we had, and anxious to scare us!
We were able to find all of their pertinent info online via their website. During the first part of the season, they had to push back their opening date several times due to rescheduling their fire inspections, which we were able to find via their Facebook page. Not only does this tell us that safety is a top priority for Malice Manor, it also means they have an active social media presence, and you can rest assured you'll always have access to their most updated information. Though, we feel that having some extra details about the haunt – IE: the fact that they can (lightly) touch you, are ADA-compliant, etc. – might be some good additions to the website.
---
Atmosphere: 7.6
How Did We Get This Score?

Malice Manor is very close to nearby residential properties. Although there wasn't a lot going on outside the building, there was a sign above the front door and a vintage hotrod parked out front that let us know the Manor was inside.
Malice's queue line is all indoors and that's where the party was at (the spooky one, that is)! As soon as we opened the front door, we got the staredown from an intimidating butcher and a clown that continued to stalk us for quite some time. This isn't Walmart, so don't expect some chipper door greeter to ask you if you need a cart. Instead, you may find something that will haunt you in your nightmares for quite some time'
The whole queue area had a menacing glow to it, complete with a horror movie projected on a large wall and sinister sounds. They had a decorated, rustic ticket booth and concrete block-like columns around the entrance to the attraction. The walls and ceiling are still pretty bright and clean, otherwise, so we're anxious to see if the decorating continues into future seasons.
As we waited our turn, a disturbing little creature came out of the haunt to check us out. While doing so, it carried around what appeared to be a freshly-chopped-off human arm with 'Malice Manor' carved into it. It was clearly very proud – and awfully possessive – of its little trophy.
When it was our turn to enter, the door to the manor opened all on its own' almost as if it was 'ready' to take us in. Lots of sounds echoed from inside as we approached, which combined to create what we thought was a great – and creepy – way to begin our journey!
---
Special Effects:

8.13
How Did We Get This Score?

The special effects within the Manor added quite an array of items and details to the scenes. Some items were purchased while others appeared to be made in-house. One of their largest 'critters' was custom-created by a special effects company especially for them! We won't give away all the gory details; just be wary of the water in the pirate scene…
Regarding their scenes and layout, it was obvious that some major planning was involved. There were many things to maneuver around or even physically interact with! Over the years, we've seen plenty of large scenes where we walk through and it doesn't feel as demanding or intense. Sometimes they're so large they give you the feeling you can easily escape from those within. That was not the case here! The walking path through the larger areas forced us to get up-close-and-personal with our attackers. At times, there may be things along the way that touch you too, and it's not always the living creatures within.
We were surprised by all the small and intricate details that we saw within the Manor. With peeling wallpaper, eyes peering at us through the wall, children's toys, a giant teddy bear, a skull fountain with blood, lots of body parts, some very interesting photos hanging on the walls, and so many others, we're pretty sure we'd need to go through at least 5 times to get a good look at everything. Can we go back now, preeeeeezz!?!?
There were also a lot of unique effects inside and, if we'd seen them before, we hadn't seen them quite like this. Some of these included meat curtains, a surprising stove, a plexiglass chamber, a vibrating walkway, a hole-istic hallway, and a unique water effect in the pirate area.
There were plenty of sounds to be heard throughout, too. Most of them were pretty loud and ominous. In scenes where they were louder than others, we found ourselves on-edge from losing one of our senses.
---
Theme:

N/A
How Did We Get This Score?

Malice Manor informed us that they do not follow an overarching theme. They did, however, explain that the haunt has several 'easter eggs' hidden throughout that allude to what you may encounter next. It's kind of their own twisted version of 'Alice Through the Looking Glass,' but without it being a guiding factor of their scene and scare selections.
Although our group isn't very skilled at finding easter eggs in haunts to begin with, the interactive cast ripped away nearly every chance we had to look for them. We were lucky to catch a glimpse at what kind of room we were in, much less these little thoughtful, intricate pieces of set design. But, if you're able to find any of these elusive clues, they have the potential to add a whole new dimension to the haunt as they tie the scenes together.
During our tour, we found a wide variety of scenes. From parts of a worn and tattered house, a butcher shop, and a cemetery to a large courtyard, a pirate ship, a disgusting bathroom, and a Playboy lounge, we literally had no idea what fate would await us around the next corner.
---
Scare Factor:

8.34
How Did We Get This Score?

Malice Manor succeeded in scaring us in a variety of ways this year. In the first room alone, they produced a startle scare and, while we were given the intro to the manor, a human-hungry character eagerly paced around us, eyeballing us, waiting to have his way with us. We were either his next victims, or meal, or something… there was no doubt about that! Needless to say, they were able to pull off making us feel uncomfortable in the first room, and it certainly didn't let up from there'
Well-disguised scares come in packages of all shapes and sizes here; they were very hard to predict. Just when we thought we were going to get a peep show – negative, ghost rider! Some were placed and camouflaged well enough that they were able to attack more than once!
Although there were only 2 members in our group, they did an excellent job with timing and targeting both of us evenly – so we're sure they won't have a problem with larger groups as well.
Additional scare tactics thrown at us inside the Manor include areas where you won't want to touch the walls, a run-in with a giant sharp-toothed fish, intimidating characters, threatening dialogue, and an attack on the senses. At one point, we couldn't hear ourselves think, which made us more vulnerable to other scares as well.
There were also some scare tactics that we either haven't seen before at all, or that aren't used very often. One of which resulted in our group scaring ourselves!
We don't want to ruin the finale, but if you're a long-time haunt fan of the Halloween attractions in Louisville, then you may get a dose of nostalgia upon walking into this scene. What happens here was always quite effective and, along with Malice's new twists on this particular terror, it still is!
---
Entertainment & Value:

8.2
How Did We Get This Score?

General admission to experience this brand new attraction is $25.00 per victim. Fast Passes are also available for $40.00 and will provide a faster entrance by allowing you to skip the general admission line.
Your group's tour time may vary, but the cast tortured us for a solid 12 minutes. We will say it felt a bit longer than that due to their interaction. At the general admission price, it brings their MPD (minutes of entertainment received per dollar spent) to 0.48 which is quite a bit below average. The pricing seems high for a first-year attraction, but the folks running the show all have years of experience under their belts and, if we hadn't known it, we never would have guessed this was a first-year attraction.
They do offer $5.00-off coupons on their site for Sundays, and you can subscribe to their email list for a coupon as well.
When it comes to entertainment provided outside the attraction, there was music in the queue area as well as a movie being projected on the wall where everyone in line could watch it. We also had 3 queue entertainers interacting with us during our wait, as mentioned in Cast.
We can't stress this enough, but again, for a first-year haunt, this is one impressive show and we look forward to visiting them for years to come! This is one of those houses that leaves you thinking, 'What the Hell just happened to me?' and, if you're like us, we're still thinking about it days later! We highly recommend that you get your asses over to Malice Manor this haunting season so they can show you why 'Indiana has something new to fear!'
Oh, and 'Don't close your eyes' That's where they hide!'
---
How Did We Get These Scores

Promo Images:
Click to Enlarge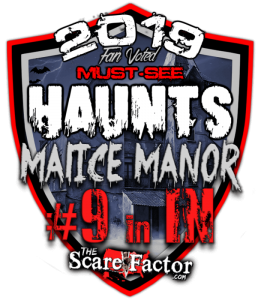 ---
Guest ReviewsGuest Average: 9.67 out of 10
Jessica – 10/10 – September 25, 2021It was an amazing haunt from beginning to end, the actor's never break character or anything, by far …show more one of the best haunts i've ever been too
Sam – 10/10 – October 19, 2019This haunt is amazing the actors love their job and it shows I was scared I was laughing I was …show more thrilled the whole time hands down the best haunt I've been to in a long time and the crazy lady with the shocker stick made me jump amd dance for her was my favorite she was wicked scary yet fun
Michelle – 9/10 – October 19, 2019These actors love their job this haunt is one of the best I've ever seen I was scared I was …show more laughing….I was mess…..the actors love making you scream jump and laugh
---
Past Awards
---
2022 Awards
Best Sensory Scare - Vibration Room (Given by: Team Zombillies)
Aine - Meredith Ritchie (Given by: Team Zombillies)
---
2019 Awards
Funniest Scare - Bubba's Bathroom (Given by: Team Zombillies)
Most Unique Characters (Given by: Team Zombillies)
Highest Rated Newcomer (Given by: Team Zombillies)
---