Malice Manor – Full Review
Malice Manor is a Haunted Attraction located in Clarksville, IN.
640 Providence Way, Clarksville, IN 47129View All Details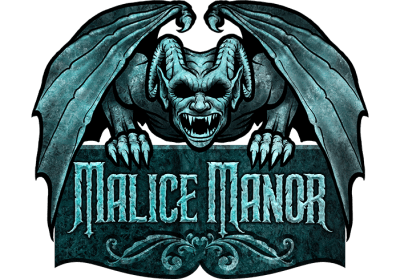 Features:

Free Parking, Restrooms/Porta Potties On-Site, Gift Shop/Souvenirs, Special Events, You may be touched, Original Characters, Indoor Waiting Line, All-Indoor Attraction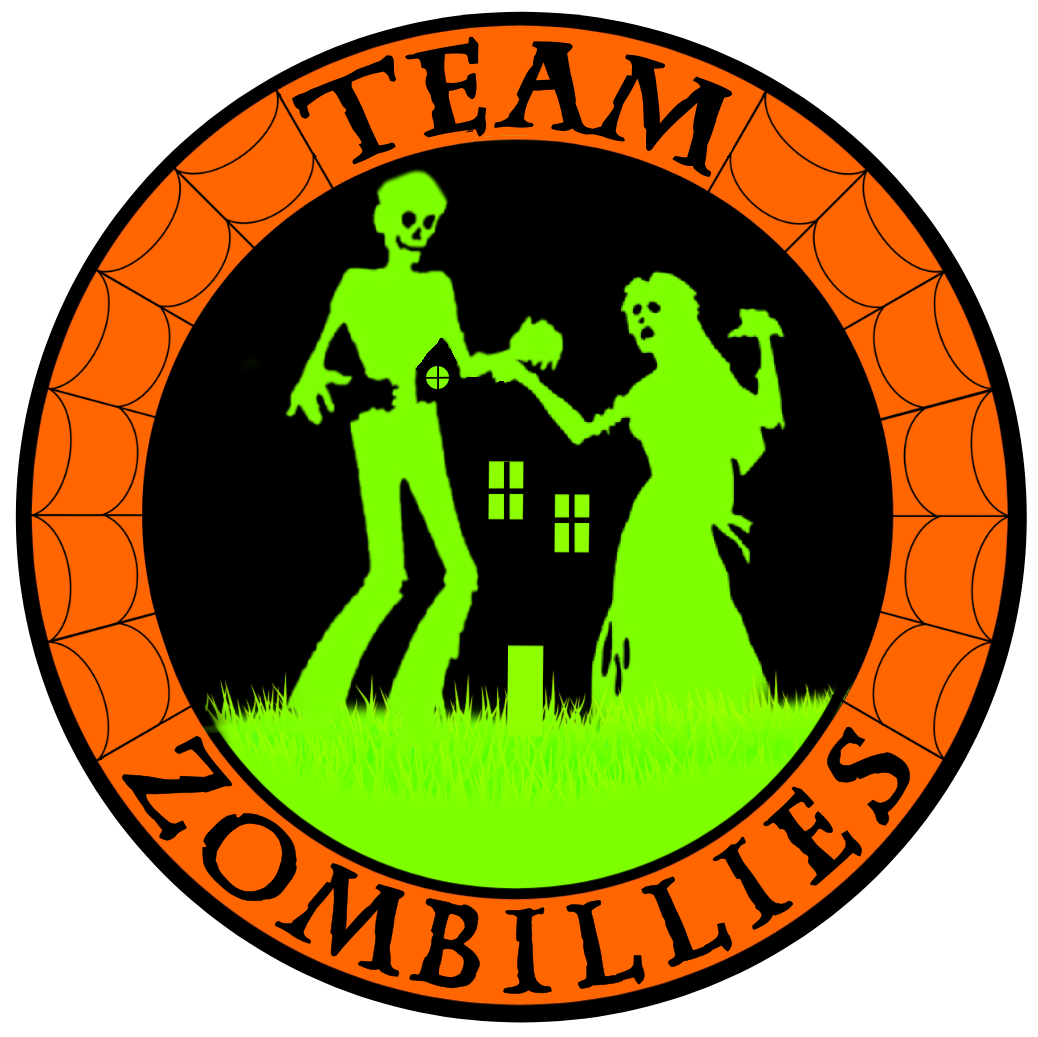 This attraction was reviewed on September 18, 2020 by Team Zombillies.
How Do We Get These Scores?

Final Score:

8.18
How Did We Get This Score?

Summary:
2020 is Malice Manor's second season scaring the folks of the South-Central Indiana and Louisville areas. This is an all-indoor haunt located a mere 10 minutes from downtown Louisville and has a good mix of actor- and special effect-based scares.
Based on a sinister Lord Rancor – who seeks to exploit the fears of all who enter and harvest their souls – Malice is not only the newest haunt to the area but also proving their merit as a must-see Halloween attraction. Being that the Manor can change its appearance based on your darkest imaginations, Malice might just be more than your sheltered-in-place emotions are prepared for this season…
Too soon for pandemic puns?
On that note, and all jokes aside, Malice is taking their COVID precautions very seriously. It seemed that each of the policies listed on their website was being enforced at the time of our visit. Some of these included all staff and actors being masked up, the queue line being marked at 6-foot intervals for social distancing, and regular sanitation policies being in place for the scenes and props.
Welcome to Malice Manor, where the milkshakes are free and you're perverted if you grab one!
---
Cast: 8.05
How Did We Get This Score?

Malice Manor's cast was a mix of veteran and green scaractors on the night of our visit. While there was some evidence of fresh blood in a few scenes, the tactics of those more experienced successfully picked up on the slack. The only real exceptions to this were in areas that seemed devoid of actors' which were few.
With new distancing policies in place, along with this being our first review of the season, we weren't sure what to expect along the lines of actors being able to interact with guests. What we found was a wide array of techniques – ranging from climbing the walls and wildly 'coming out of the woodwork' to crazed mutterings and deranged story-telling sessions.
A familiar face from a haunt that closed this year eclectically welcomed us to the Manor and gave us the story of what we were walking into (looking at you, Riker!). Beyond that, the rest of the characters appeared in seemingly random orders and themes. From a paranoid housewife and sobbing doll to a cursed pirate and skeletal spooks, we had little chance of knowing what was waiting for us around the next corner.
Most of the said tactics were executed pretty well (albeit some timing being off on a few of the attempted startles). And despite their apparent burning desires to eat us alive – sometimes literally! – each of the monsters valiantly held back and honored our personal space bubbles. All in all, these monsters showed us a good time and we look forward to seeing how they improve throughout the season!
---
Costuming: 8.11
How Did We Get This Score?

With masks being a hot topic for haunts this year, we were excited to see that Malice was adapting their usage into each of their characters' appearances. The vast majority employed the use of custom airbrushing on their cloth models to give each monster's face a cohesive appearance. Our short conversation with the Pirate gave us ample time to realize the details of his makeup / mask combo.
On the other hand, the clear plastic masks (smaller versions that only covered the nose and mouth) admittedly took some getting used to at first. Those outliers aside, others who had more substantial half-face haunted house masks (think 'Immortan Joe' from Mad Max, as resembled by our queue entertainer, for example) seemed to look much more in-line with what most Halloweeners are used to seeing in a haunted house.
For the wardrobe department, the lady in the dress, the doll, the butcher, the chainsaw chaser, and queue entertainer were well-detailed and authentic-looking, making them our stand-outs of the night here at Malice. It seemed that most of the outfits were suited for each scene, but a few exceptions gave us the feeling that there was just something missing… or perhaps not as elaborate as others. Regardless, the big guy with the 'light-up' staff in the 2nd room made us think twice about moving forward with his demented look, and that going backward – through the fireplace, mind you – might've been a smarter choice on our part! Watch out for that guy…
---
Customer Service: 9.64
How Did We Get This Score?

Being that we've been to Malice Manor before, this was a very easy haunt for us to find. The building can be a bit inconspicuous to first-timers from a distance – a large pole barn near a strip mall – but our Google GPS app and Malice Manor's sign on the front of the structure accurately confirmed that we'd arrived. There was even a spot open right up front! Free, paved parking is available in front of and next to the building at nearby storefronts, and plenty of lighting made getting inside a breeze.
Upon entering the front door, the ticket and merch booths were right inside. We highly recommend checking out their hauntingly awesome swag! Friendly staff members had designating attire and helped us procure our tickets, gave us the rundown, and guided us where to go. All guests had the opportunity to get a group photo before entering the haunt and purchase prints at the merch booth afterward.
The haunt has social distancing guidance in place in their indoor waiting area. All actors and staff had masks on. They were also spacing groups as much as possible without slowing the line way down and without letting groups catch up to one another once inside. They were also sanitizing commonly touched places through the haunt.
---
Atmosphere: 7.85
How Did We Get This Score?

Malice Manor's building exterior features a relatively small namesake banner, colored lights, and a vintage car in the parking lot to let you know you've arrived at a haunted house. The interior queue area features a rustic ticket booth, additional ambient lighting, a video projected on one wall, and the Manor's facade which serves as the entrance to the haunt. Each of these, combined with the roaming queue actor, provided a small glimpse of what we could expect inside the haunt.
Malice's building, and specifically their queue area, hosts other non-haunt-related events during the offseason. That said, there isn't an over-abundance of permanent decorations that scream 'haunted house' in relation to the size of this area. This admittedly creates a bit of an 'empty' feeling – seeing all of that untapped real estate – but we do acknowledge that this is also only their 2nd year open, so there are lots of opportunities for them to keep growing into the space at their own pace.
We'd like to note that, due to Malice's edge-of-suburbia location, it's not in their best intention to make a lot of outdoor noise. Regardless, as soon as we got out of the car, we could hear blood-curdling screams escaping from within the building!
---
Special Effects:

8.14
How Did We Get This Score?

The haunt started in a seemingly-decrepit manor, but it wasn't long before we realized this was no ordinary house! Doors opened and closed on their own, shifting walls deceived us, and a trap door disguised as a fireplace beckoned us into its bowels. Although it was nearly impossible to see everything in a single pass, we knew from talking to the owners last year that there are a lot of 'easter eggs' and other intricacies that repeat customers will be sure to appreciate.
The Manor has some large and new surprises waiting inside. Watch your feet at all times; there's a creature in there large enough to take you out with one strike! When it comes to decor and props, this haunt has everything but the kitchen sink. Well… they have that too, and they even have a real car inside the haunt! Scenes and walls were detailed with blood splatters, a film of grungy filth, and realistic furniture and other interesting obstacles. It's not very often that we end up in a pirate ship inside a haunted house or an arcade room complete with retro machines. From a fresh meat locker, skull fountain, vibrating floors, a ghostly portrait, sauna, and shower room to a kitchen and toy room, your unique-seeking effects buds will engage from start to finish.
One of the things that makes Malice unique is their path design. With most haunts, when you enter a room and can see the exit, you're able to make a b-line for it after the scare. Here, however, many of the scenes have obstacles and decor that must be navigated around to reach your destination. This forces you to focus some of your attention on watching where you're going instead of what may be lurking down upon you.
---
Theme:

N/A
How Did We Get This Score?

Malice Manor is essentially based on the wicked Lord Rancor, with the Manor itself being a vessel that transports you into his dark and twisted mind, and thus exploits your innermost fears as you make your way through. Since there isn't much of a defined story beyond what a couple of the actors told us, and their website doesn't define it any deeper either, we've given them an N/A in this category.
---
Scare Factor:

7.93
How Did We Get This Score?

Let's get this straight. We mentioned parts of the haunt might shift or move above, correct? So that means it can open a world of things from one's imagination, right? That's exactly what this means. What does this have to do with Scare Factor? It means you could walk directly into some of your deepest and darkest fears.
Afraid of spiders? Being crushed by a vehicle? Dolls? The dark? What about water?
Although Malice is a very actor-driven show, not all of the scares were' at least not directly. Items suddenly tipped, air blasted us, steam shot into the air, and as we mentioned before, a few giant creatures are waiting for you. Sometimes all it takes is the right concoction of sounds effects and scenery to let the mind wander, leaving unsuspecting victims very vulnerable.
Scares were hard to predict in some areas while the timing was a bit off in others. Some of those that caught us off-guard came from above us and well-camouflaged hiding spots. It's also hard to brush off intimidating crew members equipped with shocking stick aparati!
---
Entertainment & Value:

7.88
How Did We Get This Score?

In addition to the video projected on the wall in the queue area, the line actor had a unique way of adding some entertainment value by mowing down guests with his Gatling-style Nerf gun! We weren't sure which was funnier: the fact that he was shooting everyone with a Nerf gun, or that everyone he was shooting was picking up the ammo and giving it back to him. I guess we're all suckers for punishment.
General admission to Malice Manor is $25 per person, $40 for Fast Pass, and $60 for direct, front-of-the-line access. We timed our venture through Lord Rancor's mind at 11 minutes, giving us 0.44 minutes per dollar (MPD). This is a bit on the short side for this tier of ticket price, and a fair bit below the average MPD for the area, but this is partially due to a slightly shorter length' likely because of some shortened interactions with the actors this year.
Still, for a second-year attraction, we had a great time and highly recommend a visit to Malice Manor! Just be sure to watch out for that guy in the queue line, and try not to let Lord Rancor's mind get the best of you!
---
How Did We Get These Scores

Promo Images:
Click to Enlarge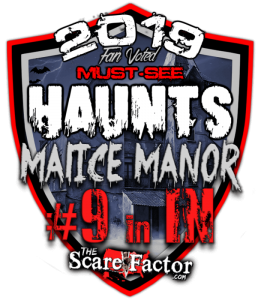 ---
Guest ReviewsGuest Average: 9.67 out of 10
Jessica – 10/10 – September 25, 2021It was an amazing haunt from beginning to end, the actor's never break character or anything, by far …show more one of the best haunts i've ever been too
Sam – 10/10 – October 19, 2019This haunt is amazing the actors love their job and it shows I was scared I was laughing I was …show more thrilled the whole time hands down the best haunt I've been to in a long time and the crazy lady with the shocker stick made me jump amd dance for her was my favorite she was wicked scary yet fun
Michelle – 9/10 – October 19, 2019These actors love their job this haunt is one of the best I've ever seen I was scared I was …show more laughing….I was mess…..the actors love making you scream jump and laugh
---
Past Awards
---
2022 Awards
Best Sensory Scare - Vibration Room (Given by: Team Zombillies)
Aine - Meredith Ritchie (Given by: Team Zombillies)
---
2019 Awards
Funniest Scare - Bubba's Bathroom (Given by: Team Zombillies)
Most Unique Characters (Given by: Team Zombillies)
Highest Rated Newcomer (Given by: Team Zombillies)
---