Malice Manor – Full Review
Malice Manor is a Haunted Attraction located in Clarksville, IN.
640 Providence Way, Clarksville, IN 47129View All Details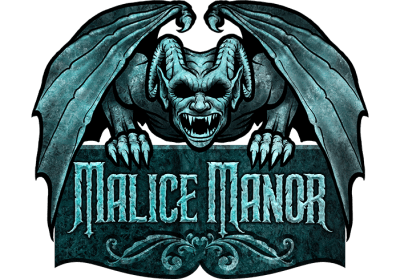 Features:

Free Parking, Restrooms/Porta Potties On-Site, Gift Shop/Souvenirs, Special Events, You may be touched, Original Characters, Indoor Waiting Line, All-Indoor Attraction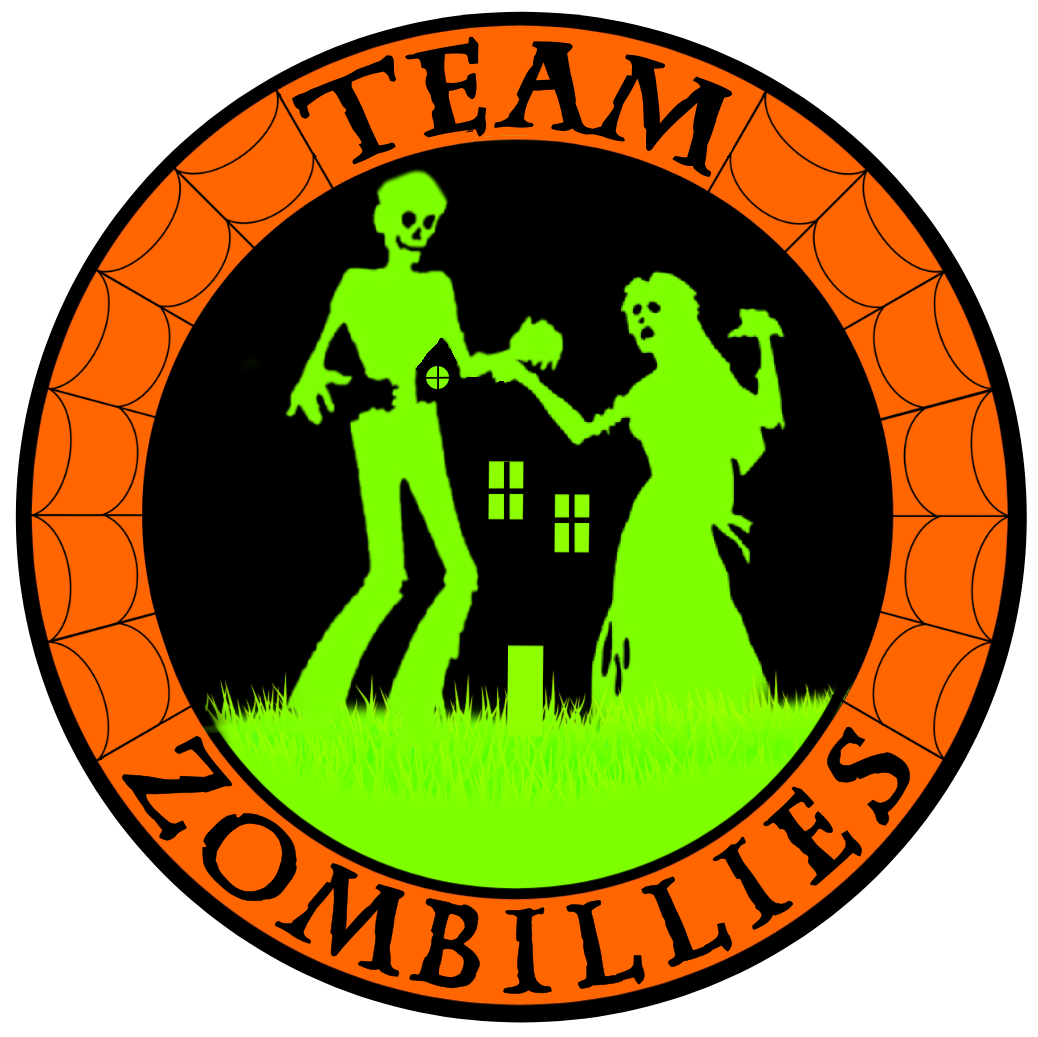 This attraction was reviewed on September 10, 2021 by Team Zombillies.
How Do We Get These Scores?

Final Score:

8.31
How Did We Get This Score?

Summary:
A new darkness has manifested within Malice Manor. With each passing moment, Lord Rancor, the Manor's owner, grows ever so crazy, mourning the loss of his daughter, Alice.
For their third sinister season, something daringly demented and deranged has been called upon by Lord Rancor's newly-introduced wife and Lady of the Manor, Aine (pronounced Awn-Yay). The distraught dam has turned to dark arts and even necromancy in a last-ditch attempt at bringing their beloved daughter back to life.
We aren't gonna lie; after hearing this, we were a bit skeptical about entering. We generally have a bit of common sense when making decisions and, as we are all aware, nothing good can come of dark arts or in trying to bring the dead back to life, right?! But, alas, we didn't let that stop us; the Manor called to us' or something within it did. Was it Alice? Was it her deranged mother? Or was it some demonic entities?
---
Cast: 8.31
How Did We Get This Score?

No sooner than we opened the front door to the haunt's building, a very energetic actress grotesquely greeted us! Now that's the way to start a visit at a haunted house! A looming Lord Rancor stood guarding the fenced entrance to his Manor. This was the first time we had laid eyes on this horned Irishman in person, and we weren't sure whether to sneak past him or face him to beg to enter his abode. So, we distracted him with selfies while waiting and watching for another group to come in and, as soon as they did, we darted into the fence past him (with tickets in hand, of course)!
Although his stern demeanor may have been intimidating' As fate would have it, he was one of the last beings we needed to worry about.
Each character within Rancor's twisted imagination varied from the rest. Some were brutal, subtly scary, unsettling, or downright disturbing – we're looking at you, Aine. Although it didn't seem like they covered quite as much ground as they have in the past, their interactivity increased immensely from our prior visit.
Previously, some of the characters directly utilized humorous dialogue. That was not the case as much this year. Instead, these characters leaned towards the scarier side with comedic relief as good follow-ups to their primary scares. We must say we were impressed by the quirky comebacks that many of these characters utilized, specifically in the kitchen. We're not sure of this actor's name but, as soon as we arrived, he asked if we were hungry. Once we told him we were, he started showing us his marvelous table of humanistic feasts. We quickly informed him we were vegetarians and he excitedly perked up, beckoning us to follow him while running over to a giant head of lettuce. 'Is this what you want?' he asked as he proceeded to demonstrate his cleaver's ability to make quick work of chopping it up. Before leaving his scene, he nearly convinced one of us to stick our head in his oven, and then he even showed us his 'gluten!'
Although it's hard to pinpoint just a few additional characters, we did find out the hard way what their meaning of 'bread' is by getting a healthy serving of what we've since dubbed a 'B&B sammich' (Butch and Bubba). Aine was definitely among the best performers of the night as well, as she echoed unknown chants throughout her scene. Every now and then we'd catch a glimpse of English, including telling one of our group members that although he wasn't Alice, she was sure he would suffice. Now that is one unstable lady! We'd also like to give mention to the woman in the cemetery.
On an additional note, although a lot of creative and alarming dialogue was spat at us, there was still some room for improvement, as we did hear some more common phrases such as, 'Where are you going?' Although, we'd suspect that this may improve as the season progresses.
---
Costuming: 8.19
How Did We Get This Score?

Malice Manor's malicious monsters use a mix of masks and makeup applications. Most of the makeup-wearers had darkened eyes and streaks of dark colors across their skin and faces, which lent to them having various degrees of dirty and grungy appearances. Others sported the splatters of blood, pale skin, and vicious-looking veins – further evidence of the evil events that are actively taking place. We did notice a few areas where the fiends' faces had more makeup than other areas of exposed skin, but these were generally the exception rather than the rule.
These looks were complemented by equally-distressed and tattered costumes. Since the settings and time periods in the haunt varied from scene to scene (more on this in Theme, below), so did those of the costumes being used. While the occasional clothing selections did seem a bit odd (ie: an overhead kilt and a leather outfit in the bathroom), most were very good about being matched to the scenes they were in. Some notable accessories included platform shoes, ear gauges, colored contact lenses and frizzy hair styles.
In contrast, some characters (such as Lord Rancor, the bartender, and Ambrose) had intentionally-cleaner clothing articles. While this style isn't as common as the more-distressed appearances of the other monsters at Malice, they were still suitable for the occasions and scenes we saw them in.
Lastly, we noticed an interesting array of mask selections. Lord Rancor's highly-detailed full-head mask was a great ice-breaker to the haunt, being located in the ticket booth area. A different mask that we saw inside the haunt utilized an illumination effect that worked quite well in its dark environment' especially when we found it stalking us from behind unexpectedly!
---
Customer Service: 9.56
How Did We Get This Score?

Malice Manor is an all-indoor haunted attraction, including the waiting line! Due to city limitations and delays on procuring additional signage, Malice wasn't quite able to go balls to the walls with their exterior decor (more on this below). However, a banner hanging on the front of the building partnered with multi-colored lights did let us know we had arrived once we were very close to the parking lot.
This building was very easy to get to and, on the night of our visit, there was plenty of paved parking nearby. Parking is free, by the way! Malice is just a short jaunt across the river from Louisville, so for those considering crossing the creek to get their scare on' you don't have far to go!
Navigating the attraction was very straightforward. As soon as we stepped inside the front door, their decorated ticket- and merch-selling setup was immediately to the right. All of the staff members that we engaged with were professional, friendly and knowledgeable about any questions we had. It was also apparent that they were having fun and happy to be present. Several groups came in behind us with lots of questions and they happily answered them all and offered to help where needed. They also offered to take what appeared to be a freshly chopped off arm out of their merch display case for us so we could get a better picture! Yes, we had to touch it and yes… it felt real!
Outside the fence, there was a movie being projected on one of the walls and an obvious sign directing us toward which waiting path to take – depending on our ticket type. Although everything was out to get us in the Manor, we didn't come across anything that we felt would actually harm us. The only exception to this may be the pitch black area, so be sure not to run and take your time finding your way through, unless you have plans on head-butting a wall in your near future. There was also one instance of contact that consisted of an extra dose of force so do keep in mind, you may be touched in this attraction but typically, it's of the slight variety.
Before entering the attraction, we did get to partake in a fun group photo. Before you leave, be sure to check it out at the merch booth so you can purchase one to hang on your fridge!
#makingmemories
---
Atmosphere: 8.4
How Did We Get This Score?

Malice Manor is located in a large metal-clad building next-door to a small strip mall. While the building itself may not resemble a spooky structure in and of itself, the multi-colored lights and 'Malice Manor' banner on the front certainly indicate that something spooky is going on inside.
In addition, once you get inside, the mood quickly shifts to something more sinister. The movie projector and merch booth serve as reminders that you're still at an entertainment attraction. At the same time, the roaming queue actors (including Lord Rancor himself – during our visit), rustic ticket booth, and courtyard fencing, grotesque-topped pillars, spooky lanterns, lightning storm effects, traditional Irish tunes and creeping vines are teasers to the other brand-new creations and spookiness that lies beyond the Manor's facade.
---
Special Effects:

8.44
How Did We Get This Score?

From a vintage arcade room and a malicious mechanic shop to a secret speakeasy and zombified shark attacks on a pirate ship, your guess is as good as ours when it comes to guessing what's going on within the deranged depths of Lord Rancor's mind.
The new Dark Arts room, however, reiterates the method behind the madness. It is here where Aine has amassed a vast collection of animal bones and other 'decorations' to help her in her search for her daughter. A few other rooms also allude to the Dark Arts being performed as well.
Some other interesting effects included a 'surprising' arcade game, a falling bookshelf, a secret passageway through a fireplace, demonic UV paintings, a bloody skull fountain, ominous odors, huge barrels of 'COVID' (we'd recommend staying away from that stuff), and an even larger fellow named 'Buster.' Just when we thought we'd seen it all, we found an entire hallway covered with asses! Yep' you'll know it when you see it.
Background sounds were evident through the entire attraction' but more so when our attention wasn't captured by the actors. We noticed that some of the sounds were multi-layered, and most were carefully matched to the scenes we heard them in. While we walked through, it seemed that most served to either break the silence of spaces that didn't have actors, or intensify the scares taking place within the scene. Several of the animated props were producing their own sounds as well, which made them more realistic.
Aside from an intentional blackout hallway, each of the scenes at Malice Manor are becoming increasingly more detailed alongside their number of years in operation. Extra details and props were present in some scenes, while other rooms were entirely ripped out and replaced! We visited Malice during one of their summertime events, and we were still surprised at the number of changes we noticed since just a few weeks ago' and even more so since last haunt season.
---
Theme:

6.9
How Did We Get This Score?

Although it hasn't been totally brought into fruition, Malice Manor's story is becoming more apparent and we really like the way it seems to be going! Currently, there is little information on the full theme to read. However, upon speaking to the owners, more and more of this theme will be exposed in the coming years.
We listened closely as Ambrose addressed the gist of the theme at the beginning of our journey. It seems that Lord Rancor and Aine's daughter, Alice, has disappeared. They've searched everywhere for her for weeks, but have still yet to find her. He calmly and creepily explained that Lord Rancor has turned his grief into madness and that The Lady of the house has sought for answers within the Dark Arts: you know' black magics and necromancy and such.
Upon stepping through a fiery entrance, we heard someone yelling for Alice. Other characters also referred to her as we made our way through, enhancing the troubles within the estate. There were obvious rooms and bits often expected to be found in an old manor but there were also areas that may not seem to fit nearly as well at this time. Although we're sure the reasoning beyond this will be more clear in the coming years, the owners have alluded that their story is similar to Murder House in that each scene stays in its time period. This combined with the Manor itself being a vessel that transports guests into Lord Rancor's dark and twisted mind called for quite a mixture of sets and scenes.
---
Scare Factor:

8.1
How Did We Get This Score?

The dark arts practices that were taking place at the Manor seemed to have awakened a new set of creatures and spirits, expanding into different types of frights.
Timing is key and they used it to unlock the door to several really good screams and plenty of startles from our group. A vintage distraction took us by surprise while total darkness and eerie sounds left our minds racing, convinced something or someone was following us. Did you hear that? Is someone there? We may never know…
In addition to the more common phobias we saw, including clowns, spiders, and dolls, the creators did well at adding depth to these occurrences. We had to walk around recent spider victims (one was still making noises) and beneath a moving creature within. We didn't stick around long to see if it was actually a spider or not, thank goodness as others were clearly less fortunate. Rather than trying to be funny, the clown was creepy and the items on display in his freakshow-style showcase alluded that this was no friendly clown.
There were 3 members in our group during this visit, and they tried to target all of us as much as they could. Several scares nailed all three of us at the same time! Camouflaged hiding spots added to our frights along with a well-placed air blast, subtle touches, quickly emerging beasts, and they even tried to bite us on one occasion!
As we have already mentioned, Malice did utilize light touching this season. We also got shocked and wet but we're going to let you figure out in which order on your own. If you make the right choices and stand just right in your group, you may not get either.
As we neared the exit, a poor feller crushed by a car distracted us from noticing the gas-guzzling chainsaw assailant that was sizing us up. He did get mighty close to us, but our little legs were quick enough to get us home to at least write this review. I'm sure he'll get us one day though'
---
Entertainment & Value:

8.08
How Did We Get This Score?

Lord Rancor will open the Manor doors for you at $25.00 per soul, which is the same ticket price they've had since they opened. Don't worry, the additional sandwich inside is provided complimentary by Bubba and Butch. If you'd like to experience the horrors sooner, a Fast Pass can be purchased for $40.00, allowing you faster access to the manor versus waiting in the general admission line. And for those that would like to be carved up stat, you can opt for Front of the Line access for $60.00 per mortal.
It took us a total of 18 minutes to traverse the Mansion which is quite a bit longer than in year's past. This brings the MPD (minutes of entertainment received per dollar spent) to 0.72 which is more in-line for the Louisville/Southern Indiana area's average.
As noted by the Manor staff themselves, 'Everything is not what it seems.' Doors open on their own, time goes from the present to the past and back in mere seconds, black craftiness lurks about and camouflaged trickery mutates to the surface within these corridors. Watch yourselves' as you never know what can lurk up behind or right in front of you!
When it comes to entertainment and value of an attraction, we also try to focus on what's provided with the haunt for the same ticket price. At Malice, they had a movie projected on the wall just inside the front door that guests in the extended waiting area could watch and there were several roaming characters in the waiting area as mentioned in Cast.
Since their opening three seasons ago, we've tried to visit Malice as many times as we can and this year is no different. This is already the third time we've been through this year (we visited them twice during the Haunters Against Hate event earlier this year). With that being said, with each visit, they've gotten stronger and better. The dark and twisted theme behind this attraction is emerging more and more with each passing and we can't wait until more of this storyline unfolds!
Are you brave enough to enter Lord Rancor's mansion to see what awaits you beyond the flames?
---
How Did We Get These Scores

Promo Images:
Click to Enlarge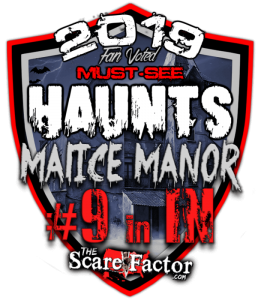 ---
Guest ReviewsGuest Average: 9.67 out of 10
Jessica – 10/10 – September 25, 2021It was an amazing haunt from beginning to end, the actor's never break character or anything, by far …show more one of the best haunts i've ever been too
Sam – 10/10 – October 19, 2019This haunt is amazing the actors love their job and it shows I was scared I was laughing I was …show more thrilled the whole time hands down the best haunt I've been to in a long time and the crazy lady with the shocker stick made me jump amd dance for her was my favorite she was wicked scary yet fun
Michelle – 9/10 – October 19, 2019These actors love their job this haunt is one of the best I've ever seen I was scared I was …show more laughing….I was mess…..the actors love making you scream jump and laugh
---
Past Awards
---
2022 Awards
Best Sensory Scare - Vibration Room (Given by: Team Zombillies)
Aine - Meredith Ritchie (Given by: Team Zombillies)
---
2019 Awards
Funniest Scare - Bubba's Bathroom (Given by: Team Zombillies)
Most Unique Characters (Given by: Team Zombillies)
Highest Rated Newcomer (Given by: Team Zombillies)
---