McCalls Haunted Farm – Full Review
McCalls Haunted Farm is a Haunted Attraction located in Moriarty, NM.
34 Mccall Lane, Moriarty, NM 87035View All Details

Features:

Free Parking, Restrooms/Porta Potties On-Site, Food/Concessions, Gift Shop/Souvenirs, Optional Games/Midway, "Hi-Tech" Attraction, You will NOT be touched, Movie Characters, Original Characters, Indoor/Outdoor Waiting Line, Indoor/Outdoor Attraction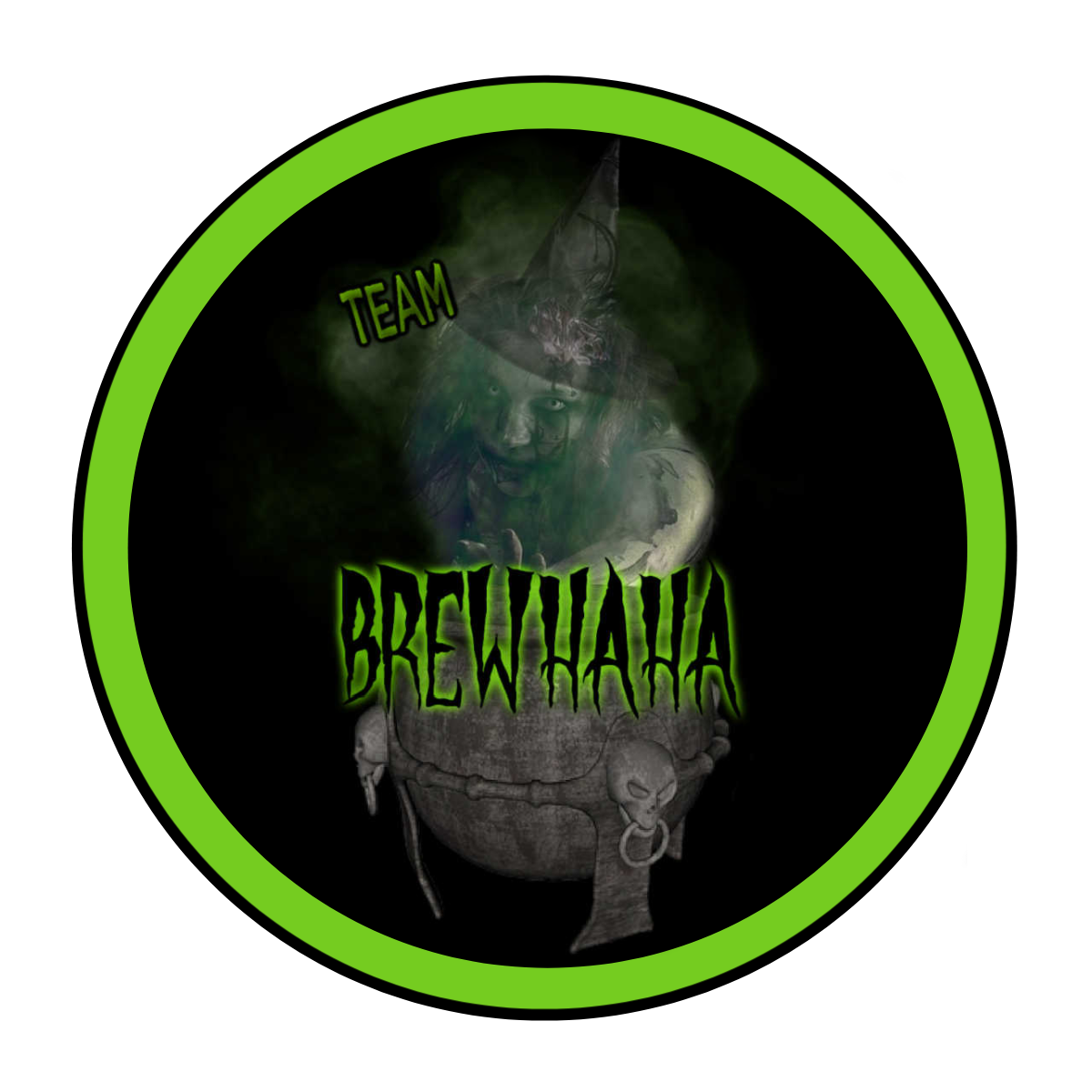 This attraction was reviewed on October 20, 2023 by Team Brewhaha.
---
About Our Reviews and Rating System
---
Final Score: 8.98
Final Scores – By Category

Final Scores – By Attraction

Summary:
There is nothing quite like a family farm and pumpkin patch in the fall. Located near the historic Route 66, McCalls has been entertaining New Mexican families for 35 years. By day, families can explore the corn maze, pet farm animals, play games, and pick the perfect pumpkin. When the sun sets and the evening chill and fog roll in, McCalls Haunted Farm takes over.
McCalls uses a timed ticket system so guests can get some food and enjoy some of the activities while they await for their time to face their fears. McCalls Haunted Farm has two haunted attractions designed to make your worst nightmares come true. The two haunted attractions are the Field of Screams and the Haunted Barn, and once your time comes up, you can choose your fate to start your terrorizing journey.
---
Cast Score: 8.96
Cast Scores – By Question

Cast Scores – By Attraction

Cast Review:
The creatures that stalk guests in both haunted attractions and the midway area were intense. With a vast array of minions, there were plenty of scares to share. Actors used a wide variety of scare tactics with excellent timing. It doesn't matter where you are in your group; no one is safe from becoming the next victim. Anyone who has a personal bubble better beware, as the cast gets very close to you.
Throughout the different sections of both haunts, each character fits the scene; no actors that we saw were out of their themed section. We were very impressed with how the actors kept guests moving by either scaring forwards or stalling guests to break up groups. Dialogue is also well used; for actors that had lines when we responded to what they were saying, they immediately had clever dialogue to respond.
To the creepy scarecrow-type creature in the sewers, you did a great job of actually making me jump twice from your scare. The use of statue scares keeps one on their toes; it's hard to tell what is a prop or an actor.
---
Costuming Score: 8.61
Costuming Scores – By Question

Costuming Scores – By Attraction

Costuming Review:
While on your journey throughout McCall's haunted farm, you will encounter a wide variety of creepy creatures and disturbed humans. Actors within both haunts and in the midway area have complete costuming from head to toe. Clothing for each actor looks custom-made with details that draw you into the scene; even the footwear fits the theme.
Masks throughout had beautiful details as well. There were many masks throughout that we have never seen before. From creepy dolls to graveyard ghouls, each mask was blended into the costume, and we greatly appreciated that each actor who wore a mask had makeup around their eyes. There was an actor that gave us a fright who was perfectly blended into the wall; we were staring right where they were standing and could not see them. Makeup was masterfully done as well, with many styles used throughout. Many times while walking through, we would slow down to absorb the attention to detail.
---
Customer Service Score: 9.13
Customer Service Scores – By Question

Customer Service Scores – By Attraction

Customer Service Review:
McCall's Haunted Farm was very easy to find by using the website as well with a GPS. When you take the side road to get to the haunt, there are large signs with arrows to point the way. Once you park your car in their large free parking lot, you will have security check your tickets and time slot with your tickets. There were plenty of helpful staff to answer any questions or concerns you might have, and there is also an intermission booth.
The entrance of each attraction had several large TV screens displaying information so one can easily identify which time and group is allowed to enter the line. There were several restrooms available and a large selection of food and drink, as well as games and merchandise. The website is also very easy to navigate, with ticket information, a family section, and a very detailed background of the haunted farm.
---
Immersion Score: 8.93
Immersion Scores – By Question

Immersion Scores – By Attraction

Immersion Review:
From the moment you enter the attractions, you are immersed in the theme. Both the Field of Screams and The Haunted Barn have no particular theme, but each scene blends into the next one. Field of Screams is a corn path that has great props and animatronics to keep you on your toes. Spread throughout the haunt, there were several containers that each are completely themed from floor to ceiling. Each set transports you to a scene from your nightmares. Some of the most memorable were a snake and spider scene, several circus themes, and a spectacular laser swamp. There was eerie music and smells used throughout, and lighting was used exceptionally, drawing your attention to detail. Fog effects were also, for the most part, contained within the containers.
The Haunted Barn is filled with Hollywood-level sets that make you feel like you are a victim in a horror movie, even though no Intellectual properties are used. Each scene was expertly crafted with professional lighting and effects. From the sewer to the mental hospital to an ending that will have you running for your life, every room had us surprised with all the detail, with some areas even having disgusting smells to further pull you into the nightmare. Fog and strobe lights were also utilized well, making it hard to navigate at times.
---
Special FX Score: 8.88
Special FX Scores – By Question

Special FX Scores – By Attraction

Special FX Review:
Both Field of Screams and The Haunted Barn are filled with animatronics and special effects. Throughout the path of Field of Screams, there were several realistic mannequins, making it hard to tell what's a prop and what's an actor. There were also plenty of large animatronics that are hidden amongst the corn. Hidden within the sets in the containers, there were several effects in each. The winding path in each container had several animatronics and special features that will surprise you. We loved how close the animatronics came to you, with some coming seemingly inches from you. Each container will have you guessing of what surprises await.
Throughout the Haunted Barn, there are tons of animatronics; some even come from the ceiling. There were also several large moving props, including a moving conveyor system with various chunks of meat. The use of smells is added to some of the scenes, adding to the realism. Even the hallways that connect the rooms had animatronics and props to keep the scares coming. Strobe lights were phenomenally used in scenes, especially in the clown section, that were so well timed that one loses sense of direction. There is also an excellent fog swamp that had a fairly thick waist-high fog that was impossible to see through. This haunt has a very well-timed finale with several surprises that await.
---
Scare Factor Score: 8.79
Scare Factor Scores – By Question

Scare Factor Scores – By Attraction

Scare Factor Review:
Both of the haunted attractions at McCalls Haunted Farm are filled with scares. Field of Screams utilized many different types of scares to keep guests guessing. Both of the haunted attractions have well-placed realistic mannequins with actors that blend in, making it hard to tell what's real or not. Timing of the animatronics allowed the actors to use the animatronic as a distraction while they pounce on unsuspecting victims. Actors used every hiding spot they could find to pounce, but one of the most surprising scares was a terrifying doll that you had to navigate around with the actor moving and creeping.
The Haunted Barn is a more intense experience. Several times, they got one of us to get jump scared. Actors were intense in the barn, with each room having several to interact with and taunt the guests, invading their personal bubble. Towards the end, we even had what's called a monster hug, where actors completely surround one guest. From beginning to end of both attractions, you will be either creeping around or running for your life. We have to give a shout-out to the sewer creature and saloon patrons for creeping us out.
---
Entertainment & Value Score: 9.55
E&V Scores – By Question

E&V Scores – By Attraction

E&V Review:
Timed ticket entry can range from $27.99 to $37.99 plus fees, depending on the night you visit. Tickets are only available online on their website; there are no tickets available on-site. Walking through both attractions took us 60 minutes, bringing the MPD or minutes of entertainment per dollar to 1.58, which is an outstanding scare for your dollar, as the national average we see is one minute per dollar.
Overall, McCalls Haunted Farm is an outstanding haunted location to spend an evening with friends or family, especially if you want to have a hard time sleeping with the nightmares it will produce.
---
View Full Score Sheet
---
Pics We Took From Our Visit:
---
Promo Images:
Click to Enlarge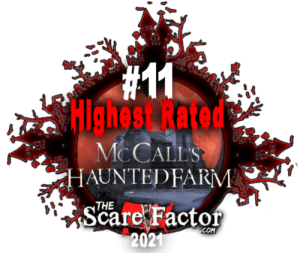 ---
Have you visited this attraction?
Join ourspookyadventures!
We visit Halloween haunted attractions year-round! Follow us for haunted house walkthrough videos, behind the scenes footage, and more!