Midnight Terror Haunted House – Full Review
Midnight Terror Haunted House is a Haunted Attraction located in Oak Lawn, IL.
5520 West 111th Street, Oak Lawn, IL 60453View All Details

Features:

Free Parking, Restrooms/Porta Potties On-Site, Optional Games/Midway, Special Events, "Old-School" (Low Tech), You will NOT be touched, Original Characters, Indoor Waiting Line, Covered Outdoor Waiting Line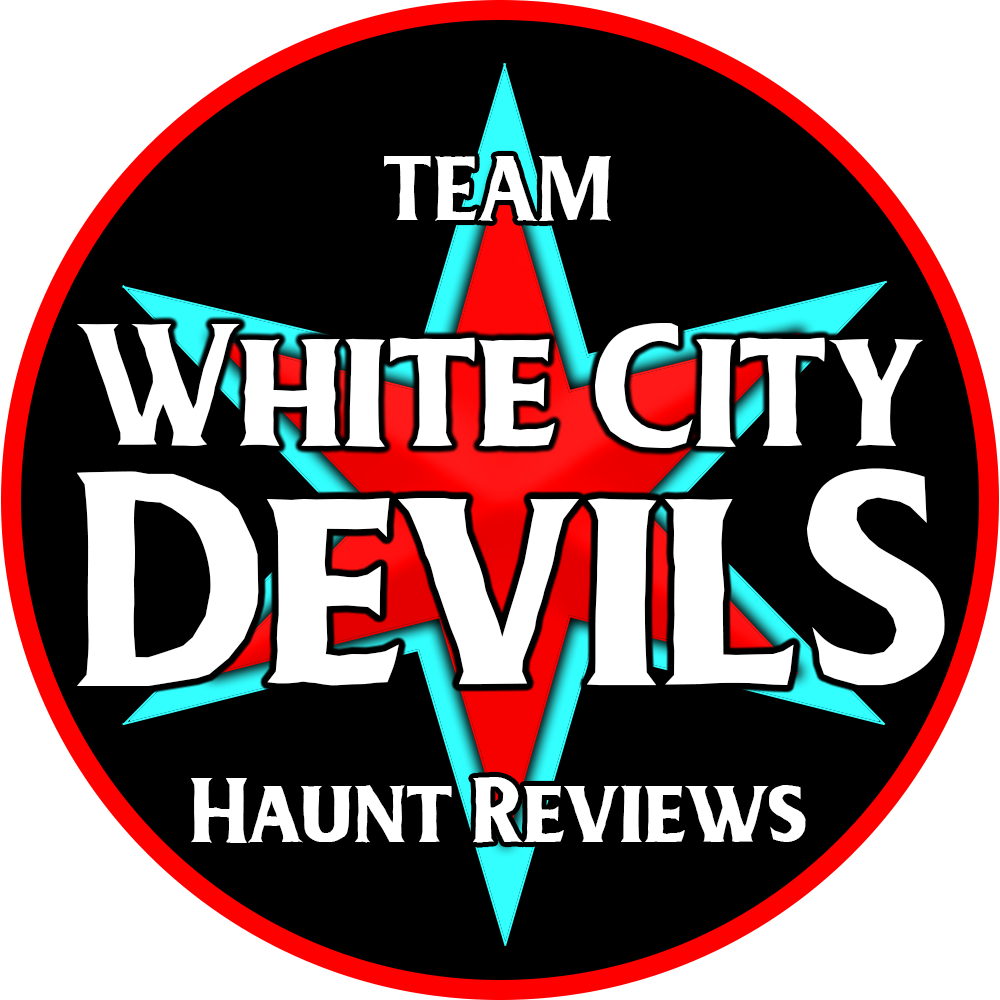 This attraction was reviewed on October 6, 2018 by Team White City Devils.
How Do We Get These Scores?

Final Score:

8.81
How Did We Get This Score?

Summary:
Just south of Chicago in the Oak Lawn, Illinois area is a haunt that is unique for its ever-changing props, rooms, and themes. Midnight Terror (MT) started 20 years ago in a driveway and has developed into a Chicago staple on the local haunt map. Now in its 3rd year and occupying a 26,000 square foot factory, MT continues to baffle and deliver some of the most distinctive scenes with its actor-driven scares and a combination of 'low-tech' old-school and even new quality aspects. Along with MTs ever-changing storyline on Black Oak Grove, Willow, and the factory on the outskirts of town, we can say they stand alone in the constant development from year to year and it only gets better every time we go! Every room has a unique feel and different actors with different approaches, leaving you to wonder what will be lurking around every corner!
---
Cast: 8.94
How Did We Get This Score?

MT is known to be an actor-driven haunted house. Around 100 actors can be seen terrorizing the halls and rooms. Considering that many actors, we were able to go through the haunt with almost no dead space. This left us with encounters at almost every turn.
What we liked about this haunt is they didn't stick to typical growls and screams, there was a wide variety of methods used to keep our tension high and always had us guessing at what's to come. Actors used the rooms and situations of the scenes to their advantage. We recall a quiet little girl creepily staring us down without a word, and other scenes had a coven chanting in synch with one another (we will elaborate more on them later). We can recall one actor who crept up to us asking 'do you know how your flesh tastes?' It was in the way he had asked that question that led to some goosebumps on our flesh.
To keep the theme of the haunt flowing appropriately, some actors had fixed lines to explain the situation distressfully or to warn us for what lies ahead. We would have liked to have seen more interaction overall from other actors without fixed lines, but everyone seemed to have put their all into their characters leading to a unique and believable experience. The Cast did an amazing job of convincing us that this small town was under an evil spell and there was little hope for their salvation.
---
Costuming: 8.89
How Did We Get This Score?

The actors' costumes were appropriate for each given scene. The first half of the haunt is set in a factory, meaning most of the actors have an older laborer look about them. They did have a medical area which was appropriately paired with a medical staff. The costumes were of a higher quality and matched with tears and dirt that made the look feel as if they had been working hard for a very long time.
The second half of the haunt takes place in a small town called 'Black Oak Grove' (we will elaborate on this in the theme section of our review) and the citizens of this town are all sorts of messed up. Since this is a town, it offers a broader theme than a factory and we were able to see quite a different variety of costuming in this town setting. They all had authentic and realistic clothes leading us to believe that the setting of the theme was in a much older period, not of current time. All the townsfolk were also marked up with a symbol that is very important to follow. We could at times see what we believed to be a coven flowing throughout the town that would pop up every now and then before we walked through a forest area and discovered their prayer grounds.
Overall, the costuming gave us perspective on much of the haunt and it was of great quality and helped in bringing out the believability of what we were seeing. This led to a higher result on the overall Scare Factor of the haunt.
---
Customer Service: 8.94
How Did We Get This Score?

MT has many giant banners along the road on 111th, leading you to a lot right next door. We had read on their website that if their nearby lot is full, there is a parking lot a few blocks away which they provide a free, interactive shuttle bus ride. We unfortunately did not have the opportunity to ride in the shuttle bus. However, we did overhear another patron exclaim they had a great time. We understand that each bus ride is different and depending on how interactive the group of guests are, the longer the ride can be. So, in a sense, you and the other riders would be responsible for how fun the bus ride would be.
As we walked towards the ticket booth, we noticed a large line of people under a tarp tent lined around the steel barricade fences. We inquired about upgrading our pre-purchased tickets to fast passes, which the staff member granted and stated it was a wise choice. Never underestimate the power of the amazing fast pass! We tried to take in as much of the queue line experience as we could, but before we knew it, we were escorted into the 'rules room.' The staff was professional and helpful with keeping the lines flowing and everyone entertained. Any additional information that you may be looking for can be found easily online.
---
Atmosphere: 8.5
How Did We Get This Score?

Walking up to the building, you could hear the screams of people waiting in line and running out of the building. With the combination of chainsaws revving and the sight of the cemetery across the street, you can feel the atmosphere of what is Midnight Terror.
As stated above, we did not get to experience any queue line entertainment. We did, however, manage to catch a glimpse of the actors interacting with the people waiting in line, the appropriate reaction you want to see before you step in. One actor we encountered on the outside did leave a good idea as to what was to come. She was covered in blood from head to toe with a special mark on her forehead and was mumbling prayers in tongues reaching her hand out to bless everyone who walked by. She gave a simple, yet frightening performance, in just the queue line.
When we reached the inside line, the vibe was more high-tech and the actors in here had great costuming and acting. We were able to catch small glimpses of groups already in the main attraction, and most had a definite look of fright on them. It appealed to the overall aspect of preparing guests for what's to come.
---
Special Effects:

8.85
How Did We Get This Score?

The special effects of MT are unique in their own right. They combine both the low-tech and old-school vibe from one half with the more complex higher tech methods in the other half. You get the best of both worlds here and its all under one roof!
One great example of low-tech, old-school we came across was when we were almost crawling through a dark maze, there was an opening with a metal screen that made the actor visible only when they scraped a machete across the fence, causing sparks. The small patters of sparks were also helpful to illuminate our area enough to guide us down the maze. This worked well because it was enough to startle us and also helped guide us along.
Some of the more higher-end, modern techniques throughout were also well crafted. When we had reached the forest area with the coven who was in sync to one another, the area was surrounded by laser lighting and fog that was waist high, giving the feel of walking through an old horror movie. To our surprise, there was much hiding within the fog. When we reached the main character of the haunt, Willow, her whole scene led to some amazing effects and great acting that accompanied the special effects of the room. The whole scene is something one should see to believe, we won't spoil with exact details, but trust us, it's amazing!
---
Theme:

8.5
How Did We Get This Score?

One of the more unique qualities of MT is the theme. We have attended MT every year since the switch to the 111th location and the past few years we really couldn't tell much of a theme was going on. Turns out there is one! And they elaborated on it this year with a video to explain:
A young woman named Willow explains how she found solace in a book found in the forest she used to walk through when being abused by the monster in her home who is her father, Sledge, the owner of the factory. When she tried to show her teachers or anyone else the bruises as proof, everyone ignored her. She called upon the demon from the book, Malin to avenge her. Malin entraps everyone in the factory and in the town for their negligence. Throughout the factory and Black Oak Grove, you can see the trapped souls of the townspeople and factory workers. As guests, we walk through and it is determined whether our souls remain with the townsfolk, or if we are forgiven for ignoring the marks.
One of the more interesting parts of this story is that it's ever-changing. We learned from the owner/creator that with each season there is a new chapter to the Willow story. This means what we see this year will not even be close to the same as previous or future years. Again, just a few years ago we had a hard time reading or knowing what the exact theme was but now as an audience, we have a better understanding of each chapter and are excited for the upcoming years to continue the story of Willow and her book.
---
Scare Factor:

9.01
How Did We Get This Score?

The overall Scare Factor of MT is great. The actors do a good job at working with their environments to provide overall scares throughout our entire visit. We were shown a variety of scares including pop-ups, environmental, disturbing dialogue, visual, and surprises from props. The Factory half of MT did a fantastic job at staying true to the low-tech vibe and keeping it very actor-driven with minimal/simple effects set up in a well-detailed setting. The Black Oak Grove half of the haunt did a great job of providing visually frightening details that left you wanting to admire all the smaller things but when we did try to, we left ourselves vulnerable to someone jumping out at us, and it happened a lot!
Each person in our group was targeted. We were paired with complete strangers (as does happen sometimes with smaller groups) but it led to a special experience, as we also kept an eye on their reactions so we could get a point of view from someone who isn't professionally trained to look for things. They tried their best at cracking wise jokes and goofing off to relieve some of the obvious tension they had but were constantly screaming in fright, which was wonderful to see!
When our group reached the end, known as 'chainsaw alley' let's just say we never saw the rest of the group again as they ran full speed away! The Scare Factor here is overall praised by us as we did get a bit of everything with all MT had to offer.
---
Entertainment & Value:

8.61
How Did We Get This Score?

MT's general admission is $25 and $35 for VIP. This price includes entrance to both The Factory of Malum and Black Oak Grove. Our walk-through time was at 24.23 giving our MPD value (Minutes of entertainment received per dollar spent) at $0.97. This isn't the highest value we've seen but they do deliver on what they have! The lines can be crazy long (as was on our visit) but you always do have the option of upgrading to the VIP ticket and paying the difference from the GA price. We think that's something more haunts should offer, as it gives the customers who have purchased online tickets the chance to see the line, and then decide if they would like to upgrade (as we did). We can't say anyone else will have a similar experience, but with the VIP upgrade, we waited in line for about 4 minutes total, and when GA holders noticed this, many of them got out of line to get the upgrade. WORTH EVERY PENNY!
MT offers off-season haunts, including a clown take overnight to end the season. They also offer escape rooms and tactical laser tag. MT is unquestionably worth the trip to Oak Lawn to check out this season, and if one wants to see Willow's story continue to unfold, it will be worth visiting every season to come!
Fun Fact: When Oak Lawn was first established in 1835, it was known as Black Oak Grove. It was really cool to see the connection from the haunt incorporating a bit of its surrounding history into the storyline.
---
How Did We Get These Scores

Promo Images:
Click to Enlarge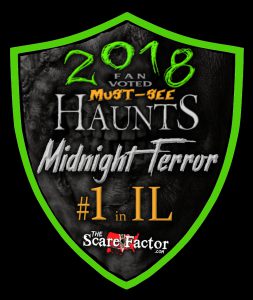 ---
Guest ReviewsGuest Average: 10 out of 10
Arty – 10/10 – July 26, 2018I loved every second of it everything about it was soo professionally done and there was not one …show more second of boredom. There was this one worker especially and her name was Jas and she was soo kind and friendly and helped me when I was confused.
---
Past Awards
---
2020 Awards
Most Detailed Haunt (Given by: Team White City Devils)
---
2017 Awards
Most Twisted Haunt (Given by: Team Zombillies)
Most Unsuspecting Atmosphere (Given by: Team Zombillies)
---