Review of Midnight Terror Haunted House Haunted Attraction
Review of Midnight Terror Haunted House Haunted Attraction
Review of Midnight Terror Haunted House Haunted Attraction
Midnight Terror Haunted House – Full Review
Midnight Terror Haunted House is a Haunted Attraction located in Oak Lawn, IL.
5520 West 111th Street, Oak Lawn, IL 60453View All Details

Features:
Free Parking, Restrooms/Porta Potties On-Site, Optional Games/Midway, Special Events, "Old-School" (Low Tech), You will NOT be touched, Original Characters, Indoor Waiting Line, Covered Outdoor Waiting Line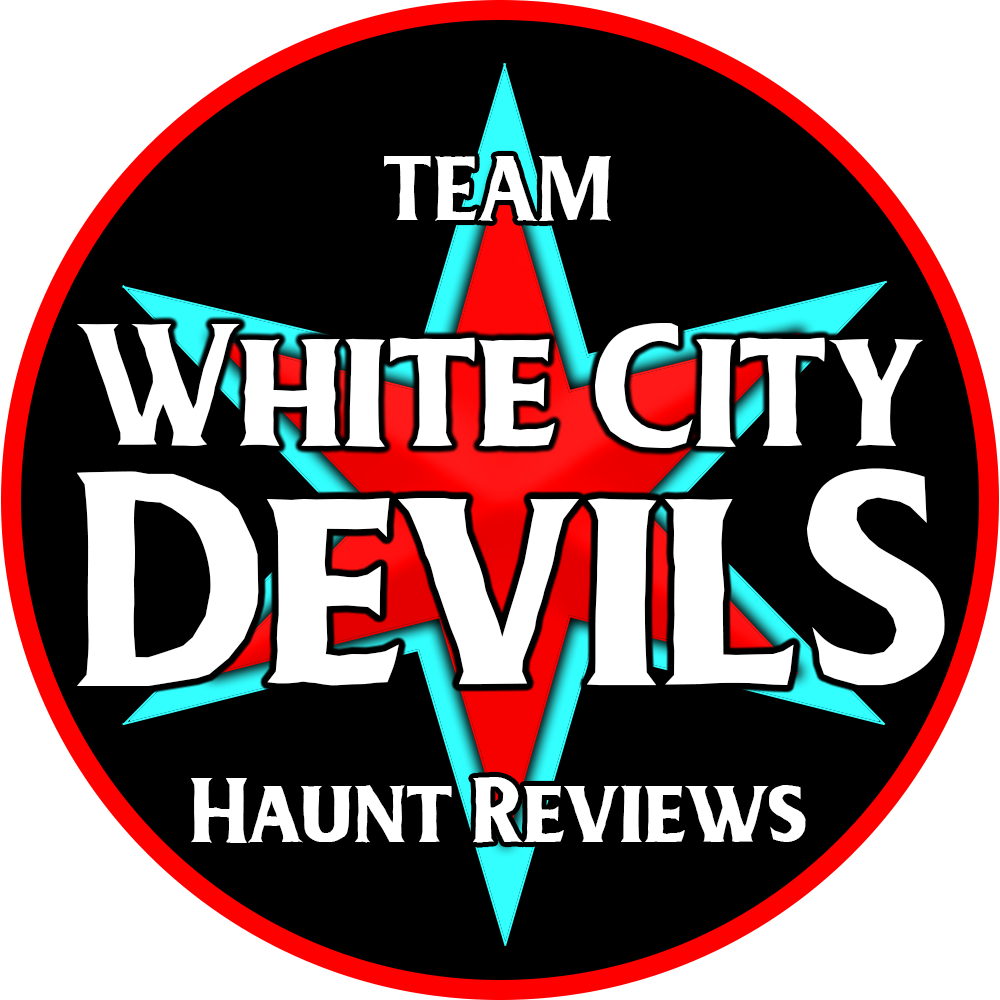 This attraction was reviewed on October 23, 2020 by Team White City Devils.
How Do We Get These Scores?

Final Score:

9.07
How Did We Get This Score?

Summary:
Midnight Terror (MT) happens to be our final stop this year for reviews. They opened just a tad later than the rest to properly assure the team was ready for more strict safety precautions. Not only did they have some of the most well-placed guidelines inside, but they also had a ton of fun with it and adapted to put on a helluva show!
---
Cast: 8.75
How Did We Get This Score?

I think anyone would be hard-pressed to find anyone at MT who was not dedicated to their role and character at any point of the night. In the queue line, we had some friendly banter with the local ruffians of Black Oak Grove. One character we haven't seen before did some amazing crowd work, her character name is Roxy and she had this though chick 50's persona about her. You can tell the sort of James Dean meets the Warriors inspiration with a great creepy twist. It works well with the theme of MT and I always appreciate some new, well-thought-out characters to meet!
Let's talk sliders and sparks a moment. The sliders at MT seem to put the term 'slider' on the map for the Chicago scene. I feel like these guys somehow make it clear across the room with ease. Picture this, you're standing in line minding your own, trying to mentally prepare for what's to come, and then BOOM, sparks are running clear across the rails at you, and then there is a whole grown man sliding with sparks flying on the ground near you. Timing is everything to make this effective and without a doubt, it's effective! The commitment to even gain a running start on this and also have a clear runway seems challenging so I really do applaud the efforts made into the sliders at MT.
Inside the haunt, Actors really did bring high energy in every scene. They all owned each character and brought the rooms to life. We ran into our old friend Buzz the barber, who is this kooky hairstylist who can never seem to take enough off the top. We were also introduced to a new scene/ character worth mentioning called Scoops. Scoops runs a candy and ice cream parlor and is also plenty demented in his own right. Scoops seems to have strayed away from using traditional ice cream toppings and replaced them with something more' gruesome. Another great example of devoted acting has to be from a character I was later told is named Paulie. What was interesting about Paulie was there was no talking, only a weird eerie presence. His movements were that of a windup toy and he would even pause his axe swing to almost being wound up again. As we have seen him in connecting rooms, there were times where he was collapsed entirely, and yet he would make his way into the next scene at an unusual pace. Paulie in short was a very creepy character.
As we progressed throughout the haunt, we did not notice anyone who was out of character and I have to admit everyone had fun with their roles. The MT cast always delivers and despite the craze of 2020 managed to do so within safe regards.
---
Costuming: 9.01
How Did We Get This Score?

The makeup and costume department is always ridiculously impressive, to say the least. What is most impressive is the improv used to hide PPE masks in plain sight and not take away from the overall experience. As mentioned before, Roxy has a very rebel-ish persona and it shows throughout the costume. Her face was covered by a creative metal guard that looked like something from Mad Max.
Another great stand out costume throughout the haunt would easily be Malum. He is a very cynical being and these highlights are brought out from not only the factory as a whole but just the overall full costume. Malum is very fiendish/ devilish and has a big presence during his scene. To further highlight the detail spotted in costumes and makeup would include the previously mentioned Buzz. As demented as he is, he also is very presentable in the sense of having a proper haircut and the vibes of an old-fashioned stylist. Black Oak Grove (town portion of the overall haunt) has a schoolhouse inside and is introduced by a principal warning of truancy and tardiness. She is dressed as an old-timey teacher fit with a ruler and feels as if she wouldn't think twice about using it for discipline. As I mentioned, MT always impresses us with the details throughout their costumes!
---
Customer Service: 9.48
How Did We Get This Score?

MT is always easy to get to and offers parking near the attraction. Usually, there is an off-site lot with a bus ride, but it of course is currently not offered to help practice social distancing. As fun as the bus ride is, it is totally understandable the precautions in place to even make the efforts to stay open this season.
For information, the MT website is the best bet as all tickets are virtual and timed for the time being. MT is also very active on FB and IG and responds in a timely fashion to any questions.
MT has one of the most impressive inside queue lines we have seen this year. They have around 6-8 stables for groups to stand in and be called on when next in line. These stables are well within the recommended six feet apart if not more! Everything moves at a quick pace and it hardly feels like a queue line this season. When anywhere on the haunt's premises, there is usually a staff member near to help with any situations or answer any questions. Everyone is very friendly and always willing to take time to help!
---
Atmosphere: 9.04
How Did We Get This Score?

As we have mentioned previously, the indoor queue line has changed drastically for the better to help practice social distancing. This in no way takes away from any of the performance going on around the stable as queue line actors find a way to mess with everyone! There is a portion of the queue line that is an outdoor tent. Here we find more great actors and popular hard rock music.
Talking more on the inside, what works very well to set the tone for the haunt is the eerie lighting and unnerved music synced to one another. What I appreciate most for the mood setter is the 'rules room' which plays a black and white video of countless disturbing images with no sound. As this is the final part before the full attraction, this is an amazingly disturbing tone-setter for what's to come!
---
Special Effects:

9.21
How Did We Get This Score?

MT tends to be an amazing cross between old-school haunt trickery as well as some fantastic modern tech as well. One thing that is constant with MT is the overall amazing scenes and props. One of the more developed scenes over time has to be the bathroom in the factory. Every season it is always changing, but this year was really special. What I liked about it is the fixtures, tiles, and toilets were not only in fact actually your regular everyday bathroom accessories; they also were functional and also used as a waterfall effect. There was a massive number of toilets stacked ceiling high and unfortunate for us, they were paired with scents.
We mentioned a new character, Scoops! His candy parlor has some amazing details in it, including a back of house area with dirty roach-infested dishes and a clogged sink. His ice cream sundaes and milkshakes are topped with all sorts of eyes and gruesome ingredients. The overall feel is of a classic ice cream parlor at its core, with bar stools and counter service, the only issue is I wouldn't want anything Scoops was offering. Down the line we enter Willows' room, this room is huge with everything a child would love but seems to change in the blink of an eye to a more malicious scene!
One of the more unique features of MT is there swamp area. What is impressive about this is the low camo netting used to cover the entire area! It really makes it feel as if we are transformed outside into some surreal swamp. What else is great is the little details throughout the swamp. It combines a sort of church-like setting with robbed figures and transitions into a graveyard at points with mausoleums to more swamp. Even small details happen to be an easy notice here, such as the chandelier randomly moving at will above! It really left us with a small taste of everything and not just one scene, making it one of the best moments of really setting suspension of disbelief we have seen this season! MT really took their scenes to a whole new level and I'm really excited as to see what comes next!
---
Theme:

8.95
How Did We Get This Score?

MT has always had this category locked in with adding one each year to their theme. I am a sucker for storylines so it's a given that new chapters and characters really keep things fresh and progressive. We did of course meet new townsfolk to Black Oak Grove and new scenes, and they fit into a local small-town main street, just cursed of course! Incase this the first approach as a reader for MT, here is the general theme of MT I have written out last year to get a great idea of what to expect and who you may meet during the haunt:
Sledge, the owner of the factory on the outskirts of town is a very abusive man who found an ancient tomb to Malum, a Demon Lord. Sledge strikes a deal with Malum, his soul for a prosperous, powerful role in town through the factory.
The wealth and power go to his head and he starts drinking and abusing his daughter, Willow. No one seems to believe Willow as she pleads for help and the townsfolk ignore her until she eventually tries to run away. While making her escape, she comes across a book buried in the forest called the Sacramentum Autem Malleus, the same book Sledge found to strike his deal with Malum.
Willow uses the book to summon Malum and traps Sledge and the workers in the factory as well as curses all of the townsfolk of Black Oak Grove to punishment for ignoring her and the abuse'
It is a very exciting idea to implement a whole story and have all scenes and characters as the townsfolk and factory workers.
---
Scare Factor:

8.98
How Did We Get This Score?

MT really provides an ample amount of scares throughout the entire walkthrough! There are plenty of great jump scares and a number of gory scenes that can make many want to tap out early. Inside the factory, there are plenty of examples of gross scenes that look real and also pair with scents to make rooms elevate to a new level of realism. These also was a great use of misdirection, as we constantly wanted to look and see what smells so horrible and seem to fail to notice an actor placed for a great scare. There is a constant bombardment of misdirection and it all works so well.
Inside Black Oak Grove, we are provided with more old-school haunt effects that are stunning in their own right. Here we have the likes of previously mentioned Paulie, the movements of the actor alone are enough to stop anyone in their tracks or want to move quickly to get far away' that will not work, Paulie is a follower! Continuing that old-school approach of just being present for a scare, the swamp area is an easy example of this. When it comes to being over foggy and not being able to see what's below waste level, there are plenty of scares lurking all over this area! MT is constantly enjoyable and offers plenty of great scares throughout!
---
Entertainment & Value:

8.92
How Did We Get This Score?

Our walk-through time at MT this season was an unrushed 25 minutes. With a GA ticket price at 28 dollars our MPD rate is .89 which is totally worth every dollar! Despite COVID, MT has put on one of the best shows we have seen from them!
After the haunt, there is an axe throwing station available as well as a great escape room provided by Clockwork Mobile Escape Rooms. The theme of the escape room is a Salem witch theme. We had ten minutes to escape the prison and find the letters to prove our innocence before execution.
I always leave feeling most impressed by all the changes and additions to the attraction yet every year they are always finding a way to outperform themselves. Simply put, I am excited to see what the next chapter is for the people of Black Oak Grove!
---
How Did We Get These Scores

Promo Images:
Click to Enlarge
---
Guest ReviewsGuest Average: 10 out of 10
Arty – 10/10 – July 26, 2018I loved every second of it everything about it was soo professionally done and there was not one …show more second of boredom. There was this one worker especially and her name was Jas and she was soo kind and friendly and helped me when I was confused.
---
Past Awards
---
2020 Awards
Most Detailed Haunt (Given by: Team White City Devils)
---
2017 Awards
Most Twisted Haunt (Given by: Team Zombillies)
Most Unsuspecting Atmosphere (Given by: Team Zombillies)
---