Midnight Terror Haunted House – Full Review
Midnight Terror Haunted House is a Haunted Attraction located in Oak Lawn, IL.
5520 West 111th Street, Oak Lawn, IL 60453View All Details

Features:

Free Parking, Restrooms/Porta Potties On-Site, Optional Games/Midway, Special Events, "Old-School" (Low Tech), You will NOT be touched, Original Characters, Indoor Waiting Line, Covered Outdoor Waiting Line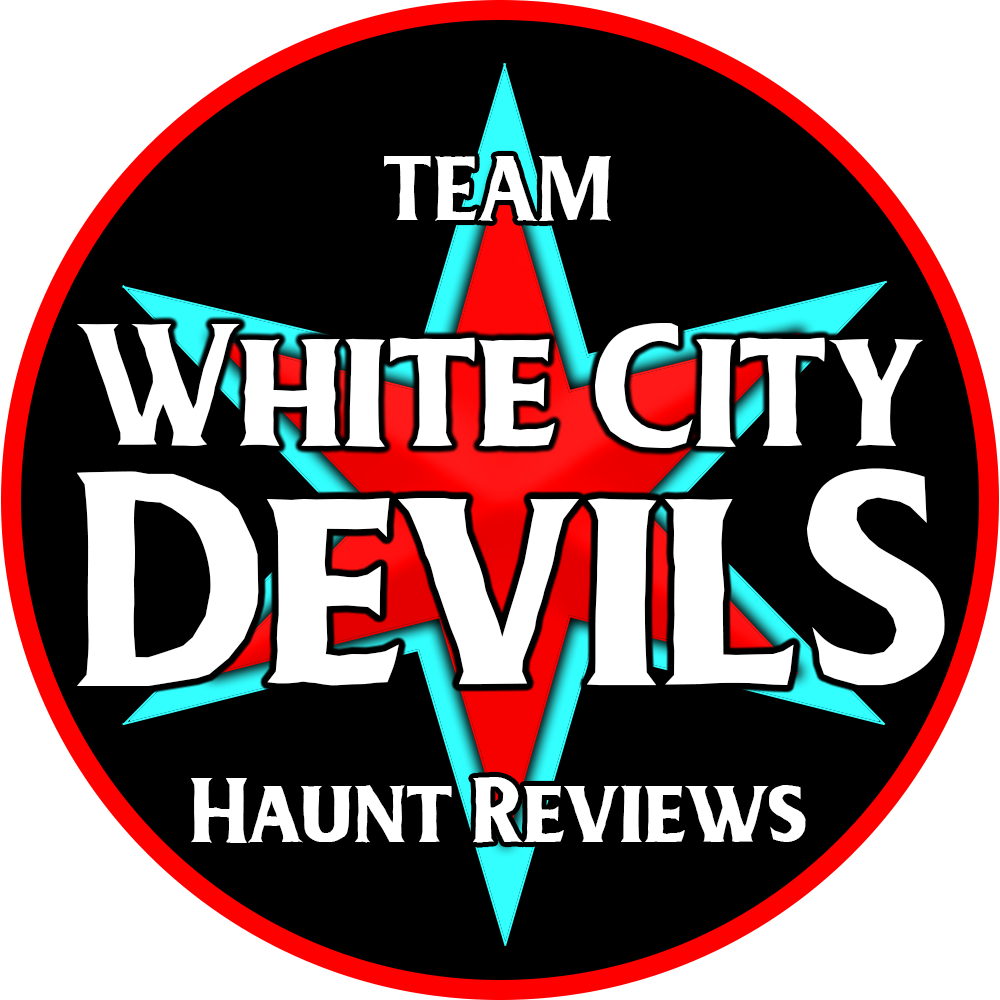 This attraction was reviewed on October 8, 2021 by Team White City Devils.
How Do We Get These Scores?

Final Score:

9.15
How Did We Get This Score?

Summary:
One of the key features Midnight Terror (MT) has factored in over the years is its constant state of evolution. Whether it be crazy detailed scenes, rock star actors, or a new chapter to the storyline, MT is always on the radar for being a highly interesting show and continues to impress year after every ever-changing year.
We were very excited to see what was happening to the poor folks of Black Oak Grove. As terrible as that sounds… This season's chapter was 'Willows Nightmare' and to say the least, no one was safe'
---
Cast: 9.13
How Did We Get This Score?

The cast at Midnight terror continued to terrorize and torment all that cross their paths. The standout feature of the cast is the ability to interact with their surroundings and provide a well-immersed experience. There are key role characters that do a good job of being vocal for their dialogue and come off in threatening ways. A great example of this would have to be the Ice Cream shop and the shopkeep. It was easy to tell the actor himself was having a fun time in the role and it made the scene that much more enjoyable. A definite stand-out actor was one we tried to get a name out of, but they were too involved in rambling threats throughout our entire visit. They would pop up in the next scene after we just passed them in a previous scene, and I am convinced the entire time they were irrationally shouting even when transitioning quickly from scene to scene. I wish I got a name out of them; all I can say is they had blue hair for sure, but it was a great example of not breaking character and being very creative in dialogue.
Other actors showed great performances by interacting with their given environment and adding it to the performance. Another impressive character was the principal before entering Black Oak Grove (second portion to the haunt). They were excellent in providing an accent and simply telling us to watch for the Mark of Willow. They were continuous with a warning even after we departed to the next scene.
One of the newest additions to MT is their sewer scene (more on that in our Special Effects category) and the actor placed in there had no trouble climbing up the steel grates and treated the room as a personal playground. He had no special dialogue which was great because it wasn't in his character to have it. They were portraying a big sewer rat, so it made sense here to use more screeches than anything.
The queue actors were great in their own way. They all were very interactive and lurking each 'playpen' that housed guests. They were very good at getting reactions from different types of scares and it seemed no one was safe. There were plenty of great sliders around doing their thing and easily getting reactions from unexpecting victims. It's very easy to appreciate the physical feats these actors perform here and shows the team at MT are really enjoying the product they are delivering.
---
Costuming: 9.05
How Did We Get This Score?

The makeup and effects used for the team at MT are well thought out and work for each individual and their respective scene. What I like most is that it's a great combination of makeup and masks/ props and it balances well. One of the first costumes we walked into on our visit (not even in the haunt yet at this point) was a really unusual mask that reminded me of this terrible film about ten years ago called 'smiley.' It was a terrible movie but had a creepy-looking mask for sure. Another great standout costume was a returning character, Roxy. She has this great tough chick look to her and a great use of a mask for Covid related protection but utilized it in such a fashion it seamlessly feels like part of the costume.
For a majority of the cast (not main characters), we saw what was expected to be seen to make the haunt more convincing as a whole. In the factory, actors were dressed in gritty-looking suspenders and made to look like they work 25-hour days (this is meant to say 25 hours' that's the joke). The airbrush application gave the workers of the factory a malnourished and depraved look that added to the story of them being trapped in the factory. The same goes for the town folk as there were plenty of indications that told a story of unison though the mark of willow not only being everywhere in the town but marked on the townspeople as well. Costuming overall seemed to hit the mark and helped develop a good aspect of creepy, cool, and frightening all alike.
---
Customer Service: 9.48
How Did We Get This Score?

Midnight Terror has called the Oak Lawn area home for a few years. They have been at the same location for their 8th season this year by our count and developed an indoor/ outdoor queue that gives a good idea to anyone passing by that something major is happening here!
The staff here provides a great and easy experience, no one is ever an inconvenience whenever there is a question that needs answering. MT takes safety seriously as well for both the actors as well as guests. There is plenty of parking available either on sight or in the lot just west of the building which we have never had an issue with.
---
Atmosphere: 9.08
How Did We Get This Score?

The overall appeal of MT upon arrival is the queue. They have a DJ blasting tunes that are enough to rock the cemetery across the street! It is a pretty good time and queue actors seem to endlessly scare here and leave a good impression on what's to come.
Once inside the building, it's completely different and more ferocious, to say the least. From the deep ominous music to the flickering red lights, the whole scene is intimidating and it's still only the queue. When adding the unsure antics of the queue actors sliding around or going as far as to entering a group 'playpen', it remains a good representation of what MT provides inside the attraction.
---
Special Effects:

9.27
How Did We Get This Score?

When we are talking about SFX, MT and its team of builders are always one-upping themselves. This year was just another notch on their belt and the devil is in the details. We previously mentioned the sewer scene. Many haunts have a sewer scene, and it feels like a must. What is cool about MT's is that it feels leveled due to high grates that actors can run across above us. The scene as a whole is immersive which is always a plus and was a great stand-out. Another great example of beautiful scenery would have to be the swamp. They really captivate the idea that we had stepped into the deep end of some swampy forest area. From the sounds to even the ceiling looking fully covered, MT did a great job at transforming anyone walking through. The same could be said for the first scene upon entering, we really felt as if we were transported into a completely different environment.
Another really cool effect they had was plenty of water fixtures that actually had a waterfall effect of water running in multiple scenes. It was really great to see even some minor details throughout such as inside the factory where the rusted-looking pipes above us had a glow and smoke coming out, it's something so minor but great if noticed.
Gory is a constant here as well. There are plenty of gross-looking props all around and sometimes end up right in one's face when forced through smaller portions and have to bend over pretty good (unless you are Nancy's height then it's a stroll in a haunted park' she is little). In the factory, there are just dumps of guts and gore all about and even have a sent to them! Continuing about gore, the town's local ice cream shop has frostbitten body parts in the freezer also that look just like that pint of ice cream you forgot months ago in the back of your own freezer.
What I feel is appreciated by MT is they have been rooted as a sort of 'old-school' haunt per se but on a professional level, so it's great to see over-the-top detailed rooms that are just great to take in alongside a little to no animatronic attraction.
---
Theme:

8.92
How Did We Get This Score?

One aspect I really enjoy at MT is the Endless story to Willow and the town of Black Oak Grove. MT has performed a great job on providing trailers on the new chapter, 'Willow's Nightmare,' and they look really great. Unfortunately, this season it was a little difficult to see the full chapter play out. In previous seasons, we have seen key characters such as Willow's father and Malum himself and during our visit both were not present.
Inside Willows room, there are some really great effects with a black light that can be interpreted as a nightmare, however, when we entered the room the key vocals play over a speaker and were a tad hard to hear. This could also be a problem for a general public that wants to zoom through rooms before they piss themselves, so I think they miss out on key details that the team at MT worked a good deal on. Though there was a bit lost in translation this season I am looking very forward to what next season's chapter brings.
---
Scare Factor:

9.04
How Did We Get This Score?

MT over anything, is an actor-driven haunt when it comes to the Scare Factor. These actors know the rooms they are assigned to like the back of their hands. There are plenty of great jump scares throughout but also some great malicious dialogue from key players that can also leave one chilled to the core.
A great example of a well-timed jump scare would be inside the factory, it can be hard to tell what and where actors could fit, and it seems to be just about everywhere. There is one room that seems rather maze-like and we actually got split up for a quick moment. Within that moment we ended up with an extra person in our group and the middle person was not expecting to turn around and see some psychopath. Speaking of a psychopath, our nameless blue-haired friend utilized a different example of using dialogue to instill fear into us. They went above and beyond to keep pose a threat on us and it was effective from scene to scene.
There are some other great additions to the haunt as it is ever-changing and one is the return of Chainsaw Alley. It was great to see this again because it has been away for a few seasons. This seems to be the finale to get guests running past the midway and returning later for merch.
Everyone took their role seriously, and I feel they went above to try and give a proper scare. I wouldn't expect anything less at MT.
---
Entertainment & Value:

9.18
How Did We Get This Score?

MT gave us a walk-through time of 23 minutes. With GA being 30 dollars online, that makes for a minute per dollar value of .77. Considering the quality and style of show, this is well worth multiple visits.
Besides the main attraction itself, MT has plenty more going on in a small but very full midway, including axe throwing, photo op, and three escape rooms add-ons from Clockwork Mobile Escape Rooms. These are built with great detail also and we were able to try one of the ten-minute rooms and escaped with just over 3 minutes to spare (I don't know how we put our dumb heads together quick enough).
Overall, MT delivers a constantly great show and if you are faithful to the cause of the town of Black Oak Grove, I'm sure you are just as excited to see what is in store for the next chapter of Willow.
---
How Did We Get These Scores

Promo Images:
Click to Enlarge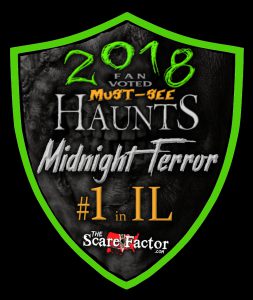 ---
Guest ReviewsGuest Average: 10 out of 10
Arty – 10/10 – July 26, 2018I loved every second of it everything about it was soo professionally done and there was not one …show more second of boredom. There was this one worker especially and her name was Jas and she was soo kind and friendly and helped me when I was confused.
---
Past Awards
---
2020 Awards
Most Detailed Haunt (Given by: Team White City Devils)
---
2017 Awards
Most Twisted Haunt (Given by: Team Zombillies)
Most Unsuspecting Atmosphere (Given by: Team Zombillies)
---