Nashville Nightmare – Full Review
Nashville Nightmare is a Haunted Attraction located in Nashville, TN.
1016 Madison Square, Nashville, TN 37115View All Details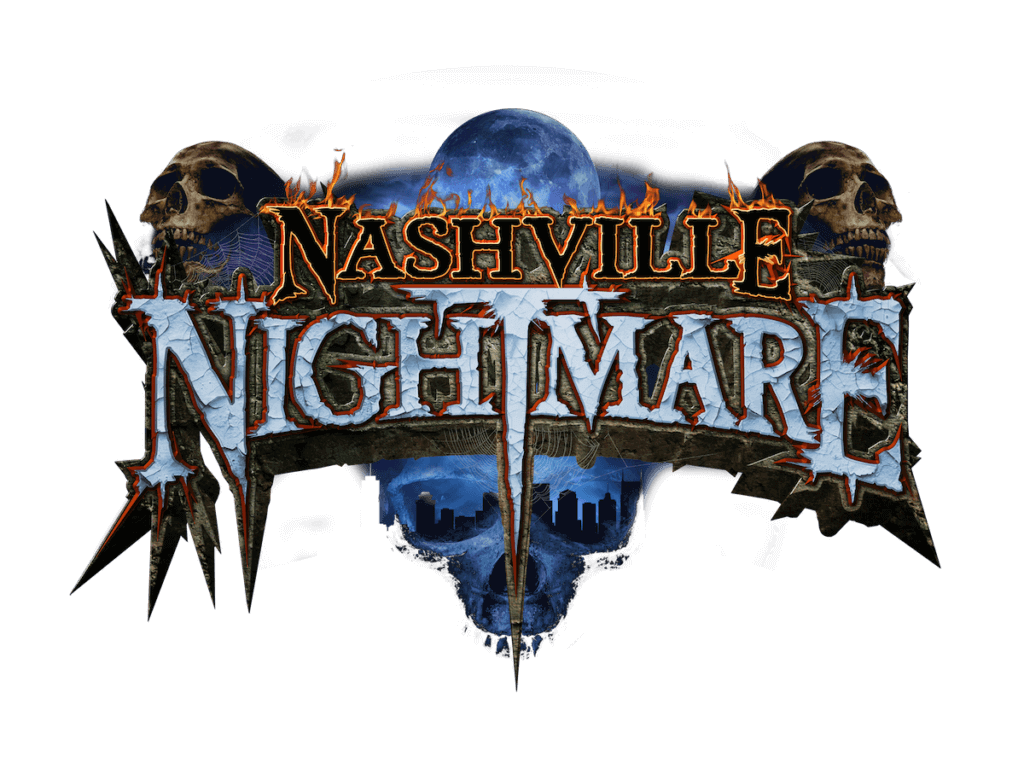 Features:

Free Parking, Food/Concessions, Gift Shop/Souvenirs, Optional Games/Midway, Special Events, "Hi-Tech" Attraction, You will NOT be touched, Original Characters, Uncovered Outdoor Waiting Line, Indoor/Outdoor Attraction

Team Zombillies reviewed this attraction on October 28, 2017.
Final Score:

9.13
Summary:
Nashville Nightmare (NN) is a massive, multi-haunt complex that sits just on the North side of Music City. For the past several years, our team has been hearing great things about this place, but we had only been able to visit them during their off-season events (special shows for Christmas, Valentines Day, etc.). This year, we managed to squeeze in a trip to see NN's full show and all we can say is, 'Whoa!'
For their off-season events, the Nightmare usually just opens one of their attractions, puts some decor outside and re-themes the inside for the holiday at hand, so we really weren't sure what to expect for their normal show. During haunt season, however, we discovered that Nashville Nightmare comes alive (or' undead?) and slaps you in the face with an onslaught of monsters and high-end props/special effects, both inside and outside the haunts! This is definitely one of Tennessee's premier haunted attractions and don't be surprised if you see hundreds – or even thousands – of people in line on any given night.
Four unique haunts were offered at Nashville Nightmare this season: 'Industrial Undead,' 'Reformatory,' 'Phantoms' and 'Fairy Tale Hell.' Each one has it's own queue line, but you're somewhat limited on the order in which you can go through them. Regardless, all four are included with either ticket option you buy, so we've scored them collectively as a single attraction with four differently-themed areas.
---
Cast:

7.93
The cast of Nashville Nightmare is an interesting topic for us. For starters it should be noted that we visited them on one of their busiest nights of the season. For haunts like this that have thousands of guests per night, we expected the actors' interactions with us to be somewhat limited so we weren't tempted to slow down and clog up the 'flow' through the haunts. Unfortunately, describing the actors' involvement with us as 'limited' would be a bit of an understatement.
Pretty much all of the actors here, except for the queue roamers and those stationed at the haunts' entrances, are set up for 'pop scares.' This type of fright-giving technique is where the actors will suddenly spring out of their hiding spots, give us their routines and immediately reset for the next scare opportunities. This is a fairly common method used by haunts of this caliber (again, to discourage groups from slowing down through the haunt), but the 'routines' that we saw were kept extremely short' shorter on average, in fact, than any other large-scale haunt we've visited to date. While we could still write this off as a 'busiest night of the year' issue, the bad part was that we walked past several actors that made no attempt to scare anyone in our group of 8 people and there was no one directly behind us that they should've been waiting for.
In Undead, most of the characters were of the zombie variety, so of course, they didn't talk much. But we didn't see any non-zombie military guys either, so the 'jump out and 'RAWR!" method got a little repetitive for us. Despite that, their slobber-filled war cries were realistic enough to make us not want to hang around for long! Reformatory was next and showed a marked improvement, as the actors were able to use some more creative dialogue. One of the nun actresses was particularly interactive and seemingly 'floated' past us without walking! Phantoms' cast seemed to know their scenes very well and most of them were able to come after us multiple times. They also seemed to have more energy, as there were multiple 'sliders' (actors that slide at you on the floor) that kept the scares coming from a different angle. Though, there were still a few actors that simply watched us mosey on through their scenes. Fairy Tale Hell had a remarkable selection of actors that were able to mimic the static props and mannequins around them' that is, until the time was right to suddenly spring to life! Of all the 'pop scares' we encountered here, this technique tended to be the most effective for our group, so we give mad props for that (pun intended), especially to Krampus! The puppeteer was another memorable actor who used some crafty dialogue in his scene… asking us where our strings were as if we were puppets ourselves.
Overall, we feel that most of the cast were doing their best to find a common ground between giving scares and not giving away their hiding spots. The vast majority of them stayed in character well, but if you're looking for a haunt with a cast that gives wildly elaborate and interactive performances, Nashville Nightmare is probably not where you'll find it' at least not on their busiest of nights.
---
Costuming:

9.67
The costuming at Nashville Nightmare is definitely one of their strong suits. To match the intricately-detailed scenes, it's important to have realistic-looking monsters and they've got plenty of them here! A mix of high-quality masks and makeup are used throughout the complex and each application seemed to be well done. Aside from having their own respective themes (zombies, demonic nuns and troubled youth, fairy tales, etc.), each of the characters' outfits are customized to match the specific scenes they're in. Even the costumes that you can see in full detail out in the queue area were seamless and very well detailed. One of the most memorable was one of the creatures in the subway area. We never would've guessed it was real if we hadn't have seen it move! Other notable creatures include the stilted queue entertainer, the tooth fairy and the crazy escapee in the straight jacket.
---
Customer Service:

9.25
If you've never been to Nashville Nightmare during haunt season before (like us), parking can be just a tiny bit confusing if you're not paying attention. Right below their huge 'Nashville Nightmare' sign are some big blocky letters that say 'Entrance at Traffic Light.' Resist the urge to pull into the parking lot that's directly under the sign and, instead, make a turn at the nearby traffic light and drive all the way around to the back of the building. There, you'll find several flaggers that'll guide you to the closest available parking spot.
From there, a goggled fiend directed us to the appropriate ticket line, which was helpful because your destination will vary depending on if you've already purchased tickets or not. An assortment of professional staff members will get you squared away and security personnel will be sure to wand you down with metal detectors before you make it to the attractions.
From the ticket booth, we were encouraged to go ahead and experience the first two attractions, which run back-to-back. After that, you'll have a better opportunity to walk around the midway area and check out all of the photo ops, food from the Killer Cafe, drinks (soft drinks and alcohol) and Nashville Nightmare's gift shop. Several queue entertainers were seen roaming about the various queue lines and staff members were distinguishable with their 'Nashville Nightmare' shirts. Also in this midway area, you'll find a carnival-style maze (though we don't believe it's 'haunted') and a 'body paint' booth that you can take advantage of if you wish.
The haunts take place in a large industrial building, so safety codes are always adhered to and flooring is relatively smooth throughout. There are some places with small ramps and some other types of intentional uneven flooring, but we didn't come across any hazards that were truly dangerous during our visit.
---
Atmosphere:

9.75
These guys decorate the outside areas almost as much as they do the inside! The decorated hearse parked near the road immediately let us know we were at a haunted house, but that was just one small spectacle of haunt decor we were about to see before entering this massive attraction. Loud rock music filled the air as soon as we got out of our car and had some of the crowd members head banging to Avenged Sevenfold (including us!).
The online ticket booth area was shadowed by a large ouija board with flames shooting upward and the queue area for the first haunt (Industrial Undead) was surrounded with fencing, zombie-repelling spikes, emergency vehicles and barrels for a nice, apocalyptic 'welcome' to the complex. Reformatory's facade is made to look like the front of a centuries-old gothic building, complete with stairs, stone-/concrete-looking construction and monsters guarding the entrance from overhead. The areas outside of Phantoms and Fairy Tale Hell weren't as elaborate, but there is a small area just inside the door for Phantoms that's been outfitted with tombstones, a mausoleum, creepy lighting and a skeletal horse and carriage to look like a cemetery (which was a cool place to hang out 'till it was our group's turn to enter).
Aside from the attractions' entrances, there are several well-decorated photo ops, side attractions, roaming actors, lots of customers' screams and the sounds of horns and chainsaws that cumulatively kept a thick 'haunted house' vibe going throughout the complex.
---
Special Effects:

9.53
One of the most impressive features of Nashville Nightmare is their scene designs and detail. Each of the haunts has so many scents, sounds, lights, props and decor that it's easy to believe you've been transported to the places they've created.
Industrial Undead delves you into the steel, grating and mechanical equipment of an apocalyptic, zombie-ridden facility. Sirens, loud rock music, attack dogs, animated (CGI) scares, rusty pipes, hardware and even an experimental laboratory are just some of the things you can expect to see and everything seemed to fit the 'industrial' concept very well. This haunt seemed to have the highest energy of the 4 attractions at NN simply because of the chaos that's going on inside! The only things that really seemed to be out-of-place were the step pads used to set off some of the mechanical props when you walk by them.
The Reformatory takes a creepier turn into the hallways, classrooms and dorms of a religious school for troubled young girls. But, it became obvious that their focus has been teaching them to follow demonic, occult practices instead of how to be polite and well-mannered! A dark and foreboding presence has spread throughout the Reformatory; grungy, bloody walls, mysterious voices, screaming children and strange apparitions served as proof that something much more sinister was at stake in this once well-regarded institution. Some of the effects we found included a child getting paddled, students' lockers, huge demonic beings, strobe lights and all kinds of sounds that we haven't heard before, like slowed-down talking and a few very esoteric tracks. LED pin lights accented some of the key areas of the scenes, but one of the most impressive areas was the room where the steeple had fallen through the ceiling. There was enough clutter and resulting destruction that it legitimately looked like it had just came crumbling through the roof!
Phantoms was more along the lines of a not-so-comforting funeral home and the cemetery environment that surrounds it. The inside of the building had holes in the walls with slats showing through, coffins on display and several visitation scenes. This haunt also used the '[thing] crashed through the roof' effect and, this time, it was an impressively-realistic tree that had fallen through one of the visitation areas! Once we got to the 'outdoor' scenes (cemetery, etc.), we were surprised to look back and see the rock/concrete exterior of the funeral parlor we'd just exited! Subtle? Maybe. But it's one of those details that a lot of haunts tend to overlook. They even went so far as to create an artificial horizon to make it seem more like we were outside! We also found a vine-covered archway, realistic animal noises, skull-lined catacombs, vintage music, cobwebs, possessed doors, arched ceilings, giant creatures and a rat that tried to bite our heads off! One of the most impressive parts of this attraction, though, was the monster in the subway area that had taken over one of the train cars and the stairs and escalator (that are just for looks, mind you) that appeared to lead up to ground level.
Fairy Tale Hell delivers most of what you'd expect and then some! Sleeping Beauty, Peter Pumpkin Eater, Pinocchio, pirates, and all sorts of other kid-unfriendly stories were found and the imagination involved with bringing these scenes to life was absolutely astonishing! We found a large dragon, a castle, a vortex tunnel, a spider's lair, a striking snake, a pirate ship, 'underground' passages, music box-like music and, of course, plenty of terrorized children (animatronics).
We could probably write multiple paragraphs on the level of detail that's put into each and every scene at Nashville Nightmare. But, to truly appreciate all of the movie-quality sets and scenery, you've just got to experience them all for yourselves. We already can't wait to go back next year and see what else they can create!
---
Theme:

8.65
Each of the four attractions at Nashville Nightmare follow their own unique theme. From what we can tell, there's no backstory or deeper meaning behind what you'll see in any of these haunts and none of them were explained to us before entering. Only vague descriptions are available for them on their website, but because of our limited interactions with the cast, we got the feeling that you really didn't need to know much about them beforehand to get the idea of what's going on.
Industrial Undead led us through a compromised military base that's full of bloodthirsty zombies. Do you have what it takes to survive? Or will you become the next undead elite? Reformatory is a children's boarding school where we came across many teachers, nuns and children' but they weren't always alive! In Phantoms, we encountered a huge array of different scenes and creatures ranging from creatures in a subway station, a library, cemetery, underground tunnels and portions of the Sanitarium of Weston Hills. Fairy Tale Hell, if you can't tell from the name, is a collection of fairy tales with a dark and sinister twist. In most cases, these crafty imaginations would rather kill you than be a part of your peaceful bedtime rituals! This haunt is home to giant spiders, a medieval castle, a large toy shop, a gingerbread house, Peter Pumpkin Eater, leprechauns and more.
---
Fright Effect:

8.63
Most of the frights at NN were delivered in the form of jump scares or quick startles, but that's not to say those are all were targeted us with. The sets are so big in some areas and there's so much going on that it was almost impossible to predict where – or what – the next scare was going to come from. Just when we would start to focus on an awe-inspiring effect, something would come at us from a different direction! Needless to say, some of the distractions got a few interesting sounds out of our review team and the people we were paired with.
In Undead, the frights seemed to be targeted moreso towards the front and very back of our group, whereas the other attractions did a better job at spreading the scares out to everybody. We've gotta give kudos to the only ghillie suit that we noticed, as they were able to frighten multiple people in our group as we walked past.
Quite a few decoys were sporadically placed throughout the attractions, leaving us to guess which ones were real and which ones weren't. Several actors did an excellent job at standing completely motionless until it was the perfect time to strike. We might add that they successfully sent us backwards at least twice because we thought they were mannequins or animatronics.
The nuns in the Reformatory carried an overall aggressive demeanor and made us feel more uncomfortable than just about anything else we ran into. Phantom utilized the best hiding spots, which ranged from things that seemingly came out of the ground to those that were strategically placed overhead.
Throughout our tour, we also came across quite a few giant, lively creatures that wanted to eat us, unexpected actors crawling and sliding at us across the floor, a vicious chair that suddenly sprung to life (we've seen this used before but not quite like this), sudden air blasts and the characters in the Alice in Wonderland area that surprisingly used chairs to their advantage by blocking the path.
While most of the haunts didn't seem to implement any sort of grand finale, the ending scene of Fairy Tale Hell that used an enormous hand and chainsaw duo was the most effective finish that we experienced. We would say that many of their other guests would agree as quite a few of them came barreling out of that exit!
---
Value:

9.6
Tickets that grant you admission to all 4 haunted attractions at Nashville Nightmare are priced at $29.99 per person plus tax (comes out to around 32). Slash Passes are also available where you will have a limited wait in line. These are priced at $44.99 plus tax and they say there is a 75% shorter wait time on average than the general admission line. After seeing the large ticket booth line, we recommend getting your tickets online so you can get in the shorter 'online tickets/will-call' line instead.
We were inside the attractions for a combined 36-1/2 minutes (not including the wait times between haunts). As mentioned above, it was a very busy night when we visited and, if you go on a less-crowded night, you may be able to spend more time inside the attractions. There's also a chance for those who are petrified to run through must faster than we did. Considering the amount of time it took us and the cost for general admission, their MPD rating (minutes of entertainment per dollar spent) is at 1.14, which is below the average of 1.5 that we've seen most often, but the quality of the scenes alone easily make up for that! Be sure to check middle Tennessee Halloween Express locations for possible discounts.
This is a beast of a haunted attraction! With multiple haunts featuring some of the most detailed and realistic sets this review team has ever laid eyes on and a full night of fun and frights, it's hard to go wrong with Nashville Nightmare. In fact, we can honestly recommend that everyone needs to visit this place at least once. Also keep in mind that they are open during the off-season for multiple holiday events and we highly recommend their Christmas show as well.
---
Promo Images:
Click to Enlarge
---
Guest ReviewsGuest Average: 9.25 out of 10
Jacob Peacock – 9.5/10 – October 30, 2015The cast is great very fun people the elevator scene was my favorite the actor mr pickles was very …show more funny
Caroline Russell – 9/10 – October 6, 2022This was my two daughters first haunted house ever and they had the most amazing time ever! It made …show more them scream laugh run jump squeal and much more! They said they had more fun than they even anticipated. It was fun for all ages and you were entertained from the parking lot to the exit gate. What differently suggest this to anyone looking for a night full of fun!
---
Past Awards
---
2017 Awards
Most Decorated Exterior (Given by: Team Zombillies)
Most High-Tech Haunt (Given by: Team Zombillies)
Highest Rated Value (Given by: Team Zombillies)
---