Necrosis Haunted House – Full Review
Necrosis Haunted House is a Haunted Attraction located in Rantoul, IL.
1315 Enterprise Drive, Rantoul, IL 61866View All Details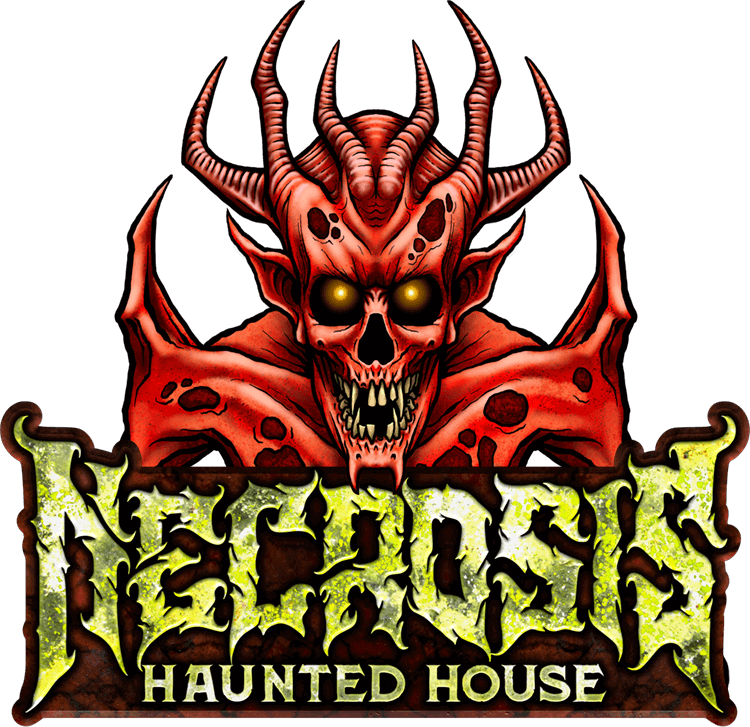 Features:

Free Parking, "Old-School" (Low Tech), Uncovered Outdoor Waiting Line, All-Indoor Attraction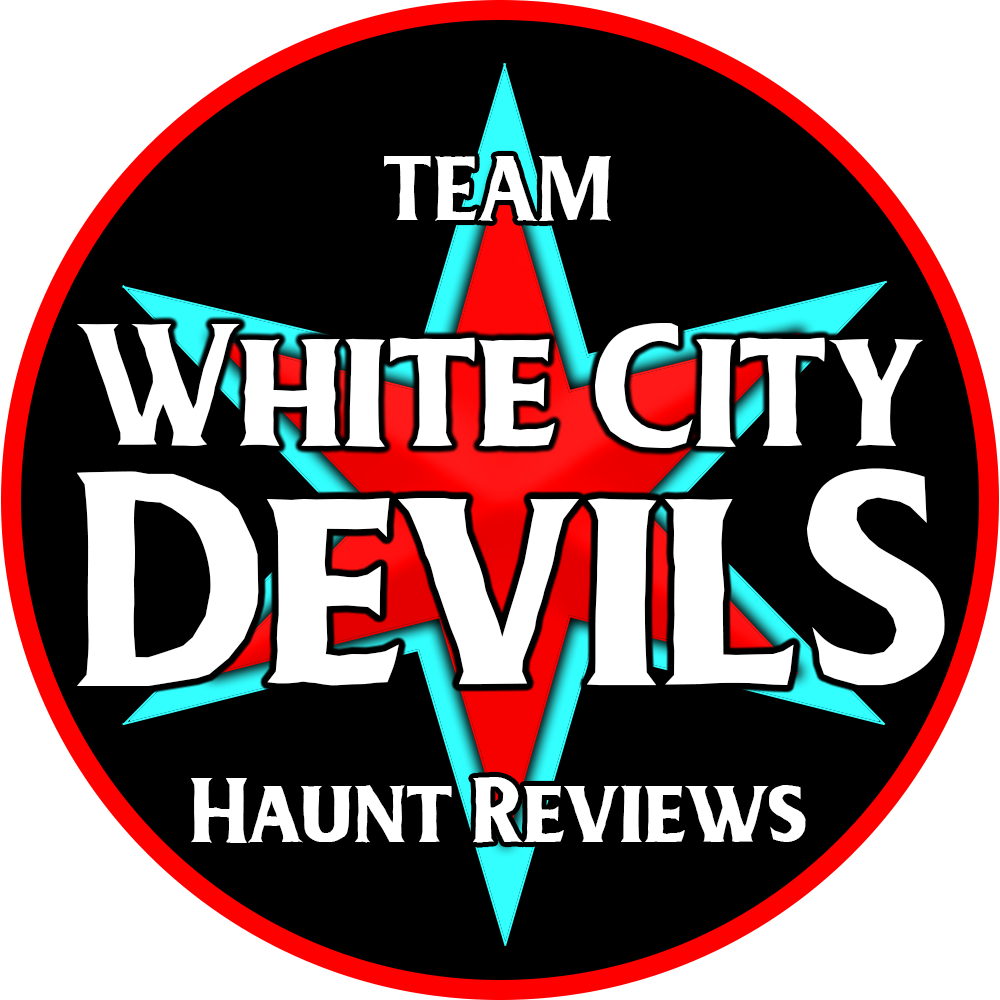 This attraction was reviewed on October 12, 2019 by Team White City Devils.
How Do We Get These Scores?

Final Score:

8.38
How Did We Get This Score?

Summary:
On the last stop of our Central Illinois trip, we were told about a new haunt located on a former air base in Rantoul, Illinois. Necrosis Haunted House is currently in their 2nd season and gaining a big following in such a short time, all for a good reason. With some well flowing scenes and actors who aren't afraid to get up close and personal, they hold their own in a city with multiple great attractions.
---
Cast: 8.07
How Did We Get This Score?

On the night of our visit, we were informed 35 actors inhabited this creepy haunt. This number allows a tour through to have an encounter with 1 to 2 actors in each room, creating an intimate atmosphere that is not overwhelming. There were a variety of actors and scares to keep us on our toes.
The actors in the opening scene had no trouble getting right into our faces and becoming very intimidating. They demanded we put our backs against the wall and warned us of all the trouble with were about to get ourselves into.
We always love great interactions, and NHH had no issue with delivering them. There was a point when we entered a diner scene and were greeted by the owner. She gave us the specials of the night: 'We are serving pies and taking lives." Life is about compromises, so I offered to take a pie in exchange for my partner's life. I was quickly corrected 'No, we take your lives and serve them as pies.' Well, that sounds like a lose-lose situation for us. When we asked for her name, we got the classic response 'Nun-ya'. Really fun time over all!
---
Costuming: 8.49
How Did We Get This Score?

Costuming at NHH was well fitting for the scenes. The makeup was finished and completed well. It was a pretty cold night on our visit yet there were queue line actors out in line without a shirt! That was some great devotion. That same actor had bullet holes on his back and it seriously looked as if he went out in the back and was riddled with a 22. in before the show.
Makeup throughout seemed well put together and appropriate for the scenes. There was a check in for a hotel room and the bell hop and front desk seemed well demented and insane as is, but with their makeup and attire, it really gave us the impression this may be the last hotel we checked into. When we checked in and were recommended the honeymoon suit, we noticed someone else was already in our room upon arrival. This wouldn't be the first time that we checked into a hotel and stumbled upon other peoples' belongings in our room (true story), but to have a bride all bloody and her husband all over the place (in pieces) is a new situation for us! It was a really great scene and the makeup and costuming really sold the scene along with the actor's well-timed dialogue.
---
Customer Service: 8.73
How Did We Get This Score?

The area NHH sits on used to be an old air force base and the building itself used to be a storage building for said base. There is no lack of parking available all around and plenty of security to guide traffic. Once on the grounds, the ticket booth stands alone in a trailer to the side of the main building and is also near a small food truck that offers more than just snacks but meals it seems, I do regret not getting any philly cheese steak egg rolls to this day.
Staff members were all around as well as hired security to help with any trouble that can (hopefully never) pop up. NHH has all of its information listed on their Website along with their Facebook page. Tickets are available cash at door or they can be purchased online.
---
Atmosphere: 8.5
How Did We Get This Score?

When we arrived, parking is towards the rear of the building and the end of the haunt. I feel this is on purpose because we pretty much only saw people running right out of the building!
When we found our way to the queue line, the GA line was really long, and actors were around to terrorize everyone waiting. They did have music playing to keep everyone entertained during their wait. It seems NHH checked off all the basic necessities for an entertaining queue line, but I am sure as they continue to grow, they will take basics to another level of entertainment.
---
Special Effects:

8.41
How Did We Get This Score?

Being only 2 years old, NHH provides some really great low budget effects that do well. As we mentioned before about being on an old air force base, they actually pay homage to that past in the very first scene. The whole feel comes off as an Army/Air Force vibe and they have an incredible fog cannon to disorient and confuse.
The scenes we walked through had some well flowing rooms that made a lot of sense. We already mentioned the hotel scene but all of the props and details made it feel as if we walked into the front of a musty hotel. However, tt didn't just stop there but continued down the hallway full of doors that were numbered and felt as if we did just check into a hotel.
When we happened to find the diner we mentioned, it felt like a run down 50's style diner and had plenty of booths and a bar side counter as well. It all looked like a place I wouldn't want to eat and remained effective with even menus on the tables. Pair this with the bloody crisper full of limbs one would normally find cakes displayed in, and it makes for a frightfully delighting scene.
One of my more favorite scenes at NHH was some backwoods-looking church we walked into. There were plenty of ripped bible pages covering all of the walls which is creepy enough, but pair that with actors that seemed to be in mourning and obvious signs of some cult activities, things turned dark quick when the congregation realized they have been walked in on.
The overall effects NHH provide do cause some well-timed scares and work great with the well devoted actors.
---
Theme:

N/A
How Did We Get This Score?

NHH didn't seem to have an overall theme but their website warns that this is "a nightmare realm infested with evil and consumed by darkness… where the line between the living and the dead is rotting away…"
"Step into the World of the Wicked."
---
Scare Factor:

8.31
How Did We Get This Score?

NHH has a very in-your-face approach on providing scares to their guests. Being as actor-driven as NHH is, it is wild how they continue to beat scares into their guests, scene after scene with little pause.
A few actors also had some great hiding spots that blended in well with their scenes and gave us some great jump scares. A great example of this was an actor who was propped up as a scarecrow; he blended in with corn stalks and his outfit was fitted with corn husks making him seem as a prop' we found out the hard way that he was, in fact, not a prop. We can also say the same for the doll room. There was a well-placed stuffed animal mixed in with a whole pile of other stuffed toys. Curiosity definitely got the better of us as this one looked like one of the big ones someone could win at a Six Flags' again, we found out the hard way.
We did receive many jump scares and many deceiving directional scares that are enough to make us question what's next! A well-done effect was simple but scared me good. We passed by a caged clown that was on a stage. It was a very curious part as she didn't seem to have much room to move around. When we were close enough' she made plenty of room to move towards us. Overall, all of the actors played off of their scenes and worked well with the props to make for a very effective haunt!
Remember the cult congregation we walked into? There was a really great scare I won't mention, so you'll just have to find out on your own.
---
Entertainment & Value:

8.34
How Did We Get This Score?

With general admission being 15 dollars and VIP at 25, that is a more affordable price from what we normally come across in the Chicago area, but seems to be a pretty good average for Central Illinois. Our walk-through time was 15 minutes only but gives a MPD value a 1. This is not bad considering NHH is only 2 seasons in.
We had a lot of fun throughout out entire visit to many haunts in southern Illinois that we haven't been to before and can say ending our tour with NHH was a real great example of what makes local smaller haunts so great. When it comes down to it, there is a really great sense of passion behind NHH an they will continue to only get better down the line. Rantoul seems to be a main stop on our list from now on during haunt season, and NHH has a hand in making that a staple for us!
---
How Did We Get These Scores

---
Guest ReviewsGuest Average: 9.9 out of 10
Rae Lynn – 9.9/10 – October 12, 2019My husband and I found this Haunted house easy to find. Parking is labeled and readily available. …show more From the moment you drive up to their building you get an uneasy feeling. It's located on the old air force base in Rantoul and it adds to the atmosphere. They have many different characters outside waiting to scare you before you even make it inside the building. Yes, there was a bit of a wait in line outside but for us that just meant the place was popular. Once you actually make it inside the building you are treated to a variety of horror styles, everything from cannibalistic hillbillies, a 50's style diner, an out of this world swamp, a clown hotel, and an ending straight out of hell!! Which personally we enjoyed greatly!! Their actors gave it their all and several scares we never even saw coming. Their costumes, makeup, detailing, and atmosphere were on par with many of the bigger city haunted attractions we have been to in the last couple years. It is definitely worth the money and wait in line. 100% would absolutely attend again!!