Necrosis Haunted House – Full Review
Necrosis Haunted House is a Haunted Attraction located in Rantoul, IL.
1315 Enterprise Drive, Rantoul, IL 61866View All Details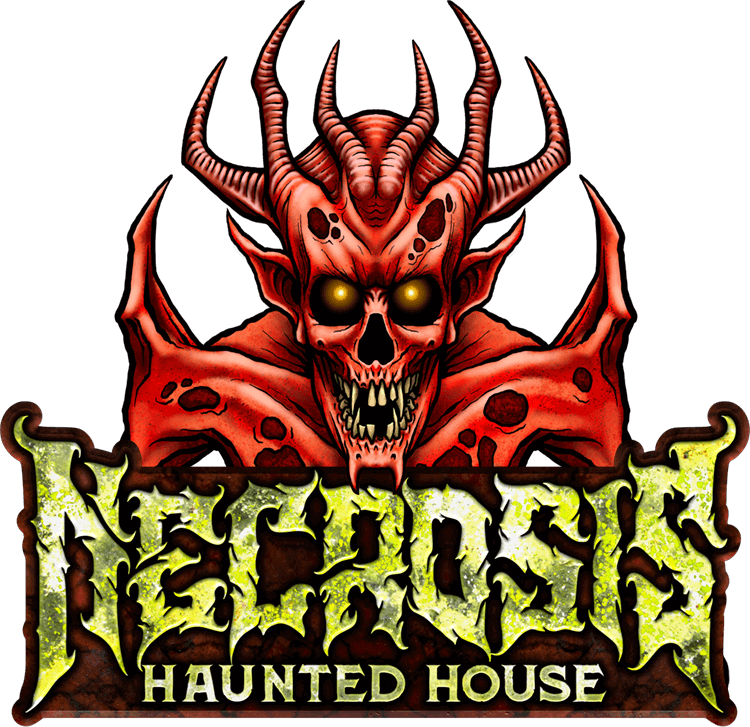 Features:

Free Parking, "Old-School" (Low Tech), Uncovered Outdoor Waiting Line, All-Indoor Attraction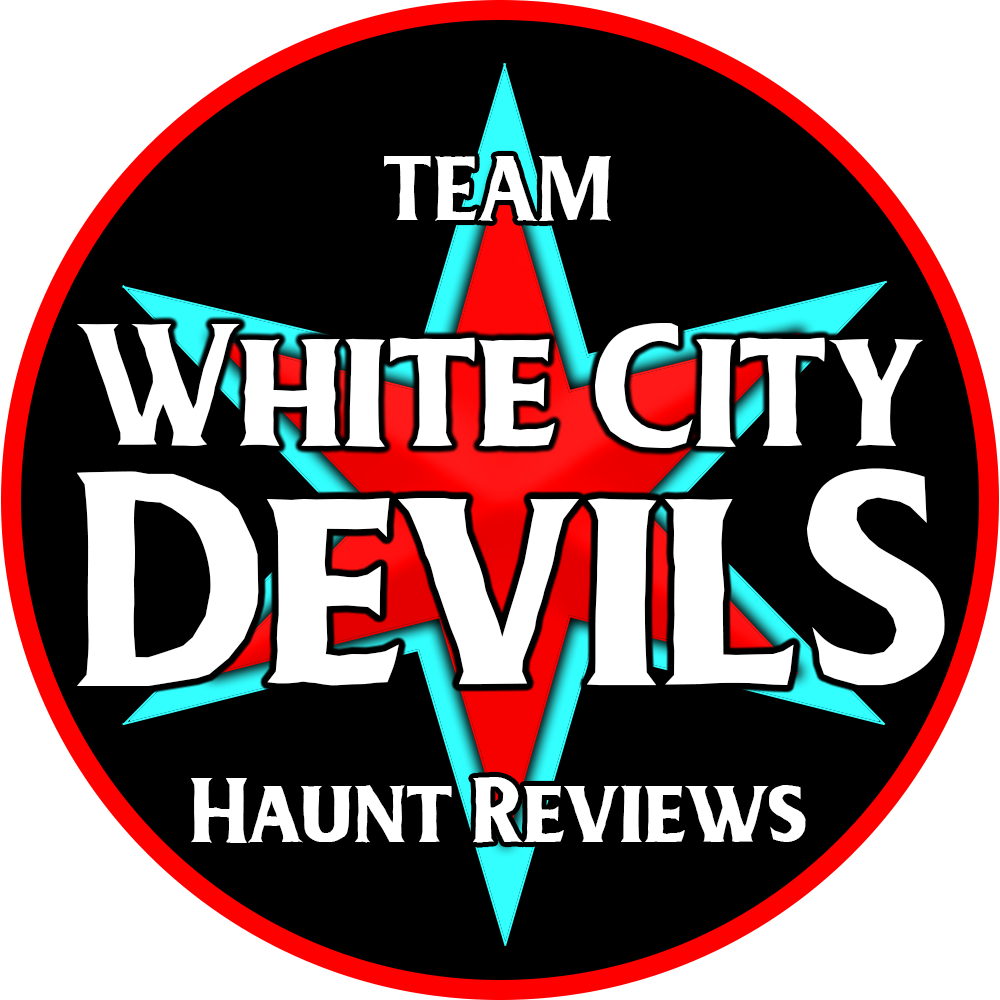 This attraction was reviewed on October 16, 2021 by Team White City Devils.
How Do We Get These Scores?

Final Score:

8.6
How Did We Get This Score?

Summary:
Necrosis Haunted House returns for their 3rd year after taking a break for 2020. We could not pass up the opportunity to visit while being in the area. We have seen on social media that this was going to be their best year; they sure did deliver!
Necrosis Haunted House is known for being a local favorite and we can truly see why. Formerly an airbase in Rantoul, Illinois, the space has been completely transformed into a hideout for these creatures to lurk around and scare the community.
---
Cast: 8.37
How Did We Get This Score?

While doing our walkthrough, we managed to catch 1-2 actors per room. This gives every room a bit of mystery given how detailed the rooms are with many hiding places.
As we made our way through the haunt, the actors gave a very creepy and ominous feeling while lurking around their rooms. Once we got to the diner, that is when we started to get the interactions. The diner has been our favorite spot since last time. As we approached the diner, we were greeted by a server with many delicious options. While the group was busy thinking of Portillo's, I made my way to see the pies on display. I quickly noticed a woman sitting in a booth and pointed out that I would take her instead. We were then told that she was a 'she'sh-kebab. Love that spontaneous remark with a dark sense of humor.
Not all actors were funny or lurking around. In another scene, we came across a tall guy holding a weapon at hand who was placed in the way of the route. We had to find our way around this guy, clearly towering me and the six feet giants in my group with his eyes just following us. Once we thought we had passed him up, we found him again but on the other side of a chain-link fence. This time he was not as still as he approached the fence with such force. We knew that it was our time to go.
Overall, all actors did a wonderful job staying in character and not quitting when they knew we were scared and/or uncomfortable.
---
Costuming: 8.57
How Did We Get This Score?

Necrosis Haunted House puts on a great show with how well done their costumes and makeup are. In the beginning, we came across someone that was dressed in a simple industrial work style costume that had a worn-out look. What caught my attention was the mask that covered the whole head and replaced the hair for tubing, typically what you would see in a cybergoth look. As the actor moved around, the hair (tubes) moved elegantly. We also cannot look over the one actor with antlers on his head, which we later found out are real!
Throughout the haunt, actors have dressed accordingly to their scenes. In the diner, the worker looked a bit jolly with its light-colored uniform but demented with added bloody paint. This is a fitting example of different contrasts to prove you don't need to just have a black-on to be scary.
Everyone did a fantastic job of using their costumes and giving makeup to portray their characters. We can't wait to see how they progress throughout the next years.
---
Customer Service: 9.06
How Did We Get This Score?

Looking at the website, Google maps is attached for directions. As we got closer, we noticed a sign leading up to the haunt. It was especially helpful since the direction we came from drove straight down for 11 miles. Once getting to the entrance, a parking attendant guides you towards the parking spaces.
Walking towards the ticket booth, we noticed there are staff members in Necrosis Haunted House marked hoodies. People approached them with questions, and they were happy to answer. Though there were large crowds, everyone's safety was a top priority.
We always recommend checking social media for any updates. Tickets can be purchased on the website with no time slots and on-site with cash only.
Walking through the haunted house, the majority of the floor was leveled with a few inclines and declines that were not steep. The whole haunt was well lit with different colored lights according to scenes with no major darkness. As far as handicap accessibility, we would say this is as close as possible to being compliant without sacrificing the appeal of a haunted house.
---
Atmosphere: 8.5
How Did We Get This Score?

Outside of the building, there is a banner with the logo displayed in red letters. The building is simple, which is deceiving for the terrors that are inside. There was a hearse last time we were here, but unfortunately, the hearse was vandalized enough that it is no longer there. The queue line starts on the opposite side of the building and the exit is the first thing you see. It's nice to include the customer's reactions to prepare you for what's to come.
There is a lot of open space before getting to the ticket booth and the queue line where people congregated to meet up friends or to recap the events with other people. Music of many varieties played in the background. There was a group of teenagers that ran out screaming. While they were waiting around to gather their thoughts, they went crazy when they saw Kill Joy. Screaming his name and running towards him, they asked to take pictures with him as if he was a celebrity. They are having an impact on the community to cause such a stir.
---
Special Effects:

8.62
How Did We Get This Score?

Necrosis Haunted House promoted on social media that they had improved the show, which did not disappoint. We could not stop looking at how detailed the rooms are and how the scenes made them feel completely real.
The rooms are fully detailed according to their given scene. The first room had an industrial theme with a breaker box shorting out and creating sparks. Shortly after, we entered a toxic room and were blasted with a fog machine from above giving the idea of being poisoned. We rarely see the fog come down which was a unique experience.
The first swamp scene is an example of what a full-room experience is like. Lasers and fog were used to give the view of a swamp with the addition of foliage hanging off the ceiling.
The diner had a lot of gory and realistic limbs on display, ready to be consumed for the right price. Off to the side, we have some realistic booths, which is possible that there salvaged from a real diner. In a toilet scene, the music was practically nonexistent, but a trickling sound could be heard. This might not be the best scene for someone if they are walking around with a full bladder.
The past scenes have had a bit of blue or green light background which was a bit calm. Towards the end of the walkthrough, there was a transition using a red laser swamp while entering the catacombs. The lights stay red, giving a very unsettling evil feeling. The music gets a bit more intense and now it is apparent the theme shifts to a cult scene. The walls started looking more detailed with curtains like entering a confessional.
I could go on and on, but I am saving the best for the next category.
---
Theme:

N/A
How Did We Get This Score?

Overall, it did not seem that Necrosis followed a single theme.
---
Scare Factor:

8.8
How Did We Get This Score?

Since our last visit, we have noticed a few changes and they have been for the better. Going through the haunt, it is clear the actors were well trained to interact and use their space as much as possible. With a combination of jump scares, distractions, and props used at the right times, it is apparent this haunt is going in the right direction.
Due to my short stature, I am always in front and can see things before anyone else. I noticed an actor jumping out behind the last person in our group and following us along, as I would turn a corner, that same actor jumped over a barrel and landed in front of me. Some sensors set off sounds, air cannons, or pops and it was a scare for all of us instead of just the person upfront.
Distractions were effectively used to create pop scares. The details in the rooms would make you look away while the actor would pop out from a dark corner or from behind a prop. We entered a honeymoon suite and looked around at the crime scene like detectives. There was blood all over the bed and the bride was on the ceiling with injuries that are apparent to have been the cause of her demise. An actor comes up and asks if we would stay and love her. She was the culprit, so we dared not anger her and agreed to her demands.
A memorable scene was entering the catacombs with a red laser swamp. It was on a bit of a decline, so our focus was on the floor. There was a moment of fear when we noticed something high up towards the ceiling. It was an oversized demon animatronic that caught us completely off guard. The music playing was an eerie music box recording. There was something so unsettling about both existing at the same time.
The ending was not what I expected. As I was admiring an actor's goat mask when a blast of air and fog blew right in my face. It was the first time I had ever put my hands up in self-defense. Once the fog cleared a bit, we were able to find the exit.
Overall, we noticed recent changes and are looking forward to what's to come in the future.
---
Entertainment & Value:

8.37
How Did We Get This Score?

The general admission ticket price is at 20 and the fast pass is at 35. That brings this attraction's Minutes per dollar to 0.8 which is still decent considering that the prices went up from 2019 and are making up for not opening in 2020. There were also improvements, more scares, and a few minutes added to the attraction walkthrough.
For being in their 3rd year, we are amazed at how far they have come. Though there isn't much entertainment after walking through the haunt, we wouldn't be surprised if next year there are new additions. We will for sure be making trips in the future!
---
How Did We Get These Scores

---
Guest ReviewsGuest Average: 9.9 out of 10
Rae Lynn – 9.9/10 – October 12, 2019My husband and I found this Haunted house easy to find. Parking is labeled and readily available. …show more From the moment you drive up to their building you get an uneasy feeling. It's located on the old air force base in Rantoul and it adds to the atmosphere. They have many different characters outside waiting to scare you before you even make it inside the building. Yes, there was a bit of a wait in line outside but for us that just meant the place was popular. Once you actually make it inside the building you are treated to a variety of horror styles, everything from cannibalistic hillbillies, a 50's style diner, an out of this world swamp, a clown hotel, and an ending straight out of hell!! Which personally we enjoyed greatly!! Their actors gave it their all and several scares we never even saw coming. Their costumes, makeup, detailing, and atmosphere were on par with many of the bigger city haunted attractions we have been to in the last couple years. It is definitely worth the money and wait in line. 100% would absolutely attend again!!