New Orleans Nightmare Haunted House – Full Review
New Orleans Nightmare Haunted House is a Haunted Attraction located in New Orleans, LA.
319 Butterworth Street, New Orleans, LA 70121View All Details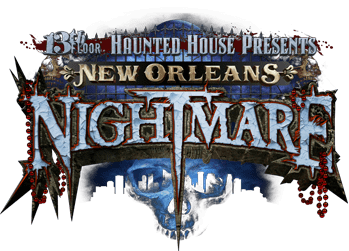 Features:

Free Parking, Handicap Accessible, Food/Concessions, Gift Shop/Souvenirs, You will NOT be touched, Original Characters, Uncovered Outdoor Waiting Line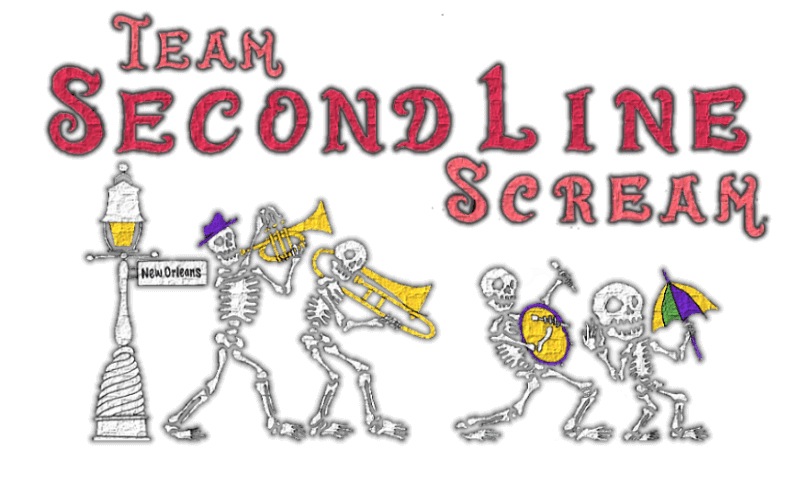 This attraction was reviewed on October 24, 2019 by Team Second Line Scream.
How Do We Get These Scores?

Final Score:

9.56
How Did We Get This Score?

Summary:
Team Second Line Scream rounded out their 2019 Haunt Hit List with New Orleans Nightmare Haunted House. Each time we go to an event at NOLA Nightmare, whether it be their Halloween, Krampus (Christmas), or Love Bites (Valentine's Day) haunts, we are more impressed each time. If there is a haunt that checks off all our boxes, it is New Orleans Nightmare.
NOTE: *New Orleans Nightmare is the former area and owners of the long time House of Shock, for those New Orleanians that attended House of Shock throughout previous years.*
---
Cast: 10
How Did We Get This Score?

Even though the team went on a Thursday night, the haunt was stocked with plenty of actors! While it should be noted that a haunt never loses points for not compensating their actors, the fact that NOLA Nightmare actors are paid gives them an 'off the record' hat tip. Actors put in their time, energy and hard work into making sure guests have countless scares to remember, and it is truly remarkable that NOLA Nightmare is able to reward their cast for scaring guests senseless.
The cast is obviously well trained (both in scaring and safety), but what stuck out to the team was the amount of laughs the characters produced out of us through well timed and appropriate gags for their characters and rooms. If an actor can have us screaming one minute and laughing the next, I call it a win in my book! Special shoutout to the Bellhop at the beginning of the haunt. I apologize for not being able to give your real name, but your Bellhop character gets me every time. He is a great jumping off point for the other cast members to follow.
---
Costuming: 9.18
How Did We Get This Score?

NOLA Nightmare has three distinct sections in one large haunt: Clown, Nightmare, and Zombie Outbreak. Each of the three sections are costumed perfectly for the actors inhabiting the areas. The Team did notice a slight lack of followed through costuming in the Clown section. Again, not from lack of actors, but I wish there were more masked clowns. The clown mask section of any costume store/website has a plethora of looks to choose from, that are all unique and terrifying. The other two sections I have no complaints about, and a special shoutout to the otherworldly 'Mother Superior' character and her, or its, makeup work. The Team could not tell if it was a mask or prosthetics, well done!
---
Customer Service: 10
How Did We Get This Score?

New Orleans Nightmare gets a well deserved score of 10 for Customer Service, and if we could give them an 11 we would. NOLA Nightmare has the best staff of any haunt we attended this year. They are easily approachable, knowledgeable about the ins and outs of the attraction, and seem truly excited about working for NOLA Nightmare. The owner and set designer, Ashley H., gave us a quick behind the scenes look at how the maze is constructed and even showed us how every 50 to 60 feet, the wall opens should their be any need for a sudden large evacuation within the haunt. Speaking of safety, if there was an award for Best Safety, it would go to NOLA Nightmare. Team Second Line Scream will call out a haunt, no matter how scary or awesome, if their safety procedures fall flat; it is too important in this day in age to provide a safe environment for guests, and when judging safety of a haunt we use the question: 'Would I feel ok dropping off my middle school aged kids to this attraction by themselves?'
Just to highlight their safety features: the entire block the haunt takes up is completely pedestrian friendly, there are police detail, fire marshals and an entire 'first aid' room, along with paramedics. My favorite safety addition this year is a metal detector, and every haunt needs to invest in one. In fact, I told Ashley, even with all of the amazing new features to the haunt, that the metal detector is the best investment they made this year. So now that I sound like a grandma that lives in a bubble wrap house, let's move on to ATMOSPHERE!
---
Atmosphere: 10
How Did We Get This Score?

As we walk up to the haunt we encounter plenty of signs welcoming guests and clear directions on where to go for what (tickets, VIP, etc.) NOLA Nightmare also has an excellent merchandise booth, where the Team gets a one of a kind designed shirt every visit; there are so many souvenirs to choose from, from shot glasses to hoodies.
Right next door to the merch booth is Bar 13, which is a full service bar and if guests opt for the pre-made, specialty drink, it is served in a bright orange cup covered with NOLA Nightmare artwork, that guests can take home as another souvenir! There is also a concession stand serving food and other beverages.
The atmosphere outside the haunt definitely prepares you for what is in store once inside the attraction. Clowns wandering the lines scaring unexpecting guests, horror movie trivia galore, and a great horror themed soundtrack. The facade of the haunt is incredible and even features some 5 minute escape rooms and a new attraction, Phobia (which I will elaborate more on later.)
---
Special Effects:

9.55
How Did We Get This Score?

NOLA Nightmare takes the use of puppetry in a haunted house to a whole new extreme. If my memory serves me correctly, there are at least 3 huge puppets, I would assume handled by at least two people (they are that big). I do not like to spoil any haunt's innovative tricks they have up their sleeves, but the entire Clown section is out of this world, and unlike anything any other haunt is attempting. If you work at NOLA Nightmare or have visited, you know what I am talking about.
The scenes throughout the haunt were very well constructed and detailed, particularly for each individual section. *Time to play Devil's Advocate* However, and I let the owners know we may take off a few points for this, but since the haunt is not three separate attractions and instead one large maze with three distinct sections, the Team could have used more information (signage, actor, anything) to let us know we were clearly leaving one world and entering another. We got a little confused as to when we were leaving Clown, for example, and entering Nightmare. Once in the sections, there was no doubt where we were, but just some further distinction would have helped. Again, we did go on a Thursday, so there very well could be actors that are dressed to prepare you for the next section? Small detail just to aid in storytelling, that's all, but other than that, wonderful design and construction!
---
Theme:

9.6
How Did We Get This Score?

The Team loved how, instead of one large maze with scary scenes or rooms, each section was clearly themed. As mentioned above, a little bit more to let us know we were leaving one world and entering another, but other than that the themes worked perfectly.
I will use Clown for an example, the sinister Clown main character is an evil clown that returns every 13 years to reek havoc and while we immediately connect that to the IT franchise and Pennywise, none of the clowns resembled Pennywise and the true horror nerds know: for IT, it is every 27 years. So we loved the hint at the pop culture, but not the 'well everyone loves Pennywise so let's make it all Pennywise themed and copy the same story.' That is called ORIGINALITY. Again, there is a nun convent gone to Hell portion in Nightmare, but it did not lend itself too much to the film The Nun and no Valek (the demon in The Nun) character was in sight.
---
Scare Factor:

9
How Did We Get This Score?

There was a moment in the Nightmare portion, I believe, where an actor got me so good that, for once in our haunt visiting history, I turned around and buried my face in my teammate's chest, unable to continue. The scares are unexpected and perfectly timed; and NOLA Nightmare's finale is my favorite of the season.
Must..not..spoil!
---
Entertainment & Value:

9.48
How Did We Get This Score?

Team Second Line Scream likes to get in and out when visiting a haunt. We ended up hanging out at NOLA Nightmare from before they opened, until they closed.
After the main haunted attraction, we were offered the two escape rooms (one we did not make it out of, one we did). And we also were able to experience their newest addition: Phobia. Phobia is an all dark, 8 minute escape room. And when I mean all dark, we were given blackout goggles that if removed at any time, disqualified the group and could no longer go further. Phobia was very well worth the money, although I could have used a '2 minutes left' warning, similar to other escape rooms. But perhaps that was part of the experience, to mess with our sense of time? Regardless, Phobia is a great addition to the NOLA Nightmare experience and we are excited to see what they do with it next year.
New Orleans Nightmare overall is a fantastically frightful and fun time, and worth every penny. Team Second Line Scream will not be formally reviewing any haunts for the 2020 season (we will be getting married!) but we will still make sure we pay a visit to New Orleans Nightmare early in the season, just because we love the haunt that much!
---
How Did We Get These Scores

Promo Images:
Click to Enlarge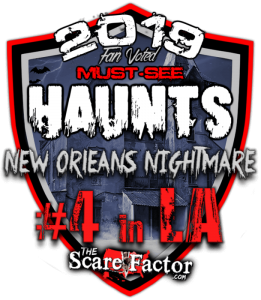 ---
Guest ReviewsGuest Average: 10 out of 10
Thomas – 10.0/10 – September 24, 2022Best Haunted House Ever So Far So Many Unexpected Scares Def Worth The 2 Hour Drive …The Sensory …show more Overload Addon Is Worth The Extra Money